People want to view fancy text content instead of the boring ones that appear on the website or blogs. They feel bored with the monotonous look. To break that, you need different text styling ways to spruce up your site. It plays a vital role in smashing up that outlook of website content and highlight content in different text styles with animation effects that instantly grab visitors' attraction.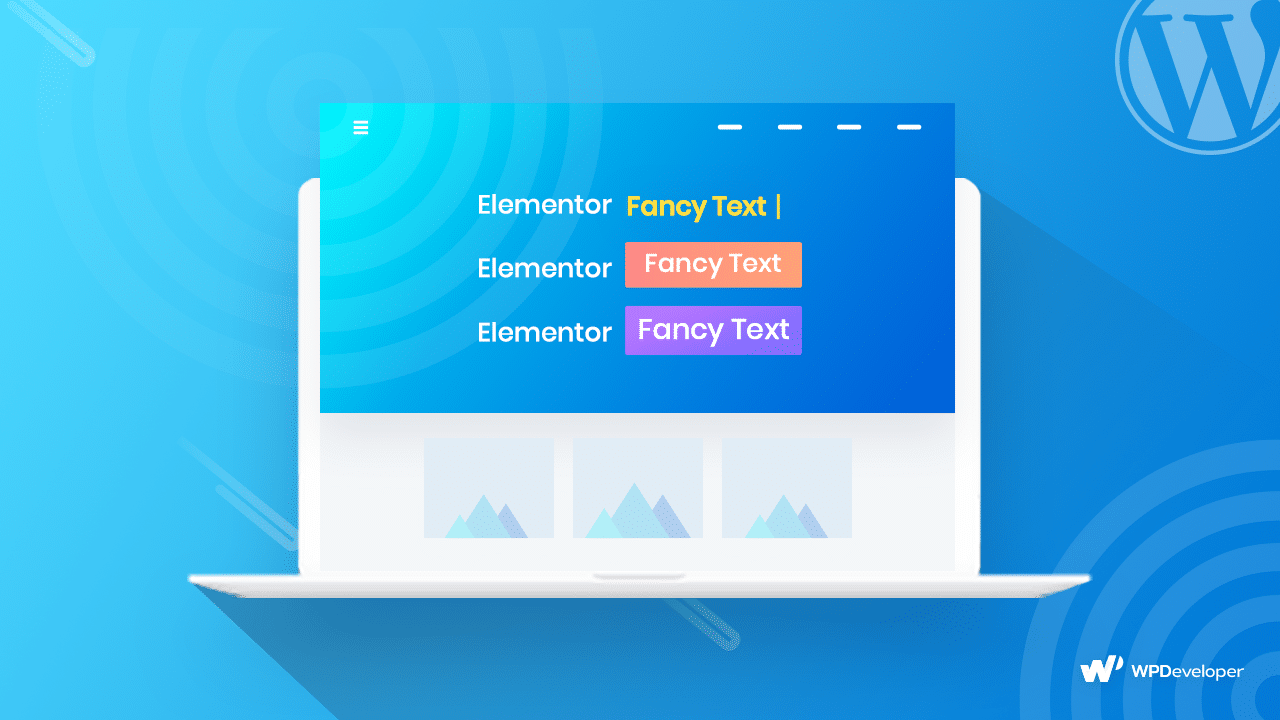 You can highlight the headline of any website paragraph, important notice like Merry Christmas, New Year messages or any key announcement with Fancy Text. It will help you to break the tedious representation of the site content.
In the WordPress site, you can easily build or update the site content with different fancy text styles and have fun creating it. 
Essential Addons comes with this Fancy Text element for WordPress to design the overall site write-ups distinctly. To Boost Elementor works, this text element is available to style the site content differently with animated effect in its free version. 
Why Use EA Fancy Text For WordPress?
Fancy text in WordPress sites matters for the audience who have different tastes in reading. It has been proved that people feel interested to see different text styles in content. It helps to hold readers' attention on site. 
By following some simple steps, the Essential Addons Fancy Text element can represent the content creatively with an animated effect for the WordPress site. 
You can easily customize the site content as per your desire. One of the biggest facilities provided by it is the same text writing with separate animation effects. You can easily change the background effects, color, or alignment differently to hold the reader's interest in your site. 
How To Use EA Fancy Text Step By Step Procedures
Now we will see how quickly and easily, you can create the headline or important tagline for your WordPress site by EA Fancy Text element. You can also get help with the doc here.
How To Display Your Contents Using Different Text Style
EA Fancy Text Content Settings is divided into three parts Prefix Text, Fancy Text Strings, and Suffix Text. By using three patterns, you can easily insert your desired text, add items and select the different header styles for Prefix and Suffix text. 
In the meantime, you can change the text style types, alignments, or animation effects by Fancy Text Settings. You can choose from eight types of variety of animation effects like typing, fade up, fade down, fade right, fade left, zoom, bounce, and swing. 
How to Break The Monotonous Look Of Content
Three types of Style available for three different features like Prefix Text styles, Fancy Text Styles and Suffix Text Styles. Prefix Text is the starting part of a post. These starting writings need to be very clear, unique and eye-catching. It is the middle part of the content. Here, you can insert some amazing focus words separately with animation effects to attract your viewers. Suffix Text is the ending sentence of a content, which will explain the entire line of thought. So, it needs to display very beautifully to increase the view of your site content. 
Here, you can select the individual types of text color, size or highlight text background and design it the way you want to showcase the headings or important notice to your site. 
It's easy to insert contents and style swiftly with EA Fancy Text elements of Elementor.
In short, fancy text works faster to increase your site visitors. Including Essential Addons text element ease this work for WordPress users who wants to highlight the headlines differently or separately but without using multiple fonts. Because it breaks the consistency of text representation in the website. It looks messy to use different font styles.
Hence, you can focus on key points of text with the same font style but with eye-soothing animation effects. You can customize the text styles for Prefix, Fancy Text and Suffix Text as per your taste to grab the reader's attention.