We can't believe that Essential Addons is already 2 years old! 🎉 Time flies so fast, doesn't it? From the start of our journey, our ambition has always been to power up the Elementor page building experience for users from all over the world. Thanks to your outstanding contribution & constant support, we have been able to achieve tremendous success by becoming the most popular Elementor Add-on with over 250K+ Active Installations within just 2 years. So, get your party hats on and join in with us for an epic celebration with a whopping 20% discounts.🥳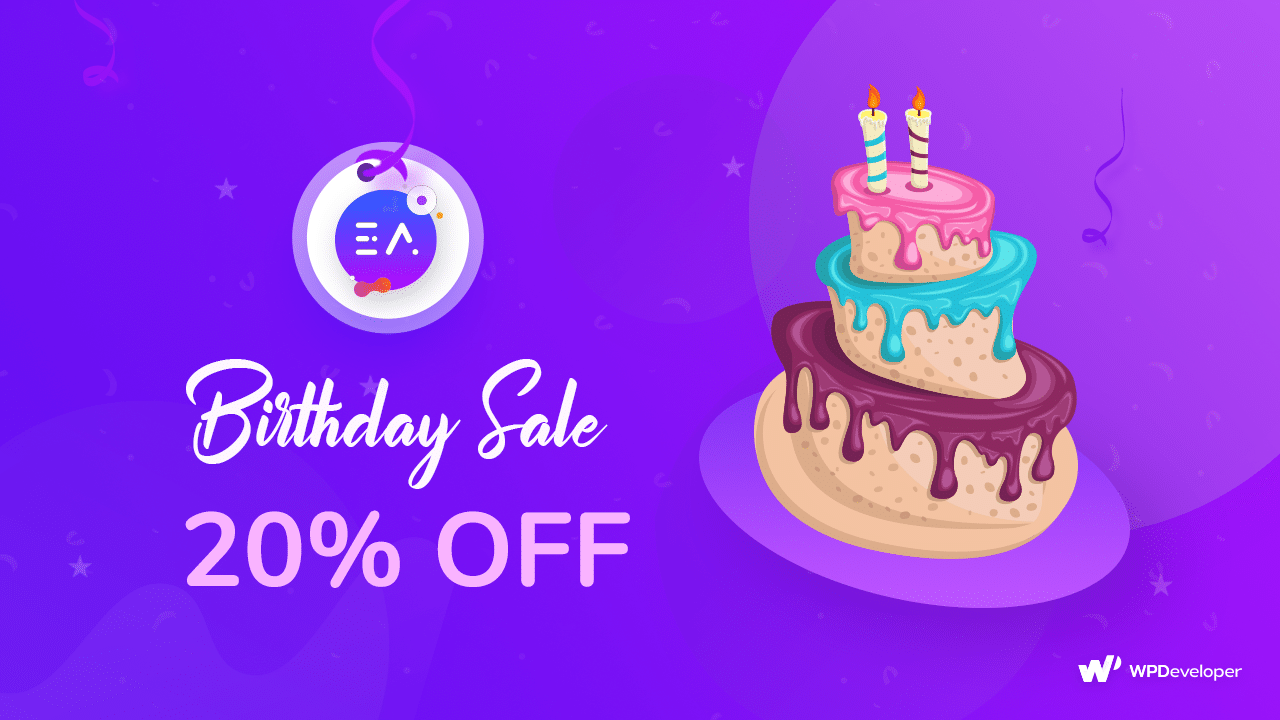 Take a Glance on What We have Achieved So Far🚀
Within only a year, we have managed to gain over 100K Active Users. Before we have stepped in our 2nd year, we already got over 200K fantastic customers and over 1.8 Million Downloads. The fact that Essential Addons is the most used and most downloaded Elementor extension on WordPress Repository speaks volume for itself. On top of that, our userbase is constantly increasing and we are really overwhelmed with the love we get from our amazing community. No wonder why over 500+ happy customers have left us 5 Star reviews about Essential Addons.
An Extraordinary Journey So Far💜
When we started the journey back in 2017, it hasn't been an easy road for us to reach to the position we have now. But our hard work, dedication, and customers recognition have massively helped us gain some amazing milestones through the years. It makes us extremely proud to have a fantastic diverse community who always gives us inspiration to do even better. Without this continuous support and appreciation, Essential Addons would have never come this far. With the Introduction of Essential Addons 3.0, we wanted to give something back to the community by providing a blazing fast Elementor Page Building experience with exciting new features. Without further ado, let's take a glimpse of idea about what our journey has been about over the years:
Over 500 Five Star Reviews Inspire Us To Do Even Better🌟
On WordPress.org, we now have 500+ beautiful reviews from our valuable customers. We are extremely grateful for always showering us with their tremendous support and love. We believe our journey wouldn't have been much extraordinary, if our customers' constant love, feedback, and recommendations are not involved.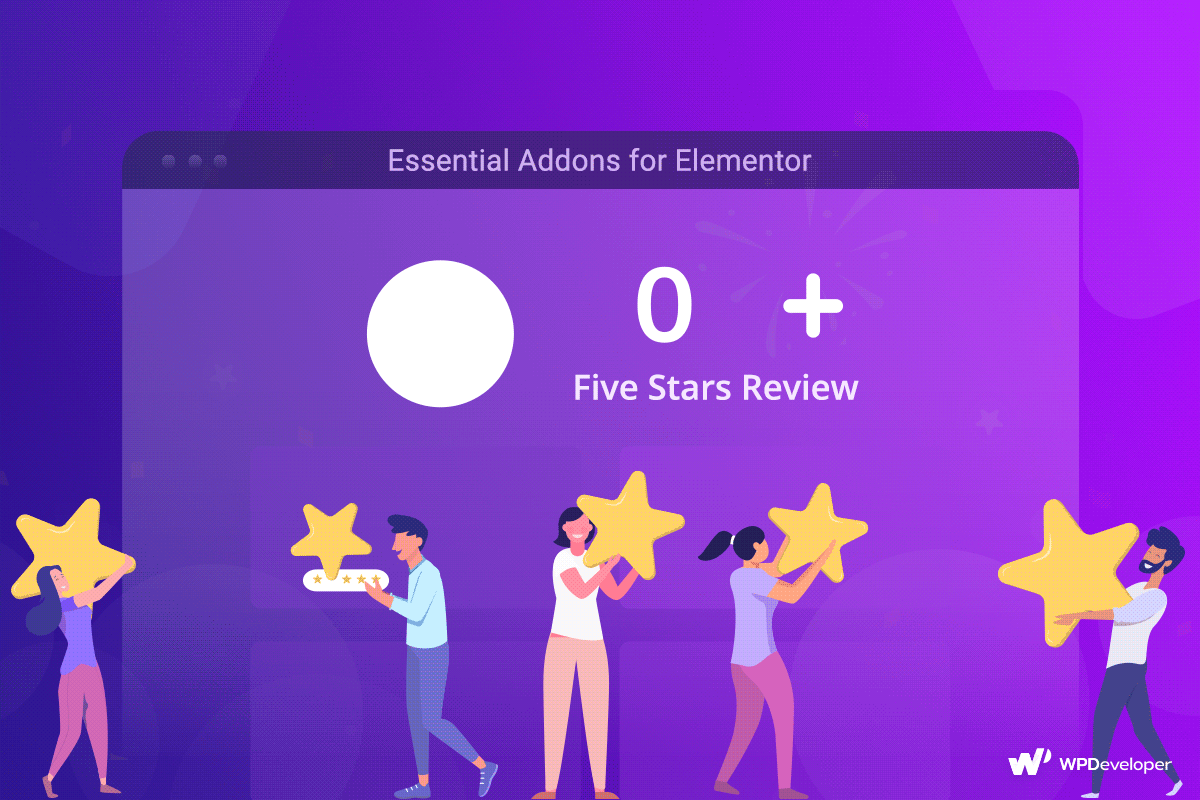 WordPress Experts Are Talking About EA for Elementor🏆
The Elementor Experts across different platforms have acclaimed Essential Addons to be their first choice and are very pleased to use Essential Addons to build their website. They have all been very impressed with excellent & fast loading experience provided by Essential Addons. They have even recommended it all the Elementor users to boost up their site performance and add unique functionalities. We are absolutely delighted to receive such amazing compliments from Elementor Specialists such as Adam, Alston and many other popular personas.
Will It Slow Your Website Down? As someone heavily involved with Elementor, I wanted to see if there would be a performance impact on my website. Don't worry, I tested it and recorded everything so you wouldn't have to. Bottom line, Essential Add-ons adds features that are not in Elementor or Elementor Pro, and there are several unique features exclusive to Essential Add-ons. Also was quite surprised by my speed testing. My expectations on the performance were different then what the tests showed. Easy buy for me.
Great Add-on (Super Support & Backed Up by Speed Tests). This tool will help our web design business. It is such a great product because elementor is excellent but this addon offers a lot more features and functions. At the moment, I use both Divi and Elementor to build my client's website and looks like this just gave an unfair advantage for my elementor tool kit.
What Can You Expect in the Next Chapter? ⏭️
Early this year, we have already released a game changing update with Essential Addons New Version 3.0. We are thankful for all of your support and continuous love we have received after such a major release. It has encouraged us to grow more and improve our performance day by day. Our Team has been dedicatedly working on introducing some absoultely ground-breaking features over the coming months. We are confident that it's all going to be worth the wait.
Let's Get Connected On Social Sites 👋
We always adore your amazing support, feedback, and love. Let's get connected on our Essential Addons community on Facebook and share your valuable opinion that helps us to grow. We won't mind if you wish us on our 2 years birthday celebration with your beautiful thoughts. 🎈🎁🎈
20% Off as a Token of Love 🎁
Lastly, on this special occasion of 2 years celebration of Essential Addons, we are offering 20% sale on all the EA packages for first 100 users! If you are a Free User of Essential Addons, Now it's the time to grab this amazing opportunity by using the Discount Coupon: bday20 & take your web design to a new level with this great deal. 🎉🎉
Will You Recommend Our Plugin To Your Friends?