Having a home decor website can spur your business forward in more ways than you can imagine. When it comes to creating one, people fall into the ocean of not knowing enough about coding and designing. But, with the right guidance, you can quickly put together a website for your home decor business. Today we will show you the most effective method for creating home decor websites instantly without coding.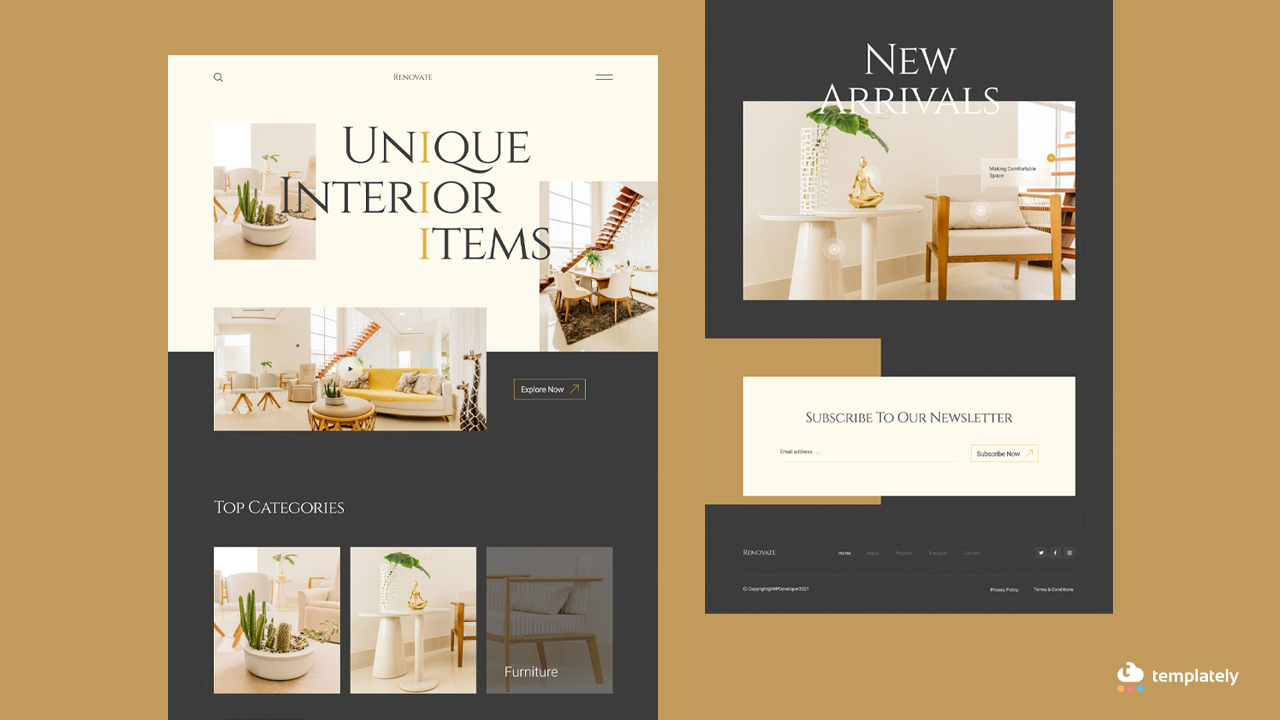 Thinking Of Starting Home Decor Business All By Yourself? 
Ultimately, starting your home decor website means establishing an online presence for your business and opening new revenue streams. Hence, a website won't serve any purpose without a well-thought out home decor business model. Let's focus on the aspects of starting your own home decor business. 
Before starting your home decor business, you must explore the entire marketplace for furniture lines, renovations, etc. Home decor business has direct interaction with furniture line, glass and ceramic manufacturing, wall color, tiles and marbles, carpenters, etc. So make sure you have explored these channels and have created a great acquaintance. It will help you to move your business faster. If you have your own rocking ideas to turn them into reality or got an amazing team to take care of amazing home decor ideas then you should jump right in. 
Study Present Marketplace Of Home Decor & Furniture Store
Let's dive into the home decor niche to help you explore all aspects of the home decor business. Products in the home decor niche contribute to the aesthetics and ambiance of a home. Paintings, frames, posters, wall mirrors, furniture, vases, decorative stickers are some examples of products in this niche that can enhance the beauty and appeal of any home. 
Based on Oberlo's data, top business models are manufacturing, reselling, and dropshipping. And the most interesting part is, all these can be part of your home decor business. So, home decor is a consistently good niche.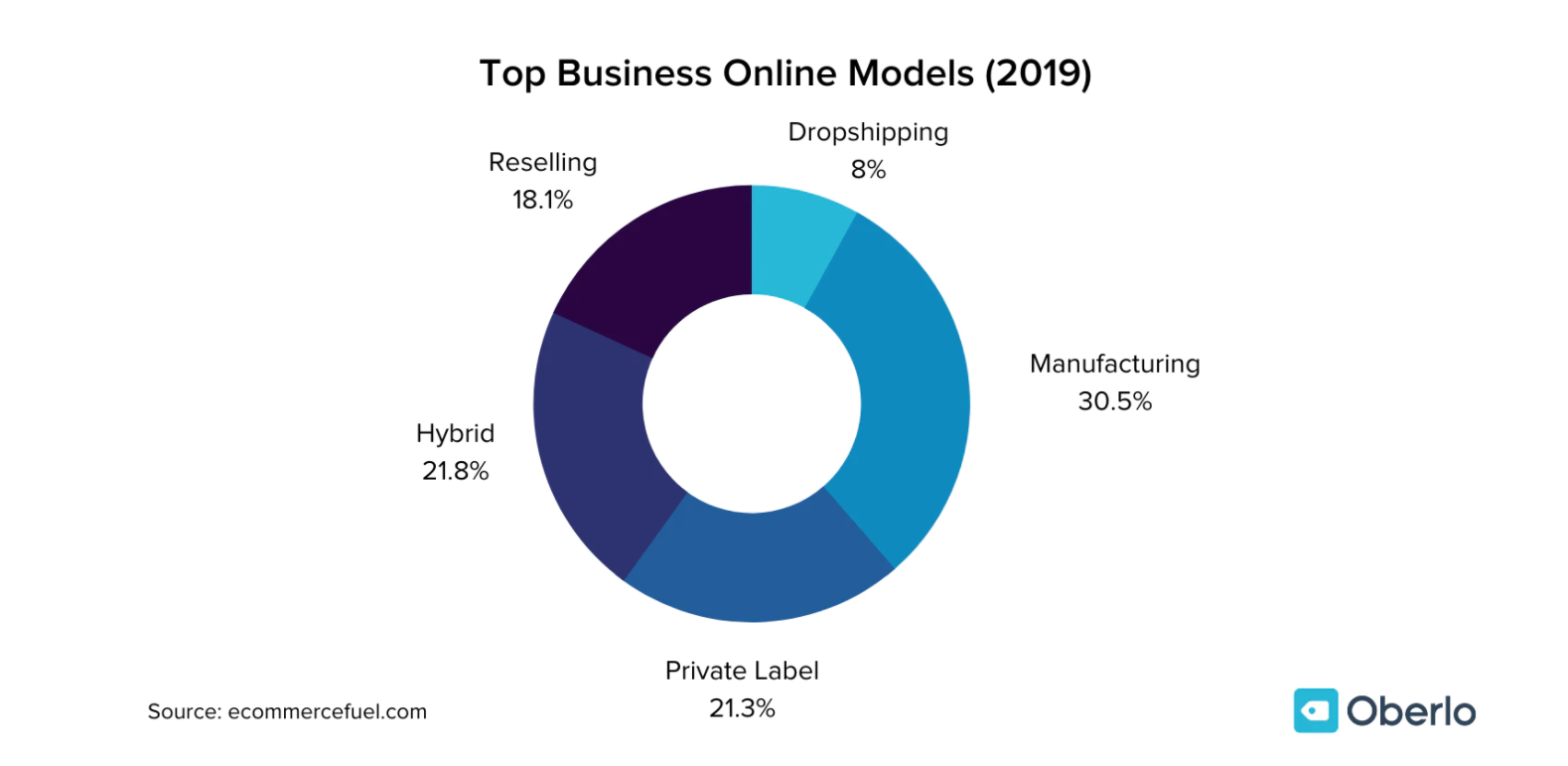 Here, sharing another interesting data about furniture selling. It is estimated that the US home goods industry, which includes furniture, appliances, and household accessories, will grow by 10.3% in the next five years and is worth $65,122m USD.
3️⃣ Amazing Ideas For Starting A Home Decor Business
Now what to represent through your home decor website? So here we are presenting the most trending and successful business ideas for your home decor business. Any of these ideas can be a Kickstarter for your home decor business depending on your expertise and commitment to innovation.
🛋️ Renovate Or Remodel Home Furniture
You can start your DIY home decor business, which includes newly remodeled ideas and models if you have the ability for revamping old homes and rooms. From the color contrasts to wall art, furniture, and decor items, you can suggest everything and clients looking for renovations or upgrades.
For a better customer experience, you can even offer various style solutions, such as Bohemian Style, Mid-century Modern Style, Scandinavian Style, Farmhouse, Urban Modern Chic, and more.
🪑 Style Profiling Of Home Decor Items
Sometimes it can be confusing to choose between the two sets of home decor items we like. For instance, this chair or that one. People often look for suggestions for these things online. So here is a huge marketplace for your home decor business, an online decorating service.
You can provide services to help customers combine their aesthetic preferences and narrow down their choices if they have little or no experience with home decor items. In order to recommend products, designs, and different wall art, you need to understand their tastes through questions.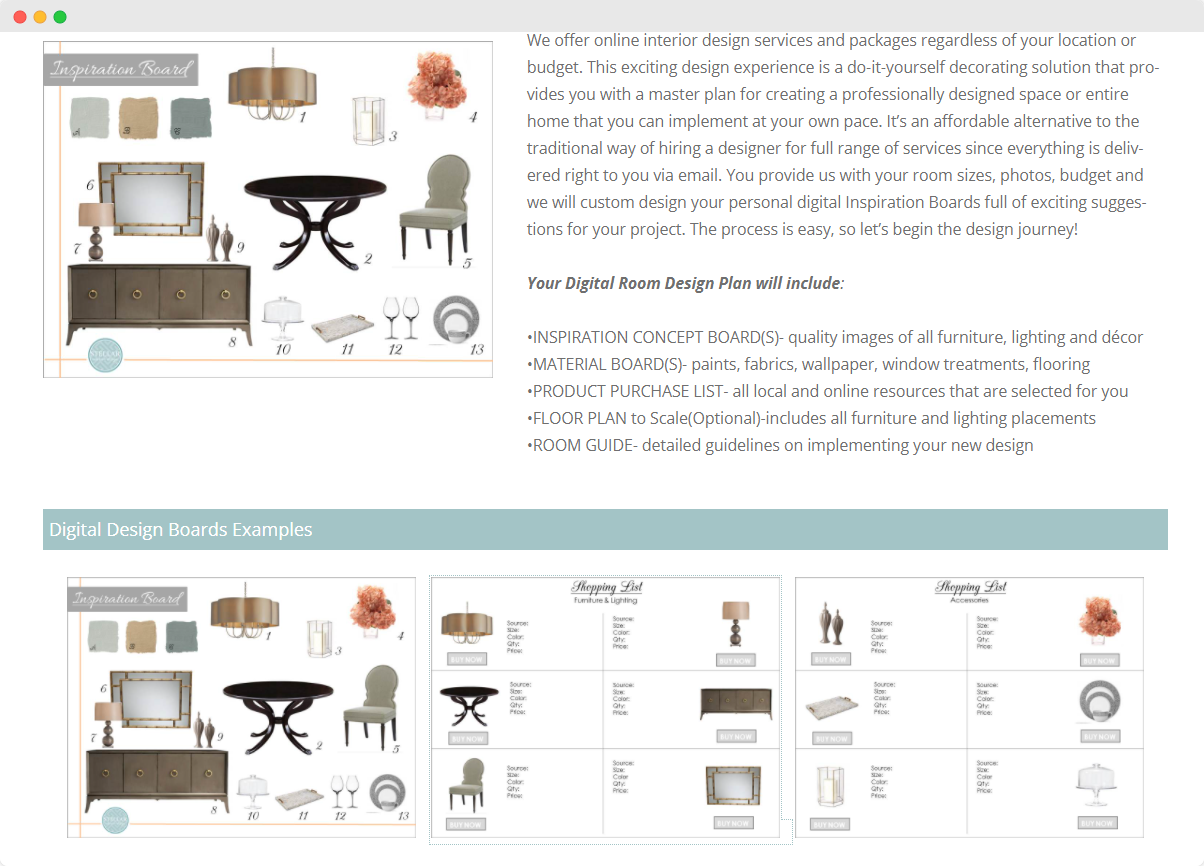 In addition to customizable designs, you can also provide online design packages for bedrooms, kitchens, and outdoor areas – something your inner decorator would appreciate.
Source: https://www.stellarinteriordesign.com
🏺 Sell Hand-Crafted & Customized Products
Starting a home decor business that sells directly to artisans and manufacturers on their websites can be also a great idea.  With an eCommerce store, you can sell a wall art painting done by a certain tribe. You can also get a custom design made for your customers. As an added benefit, you can cut down on middle costs by buying from the manufacturers directly and selling it at a lower price than other retailers.
Set Up Home Decor Business Formation & Legalities 
Forming a company and obtaining legalities are prerequisites for any type of enterprise. It is no different for your home decor business. You have to come up with a creative name that represented your business mission and vision. 
Once that is done, you can register your home decor business, get a tax ID number, obtain an ISO certificate, and so on.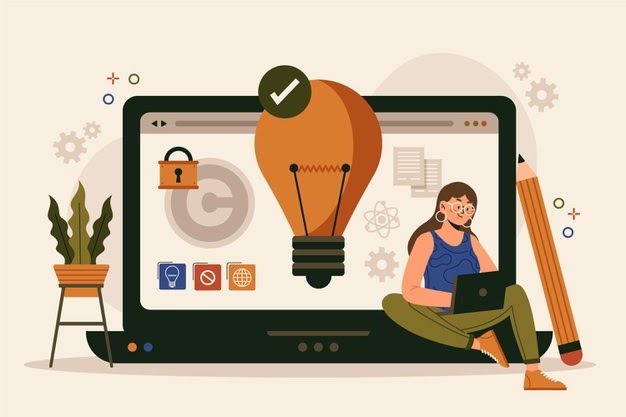 Preparing these necessary legalities will help you in the long way to upscale your business smoothly.
Why Should Your Home Decor Business Have A Stunning Website?
Now let's focus on why you should have a home decor business website. Having a website means opening up a new channel for the home decor business, an online store. First, let's check out why the rate of shopping online is increasing. Here check out the recent statistics by Oberlo, why people love to shop from online stores.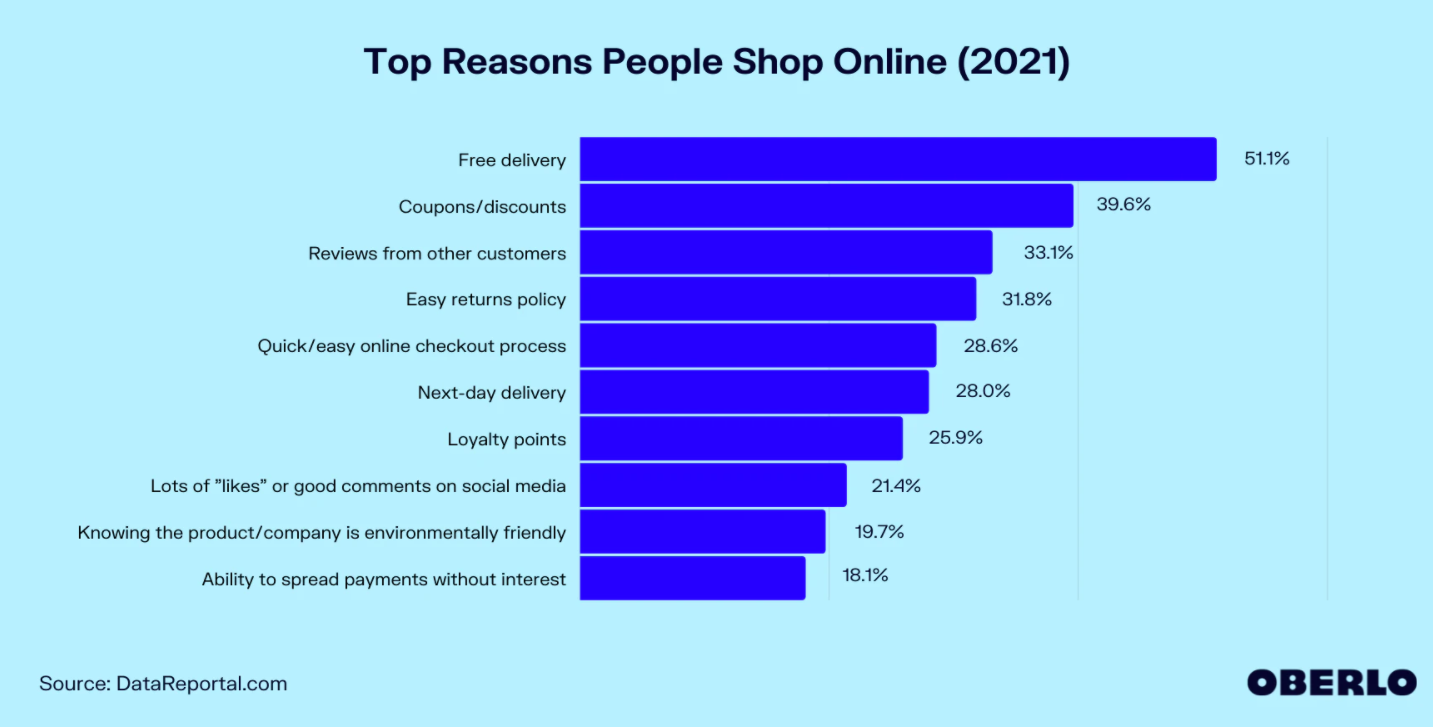 So if you create a home decor website for your business it will help you attract all the customers online. Furthermore, you can create connections with niche customers using social media platforms. As well, you do not have to keep your store open and closed.
You can manage your online store from anywhere and anytime, and keep in touch with your customers. These are the major benefits you will get for your home decor business if you create a website.
Prerequisites For Starting An Online Home Decor Store
Now that you are convinced of the above data and benefits, it is time to get ready to set up your online home decor store. For creating an online home decor store, you must check out some factors first. They are: 
✔️ The budget for creating your online home decor store. 
✔️ When you want to get your online home decor store ready.
✔️ Are you going to manage your store all by yourself or not?
✔️ Whether you have coding and website designing experience or not. 
When it comes to low cost and the ability to launch your website immediately, WordPress is a great choice. Creating a website in WordPress almost costs zero compared with other platforms. Moreover, WordPress is so accessible and flexible without being expertise in coding. 
Most interesting is the wide range of ready WordPress templates library with ready designs for your website. So that you won't have to think of designing your home decor website as well. 
You need to take care of a few things before you start building your home decor site, apart from choosing WordPress. Mention these below. 
Select An Unique Domain Name & Hosting Provider
To create an online home decor store, you have to come up with a creative and stunning domain name. Always domain names have to be unique. If you can't get the domain of your company name then you can create a different yet similar to your store name. 
Popular domain sites like GoDaddy, Bluehost, etc will provide you with available domain name suggestions.
Set Up WooCommerce- The Best WordPress eCommerce Platform
By creating a home decor website, you are selling products or services related to design or renovation. So you must set the online store into your home decor website. In WordPress, the ultimate popular plugin for creating an online store is WooCommerce. It allows you to create an eCommerce site from a single vendor to a site with multiple vendors. Therefore, you must install and set up WooCommerce into your WordPress dashboard. 
Choose A Stunning Home Decor Website Elementor Template
To make your home decor website light-weight and fast-loading, it's important to choose a lighter theme with basic functionality. So, your website will load instantly and will be more SEO-friendly. Furthermore, to add your home decor business-related features like shop page, contact page, etc you can get a stunning Home decor Elementor template. 
The benefits of using home decor Elementor templates include: you can create your website without writing a single line of code. In addition, you can see a live preview of your changes. And the ready Elementor templates are designed in a way that you do not need any design expertise in order to create your WordPress website. Here is the popular ready Elementor template list for creating home decor websites. 
⭐ Woodie – Online Furniture Store WordPress Template
Elementor template Woodie is a stunning, professional, and modern template specially designed for furniture shops and interior designers. 
This is an elegant Elementor template that includes 6 beautiful, interactive pages, full WooCommerce integration, and Elementor compatibility.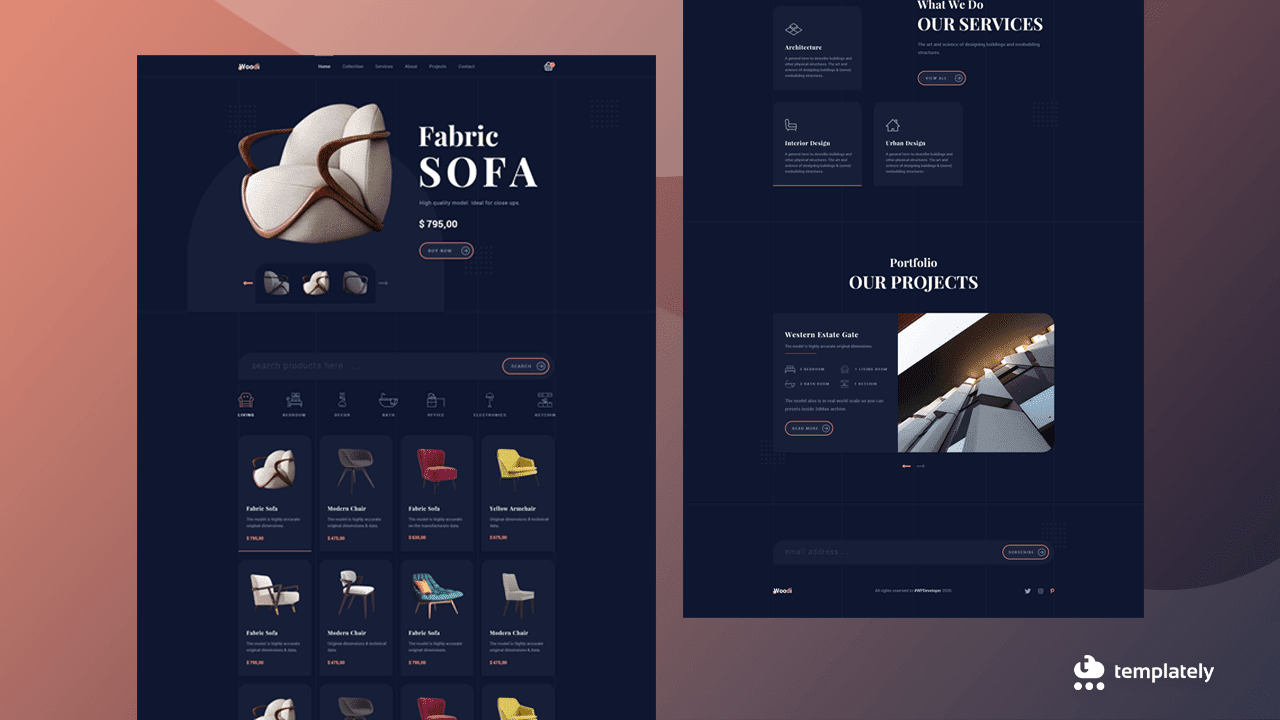 ⭐ Renovate – Home Decor WordPress Website Template
Renovate is a beautiful WordPress template that makes it easy to set up a home decor website without any coding knowledge. Having been built with Elementor and Essential Addons, Renovate is easily customizable and can give your home decor website a professional appearance. It is responsive across all browsers and loads quickly on mobile devices.
The template's versatile design makes it suitable for creating websites for interior design, home accessories, fashion stores, home furnishings stores, indoor plant stores, as well as other related businesses.
⭐ EleInterior – WordPress Website Template For Interior Design
The EleInterior template is for creating WordPress websites. The Elementor template is specifically for interior design, interior design studios, interior decorating, home and office design, architecture, architects, and interior decorators.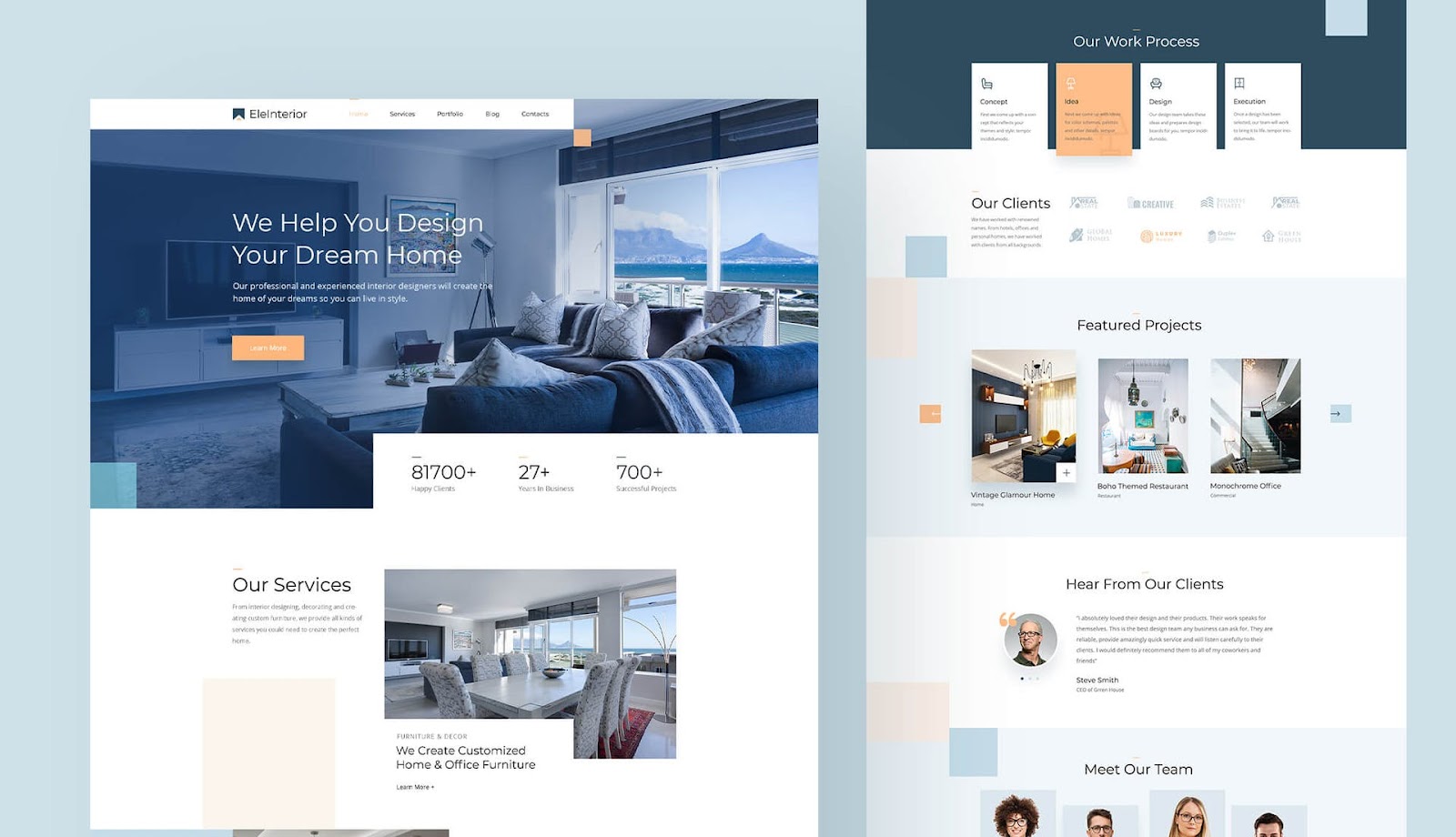 Also, you can build a WordPress website for furniture stores, home furnishings, or office furniture stores with this template.
How To Create A Home Decor Website Using Elementor Template
Now time to start creating a WordPress website for your home decor business with a ready Elementor template. Get 5 minutes and start following this step-by-step guideline. 
Step 1: Install & Activate Elementor Template Related Essential Plugins
Elementor templates are dependent on multiple plugins based on the functionality they will provide. Let's check out the essential plugins you will need to functionate your Elementor-built home decor website.
Step 2: Insert A Stunning Elementor Template For Home Decor Website
To design your home decor website with ready Elementor templates, open a new page on your website and click on the 'Edit with Elementor' button from the top. It will directly take you to the Elementor edit panel. 
Now, click on the blue 'Templately' icon from the page, it will directly take you to the Elementor templates library. Now pick your favorite home decor Elementor template and insert it.
For the tutorial purpose, we have chosen Renovate – home decor Elementor template from Templately. So, we have inserted the template. Check out how the template will look after inserting it.
Step 3: Give Personalised Touch To Your Home Decor Website
All the Templately Elementor templates are created in such a generic way that you can use its content for your live website also. But to give your website a personalized touch, you must change the website logo, update the footer & header, style your content, etc. to these, click on the section you want to customize, and it will be instantly open beside in Elementor widget panel. Now make the additional changes and update it. 
Step 4: Save Your Customized Designs In Templately MyCloud
If you are planning to reuse your customized designs for another webpage or WordPress website, then you can easily save them with Templately MyCloud feature. This personal cloud storage is available once you sign up for Templately. You will never have to create the same block or page again with this exclusive feature! 
Save a single block on Templately by right-clicking on the section and selecting 'Save Block To Templately'. Your selected block will be saved in the cloud. In this way, you will secure your customized design.  
You can also collaborate your saved designs with the team by using Templately WorkSpace. It is another exclusive feature of Templately that helps to give access to the same saved design for multiple users. By doing so, it will save a lot of time for your team from recreating the same designs. 
Launch Your Aesthetic Home Decor Website   
After making all the changes, click on the 'Preview' button and check out the demo of your home decor website. If the appearance looks satisfying, then click on the 'Publish' button. Congratulations! Your WordPress website for the home decor business is successfully launched. Now create other pages and start promoting your home decor business through it. 
This is how easily you can create your home decor website and kickstart your business. As you can see, without knowing any coding, with the help of ready Elementor templates you can create stunning WordPress websites. Furthermore, if you get stuck while creating the website, then you can communicate to Templately contact team anytime. 
If you have found this tutorial helpful then don't forget to Tweet or share your thoughts with other Templately users in Facebook community. And to be the first one to get this kind of insightful tutorial, updates subscribe to our blog now.