Being a hotel owner, you have to ensure your online presence stands out on WordPress by using a ready, stunning hotel And resort template for Elementor to attract your potential customers. You don't have to add any code just by doing a little edit with the content, and you can publish a complete website right away. To find out in detail, check out the whole blog below!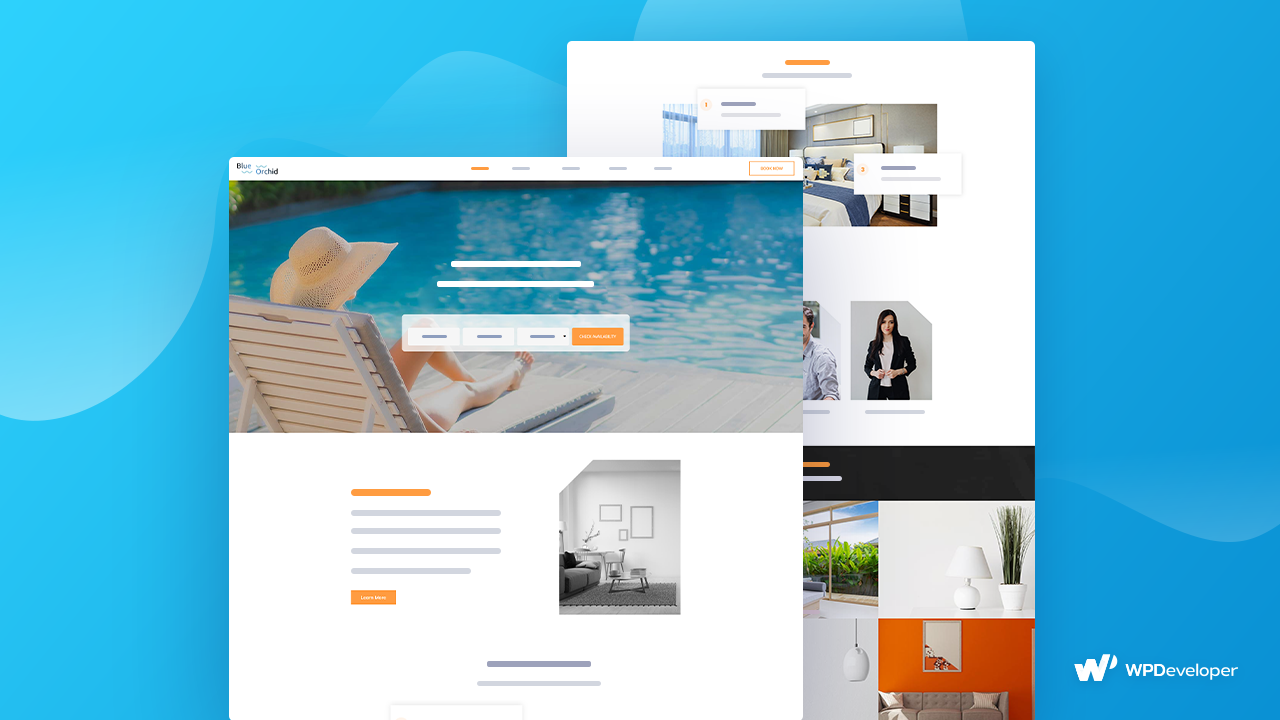 🤔 Hotel And Resort Template To Build Your Website?
Having an interactive hotel website will help you to engage potential customers more effectively to boost your business. If they find your site easy-to-use to select your service, do online payments, and all, your customers will surely pick and suggest your website to others to get the benefits. 
👉It will work as a chain process to expand hotel business online and get huge exposure to instantly create a brand value overnight.
👉You can display your hotels, resorts, room reservations, restaurants, or any business involved in the tourism industry using a fully functional complete website pack with ease. 
👉Besides, you can also share your hotel and resort website on social media and encourage you to satisfy the customer to do that for you. It will increase your site traffic and conversions to accelerate your sales. 
👉So for that, you need to be smart enough of choosing a way to help you build your site immediately. A ready, responsive hotel and resort template is an undeniable solution for that. You don't have to add codes to modify it, just get the template, add your content, and make it publish whenever you want.
🏨How To Get The Best Hotel And Resort Template For Elementor?
Elementor page builder comes with a ready, fully-functional templates pack to create your WordPress website just in minutes. No need to develop a site from scratch and with a bit modifications, you can publish your website any time you want. Which will save time and in an effortless way, you can build your website without coding. But to do that, you have to get the best one that will fit your site environment and fulfill your desire.   
With the 'Blue Orchid' template by Templately, you will be able to do that by using its stunning, easy-to-use hotel and resort-ready premium template pack for Elementor. Let's get to know in detail!   
⚡What Does Blue Orchid Offer You?
'Blue Orchid' comes with eight ready pages and four incredible blocks to create a hotel and resort website in Elementor using its exclusive design. Each of its ready templates gets smooth scrolling effects and consists of animated widgets that make its sections innovative and engaging for your potential customers without adding any single line of code. 
🔰Home Page
Its ready-to-use Home Page design will create a great impression among your visitors because of its creative sections with smooth scrolling effects. 
🔰About Page
You can easily showcase your story behind your business, ethics, inspirations, and achievements interactively for your customers by using its ready 'About Page' template.
🔰Team Page
Display your amazing teammates beautifully by using the 'Blue Orchid' hotel and resort template pack 'Team Page' design. 
🔰Room Page
You can showcase your available rooms, services, and pricing creatively in the individual section of the 'Blue Orchid Room Page' ready-to-use template. 
🔰Gallery Page
With the help of the 'Blue Orchid' Gallery Page ready template, you can showcase your hotel service's amazing views visually in its animated sections.
🔰Blog Page
You can showcase your blogs, any important notices, or posts by using this hotel and resort template-ready 'Blog Page' design. 
🔰Blog Details Page
Blog Details Page will help you to redirect your visitors to the detail of your every post and make them engage with your content with its interactive view. 
🔰Contact Page
The Contact Page template of Blue Orchid will help you to build direct communication with your potential clients using its fully-functional form layouts with others.   
✅ Checklist To Follow Before Creating A Stunning Hotel And Resort Website 
You have to get a few things done before using this stunning ready template pack 'Blue Orchid' premium template of Templately. Let's check out all the necessary plugins that will require below: 
👉Elementor: First, activate Elementor in your WordPress site to use the 'Blue Orchid' ready template pack. 
👉Essential Addons: Now, install & activate Essential Addons for Elementor which is the best elements library with 1 million+ happy users and 90 advanced widgets and extensions.
👉Templately: As you know, 'Blue Orchid' comes with Templately, so you have to sign up for an account and get installed 'Templately' on your WordPress website to complete the full setup process.
🚀Guide: Build Eye-Catching Hotel And Resort Website In Elementor With Templately
After activating all the mentioned plugins, you can now use the 'Blue Orchid' best hotel and resort template in your Elementor site following the step-by-step guidelines below:
Step 1: Insert 'Blue Orchid' Homepage Design
To create a new page on the WordPress dashboard, you have to click on the Edit with Elementor. It will then come with a new page in your Elementor editor.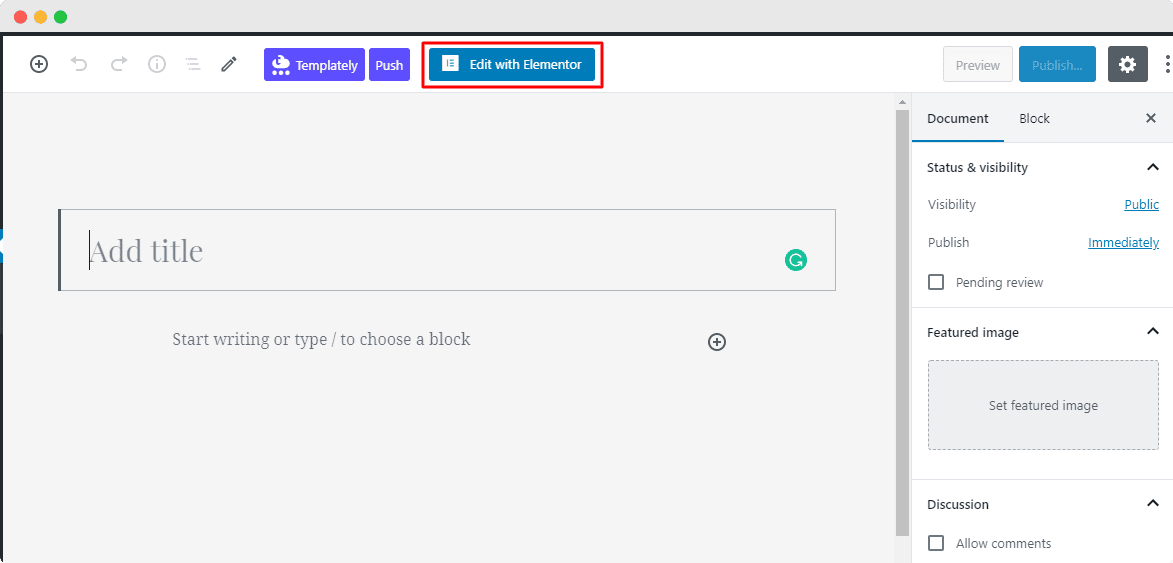 Afterward, you have to click the center icon of the page that comes with 'Templately'. It will showcase all of Templately-ready collections here. You have to do a search for 'Blue Orchid' or can type 'Hotel and Resort' to view all the ready pages & blocks attached to it.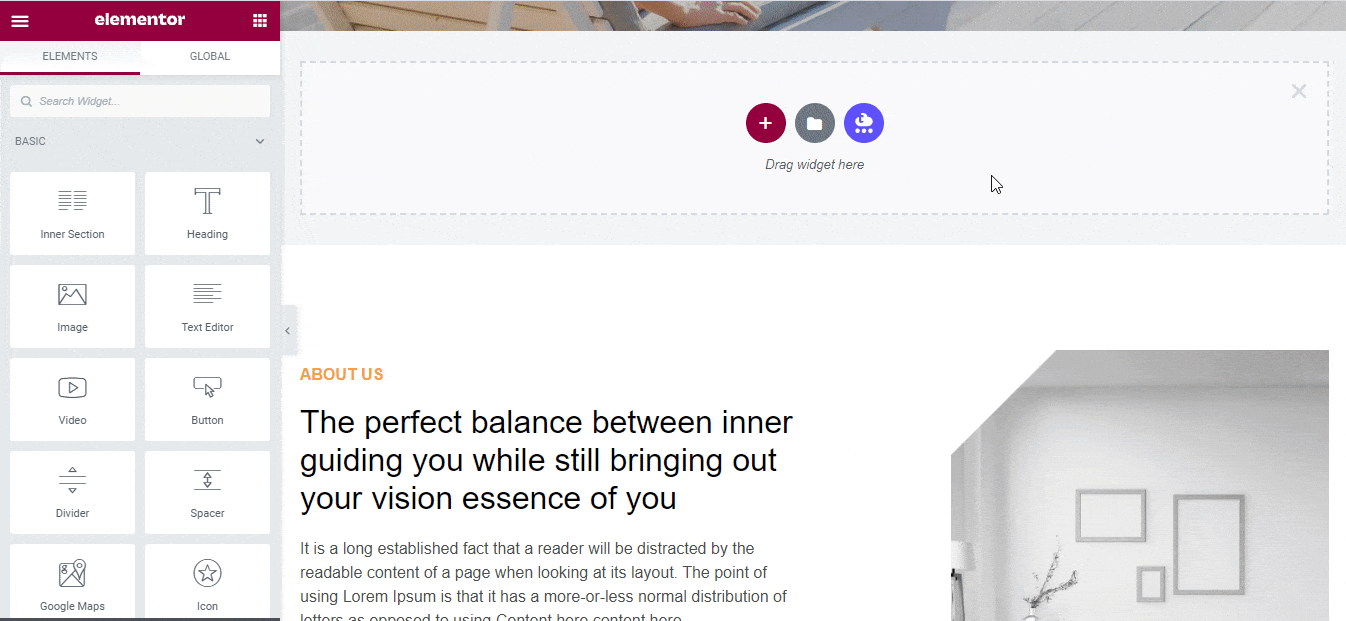 Later, we will pick the 'Blue Orchid' landing page designs to get started, hit the 'Insert' button, and start modifying it as you wish to make it. Following this same process, you will be able to create an entire hotel and resort website just within a few moments.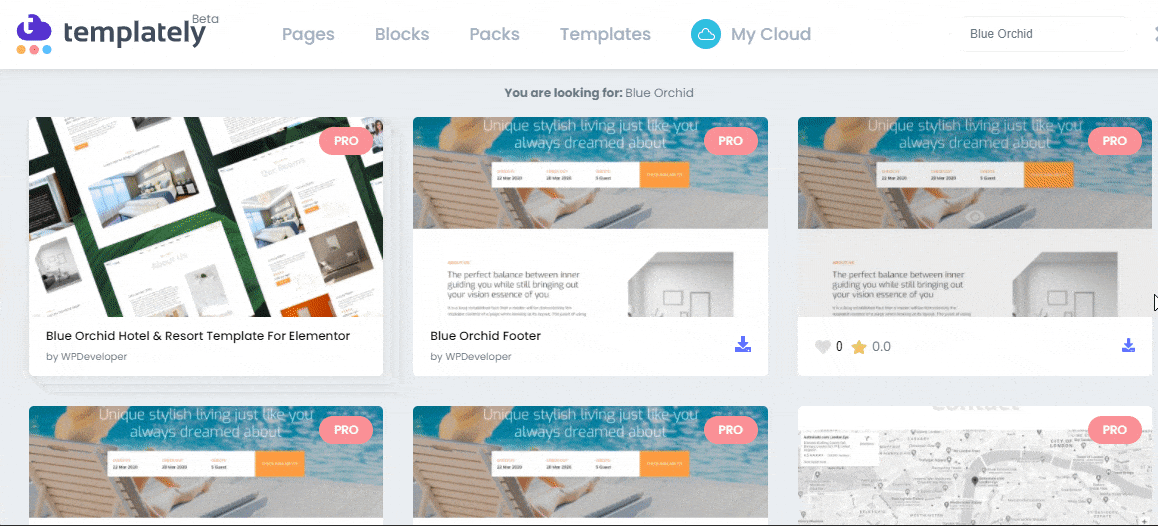 Step 2: Customize The 'Blue Orchid' Landing Page Design
You can start customizing the responsive, fully-functional 'Blue Orchid' hotel and resort landing page template in Elementor without any coding. You can add any content in each creative section, drag & drop one to another, do a bit of modification, and it's fully ready to become live.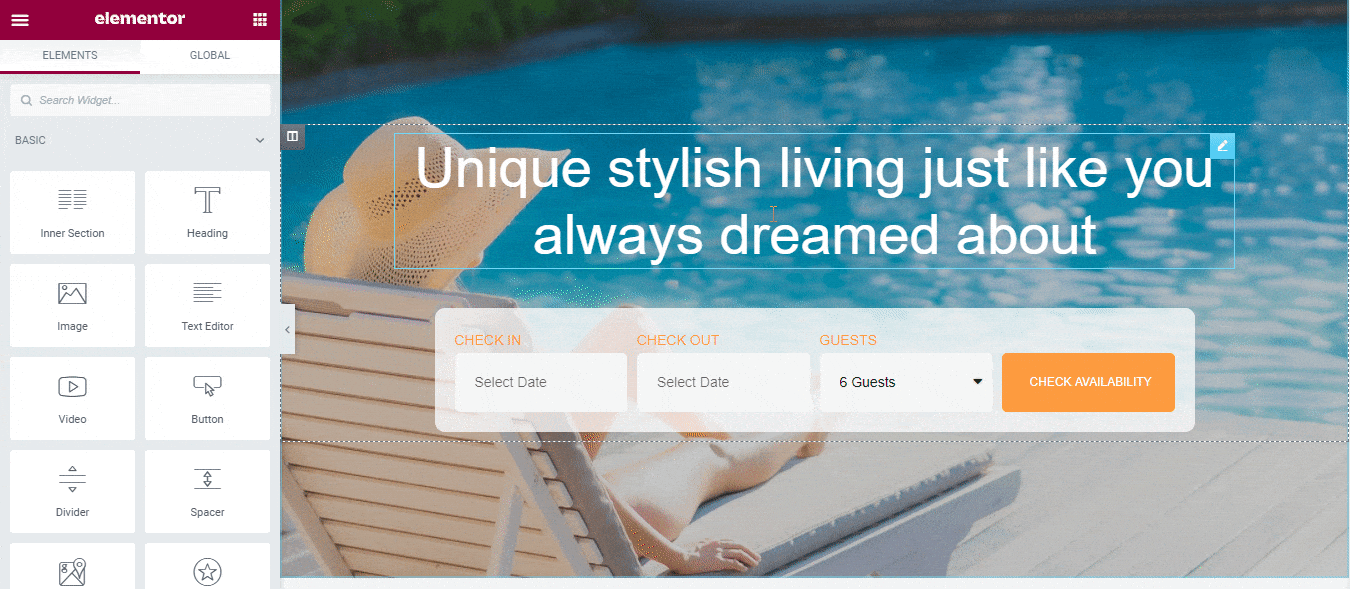 Step 3: Save The Ready Design Template On Cloud
You can save your template designs in 'MyCloud' storage of Templately by right-clicking on the design section and pressing the 'Save Page to Templately' option to secure it on cloud space.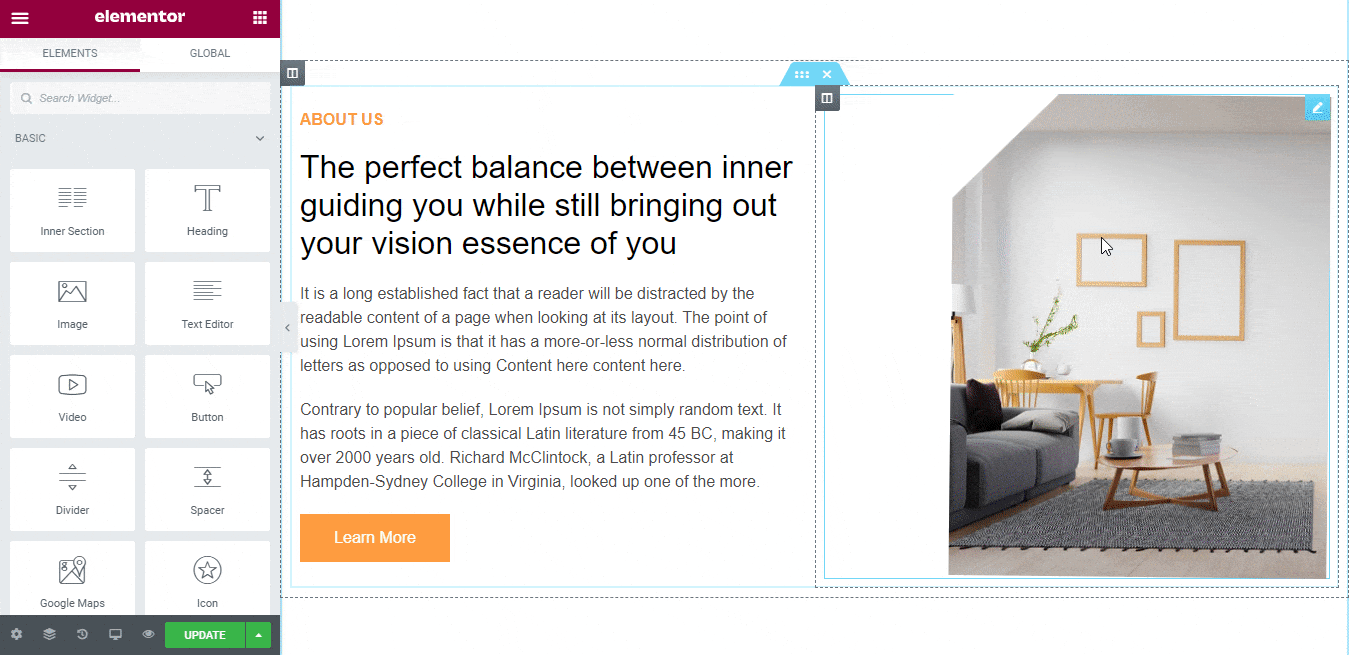 You can even reuse your saved template designs on multiple sites as many times as you want. Besides, it offers you to create a seamless collaboration on the cloud by sharing your ready designs of yours with other team members using Templately WorkSpace. 
🔥Design Your Hotel And Resort Website Now!
Kudos! Finally, you have successfully used this 'Blue Orchid' ready landing page template design by Templately to create your hotel and resort website in Elementor without coding.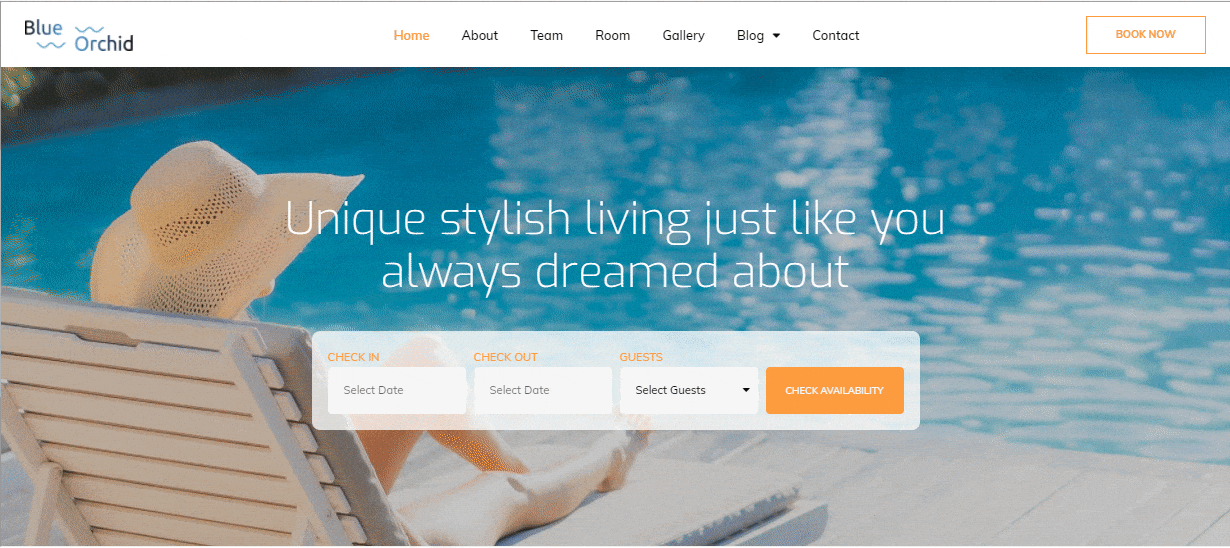 If you didn't use Templately predesigned template collections yet to give your website a unique look, give it a try now and let us know your experience by commenting below. If you face any problem or need any assistance, you can freely contact our support team anytime.