Want to stay ahead of time? Try the all-new SchedulePress 5.0, the ultimate WordPress content-scheduling plugin. With a completely revamped dashboard interface and improved code structure, the latest release brings you advanced options to make your workflow more seamless and to provide you with a better user experience than ever before!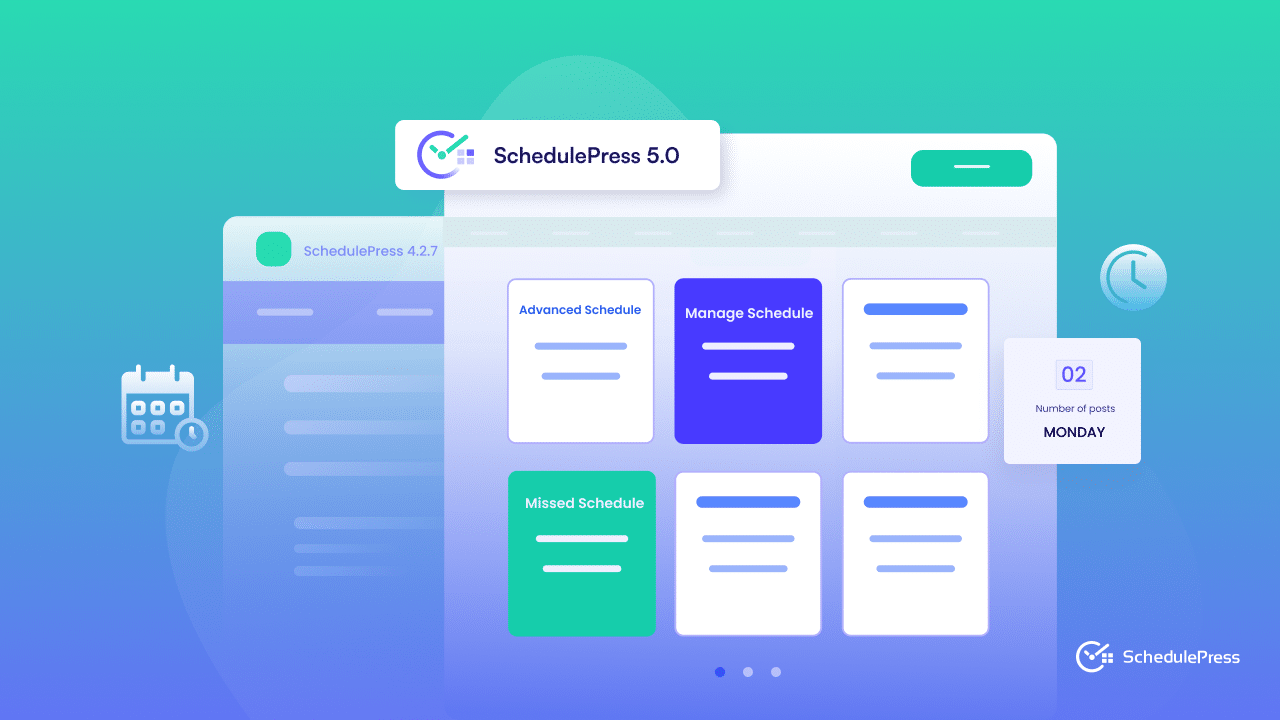 Planning and scheduling your upcoming content is essential in today's fast-paced digital environment, especially if you are a WordPress content manager and site administrator. SchedulePress 5.0 can take your content management flow to a new, automated, and efficient level with a user-friendly interface. So, let's explore all the new updates that the latest version of our plugin has to offer and enjoy boosted efficiency.
🎉 SchedulePress 5.0: A Revamped Dashboard & UI For Optimized Experience
With the latest update, SchedulePress has a completely revamped user interface with a modern and sleek outlook, so users can quickly and effortlessly navigate or manage their preferred scheduling options. The features of this plugin, which are easier to use now, will help plan for more content updates and sharing options on multiple platforms.
As users can separately share posts on social media pages and profiles, choose layouts from social templates, and more with SchedulePress, the revamped dashboard will make this experience more seamless. Let's discuss what the new update brings.
🎯 Revolutionizing The User Interface
The latest SchedulePress is more than an update; it's a transformation to not only the user interface of the plugin but also to the way you schedule your web pages and posts. Say goodbye to the old interface and welcome a newly designed, intuitive user interface with six primary tabs tailored to enhance your user experience.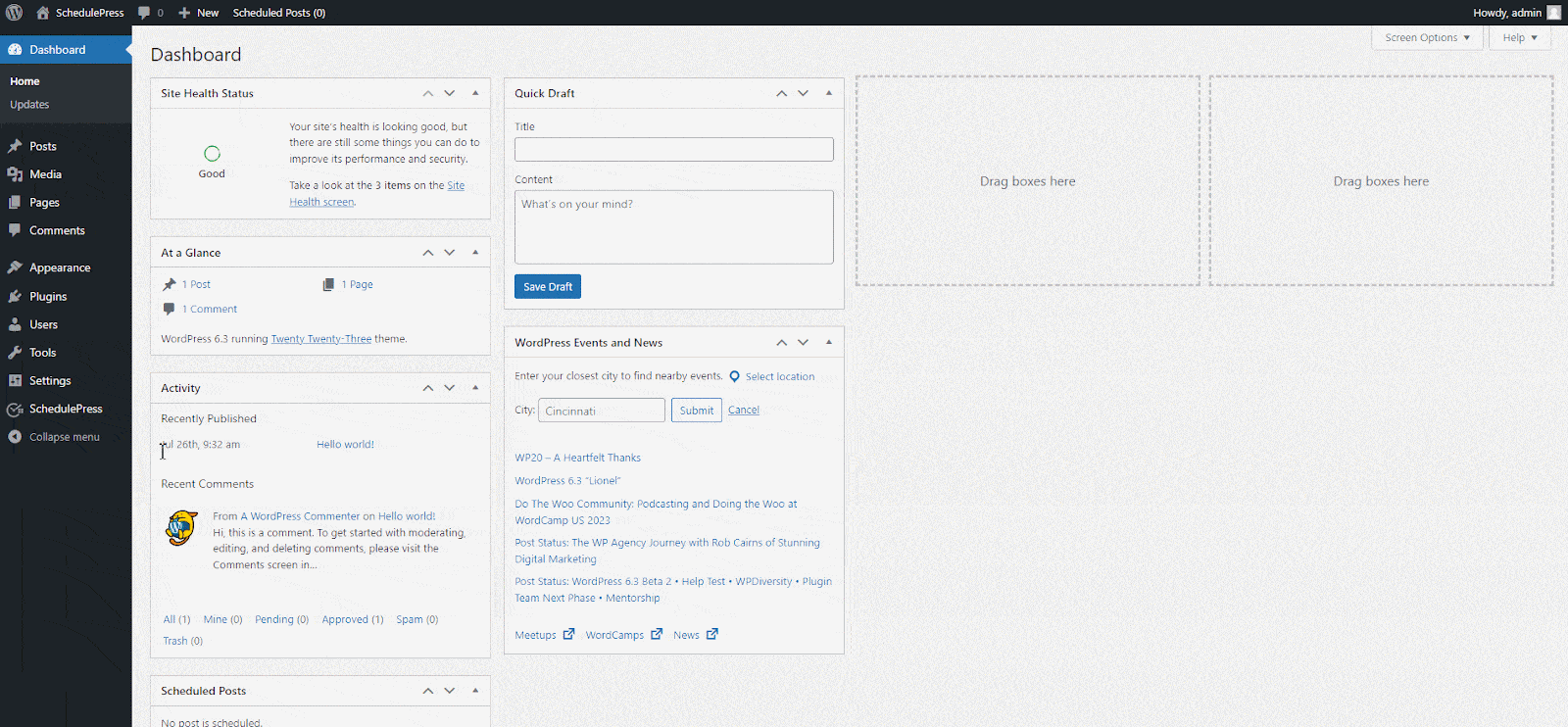 The UI revamp is aimed at streamlining your workflow, making navigating through the plugin's functionalities and features more accessible. With a cleaner, more modern look, you'll find yourself effortlessly moving through the scheduling process, saving time and effort at every step.
🎯 Tailored Social Sharing Options
One of the standout features of SchedulePress 5.0 is the ability to tailor your social sharing strategy like never before. When scheduling your content, you can choose whether you want to share posts on your social media pages, groups, or profiles in a revamped and cleaner dashboard.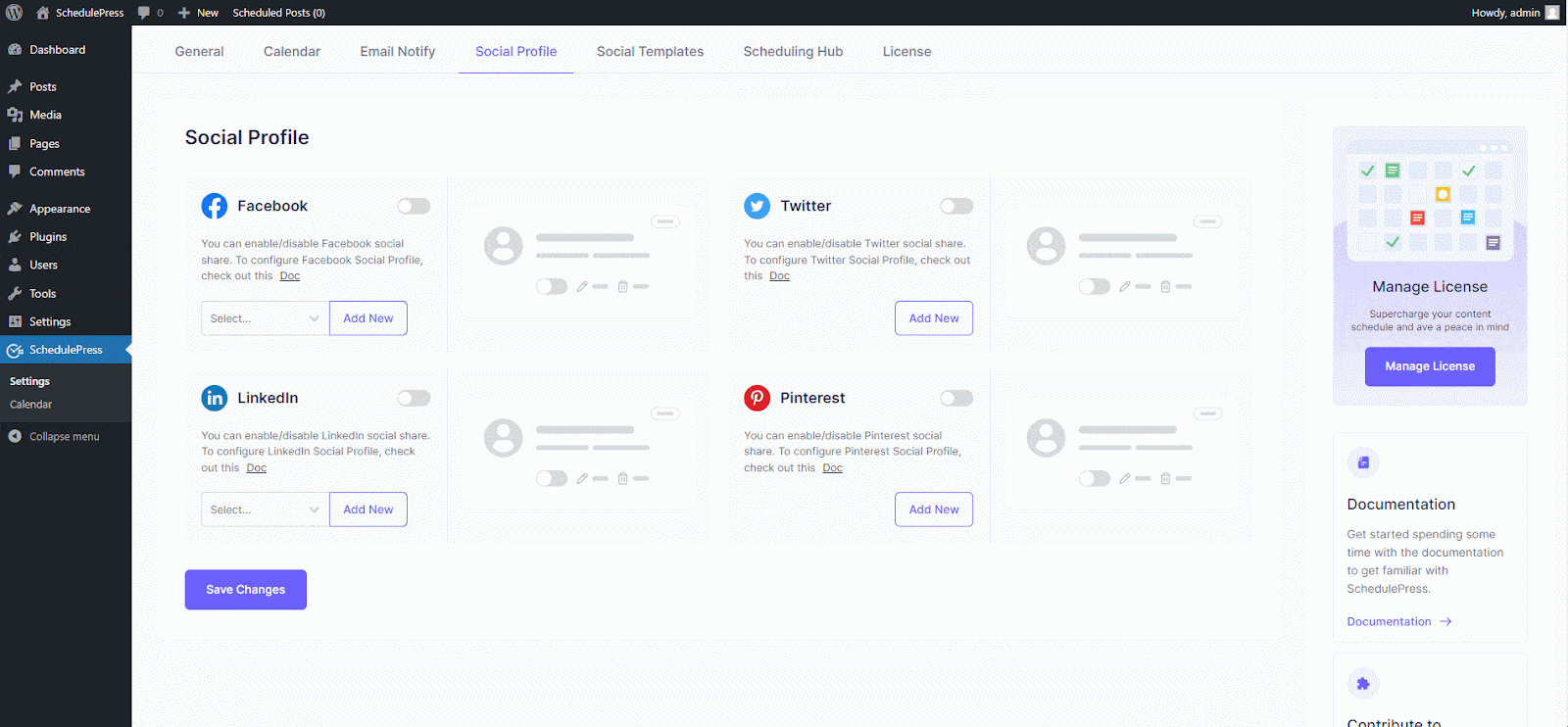 This level of customization empowers you to target your audience precisely where you want to make an impact. Whether it's your Facebook page or group, and LinkedIn profile or pages, SchedulePress puts the power of omnichannel marketing in your hands.
🎯 Fine-Tuned Scheduling Options
The latest SchedulePress update brings a modified scheduling capability with a separate tab, 'Scheduling Hub', dedicated to three different scheduling options. It offers you a refined way to manage your content release strategy. The tab includes three key options: Advanced Schedule, Auto Schedule, and Missed Schedule.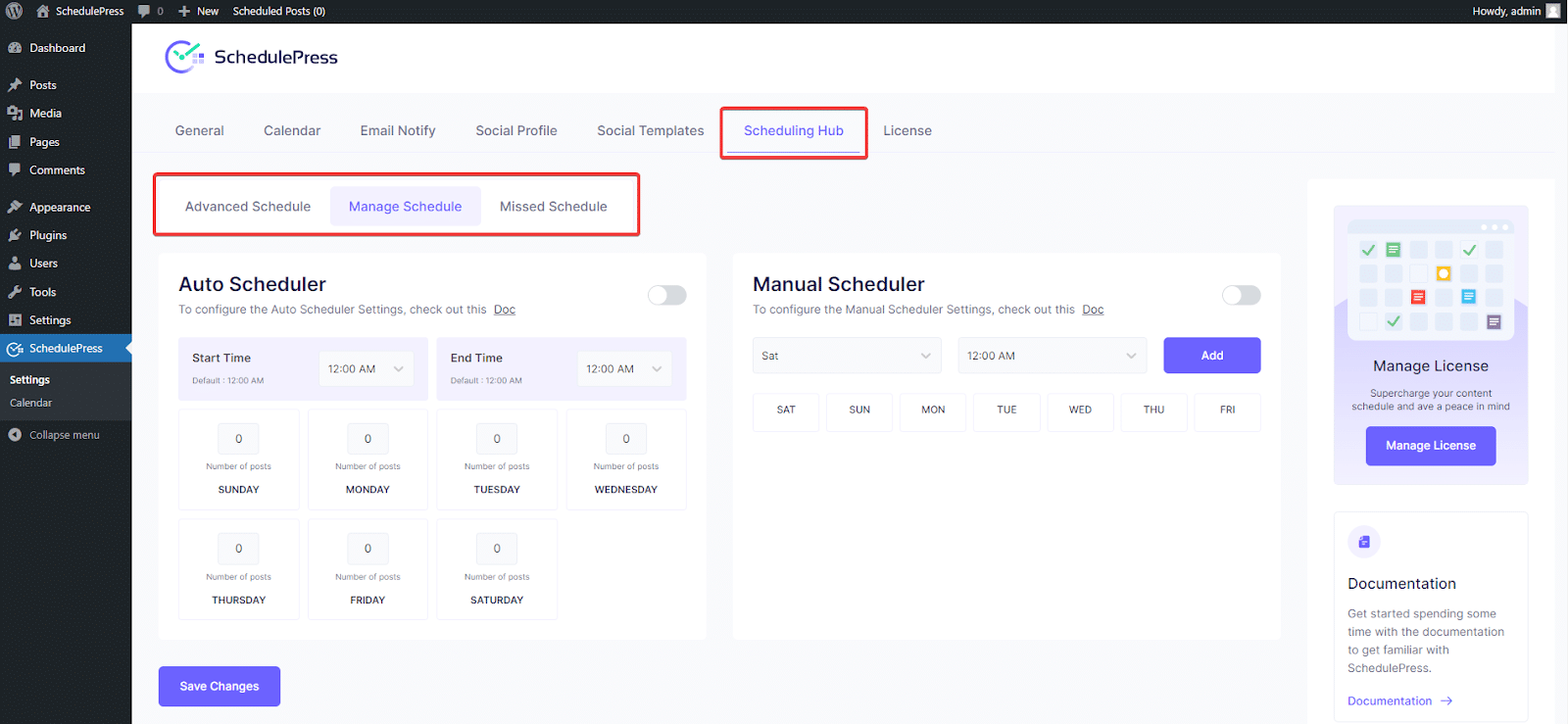 👉 Advanced Schedule: Total Control
This feature will let you automatically update the statuses of your scheduled and published content. Whether you're directing a product launch or a content series, this feature allows you to manage content efficiently.
👉 Manage Schedule: Effortless Content Delivery
The Manage Schedule option introduces a more innovative, more dynamic way of posting. With this, you can set how much content you want to publish in a week and even each day for auto-scheduling content. You can also specify the time intervals you want your posts published, and SchedulePress will take care of the rest.
The Manual Scheduler tab is a game-changer for busy content creators who want to maintain a steady flow of content without the hassle of scheduling often.
👉 Missed Schedule: No Post Left Behind
We've all been there—sometimes, a post doesn't go live as planned due to technical glitches or other issues. With SchedulePress's Missed Schedule feature, you can say goodbye to those worries. This option ensures that any posts that missed scheduling are automatically detected and published, so you never miss out on delivering valuable content to your audience.
🎯 Social Profile Display
Previewing each profile, page, or group will let you choose your marketing channel seamlessly, whether you share your content on Facebook, Twitter, LinkedIn, or Pinterest. The latest update of SchedulePress comes with an improved interface to manage all these. You get to see thumbnails for each profile or page you add to your social profile.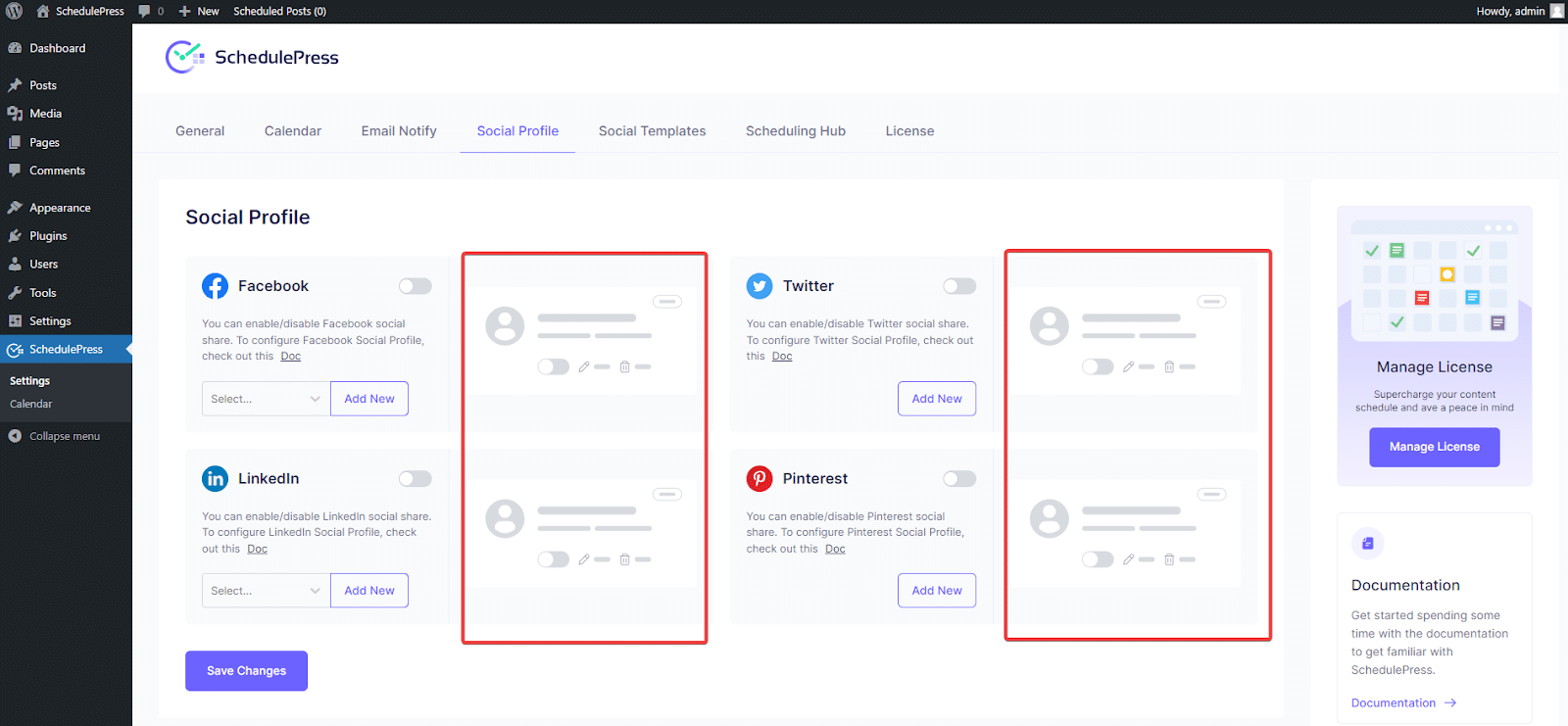 🎯 Separate Social Templates Tab
With different tabs in a new look for social profile templates, you can easily customize each social share option. Each Facebook, Twitter, LinkedIn, and Pinterest tab includes fields and options to set values while sharing your content on popular social platforms.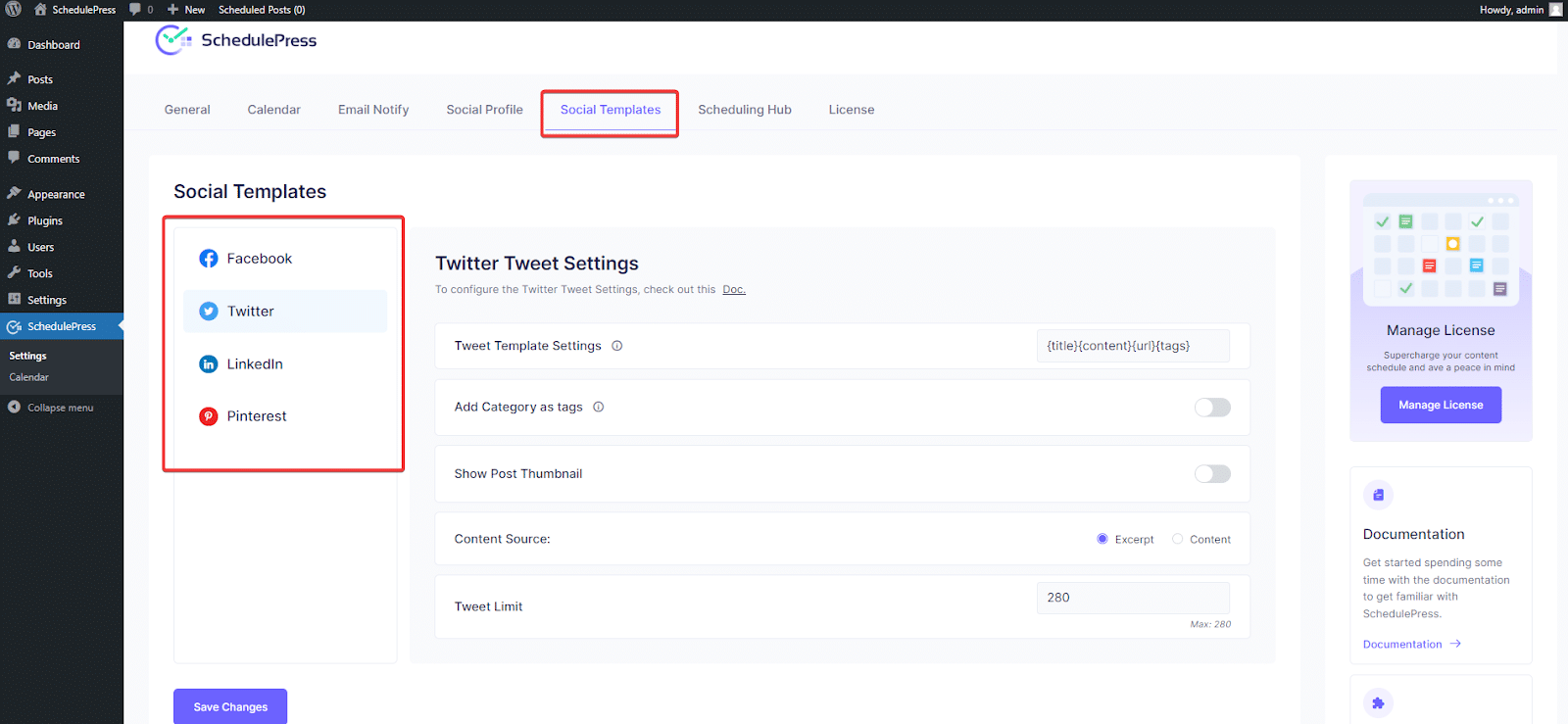 🚀 Boost Content Planning With SchedulePress Upgrade
Whether you're a solo blogger, a content marketing team, or a business striving to maximize its online presence, SchedulePress 5.0 is your ultimate ally. The latest update's revamped user interface, tailored social sharing options, and enhanced scheduling capabilities make SchedulePress the ultimate go-to for content management. Say goodbye to manual scheduling struggles and missed opportunities. Say hello to streamlined workflows, targeted social sharing, and precise control over your content release strategy.
If you have found this blog helpful, share your opinion with our Facebook community. You can subscribe to our blogs for valuable tutorials, guides, knowledge, tips, and the latest updates.