If you manage/create websites or want to create a new one, you might listen to the terms redirect 301, 302, and 307. Have you ever handled website URL redirections before? If it's the first time then hope in and find out use cases of redirect 301, 302, and 307, as well as how they can boost SEO.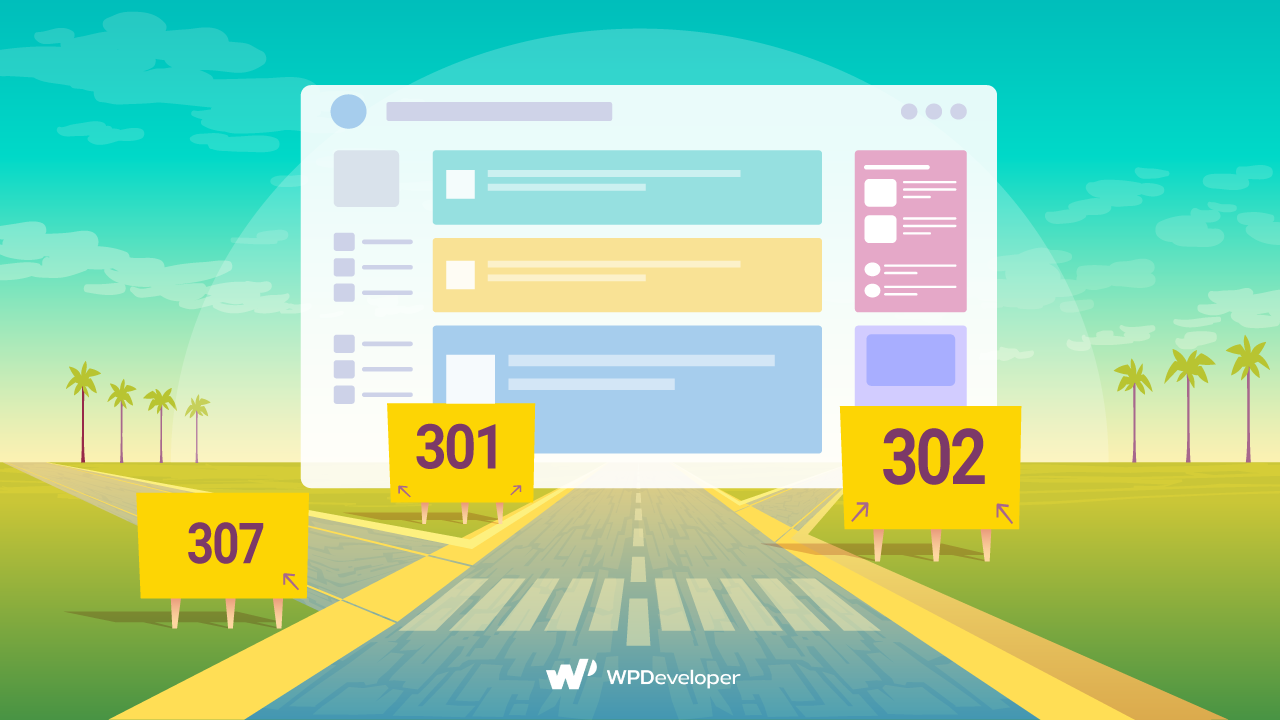 🤔 What Is URL Redirection For Websites?
Let's start from that basic; what is URL redirection? Simply, URL redirects tell search engine bots that they must visit a particular website page from a different location, either temporarily or permanently.
The first thing you need to know about URL redirection is HTTP status codes.  After a browser requests a particular page via HTTP codes, the server sends the browser a set of numbers as a response. The codes may include redirects 301,200, 404, or 503, each of them has a different purpose to serve.
Different Types Of URL Redirections For Website
Among HTTPS codes, 3XX are sorely assigned to manage your website redirections. When you request from your browser or bot to redirect to a different location, that is called server-side redirects. The most popular URL redirection codes are 301, 302, and 307 redirects. The purpose of these redirect codes will be explained briefly in the following section.
Redirect 301 For Permanent Move
Depending on your redirection purposes you can either move your URLs permanently to a new place or can move them for a limited time period. Redirect 301 will help you with permanent redirection. That means if you use redirect 301 code in any site links URL, it will always take to the new redirected URL, no time limit is needed to add here. 
Now let's clear up when you are going to need redirect 301. If you are migrating your website from the old one to a new one, Google or your user base basically remembers the old URLs. When you set the URL rendition type to redirect 301, every time anyone types the old URL, it will instantly take them to the new destination without showing Server Error or Page Not Found.
You can use redirect 301 to permanently move your domain, document, change page protocol, change the website URL structure, and more. However, if you are using it for marketing activities, redirect 301 is not a suitable solution for linking to temporary products like seasonal products or redirecting to a promotional page for a short period of time. 
🟢 How Long Will Redirect 301 Remain Active?
We use redirect 301 primarily to notify search engines about your new URL. so you must keep redirecting 301 code as long as search engines have indexed your old URLs. For small sites with a few subpages, this process can be completed in a few days, but larger sites with thousands of URLs may take considerably longer. However, it's a wise practice to check site queries regularly to make sure redirect 301s are working correctly.   
302 Redirect For Temporary Move 
302 redirect helps to move your URL destinations temporarily to a new URL. Unlike redirect 301, redirect 302 can be used to redirect a URL to a promotional page, a product page, or a website for seasonal products. You can use this type of URL redirection for tracking or website testing as well.
307 Redirect For Short-Term Temporary Movement
Suppose heavy site maintenance is going to happen on your website. Whenever someone visits your site, he or she will find the server error, which will damage your search engine ranking. You can easily go for 307 redirects for these short time replacements. Major crawlers may treat 307 redirects as a 302 in some cases, but in almost all cases you should use a 301 redirect.
Important Use Cases Of Redirect 301, 302, And 307
We hope you now have got a basic understanding of redirects 301, 302, and 307. In this section, we will determine when the importance of using redirect 301, 302, and 307 is most important for site owners and managers. This will allow you to implement them correctly on your website.
1️⃣ Prevent Content Duplication Of Website
When you need to keep the same content on multiple web pages with different URLs, search engines can mark your pages for plagiarism and prevent that page from ranking. In this type of situation, you can use redirect 301 and prevent content duplication. 
2️⃣ Helps With Website Migration
Redirect 301, 302, and 307 will help you with website migration. When merging two websites onto one new domain, you can reroute the "old" URLs to the new ones. This will save you from losing a chunk of site ranking and help the new site to get traffic immediately. 
3️⃣ Forward Traffic Link Juice From Old URLs
Perhaps you've added new directories to your website or made others obsolete when you reworked the structure of your website or changed the URLs. Redirecting URLs to the new URLs will result in a 404 error if the redirects aren't configured. Redirects 301, 302, and 307 ensure that traffic and "link juice" are sent to the new URLs while preserving the usability of the website.
4️⃣ Automatically Redirect Site Visitors
When you are targeting your visitors based on their location and directing them to the appropriate language or country version. This can be accomplished with permanent redirects like redirect 301.
5️⃣ Helps To Manage Affiliate Marketing
URL redirection is a very important tool for affiliate marketers. You can track links originating from your website if you do affiliate marketing. As soon as the user clicks on your link, they are redirected, almost unnoticed, to your affiliate provider's tracking webpage, and then again to your domain.
6️⃣ Easily Redirect To Chosen Vendors
By providing your customers and employees with a branded portal, you can redirect them to your preferred vendors. Your audience can visit your vendor's site easily in one click from your website. Even if you change vendors, they will automatically be redirected to the new ones. 
⛔ Redirect Chains: An SEO Error That Occurs In Redirection
Whenever a URL has already been redirected, and you try to add a new redirection to it, a redirect chain is triggered. It especially occurs when you are using redirect 301. The browser or bot might not be able to resolve the original request in extreme cases. Because of multiple redirects, the page might load much slower and the server load might increase. The loss of crawl budget and wasted SEO potential are other negative consequences of redirect chains. So, you have to be aware of redirect chains when migrating a website to a new location. 
A Quick Look At Different URL Redirections & Their Best Use 
Knowing the use cases behind URL redirections, you may be wondering when to use what type of redirection. See when to use redirects 302, 301, and 307 and see all the possible URL redirection use cases at a glance here.
| | |
| --- | --- |
| Use Cases | Possible Redirection Code To Use |
| Permanent domain migration | 301 |
| Website server maintenance | 307 |
| Structure changes to the URLs | 301 |
| Geographic user tracking | 302, 307 |
| URL bundling | 301 |
| Affiliate marketing | 302 |
Amazing Impacts Of URL Redirections To Boost SEO
When it comes to boosting SEO of your site, URL redirection plays a major role among other metrics. Here mentioning the top stunning impacts that URL redirection plays to boost SEO. 
⚡ Helps With Search Engine Crawling
Every search engine has a bot that keeps track of every website's performance, data, and so on. Whenever you migrate to a new site, it takes time to rank the new page. The good news is with URL redirection, you can easily guide the bot to your new destination and that will boost SEO of your website.
⚡ Migrate Traffic To New Destinations
Page rank is affected by the volume of traffic and the number of backlinks your website receives. Imagine running a Black Friday promotion and offering a limited-time discount on your product. Your landing page would get a huge SEO boost from that promotion. Then the following year, you can easily direct traffic from the old page to the new promotional deal page by using redirect codes 301, 302, and 307. Thus it will boost SEO of your website. 
⚡ Improve Page Rank Using URL Redirection
It was long ago believed that redirecting 301 led to lower rankings and less link juice. In addition to the power linking passes to another site, link juice measures how much power a backlink entails. But at the present time URL redirection helps you to improve page rank. When you are using redirect 301, 302, and 307 they help you to redirect total link juice to a new destination and boost SEO of the new URL.  
How To Set Up Redirect 301, 302, and 307 In WordPress
After reviewing the impact of redirect 301, 302, and 307, we bet you are planning to integrate them on your website. Basically, URL redirections are added using custom code. If you have a WordPress website, then good news for you! There are many stunning WordPress plugins to help you with URL redirection. Here mentioning the most popular plugins to manage URL redirection effectively. 
⭐ Simple 301 Redirects By BetterLinks
When you require permanent URL redirection, Simple 301 Redirects plugin is suitable for you. This plugin comes with the easiest method to redirect requests to a different URL of your site or another website. This is useful when you are migrating a WordPress website to another and you can't preserve your URL structure.
301 redirects allow incoming links to be seamlessly passed along to the new URLs and improve page rank in search engines, boost SEO, and many more. Integrating this plugin to your WordPress website you can easily set up redirect 301. 
👉 Use WildCard To Create Dynamic Redirection
If you want to redirect a category or tag in its entirety, then redirecting each URL one by one would be time-consuming and would hamper productivity. Simple 301 Redirects comes up with an exclusive feature named Wildcard with which you can manage dynamic redirection. It will help you to redirect the entire directory to the new destination instantly, no custom code is needed to do that. 
⭐ BetterLinks – Shorten, Track and Manage Any URL
BetterLinks is a stunning plugin with which you can easily redirect URLs, use for link shortening, and analyze every link's performance smoothly. Using this plugin you can easily redirect 301, 302, and 307 easily. Without using any code, you can set a redirect type for each link. Within a few steps, you can create new links for 301, 302, and 301 redirects with BetterLinks. 
Exclusive Feature Of BetterLinks
In addition to creating new links, this plugin has other advanced and exclusive features and boost SEO. Let's have a look at what exclusive features of BetterLinks are presenting you for managing redirect 301, 302, and 307 swiftly. 
👉 Create Customized Shorten Links
Apart from the URL redirection WordPress plugin, you can use BetterLinks as a link shortening tool as well. Whenever you are saving any URL using Betterlinks, the link will be automatically shortened. It is okay to keep the default link name or to rename it with a meaningful short word.
👉 Measure Link Performances With Built-In Analytics
It's important to track down your website link performance especially when you are using URL redirection like redirect 301, 302, and 307. It will help you to boost SEO of your WordPress website. The built-in analytics in BetterLinks helps you keep track of multiple metrics including how often each link was clicked, bounce rate, IP addresses used, and browsers.
👉 Migrate All Redirect Data With One Click
If you are keeping track of your redirected links manually or using any other tools, you can migrate to BetterLinks system any time you want with one click. You can import data in BetterLinks and that will be added with other redirect links. You can even import analytics data of redirected links as well. 
👉 Interactive Drag & Drop Interface For Better Management
You are redirecting one link or a thousand links BetterLinks stunning drag and drop interface will help you in managing all your links smartly. You can create new links, change link categories, delete them or edit them swiftly from the interface. Moreover, the dark mode of the dashboard will give an eye-soothing effect.
👉 Direct Integration Of Google Analytics
Google Analytics is one of the renowned tools for analyzing site performance, redirected link performances, and so on. If you are already using Google Analytics for measuring site performance, you can easily integrate that account with BetterLinks and analyze all performances from one place. 
👉 Easily Schedule Your Redirected Links
Whether you are using redirect 301, 302, or 307 you can schedule off types of URL redirection using BetterLinks. Plan your site migration and promotions in advance so that you can be ready as soon as possible. This stunning BetterLinks feature will automate your URL redirect process impressively. 
👉 Generate UTM Codes Directly From Dashboard
UTM codes help you with live tracking of your redirected links performances. Using BetterLinks you can easily generate UTM codes, as well as save them as templates for future use. All you have to do is put parameters and it will be automatically added with redirect 301, 302, and 307.
🚀 Get Started With URL Redirection
You can fix SEO issues with URL redirection and convert old domains to new ones safely and without any major disadvantages if you use it correctly. Take the time to think about each redirection before implementing them on your website. Furthermore, avoid overusing your redirect 301, as they can adversely affect the servers' latency or the crawl budget of Googlebot.
The aim of this blog is to come up with all the fundamentals of URL redirections and to help you properly use redirect 301,302, and 307 on your website. If you enjoyed this, then don't forget to share your thoughts on link direction with us via comments or by joining our Facebook community. Also, subscribe to our blog to be the first one to know about news updates, tutorials, insights, and more.