Templately has introduced hundreds of beautiful, stunning ready Elementor templates in 2020 to support website creators all over the world. As we get ready for amazing things to come this new year, let's take a look back at some of the best Elementor template packs in 2020.
A Year Of Achievements For Templately: 900+ Templates For 20,000 Happy Users
2020 has been a challenging year for everyone, and yet, despite all the difficulties, we have made it through. As web creators, we have all had some unique experiences and had to make adjustments, but none of that stopped us from trying to enhance your page building experience with Elementor.
One of the biggest highlights of 2020 for our team is the tremendous love and support we received from the WordPress community for Templately even when it was still in its beta phase. Today, Templately has more than 800 ready Elementor templates and is beloved by over 20,000 happy users.
This is an amazing achievement for our team, and we couldn't have done it without you. Take a look at some of these amazing templates, and how you can use them to instantly build any kind of website on WordPress.
Best Elementor Template Packs For Agencies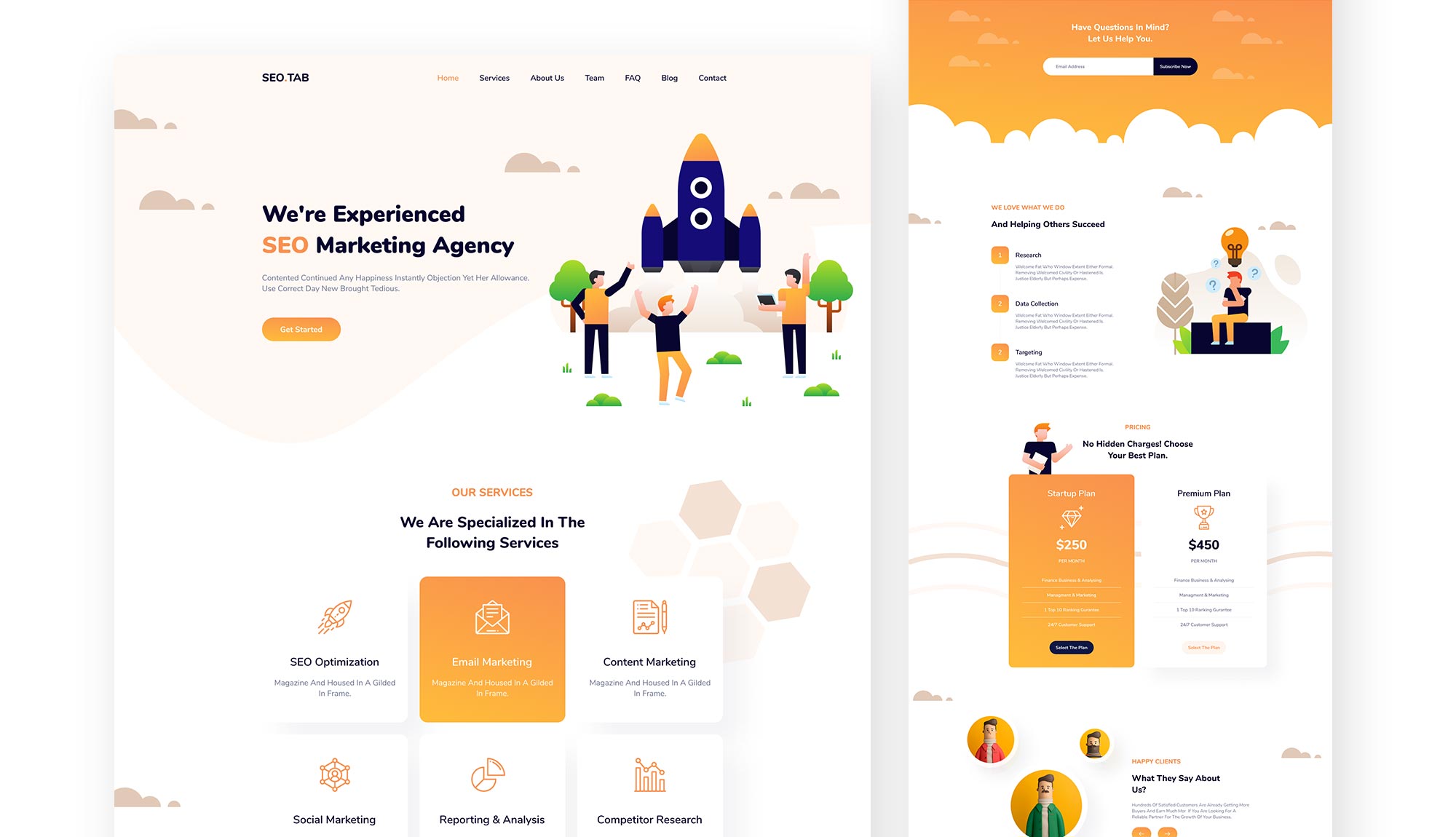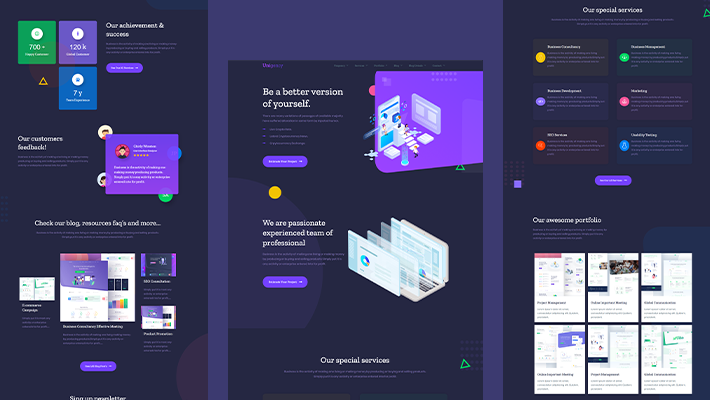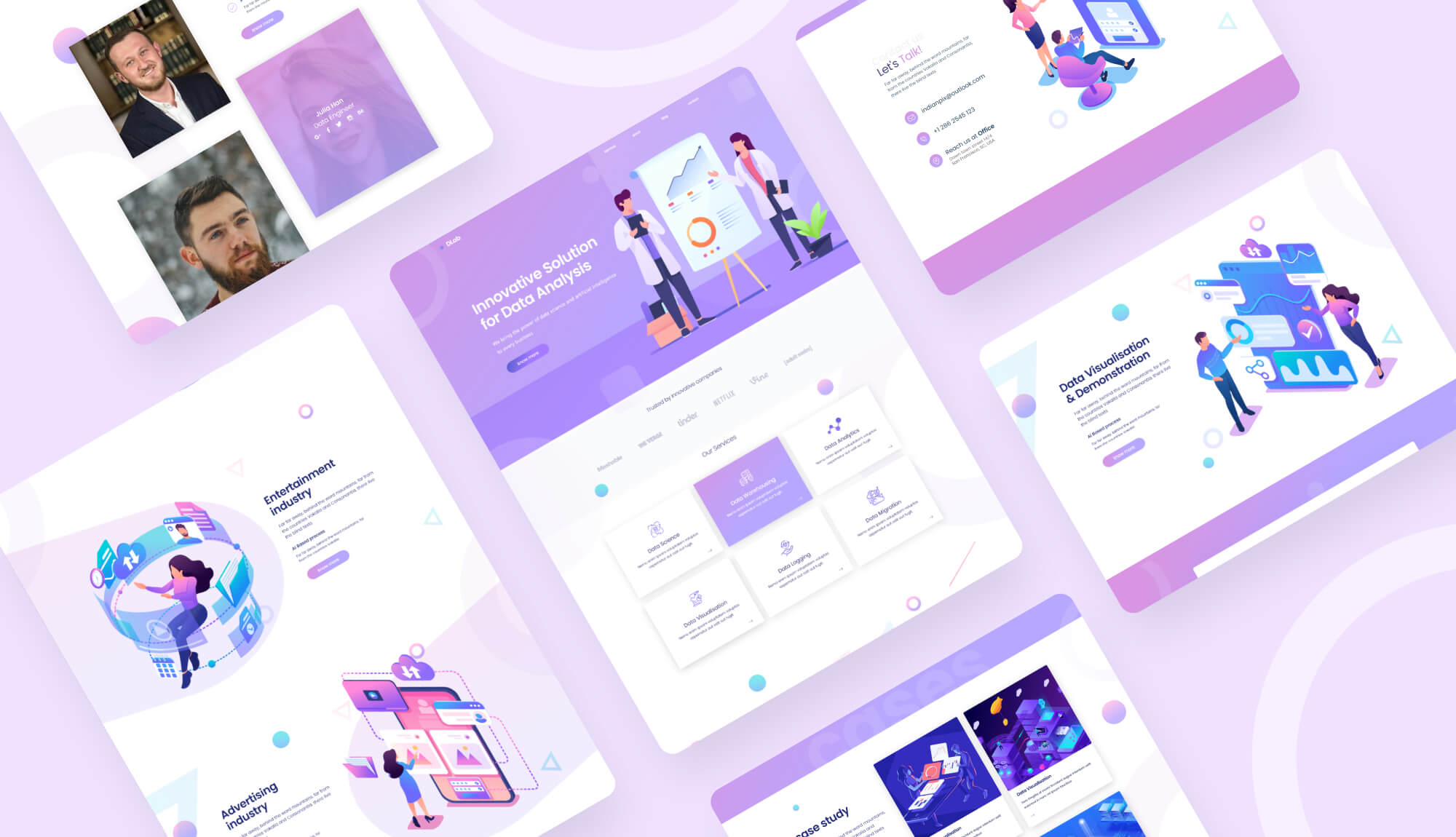 For agencies of all types, Template has introduced tons of modern, stylish and beautifully designed Elementor template packs in 2020. Take a look at some of the most popular of these templates below.
Unigency: A Multipurpose Agency Template Pack For Elementor
Unigency is one of the best Elementor template packs in 2020 for any kind of agency. This multipurpose template pack is one of the most popular Elementor template packs available on Templately, and comes in both Light and Dark modes. Whether you are creating websites for WordPress agencies, digital marketing agencies, or travel agencies, you can use the Unigency template pack to create a stunning website.
SEO Tab: A Stunning Digital Marketing Agency Template Pack
There are several templates available on Templately to create a website for your marketing agency. But the best one on our list is SEO Tab. This template pack is designed specifically for SEO marketing agencies, but can be used by any digital marketing agency as well. Featuring a stunning interactive layout and 9 attractive ready-to-use pages, SEO Tab is definitely a great choice for anyone looking to create their digital marketing agency website.
Dlab: Best Elementor Template Pack In 2020 For Digital Agencies
Another immensely popular and beautiful designed Elementor template pack is Dlab, which is made specifically for digital agencies. This template pack can be used by anyone who is providing digital services like product design, product development, web development, data analysis, data science and other similar services.
Best WooCommerce Template Packs For Elementor In 2020
That's not all. In 2020, Templately has released tons of WooCommerce templates to help online businesses. Here are some of the best Elementor template packs in 2020 for WooCommerce websites.  
EleGift: A WooCommerce Website Template For Online Gift Stores
For those who want to create a website for their online gift store or souvenir shop, EleGift is the perfect choice. This beautifully designed template pack comes with 4 premade, ready-to-use pages which include a Home Page, a Product Page, an Add To Cart Page, and a fully functional WooCommerce Checkout Page.
Naturous: A WooCommerce Template For Organic Stores
During this pandemic, most people opted to shop for groceries online rather than going to physical stores. So, if you are in the business of selling organic produce or groceries, then you can definitely create your online organic store website with Naturous and get more sales for your business.
This beautifully designed WooCommerce template pack for Elementor comes with eight attractive ready-to-use pages to help you create a whole website for your organic store. It is fully customizable, responsive on all devices, and the design is so versatile that you can also use it for any business in the food industry such as bakers, farmers, ingredients suppliers and more.
Grab Ready WooCommerce Template Packs For Elementor
Fun Zone: An Attractive Toy Store Website Template For WooCommerce
If you are running a toy store for kids, then you will love the Fun Zone ready Elementor template pack from Templately. This ready template comes with a bold and attractive color palette and cute fonts to help you create a jolly, kid-friendly toy store website. You can also use this template pack for creating a website for kids clothing stores, kids accessories stores, or for any business that sells products exclusively for children.
More Stunning Elementor Template Packs In 2020
Looking for a template that doesn't exactly fit in the above categories? Don't worry, Templately has you covered. From gaming websites, to coupon or daily website templates, portfolio templates and even online education website templates, there are tons of more ready Elementor template packs available on Templately.
Cravity: A Beautiful Template For Birthday Or Anniversary Celebrations
Birthdays and anniversaries are sweet occasions that you want to remember. And if you want to celebrate these special events in style, then you can use the Cravity ready Elementor template from Templately.
This lovely Elementor template can also be used by event planners and event organizers, or anyone working in the event management business. 
EleMoment: A Lovely Wedding Website Template For Elementor
Speaking of birthdays and anniversaries, let's not forget the lovely and sophisticated EleMoment Elementor template for weddding websites. Weddings are one of the most joyous occasions in one's life, and if you want to make your special day even more memorable, then check out this beautiful wedding website template from Templately. 
EventGree: A Stunning Elementor Template Pack For Event Websites
If you want a more versatile event page or website template, then the EventGree template pack from Templately is the perfect choice. This stunning Elementor template pack comes in both light and dark modes, 14 ready pages and 8 premade blocks, animated countdowns, and much more to help you create an attractive event page or website on WordPress.
EleDeal: An Attractive Coupon or Deals Website Template Pack 
Want to create a daily deals or coupon website? You can do it in less than 5 minutes with the EleDeal template pack from Templately. All you have to do is insert the ready pages from this template pack into your website, add your own content and you are good to go. Check out our tutorial on how to create your own deals or coupon website to learn more.
GameZone: The Best Elementor Template Pack In 2020 For Gaming Sites
If you love playing video games, or you want to create your own gaming community online, you can check out GameZone from Templately and build a gorgeous gaming website on WordPress. This stunning Elementor template comes with beautiful illustrations, attractive motion effects, Call To Action buttons and much more.
EduBee: A Ready Elementor Template For Online Learning Websites
Online learning became the new normal in 2020. To help students and educators easily set up a website for remote learning, Templately introduced EduBee, a free and ready Elementor template pack for instantly creating your online education website on WordPress. With this template pack, educational institutions can create a whole, fully functional education website to help students sign up for classes, share their events and class schedules, course lists and much more.
This wraps up our post on the top 12, best Elementor template packs in 2020 that were released from Templately. Let us know which one you liked best and share your thoughts with us in the comments. Don't forget to subscribe to our blog or join our friendly Facebook Community for more news, fun tutorials and updates.