Looking to create your own business website? Well, you're in luck! With the help of WooCommerce template packs and the page builder Elementor, you can now create absolutely stunning business websites all by yourself without any coding or hiring any professional designers. 
Whether it's an online clothing store or a website for your physical furniture store or even an organic food market, you can use Elementor  templates to create all kinds of WooCommerce websites instantly.
Why Choose WooCommerce For Your Online Business?
WordPress is most popular platform to create all kinds of websites as you can easily set up an eCommerce store. In fact, with WordPress, you can set up an online store to sell anything–from digital products to physical goods and even services with the help of eCommerce plugins like WooCommerce.
WooCommerce has over 5 million active users and is one of the most recommended solutions for running an eCommerce business. There are several reasons for this, which we will briefly explain below.
Easy To Set Up Your Online Store
Setting up your online business on WordPress with WooCommerce is very easy and can be done in only a matter of minutes. Furthermore, WooCommerce is free to use, and only some functionalities require you to get the premium version.
Lots of Useful Features To Run Your Online Business
Another great thing about WooCommerce is its flexibility. WooCommerce isn't just for physical products, you can offer digital products, affiliate products, and services too. To facilitate this, WooCommerce comes with tons of useful features that let you create an outstanding store for all kinds of businesses.
Integrations With Other WordPress Solutions
WooCommerce can be easily integrated with a huge number of WordPress solutions, allowing you to truly expand its functionality and enjoy more versatility when running your own online business on WordPress.
Using Elementor & Essential Addons To Create WooCommerce Websites Without Coding
You already be aware that Elementor is the best 'drag and drop' page builders that let you create websites instantly without coding, and it has amazing integrations with WooCommerce.
In fact, if you have Elementor Pro, you can get access to 10+ elements designed just for WooCommerce as well as a powerful Theme Builder. Using the Theme Builder and Elementor WooCommerce elements, you can create WooCommerce shop pages and customize single product pages without any coding. 
Want to see it for yourself? Check out some of these amazing WooCommerce websites that were built using Elementor.
Besides this, you can get even more unique WooCommerce elements with Essential Addons For Elementor. This is one of the most popular elements library for Elementor with over 700,000 happy users and 70+ elements. You can even design your own WooCommerce checkout page using Elementor and Essential Addons.
Resources To Get WooCommerce Template Packs For Elementor
Although Elementor is a great page builder for creating websites without coding, you might not have the time to design your business website from scratch. If that's the case, then you should consider using ready WooCommerce template packs for Elementor instead.
Templates are essentially predesigned pages that you can insert into your website and then customize to your liking. There are tons of resources out there from where you can get Elementor templates as you can see below.
Templately: Ultimate Templates Cloud For WordPress
This is the ultimate Elementor template cloud for WordPress. Templately hosts Elementor template packs as well as premade blocks. What makes Templately stand out though, is that it offers cloud collaboration for Elementor with Templately WorkSpace. This feature lets you save your designs to MyCloud, create a WorkSpace where you can add your team members, and then share your designs with your team easily, all in one place.
Elementor PRO Template Library
Of course, you can also get Elementor templates from the page builder's own official Elementor Template Library. They offer over 100 free and premium templates for different kinds of websites, each made by their own design team.
Envato Elements Template Kits
Envato operates a group of digital marketplaces that sell creative assets for web designers, including themes, graphics, video, audio, photography and 3D models. They have a separate dedicated page just for Elementor templates known as Envato Elements. Here you can browse through hundreds of free page templates made exclusively for Elementor sites.
While all of these websites mentioned above are great resources for getting Elementor templates, with Templately you get the additional bonuses of being able to save your design to cloud storage for reusing them later, and also enjoy seamless cloud collaboration with your team.
5 Best WooCommerce Template Packs For Elementor
In this section, we are going to show you 5 WooCommerce template packs for Elementor that you can use to create your own business website without touching even a line of code.
EleGift E-Commerce Website Template

If you want a WooCommerce template pack with a more versatile design, then you can try the EleGift template pack. This template pack for Elementor is designed specifically for online gift shops or souvenir stores, but you can easily customize it however you want to sell any kind of products. From toys, flowers, notebooks, laptop, and phone accessories to even shoes and clothing, EleGift is a truly flexible template pack for anyone who wants to create an e-Commerce website in Elementor.
EleShoply Ecommerce Website Template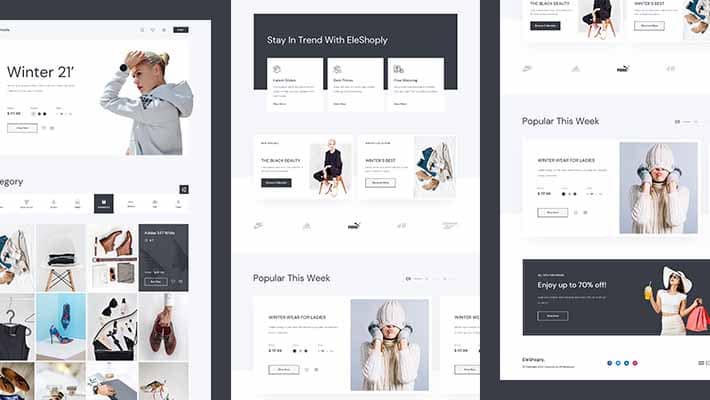 If you are running an online clothing store, then you can try EleShoply. EleShoply is a modern and stylish WooCommerce template pack made for online clothing, accessories or apparel stores. It is beautifully designed using Elementor and although it is made specifically for online clothing, fashion, or accessories shops, you can customize it easily to create websites for any kind of e-Commerce business.
With EleShoply, you get 7 premade stylish pages to design an attractive and fully functional WooCommerce website. These include an eye-catching WooCommerce Checkout Page, an Add To Cart Page, and of course, a Product Page
Naturous Organic Store Website Template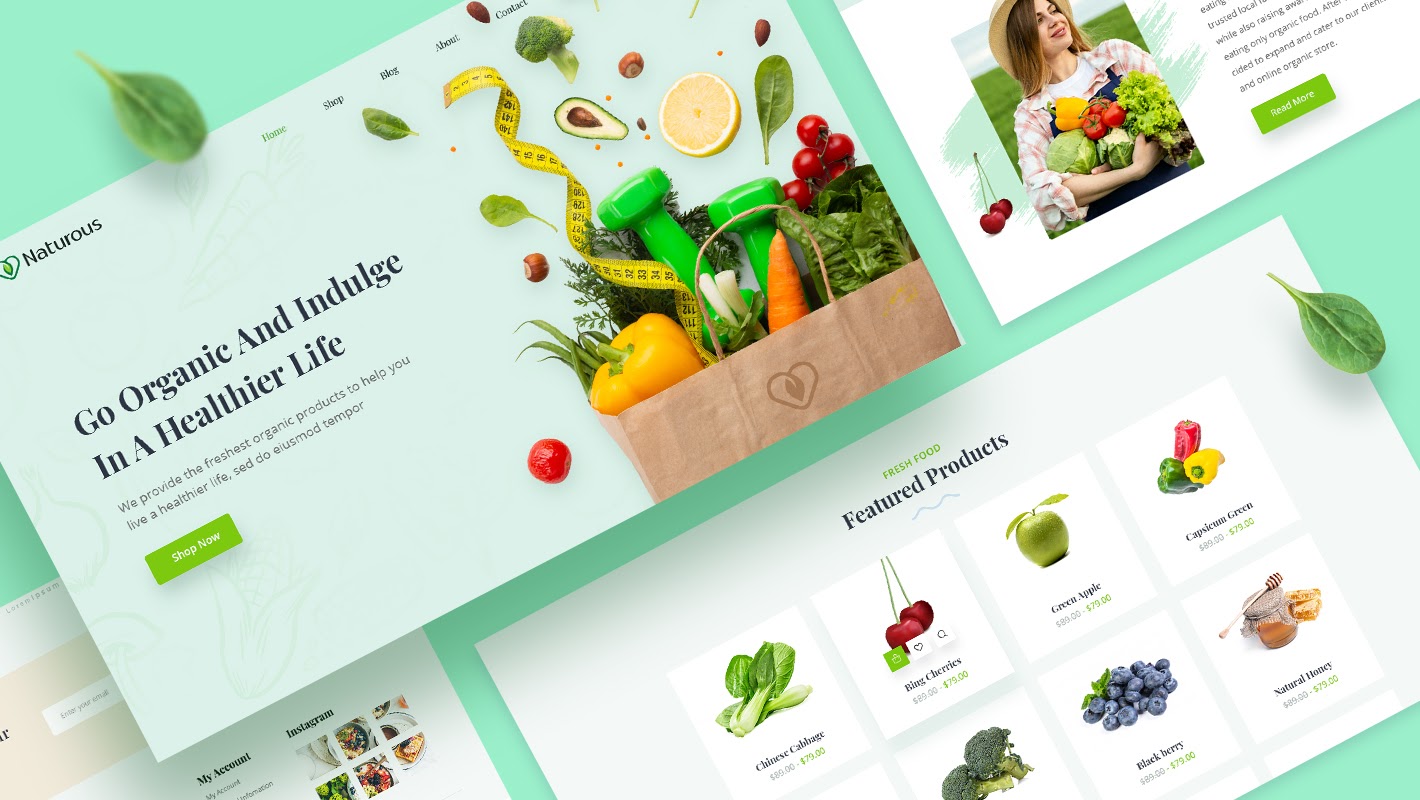 If you are running a food business, a grocery store, or an organic store, then you can easily create a website for your business by using the Naturous template pack. This WooCommerce template pack for Elementor is perfect for anyone involved in the food or farming business. With Naturous, you get 8 attractive premade pages for your organic store website including a Shop Page, a Sign In page for customers who have a membership, and a Checkout Page.
Woodie Furniture Shop WordPress Template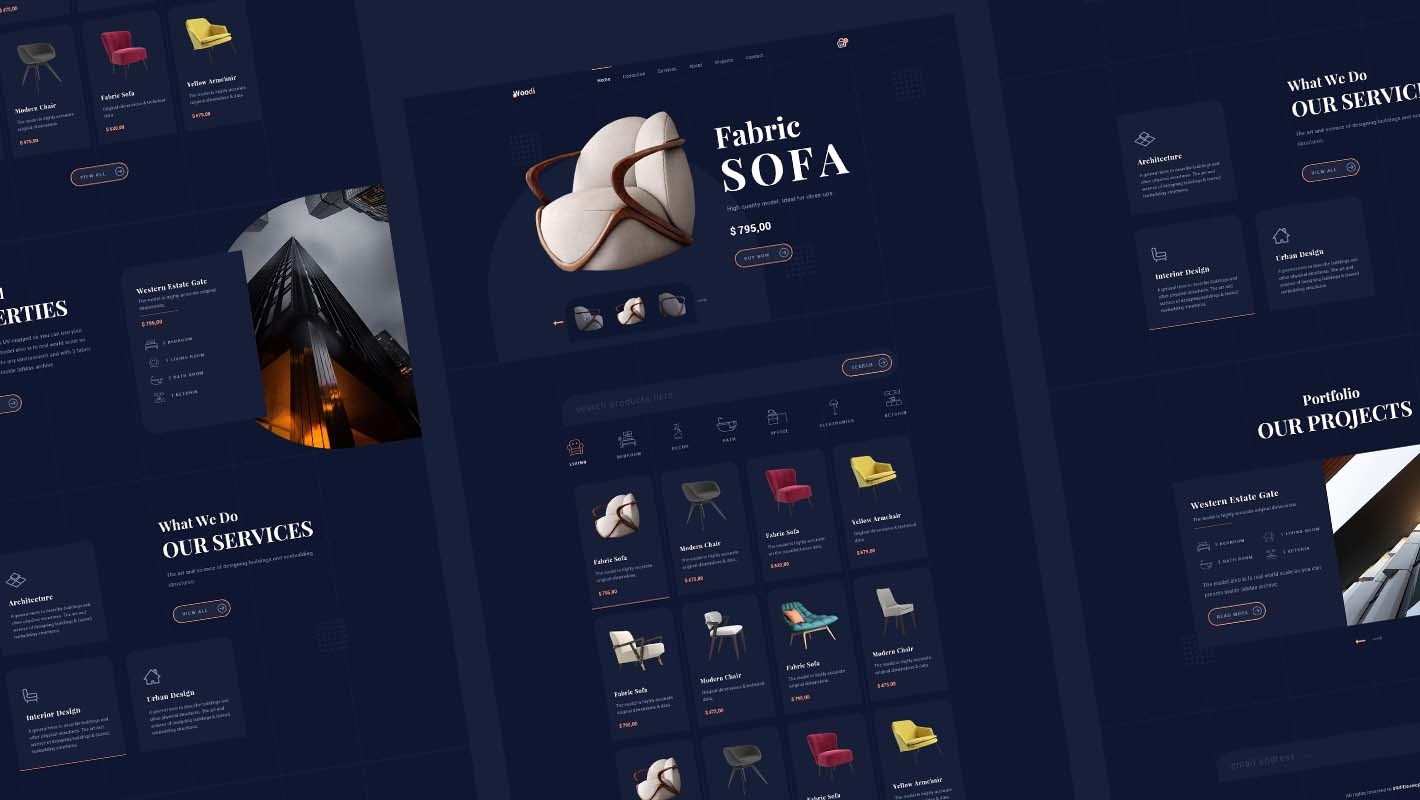 If you are running a furniture store, or a home decor store or offering interior decorating services, then you can try the Woodie template pack for Elementor. This WooCommerce template pack comes with a stunning, modern design in a dark color scheme and 6 beautiful premade pages. These include a stylish Product Collections page, a Services page, a Projects page, and much more.
What makes the Woodie template pack stand out is that it can be easily used for both physical goods and intangible services. Since it comes with a services page and a projects page too, you can also use this template pack if you are offering interior design services or customized furniture services.
BeautyBuy Website Template For Elementor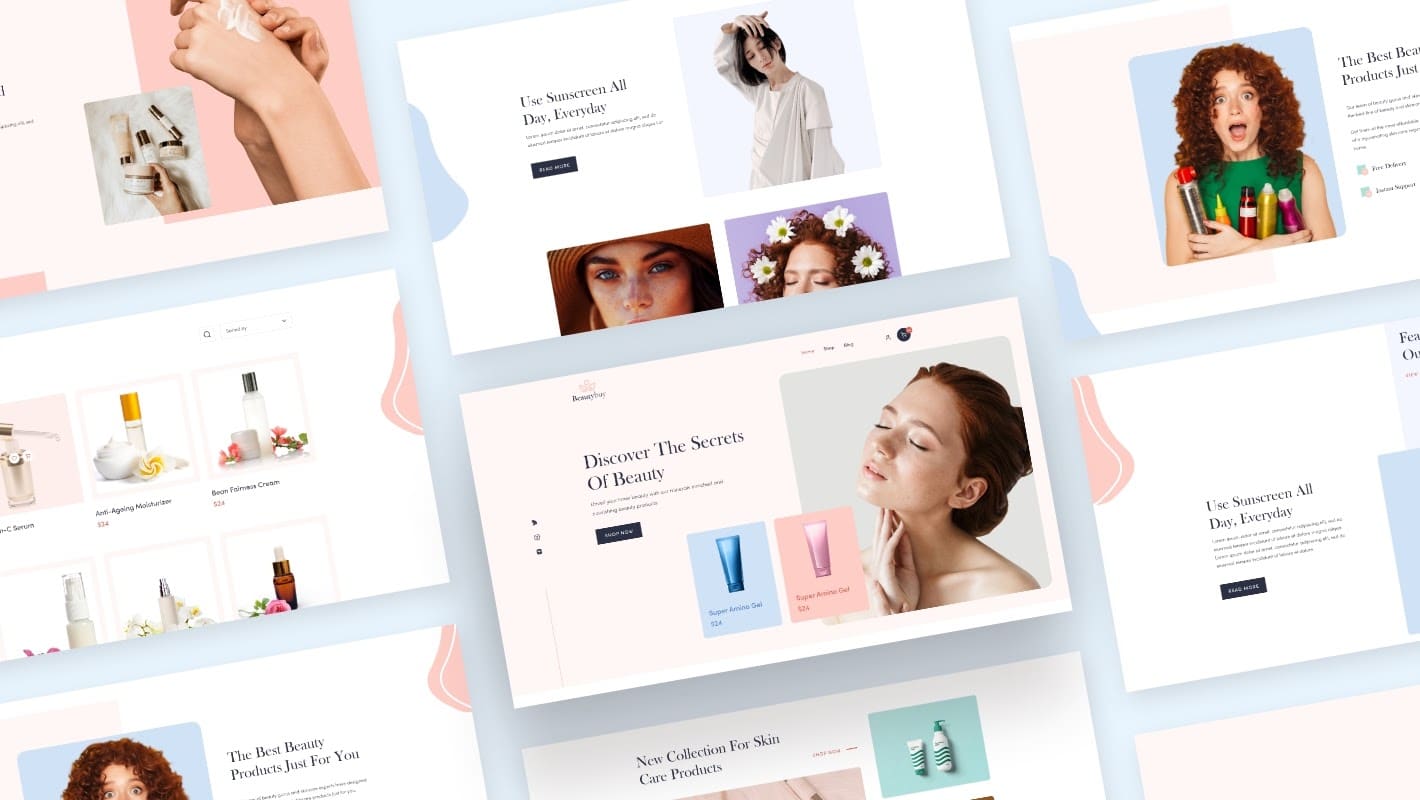 Our fifth WooCommerce template pack is for those who want to create a website in Elementor for selling skincare products, beauty products, or cosmetics. BeautyBuy is a very beautiful template pack that can help you do this. It features bright colors, an interactive layout, and several stunning premade pages with which you can create a fully functional WooCommerce website to sell beauty and cosmetic products.
This concludes our post on 5 WooCommerce template packs for Elementor that you can use to create your own business website without any coding. As you can see, there are different template packs available for all kinds of WooCommerce businesses, and all of them are so versatile that you can use them for multiple purposes. 
Let us know in the comments below which of these WooCommerce template packs you liked best, or share your own designs with other website creators in our Facebook Community.