Another exciting WordPress event has just taken place and we are here with all the stories from the event to keep you updated! Just last month, WordCamp Kathmandu took place on the 3rd and 4th of September, 2022, in the land of the Himalayas. Team WPDeveloper was one of the proud Gold sponsors of the event and joined fellow WordPress folks from Nepal during the event.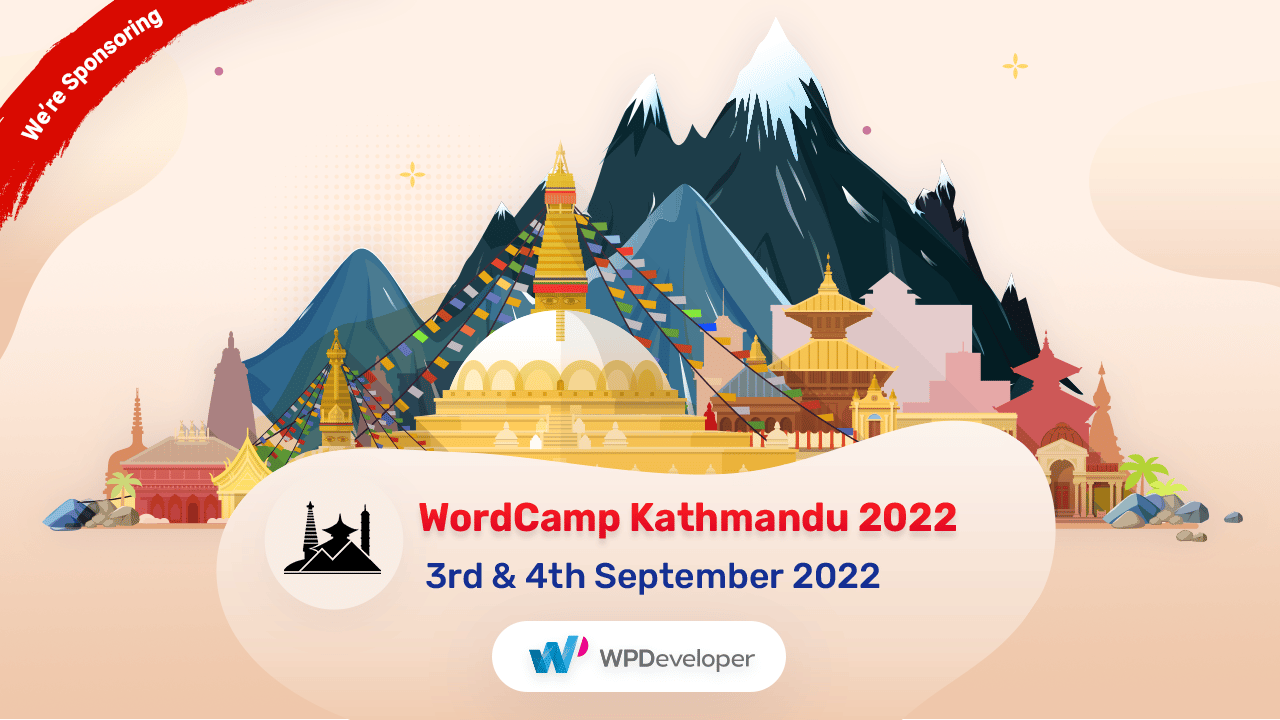 The event was a community-organized conference & fun learning session for WordPress aficionados, ranging from casual users to core developers. It was also the 10th anniversary of WordCamp Kathmandu and was a grand celebration among everyone who joined.
If you are a WordPress enthusiast but could not make it to one of the biggest WordPress conferences in beautiful Nepal, don't worry. With this article, we bring you a complete account of WCKathmandu 2022 straight from the home of Mount Everest!
WordCamp Kathmandu Took Place In The Beautiful Land Of Himalayas
As you can already tell, the WordCamp was held in Kathmandu, Nepal – a region of heavenly beauty, historical monuments, art, and culture. And what better way to start a majestic tour than by visiting the tourist spot while you are attending the WCKathmandu?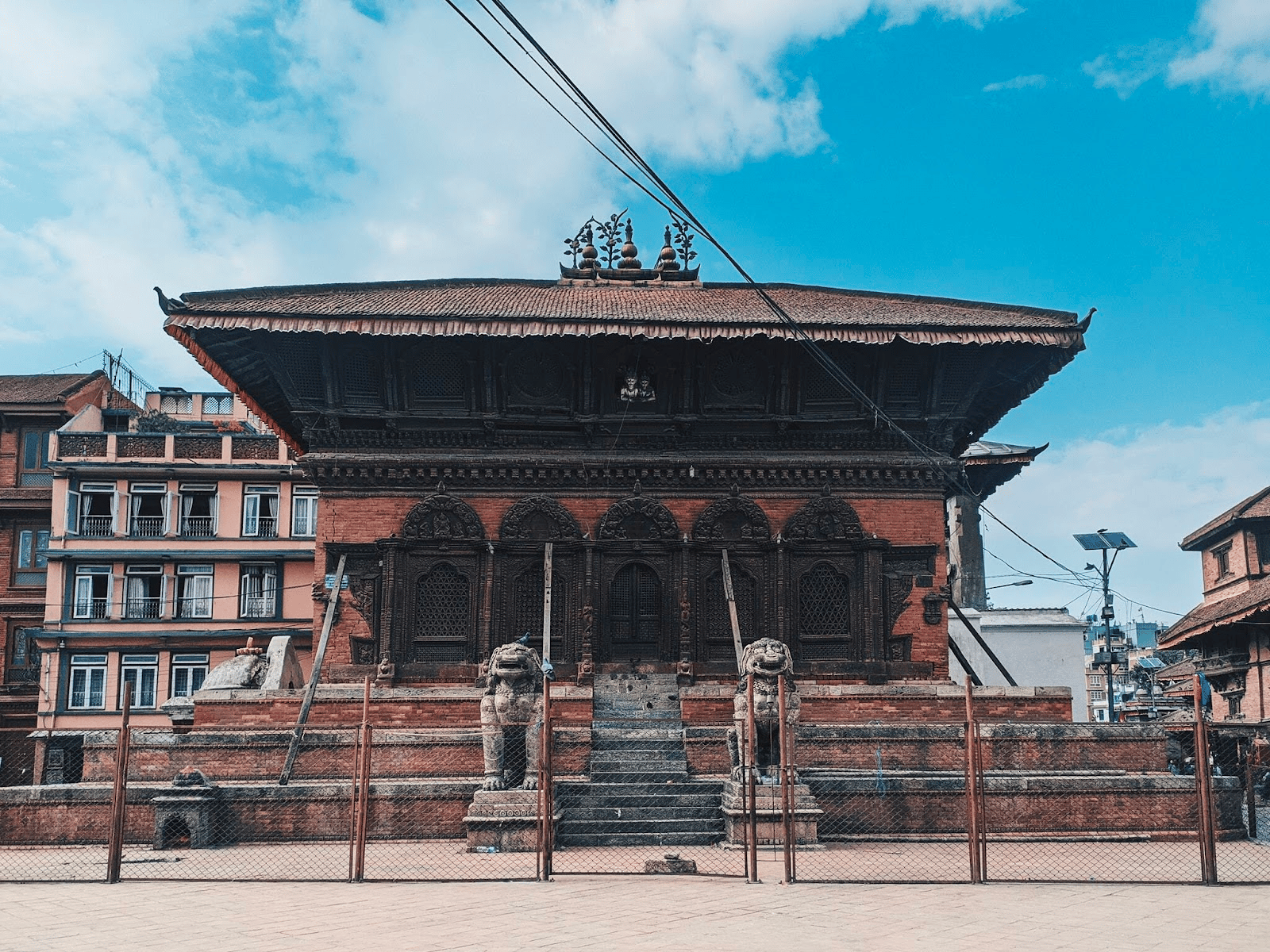 In fact, recently WPDeveloper went on a full team retreat to Nepal in May 2022, and we had an incredible time exploring the beautiful streets of Kathmandu which can enlighten you about the nation's history, culture, and ambiance. Besides this, we had also previously attended the last WordCamp in Nepal back in 2019 and had the most incredible experience possible.
🗓️ Where WordCamp Kathmandu Took Place: Location & Time
WordCamp Kathmandu 2020, as we all know, was canceled due to the inevitable COVID-19 pandemic. It was disappointing for all the WordCamp lovers out there. Many have wondered when the next WCKTM will be held since the last time it was canceled. And to the delight of the whole WordPress Community in Nepal and around the world, the much-awaited WordCamp Kathmandu 2022 finally took place this past month, on the 3rd-4th of September!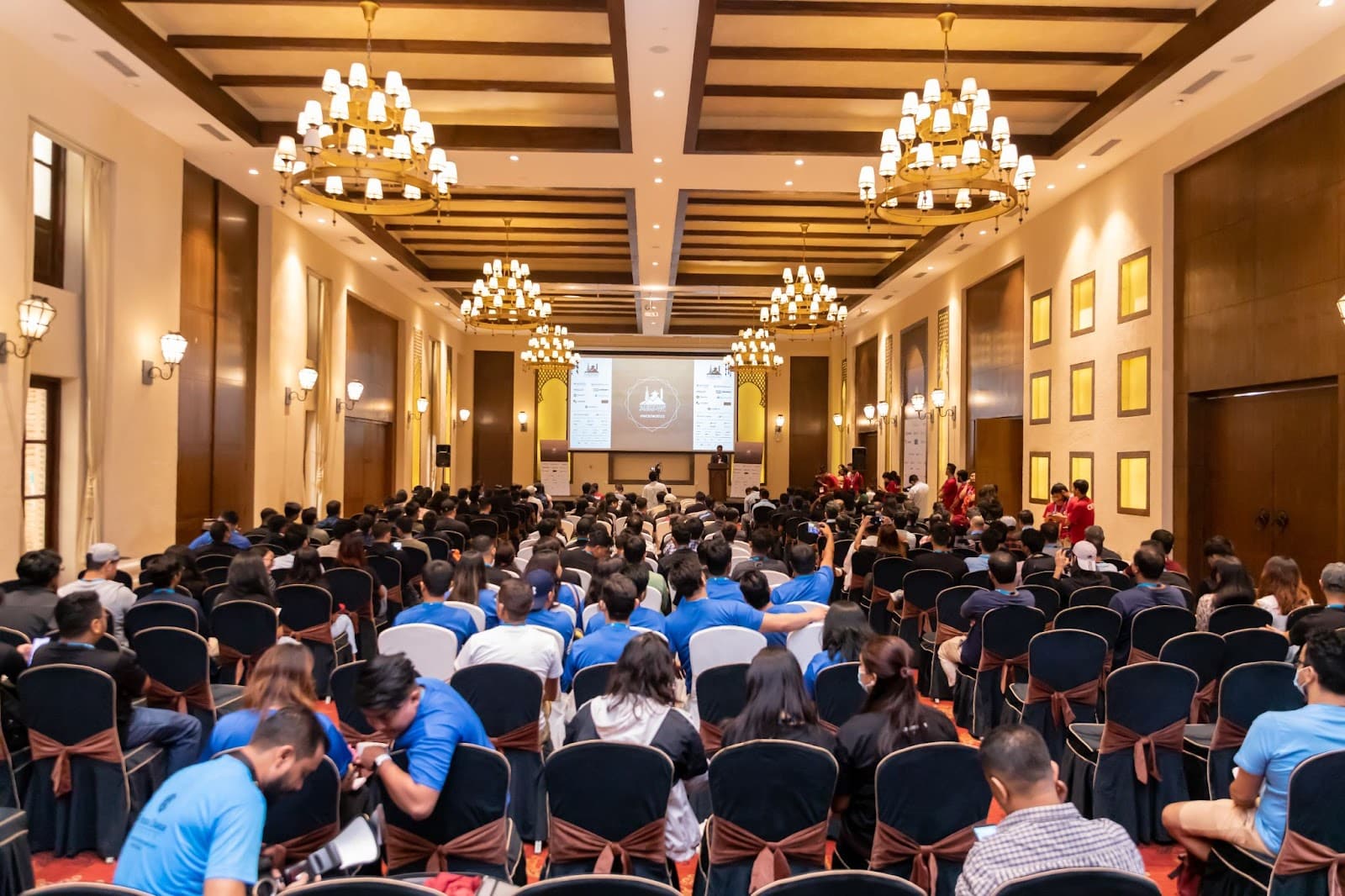 This grand event was held in Alice Receptions – a venue that comes with modern amenities and a flamboyant atmosphere perfect for any world-class event which is situated in Kathmandu, Nepal. And as you can see, it was packed with WordPress enthusiasts attending the 10th edition of the WordCamps in Kathmandu.
🥳 It Was The 10th Anniversary Of WordCamp Kathmandu
WordCamp Kathmandu 2022 drew 450+ enthusiastic guests from around the world. The two-day conference was jam-packed with insightful presentations, seminars, workshops, and enjoyable activities. And with this magnificent event, the Nepali WordPress community marked its BIG milestone of 10 years of WordCamp Kathmandu.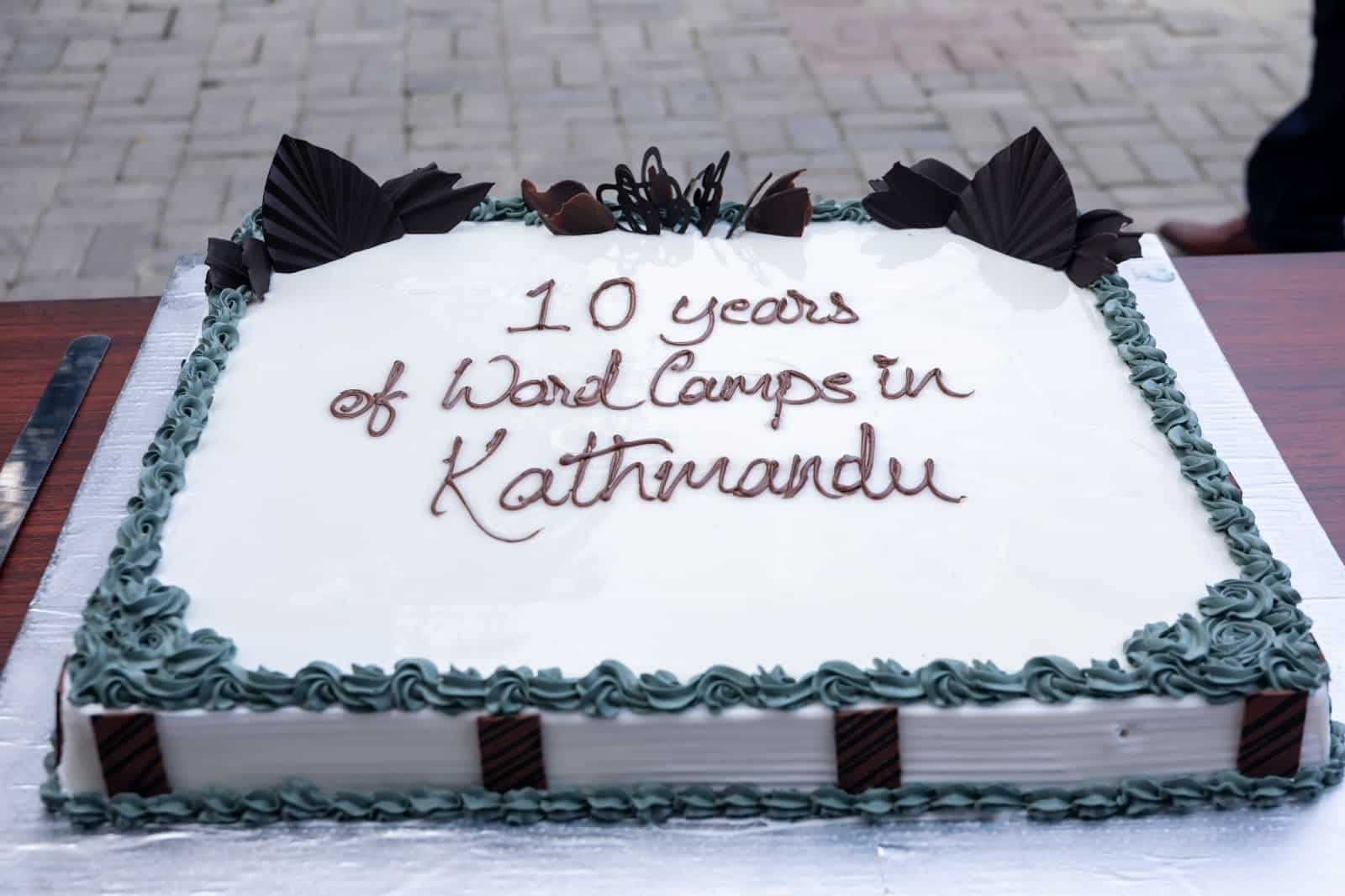 Know The Organizers, Sponsors & Speakers Of WordCamp Kathmandu 2022
To ensure that everyone who attended this conference had an unforgettable experience, several members of the WordPress community worked hard to contribute their time and talents. So let's get introduced to the committed volunteers who gave their valuable time to make the event successful and give them a huge round of applause.
🏆 The Organizers Who Worked Hard To Make This Event A Success
The organizing crew for WordCamp Kathmandu was a group of highly talented and experienced WordPress experts, ready to escalate the energy of the event with their excitement, knowledge, and unique touches. These incredibly dedicated WordPress enthusiasts worked hard through the 3rd and 4th of September 2022 to make this event memorable for all the passionate participants.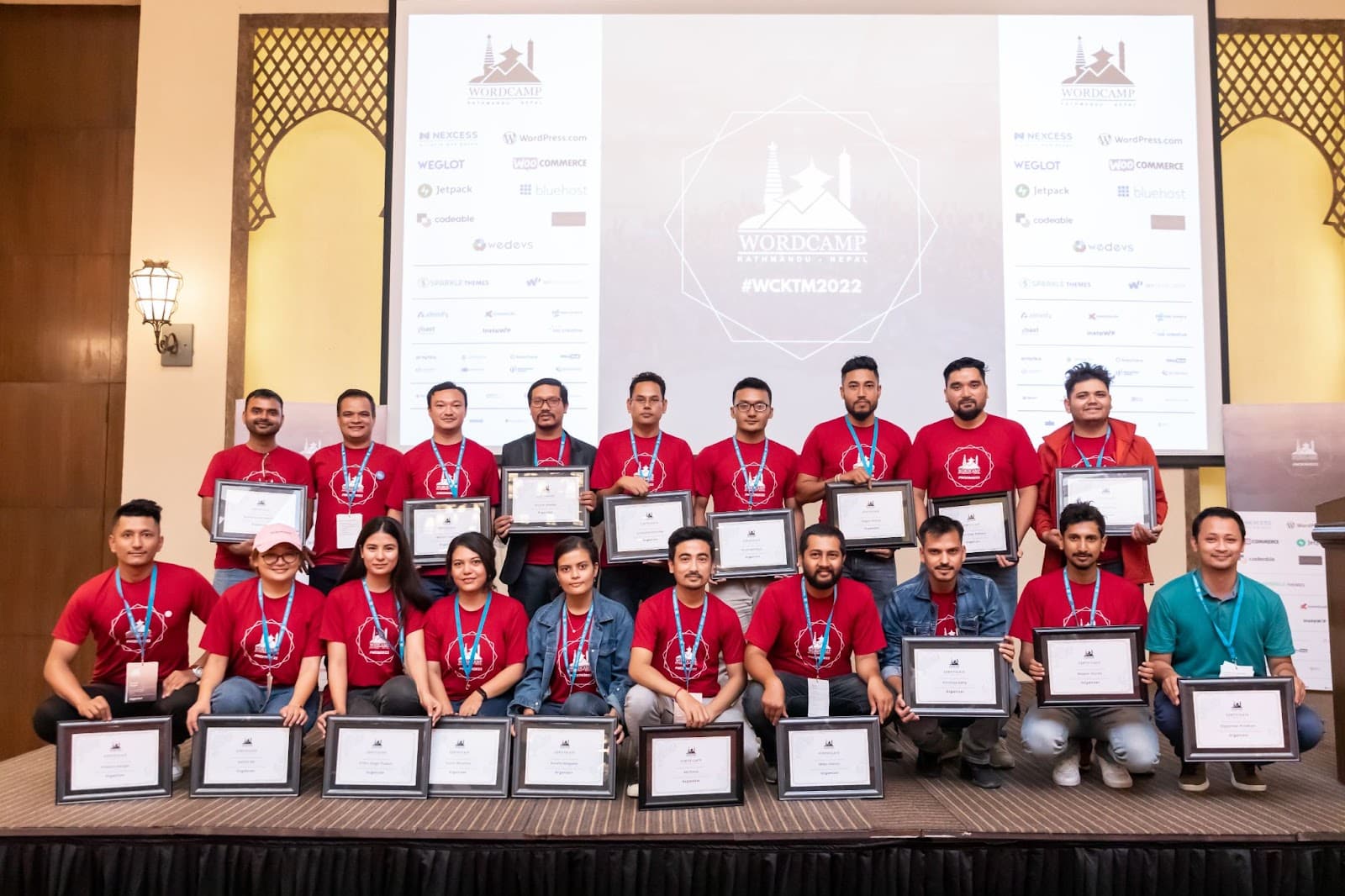 Utsav Singh Rathour, a passionate developer and a WordPress lover, is the lead organizer of this event. In 2007, he dove headfirst into WordPress and had not looked back since. He enjoys giving back to the already fantastic WordPress community, which is why anyone who attended the event might have seen him often scurrying about an event to ensure everything runs smoothly.  
Along with him, in this fantastic event, there were 39 organizers who gave their heart and soul to make this event a success. To raise the energy high, all these extraordinarily talented faces were there to enlighten the day for the participants.
⚡ The Volunteers Who Made Sure Everything Ran Smoothly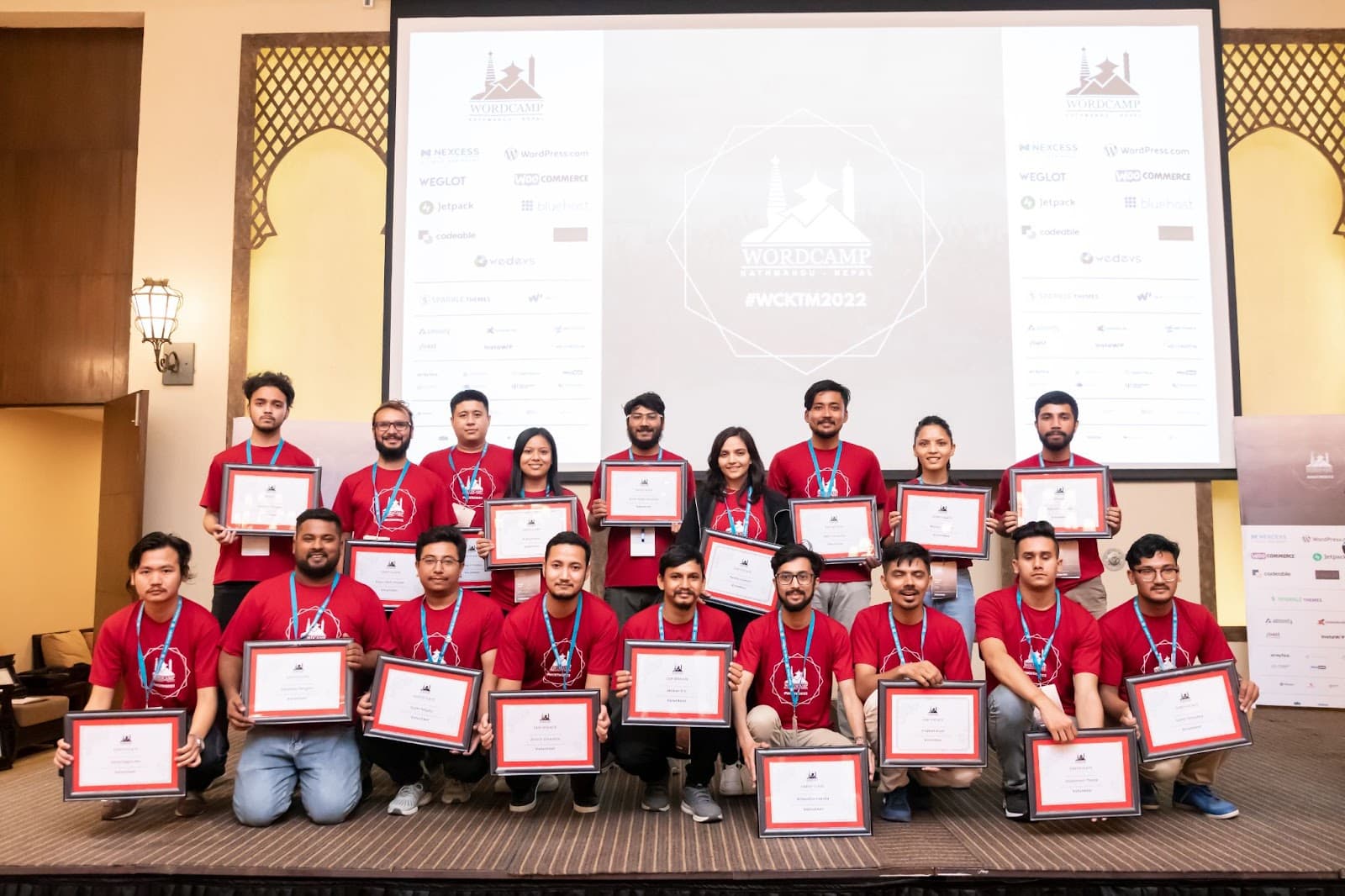 It takes a lot of people to put on a WordCamp, so let's appreciate the volunteers that helped make it happen. They were a big part of organizing and running WordCamp Kathmandu 2022, and they made sure everything worked out as smoothly as it did.
🎙️ The Speakers Who Shared Their Insights & Knowledge With Everyone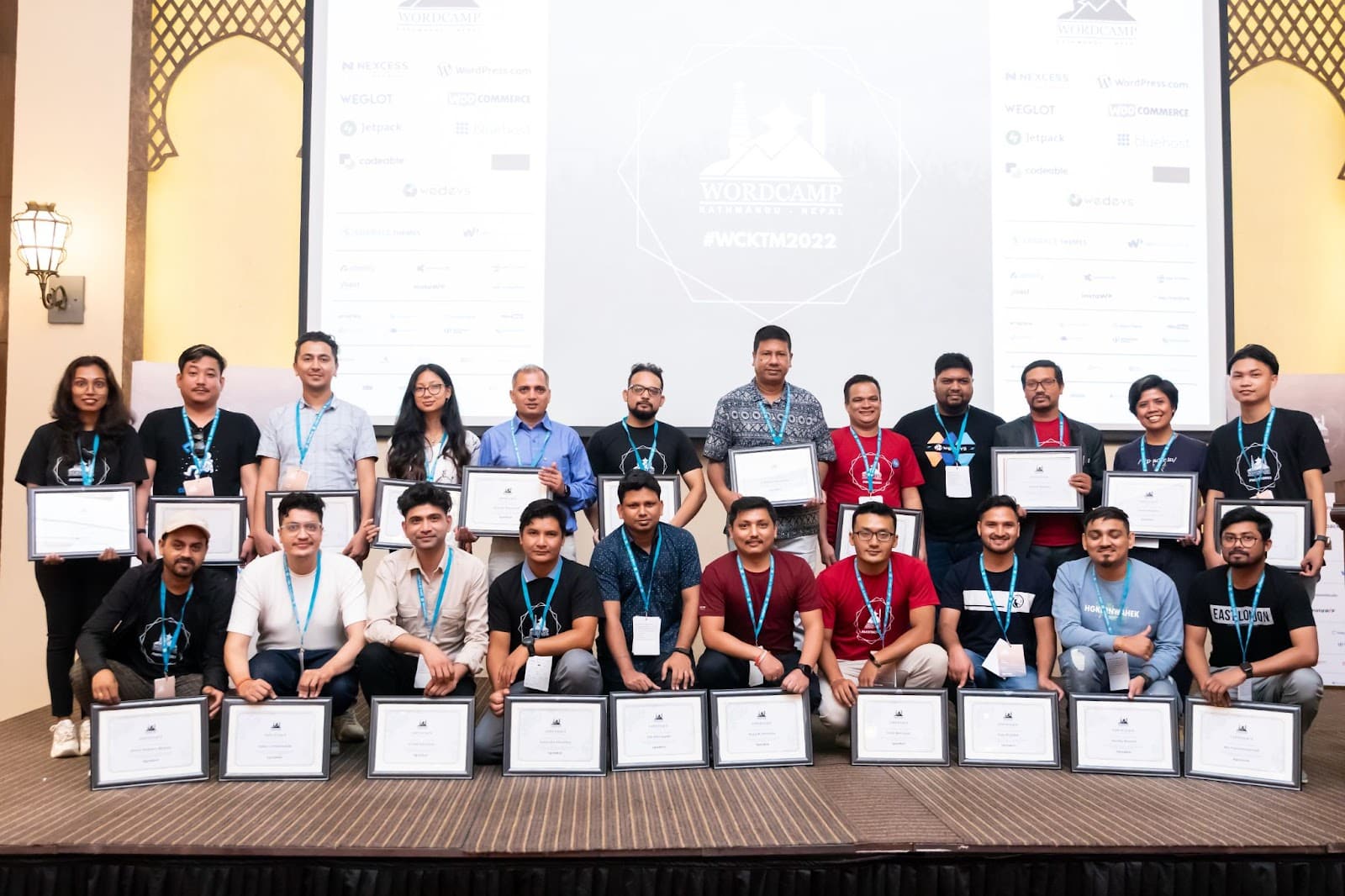 WordCamps provide an excellent chance to communicate what you've learned on a larger scale (than a local Meetup or a group of your friends), making already-fun WordCamps even more gratifying. And for anyone attending it can be the perfect place to learn new trends, updates, and insights about all things WordPress-related.
WordCamp Kathmandu 2022 had 23 famous speakers who shared their experienced insights about WordPress and its community. This panel explored many facets of the WordPress community, contributions, and future directions. But not just that, speakers even touched on topics such as 'why mothers and women, in general, should be hired back into the workforce -especially in the Tech Industry'.
🤝 The Proud Sponsors Who Helped Make WCKathmandu A Success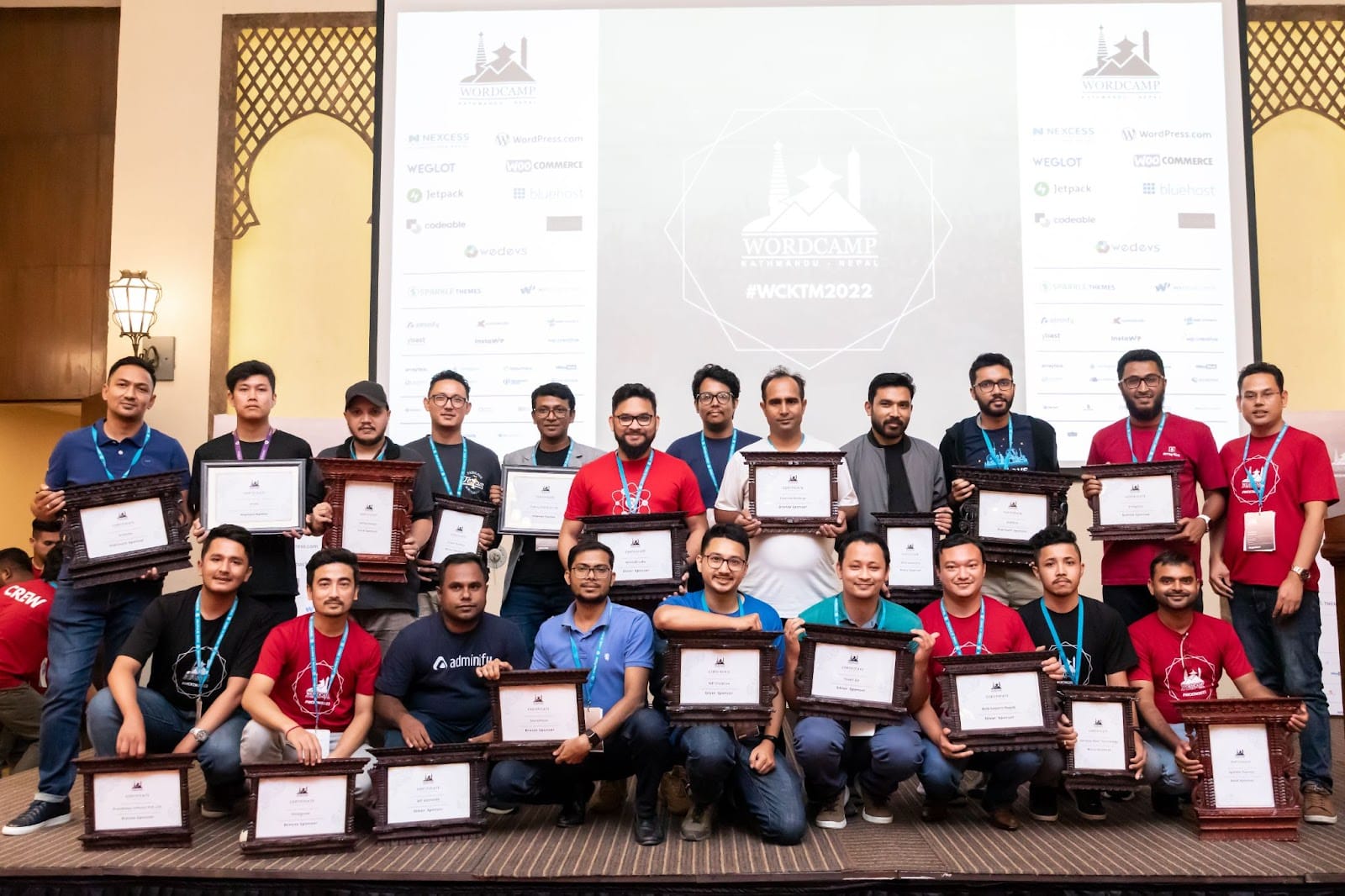 Numerous well-known WordPress brands and companies proudly sponsored this year's WordCamp Kathmandu. All of their benevolent support made this top-level WordPress event possible and successful. Names like WooCommerce, Bluehost, JetPack, WeDevs, WPDeveloper, YoastSEO, etc are the proud sponsors of this event.
Team WPDeveloper Was A Prestigious Gold Sponsor Of The Event
Here at WPDeveloper, we are delighted to share that we were the proud Gold Sponsor of this much-awaited WordCamp Kathmandu 2022 conference along with the other influential names. Our company was one of the main faces of this prestigious event and to show gratitude to our team, WordCamp Kathmandu awarded us with a beautiful, prestigious certificate.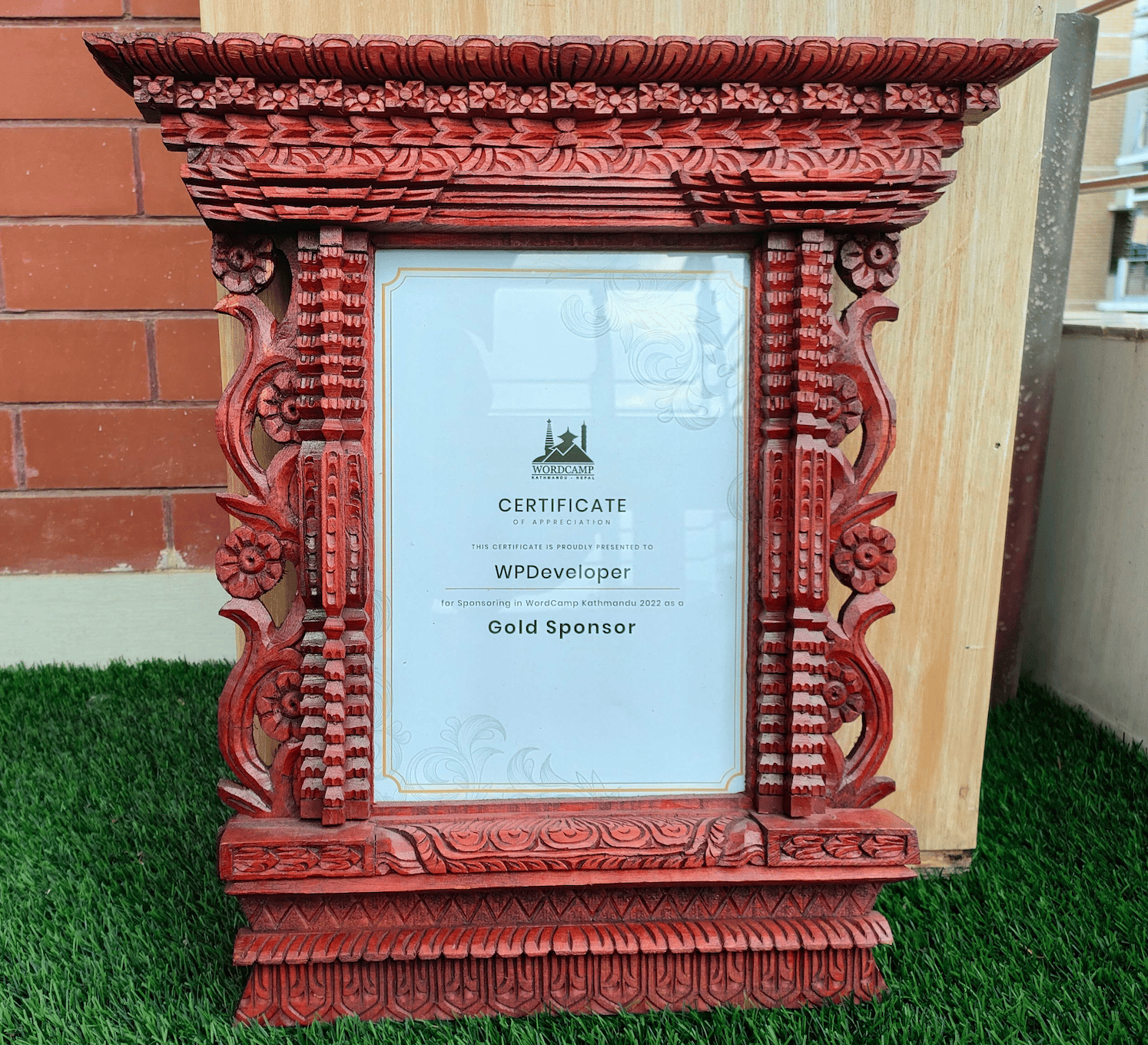 🎁 WPDeveloper Sponsor Booth Was Buzzing With Attendees
At this event, team WPDeveloper showcased our product, goodies, and more at our Sponsor Booth. But that's not all, we had a surprise gift to share as well. We held a grand giveaway ceremony for WordPress enthusiasts who attended WordCamp Kathmandu, and we presented one lucky winner with an amazing, brand-new Apple Airpod 3. Overall, our booth was always buzzing with a large number of attendees, interested customers, and well-wishers.
💻 The Contributor Day At WordCamp Kathmandu Was A Huge Success
Contributor Day is a special day dedicated to giving back to the WordPress community. The Contributor Day is NOT only for gurus and seasoned community members. You may contribute even if you are new to WordPress. No matter your level of WordPress experience, Contributor Day is for you.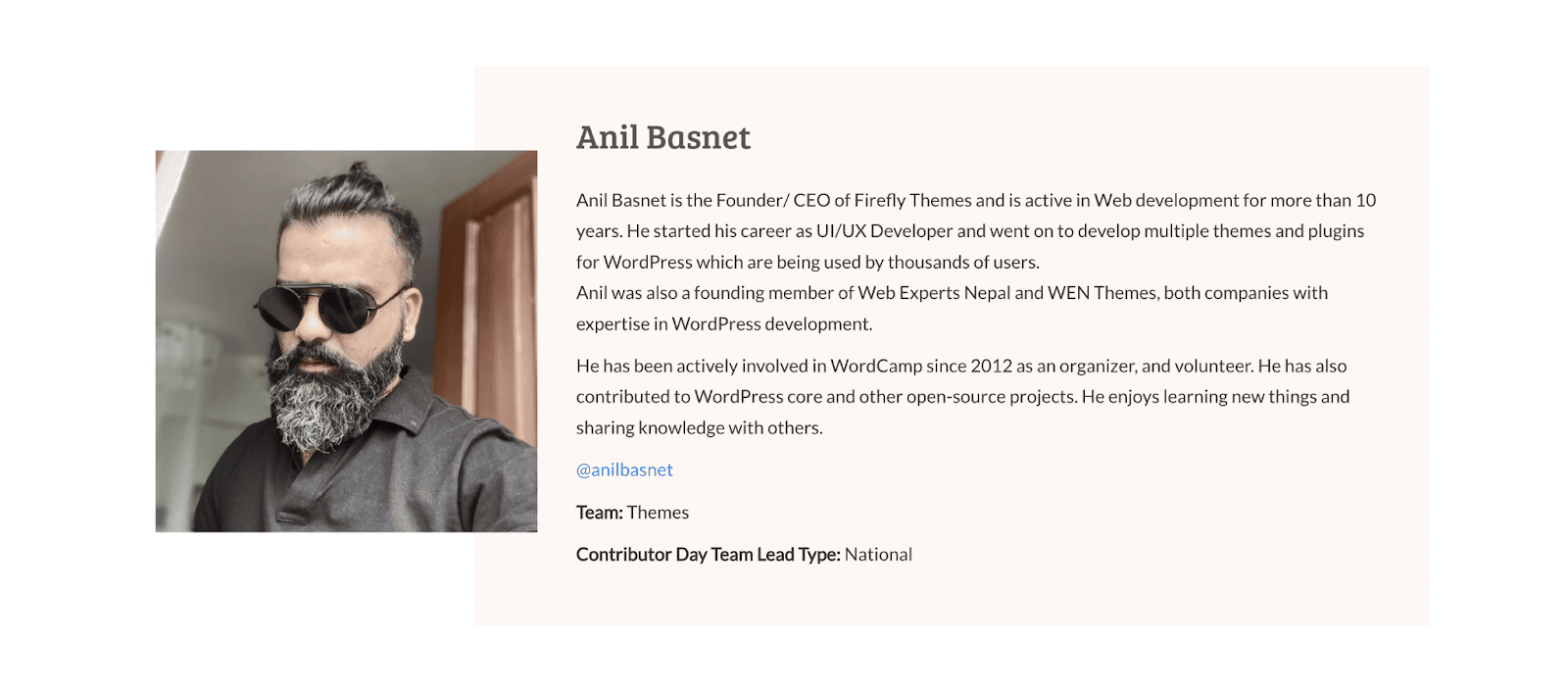 Day is open to everybody. All levels of expertise and talent are welcome wholeheartedly. WordPress is an open-source platform with an active community of individuals worldwide working to improve it every day. It's a full day of contributing and networking with other WordPress enthusiasts! And the Contributor Day at WordCamp Kathmandu 2022 was a massive success with a huge number of contributors. 
WordCamp Kathmandu 2022: Ujwal Thapa Scholarship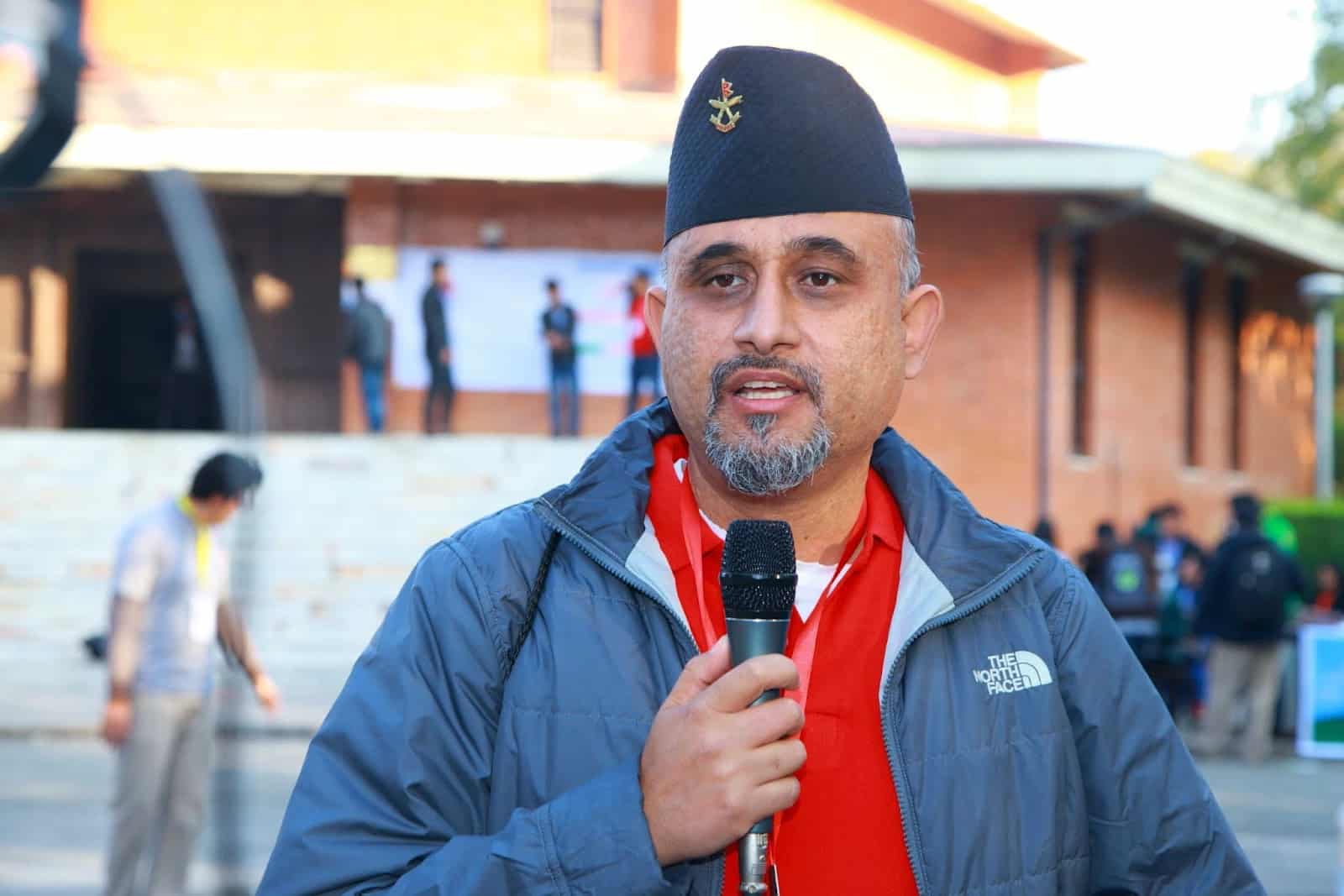 It has been one year since Ujwal Thapa Dai left us for a better place. All we have left are recollections of the man he was and the Nepali WordPress Community wanted to keep his memory alive through the global WordCamp in Kathmandu.
WordPress Nepal was co-founded by Ujwal Thapa, Chandra Maharzan, and Sakin Shrestha. In his memory, tribute, and honorWordCamp Kathmandu granted scholarships to anyone who could not afford the ticket to the event. And this time, the scholarship was offered to 5 lucky receipents.
Mark Your Calendar & Join The Next WordCamp Event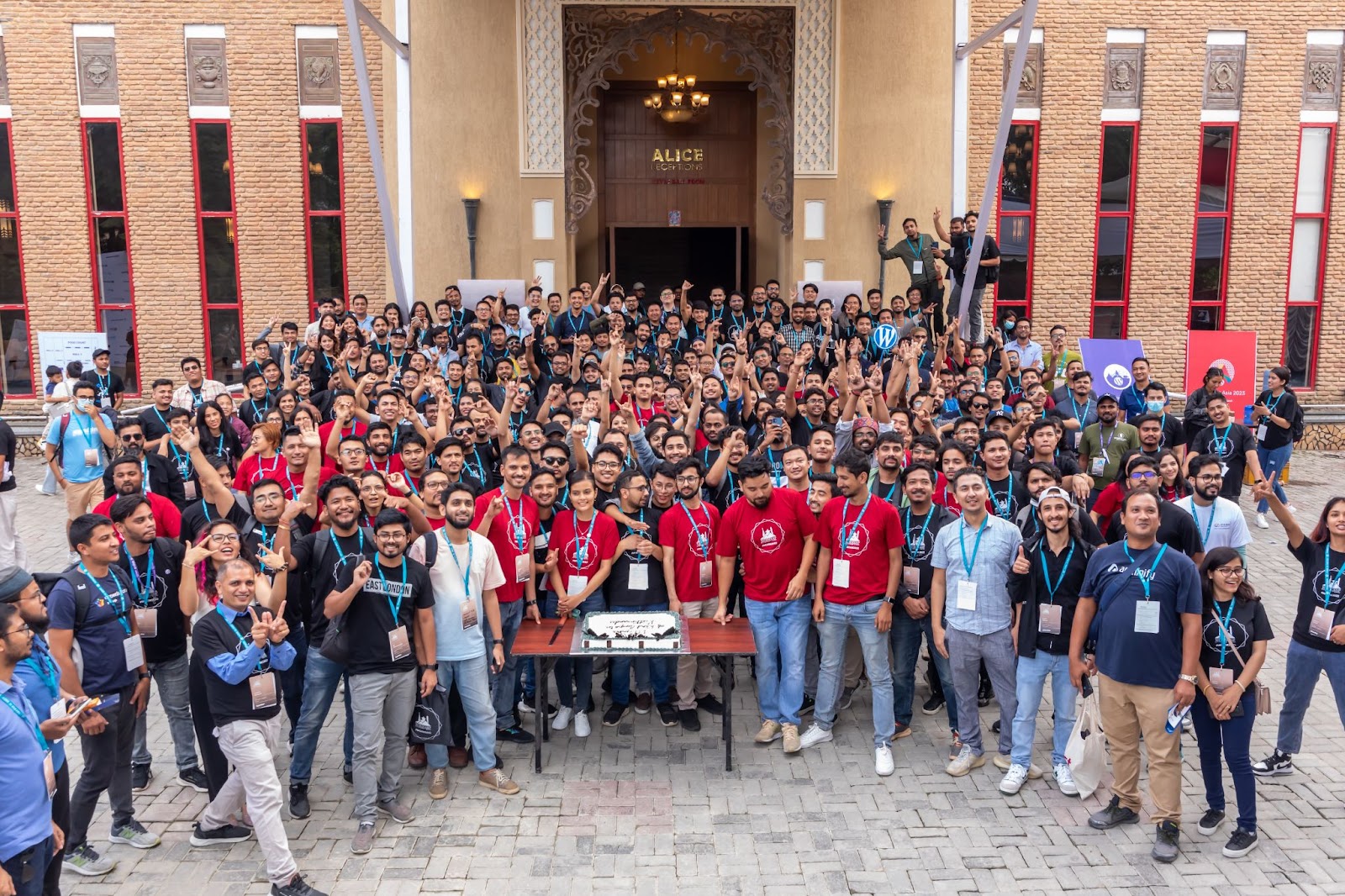 Attending the WordCamp conference in Kathmandu was undoubtedly spectacular and beneficial to the WordPress community as a whole. Apart from that, Nepal offers many possibilities for exploration. Learn about Nepali ethnicity, art, religion, and cultural diversity and unleash the immense beauty of Kathmandu as a bonus.
So, even though WordCamp Kathmandu 2022 is over, make sure to not miss the ones that are yet to come. Mark your calendars, keep an eye on the official website and our blog for more updates, and prepare to join us at more amazing WordCamps around the world!