WordPress 6.2, the first major release of 2023, is here! Named "Dolphy" after the woodwind jazz musician and saxophonist Eric Dolphy, the newest version of WordPress is all set to be a complete game-changer for website builders around the world. With tons of exciting new features and improvements, the latest WordPress release promises to take everyone's user experience with the platform to newer heights! 🥳
We have explored all the exciting updates and enhancements you can expect with the latest WordPress release. So, if you want to learn what it's all about, read the detailed blog below without further ado.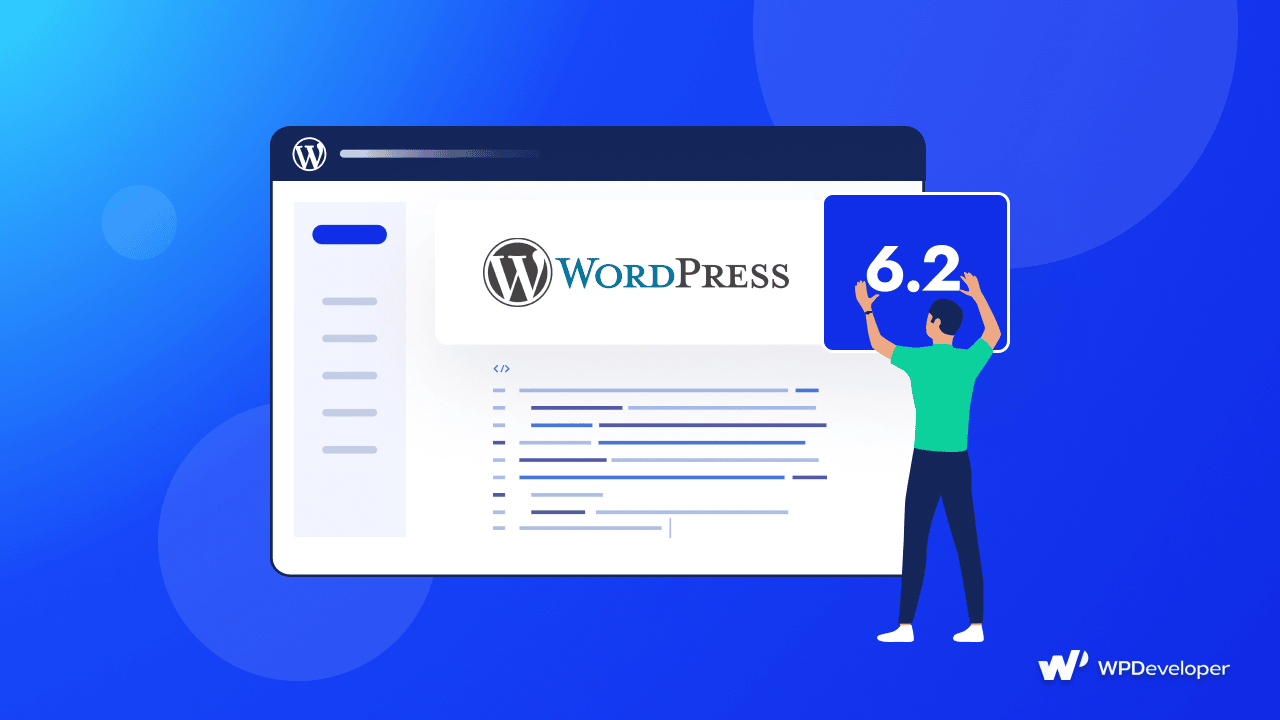 WPDeveloper Contributes To WordPress Core: Welcoming "Dolphy"
Team WPDeveloper actively participates in the WordPress Community in many ways. This includes contributing almost 100 dedicated hours to developing Make WordPress. And to our delight, 35 team members from WPDeveloper have contributed to WordPress core for this latest mega-release.
Overall, there were over 600 contributors to the WordPress 6.2 release from the community who have worked tirelessly to ensure that the newest version of WordPress meets the best quality standards. So, get ready for an excellent user experience, some major updates, enhancements, and changes. Thanks to all the contributors, Beta & RC testers!
What's New With This Major Release: WordPress 6.2
On the roadmap for the Gutenberg project, WordPress 6.2 is one of the final major releases of Phase 2 that is scheduled. In the last few years, the platform has advanced significantly, and the WordPress 6.2 release acknowledges this development and anticipates a publishing future with access to even more powerful tools. It also rolls in the last nine Gutenberg plugin releases, which account for 292 editor enhancements and 354 bug fixes.
Besides that, WordPress 6.2 also brings with it plenty of new features and enhancements to improve your website-building experience. Check out some of the updates below.
The Site Editor Is No Longer Labeled "Beta"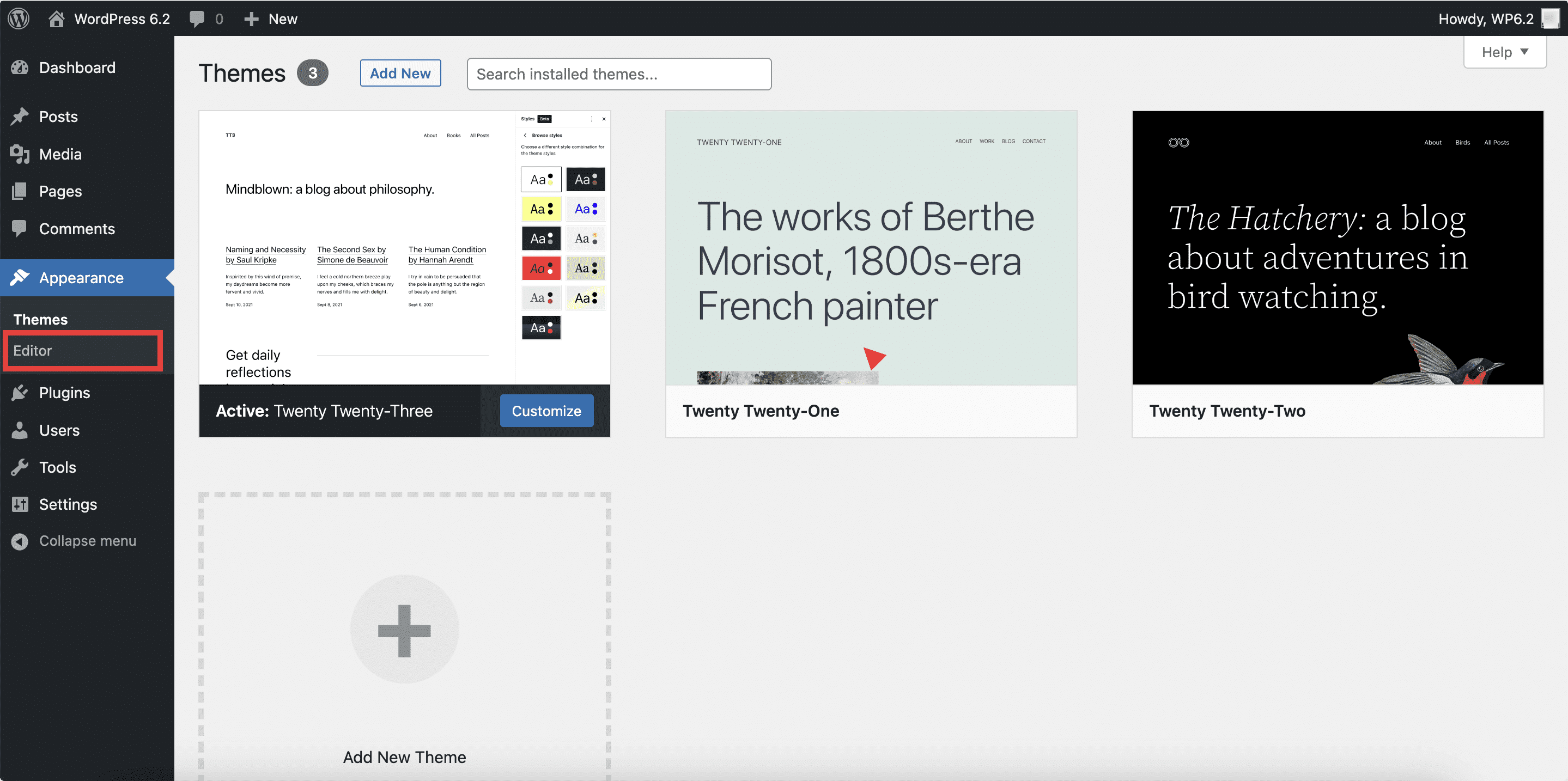 After much discussion and evaluation since WordPress 5.9, the 'Beta' label on the Site Editor has finally been removed with the latest release of WordPress 6.2. You will no longer see the label when accessing the Site Editor from the Appearance → Editor on your dashboard. And it is an update that surely calls for celebration because this indicates that the editor is now stable and ready for anyone to explore.
You can now create and experiment without any worry. However, even with the 'Beta' label removed, the Site Editor will continue to receive updates and improvements as time progresses, and further enhancements come with upcoming releases.
The Block Editor Now Has A 'Distraction Free' Mode
One of the major highlights of the WordPress 6.2 release is the all-new 'Distraction Free' mode. It is aimed at improving user experience and helping with focused writing on Gutenberg. With a few clicks, you can easily hide the side panels and toolbars from the block editor and enjoy a blank screen where your website content is the focal point.
A Reimagined Site Editor With Browse Mode, Easy Navigation & More
Other than the label removal, there are many other changes that you might come across when exploring the Site Editor for WordPress 6.2. The editor is now more intuitive, allowing much easier navigation with the introduction of the 'Browse Mode.'
You will notice that when exploring the Site Editor, you first land on the 'Templates' and 'Templates Part' selection screens. This change makes it much simpler to access and manage all the website templates available or create new custom ones.
You will be able to 'Edit' the templates by clicking on the button at the top of the left-side panel, or you can also navigate within the templates or their parts, as needed. You can also choose where you want to start editing on the editor interface with ease.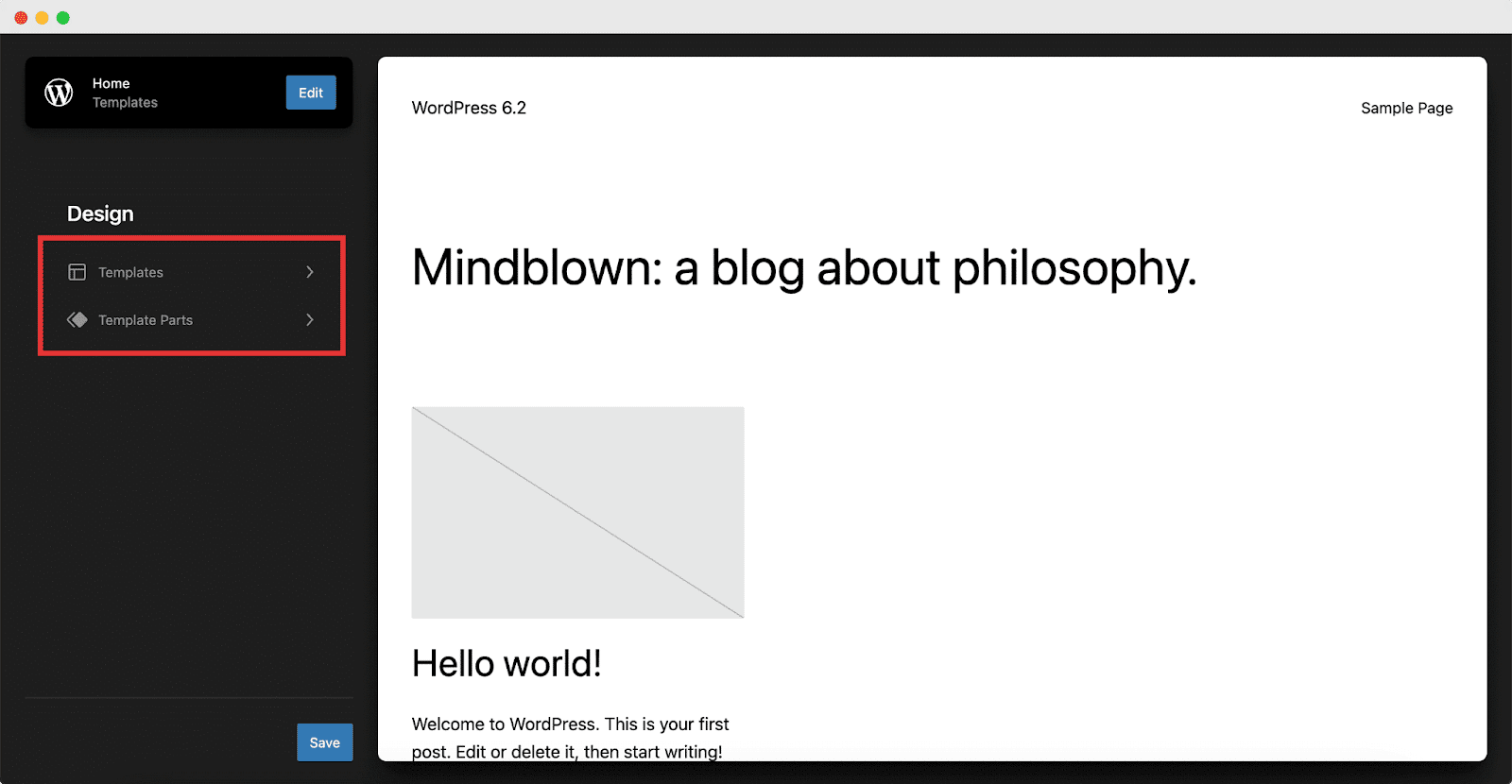 With Gutenberg 15.1, the last release to be integrated into 6.2, a 'Navigation' section was also added, allowing you to manage your primary navigation from the sidebar. However, as the release cycle moved forward, this feature saw continued bugs and needed more refinements.
And so, with WordPress 6.2 RC2, the 'Navigation' section was scraped from the upcoming release schedule. However, it will remain in the Gutenberg plugin and might be iterated for a future release of WordPress. Read more about this change here.
A Split Block Settings Panel For Smoother Navigation & Usage
With WordPress 6.2, the Block Settings have been split into two categories – 'Settings' and 'Styles.' This further helps to enhance user experience because now, blocks with many control options can be managed easier. The 'Styles' tab now includes any styles-related controls, such as border, color, dimensions, font, etc., that do not conceptually belong within the block support panels.
So, now, you no longer have to scroll through the side panel to navigate your preferred options. If you want to change the color of the block background, you can head over to the 'Style' tab, and if you want to change the block layout, you can operate from the 'Settings' tab.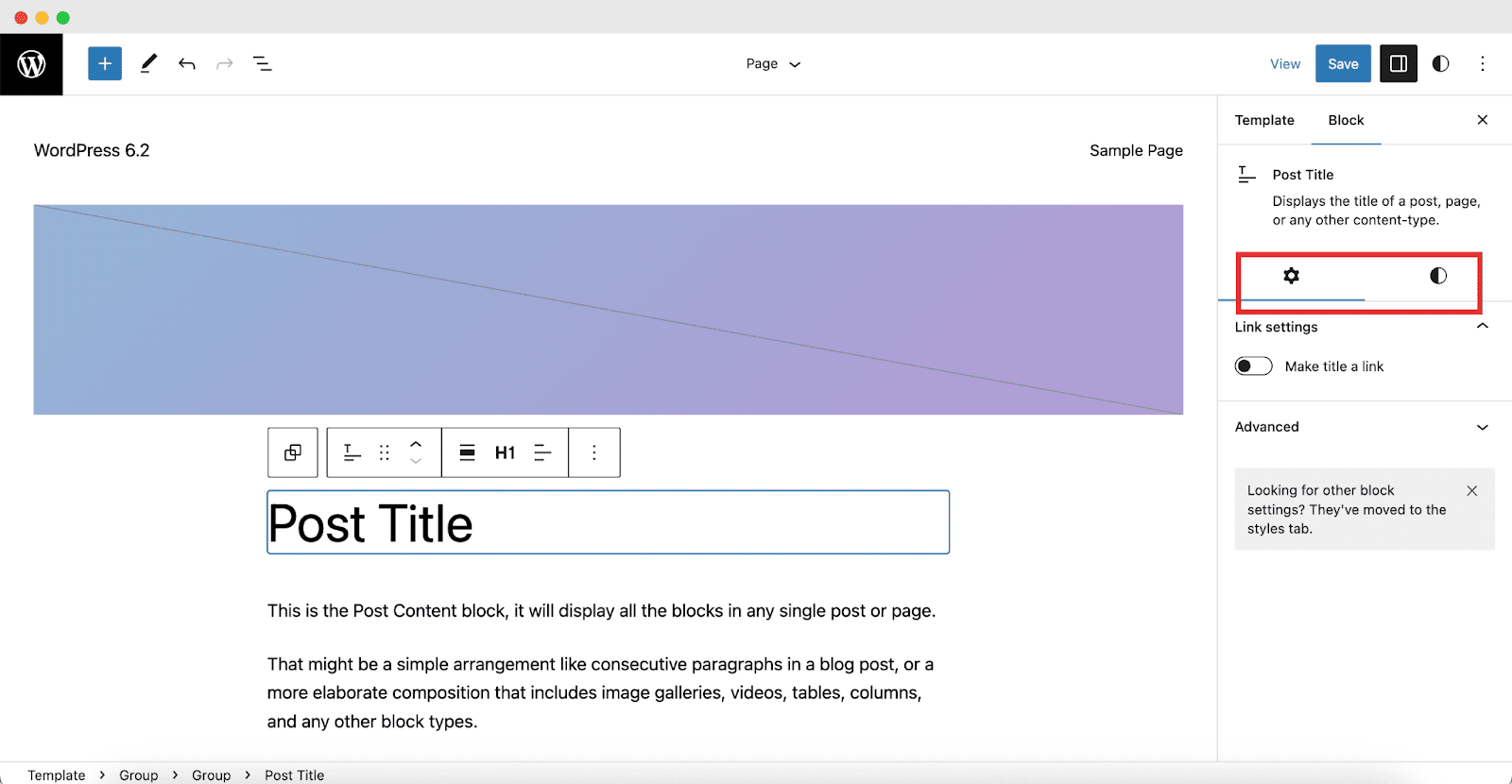 Color-coded Template Parts & Reusable Blocks For The Editor
Boosting the user experience is further enhanced with WordPress 6.2 release because identifying Template Parts and Reusable Blocks is now color coded within the Site Editor. This can be found within the 'List View,' the 'Block Toolbar,' and the 'Canvas.'
Throughout the interface, you will see these synced blocks colorized in a distinct color that sets them apart from the other Core blocks. This improvement can help you recognize these blocks easily and more efficiently when editing a template part using Gutenberg.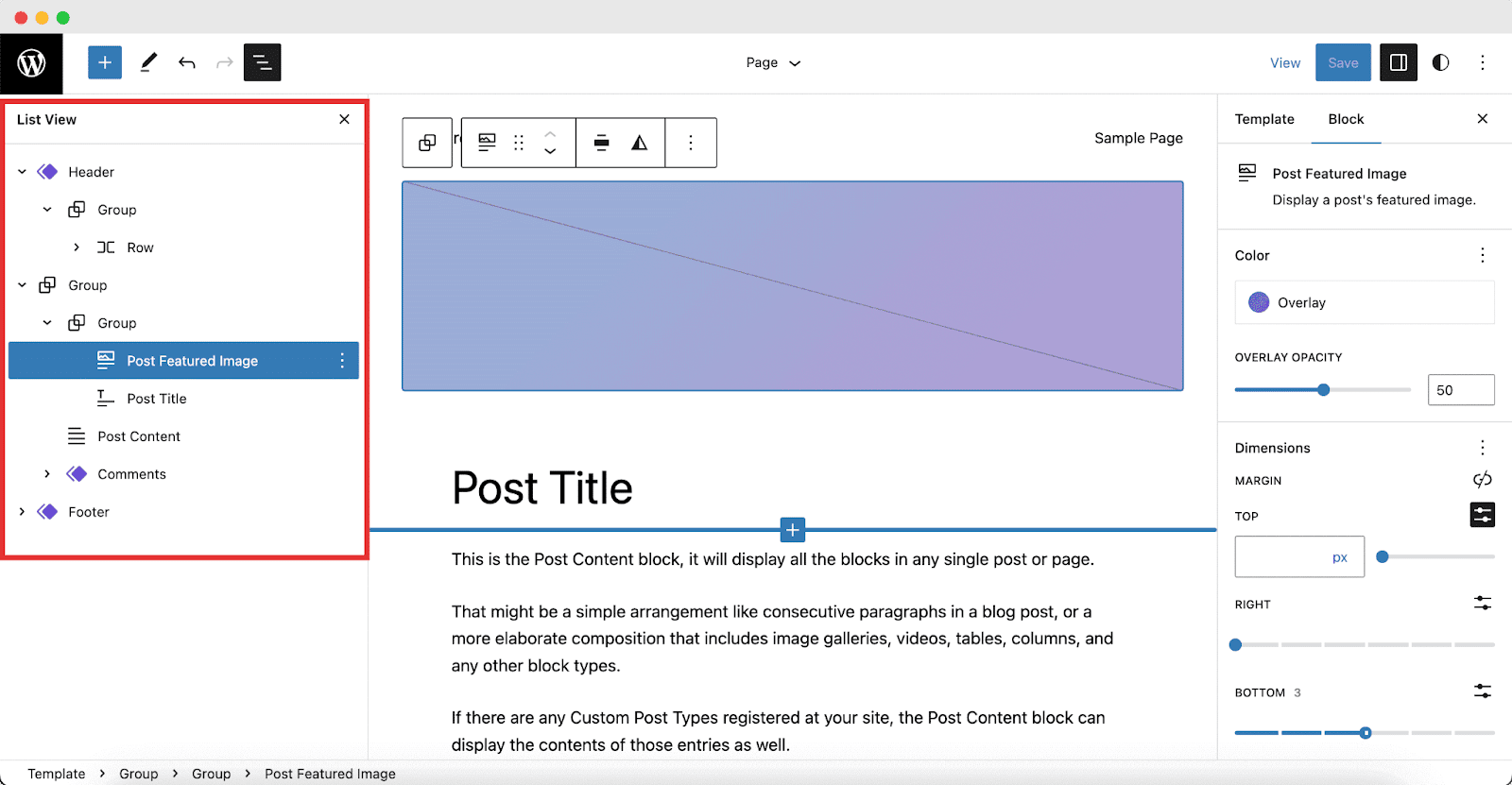 Easier Menu Creation & Management With The Navigation Block
WordPress 5.9 also introduced the 'Navigation' block, which came with a reimagined editing experience for the Gutenberg blog editor. Previously you could easily configure and manage 'menus' from the 'List View' side panel. Now, with the introduction of an editable view in the 'Block Settings' sidebar, managing menus is even easier. For a more detailed understanding of how this change works, check out the video below.
Block Patterns Are Easier To Find & Insert Onto Your Site
Block Patterns are a popular approach to quickly and expertly create a great layout when developing a WordPress website with Gutenberg. There is no longer a drop-down toggle for switching between patterns and categories in the Block Pattern Inserter. Instead, you will now notice a new layout divided into two options, which improves navigation and offers larger previews for the patterns. You can visualize the designs easily, switch between the different pattern categories, explore all available patterns, and much more with WordPress 6.2.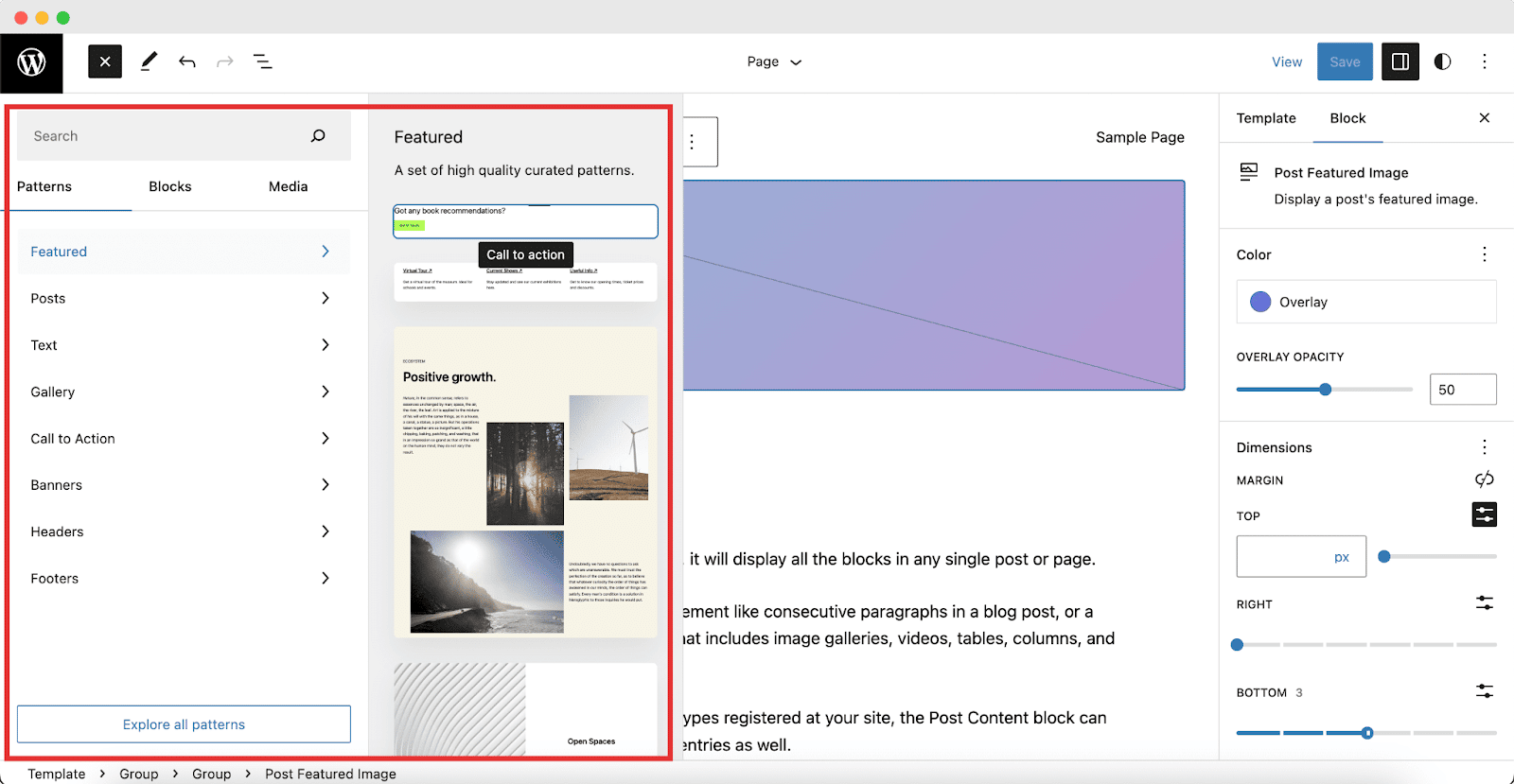 A Complete New Style Book To Help Visualize Customizations
WordPress 6.2 also comes bearing a new 'Style Book,' a major new development of this new release. Its objectives include simplifying the process of producing consistent designs, assisting users in understanding changes' consequences immediately, and facilitating greater personalization according to user preferences.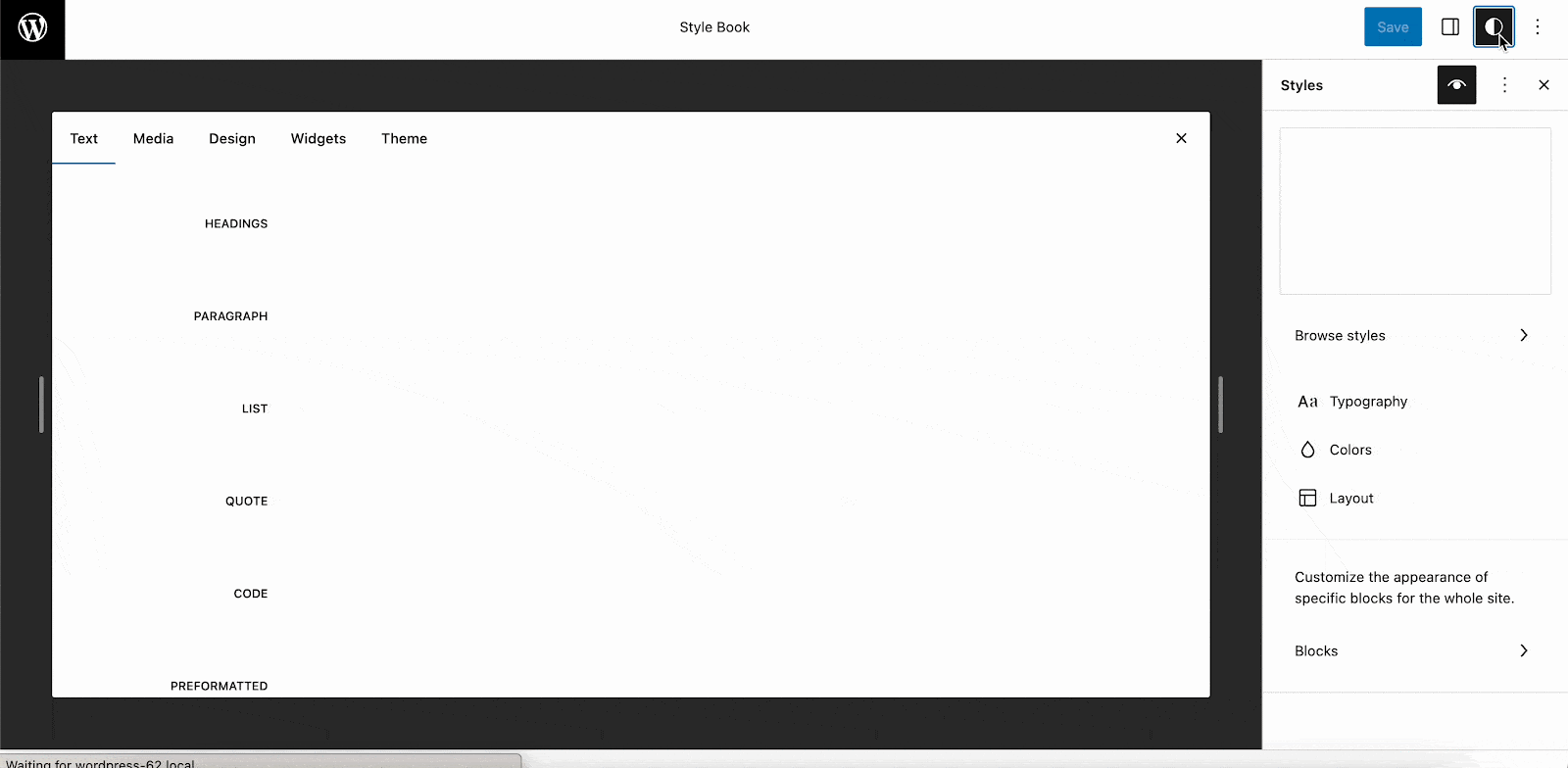 Block Styles & Custom CSS Can Now Be Applied Globally
Did you configure a specific block with a custom design and wish you had a feature that lets you update the design for the same blocks across the site with just one click? With the release of WordPress 6.2, now it's all possible.
Once you have customized a block the way you want and head over to the 'Advanced' section under the Block Settings panel, you will now be able to see a 'Apply Globally' button. A hit of this button will simplify the process of updating styles across the site, applying the changes instantly.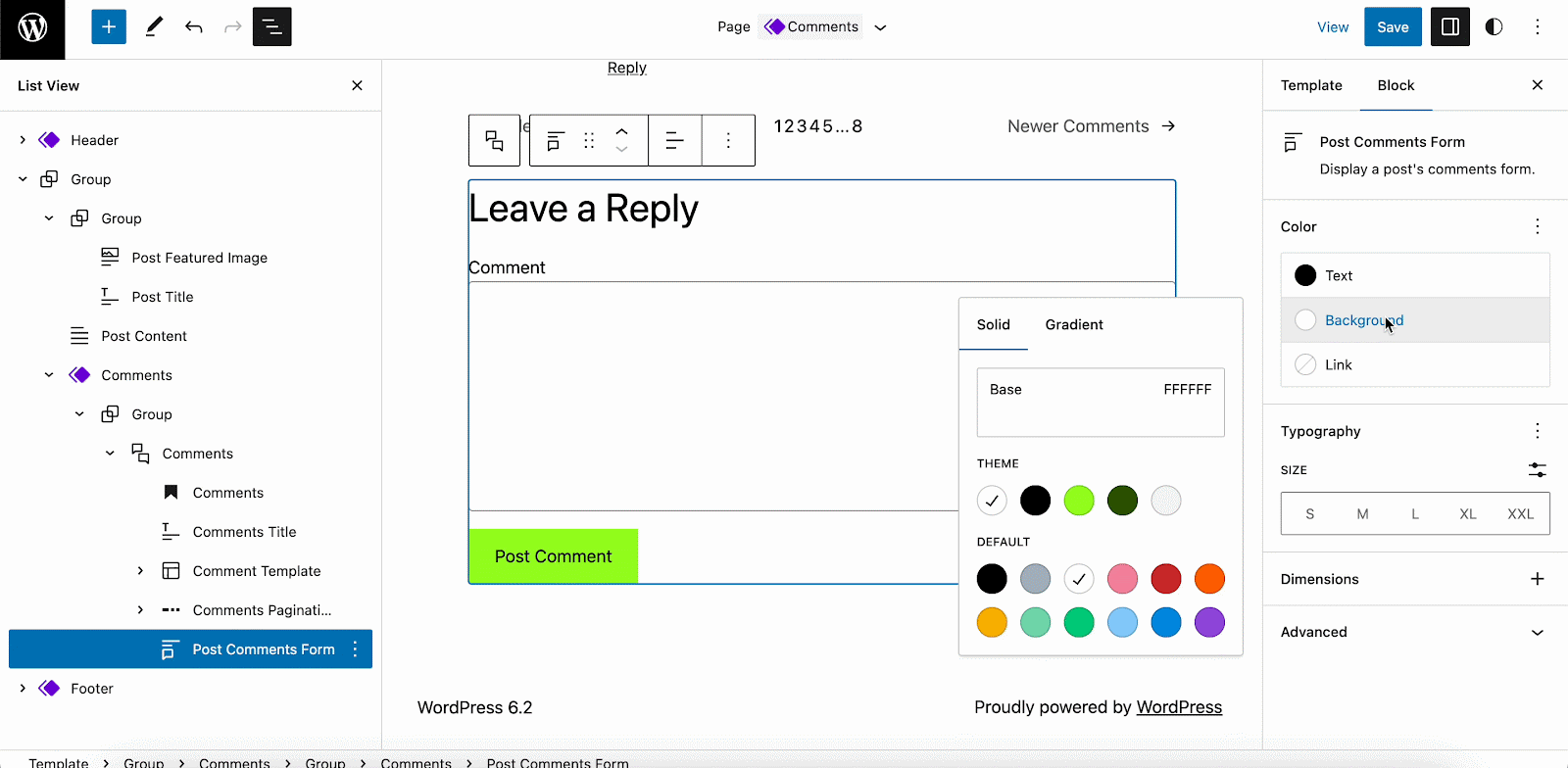 You now also get the ability to add custom CSS to your entire site through Global Styles. And to increase design flexibility, with WordPress 6.2, it is now possible to add and modify 'Shadows' to some Gutenberg blocks using Global Styles and theme.json. By enabling designers to make exact alterations to their design, this new tool gives them even more control over the appearance and feel of their website.
Seamless Openverse Integration With The Block Inserter Media
One of the latest integrations to be introduced with WordPress 6.2 is the free photo and audio resource platform, Openverse. It allows you to insert royalty-free images or audio files from a collection of over 600 million creative files.
All you have to do is navigate to the 'Media' tab of the 'Block Inserter' and select 'Openverse.' Then, with no further codes, you can search for your preferred category of creative file and insert the file into the block editor in just a click to make your website more engaging and interactive than ever before.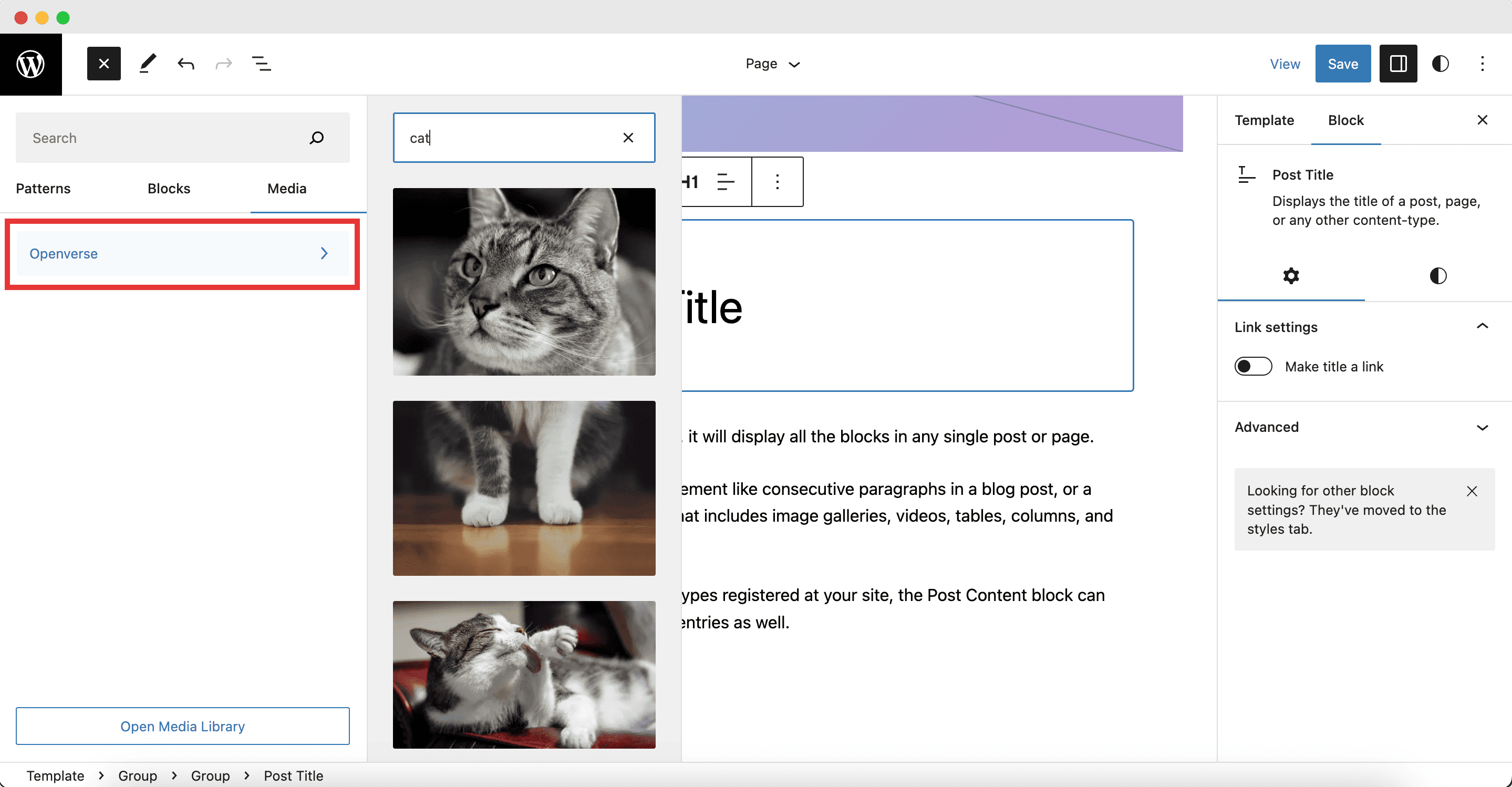 Other Technical Updates To Expect With WordPress 6.2
WordPress 6.2 is packed with further improvements that can make your WordPress experience stable and smooth. Take a look at some of the more technical updates that are coming with the upcoming release.
3 New Category Tabs In The Block Inspector
Before the tabs were introduced, the Gutenberg block inspector's sidebar was a crowded place, difficult to navigate through. In WordPress 6.2, the inspector's design tools will see further categorization into 3 different tabs:
🌟 Settings
🌟 Appearance
🌟 List View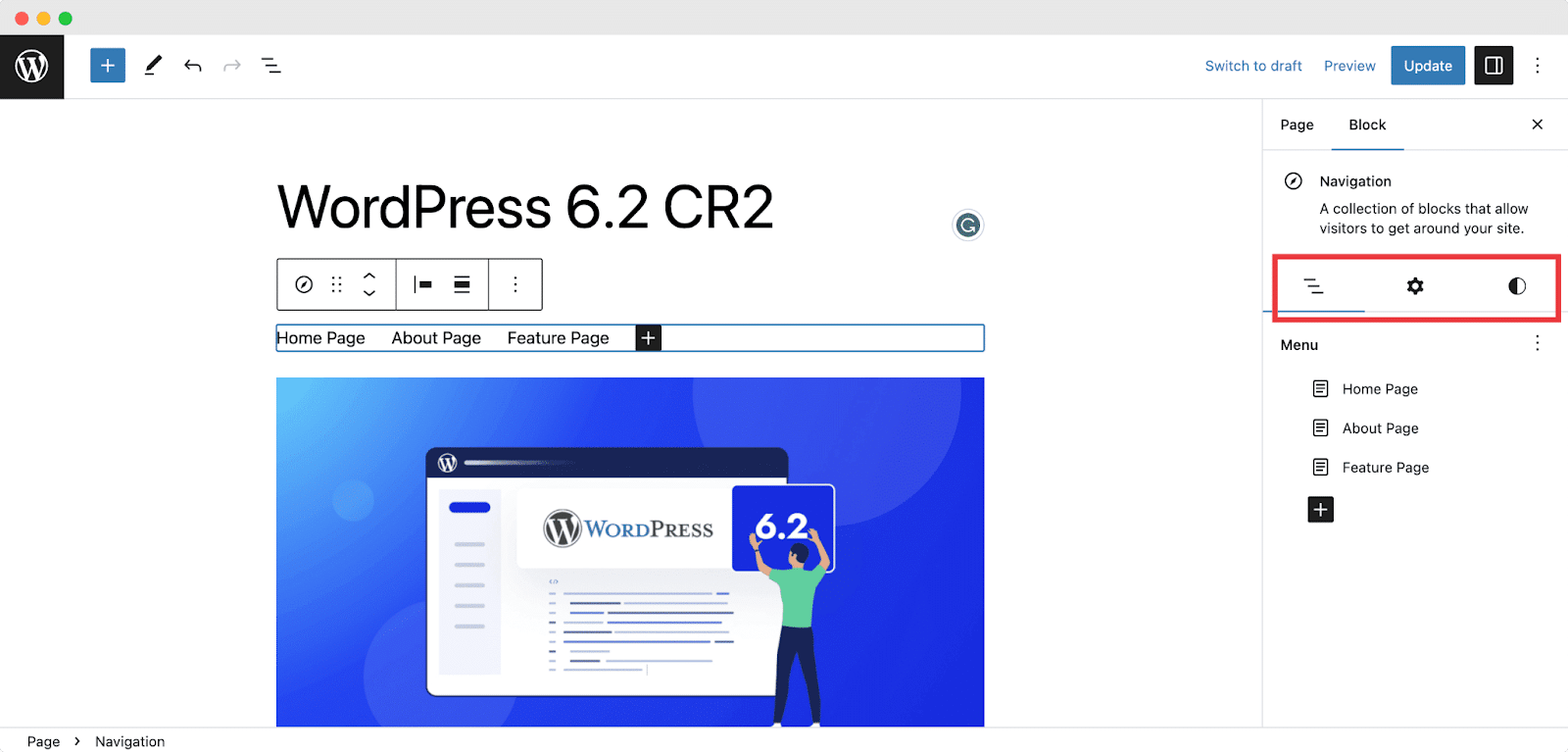 WP HTML Processor To Adjust HTML Tags
Updating HTML in WordPress has always been a troublesome & error-prone process. But not anymore, because WordPress 6.2 introduces a WP HTML Tag Processor. With this new tool, authors can adjust HTML tag attributes in block markup with PHP, allowing website developers a smoother experience when using this platform.
Block Sticky Position Support Feature
In WordPress 6.2, a sticky block position feature will be added to allow users to retain a block at the top of the viewport even as they scroll down the page. This function is applicable to group, stack, and row blocks but only works for root-level blocks at the moment.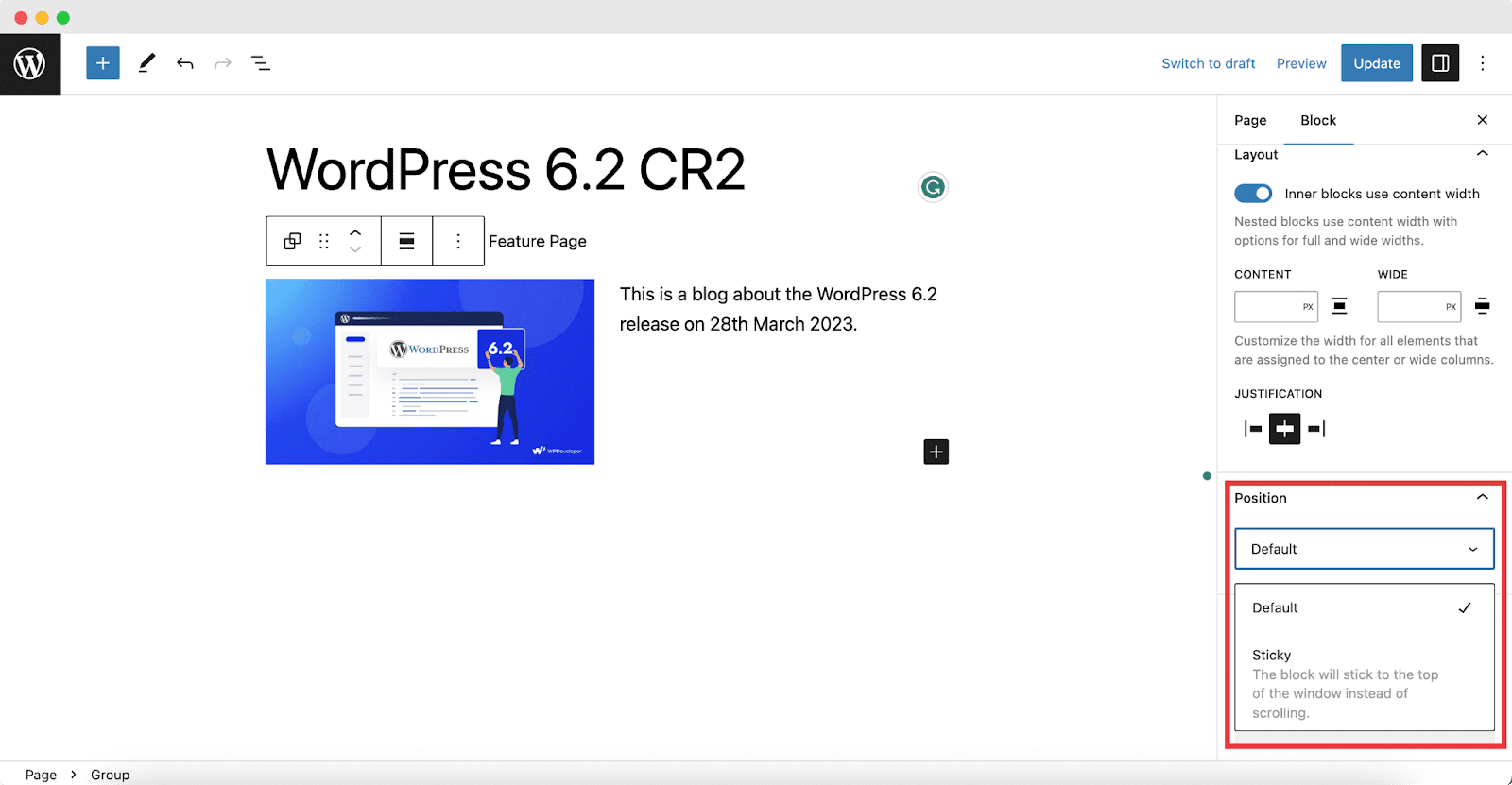 Enhanced WordPress Accessibility
The next major release, WordPress 6.2, also comes with many accessibility improvements and fixes. Many of the updates above are part of this wide list that falls under this category, such as the 'Browse Mode,' 'Additional editing option for Navigation block,' and more. There's more coming up with the upcoming release, requiring ongoing effort and commitment from the entire community. Read more from here.
Global Fonts Inclusion With Bundled Themes
WordPress is using locally packed fonts in themes instead of Google Fonts due to privacy concerns. From Twenty Twelve to Twenty Seventeen, each theme will provide a fresh stylesheet from the theme directory. The new font stylesheet URL for the block editor needs to be adjusted, and developers should take special account of the Classic Editor.
Explore WordPress 6.2 & Enjoy Accelerated Web-building Experience Today
Want to explore WordPress 6.2 by yourself? Update to "Dolphy" today and experience these new changes yourself! Don't forget to share your thoughts with us in the comments below.
Enjoyed this post? For the latest WordPress releases, news, and updates, subscribe to our blog or join our friendly Facebook Community.