The much-awaited, major release of WordPress is finally here! WordPress 6.0 has now been officially released with tons of exciting features, updates and improvements to make your full site editing experience with the block editor better and faster than before. Dive in and see what new changes have arrived with this major WordPress release.  

WordPress 6.0: Making Full Site Editing Better With Gutenberg
Full site editing was finally introduced in WordPress 5.9, to help you effortlessly make site-wide changes to your WordPress website using the block editor. Now, with the release of WordPress 6.0, you can expect more improvements to the full site editing features.
Switch Theme Styles With Only One Click
With WordPress 6.0, switching your theme styles is now easier than ever. With only one click, you can explore different style variations available with your theme and switch to the one you like.
Simply log in to your WordPress dashboard, and head over to the Appearance→ Editor and click on the 'Styles' option. Then click on the 'Browse styles' option to switch your theme style.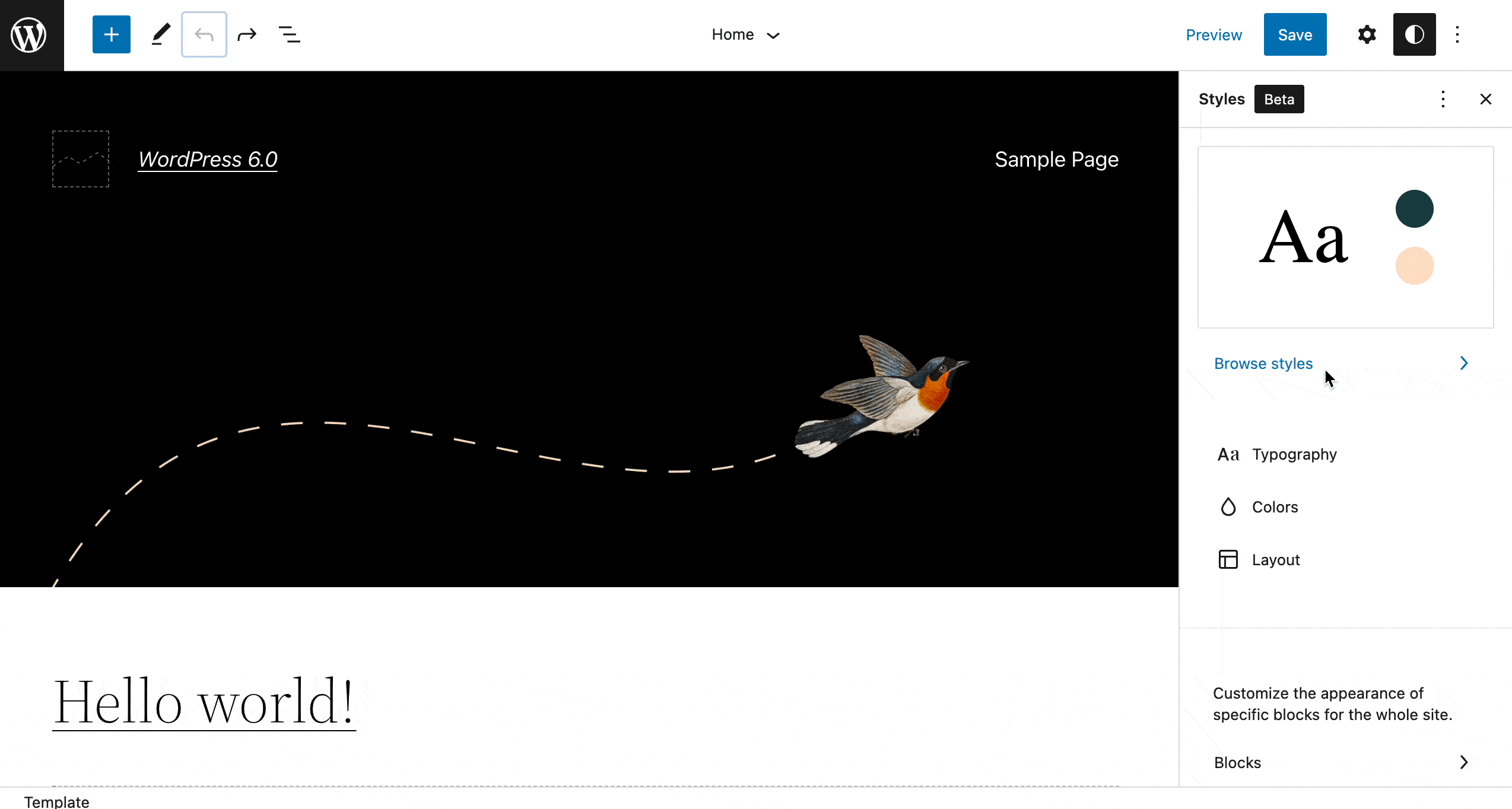 Export And Import WordPress Block Themes
As you can now create your own beautiful layouts and templates with the new Theme Editor, wouldn't it be wonderful if you could export all of your designs as a block theme and reuse them on another WordPress website?
With WordPress 6.0, you can do that now effortlessly. This major WordPress release now comes with the 'Export' option in Theme Editor, which will download your theme with templates and styles.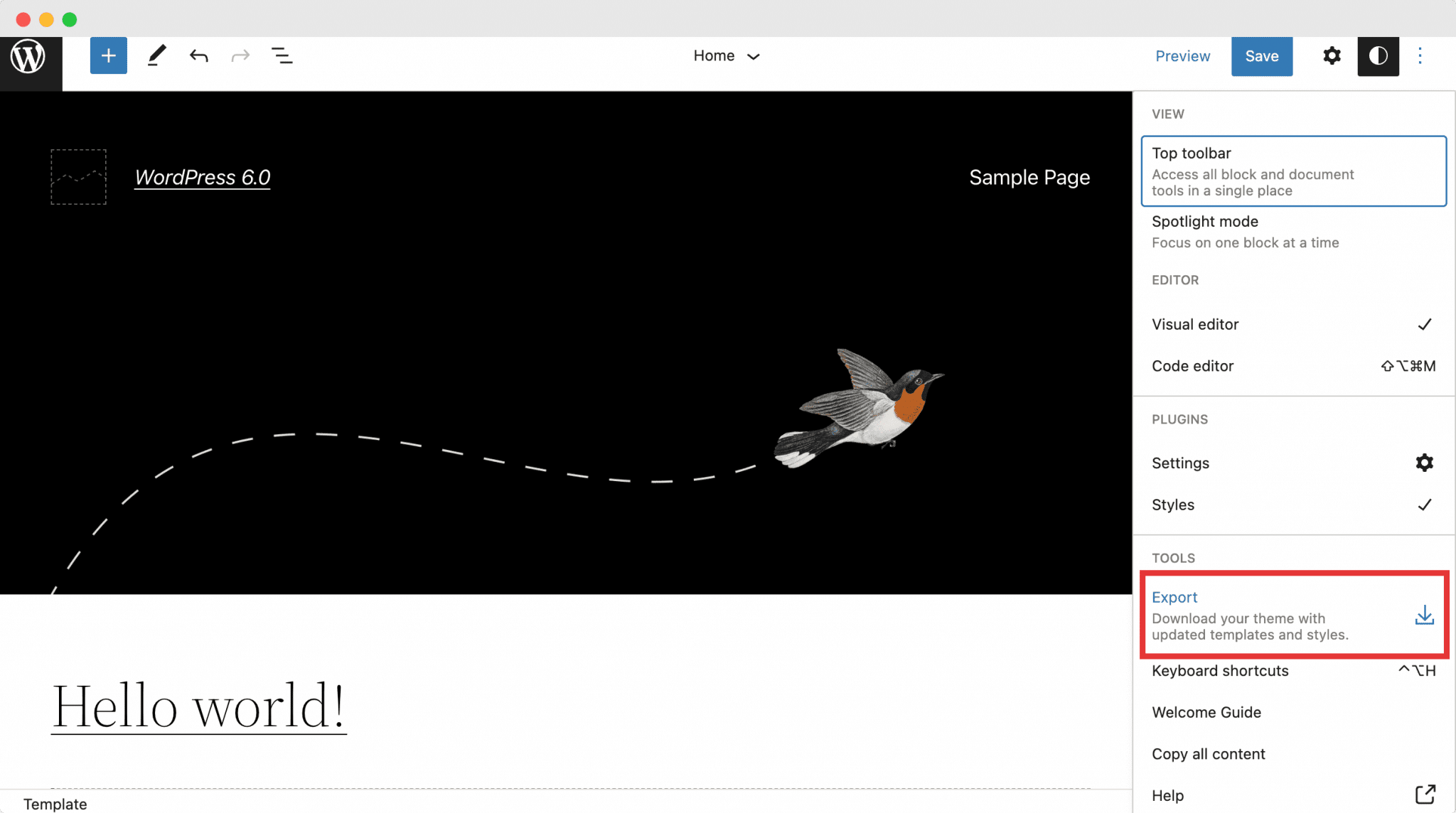 Tons Of New Blocks In Theme Editor
Besides these updates, WordPress 6.0 comes with tons of new blocks that will help you make the most out of the full site editing features with the Theme Editor. We'll explore them in more detail a bit later in this blog post. 
New Theme Global Styles Variation & Template Choices
As we mentioned earlier, WordPress 6.0 comes with several new global style variations for the default theme Twenty Twenty-Two. At the moment, you can choose three different variations: Blue, Pink, And Swiss. 
In addition to these, you can also instantly create and customize different templates effortlessly. From your WordPress dashboard, you can open the Template Editor from where you will now be able to access and create different templates for different types of content such as for posts by authors, posts from specific dates, tags or categories, etc, as shown below.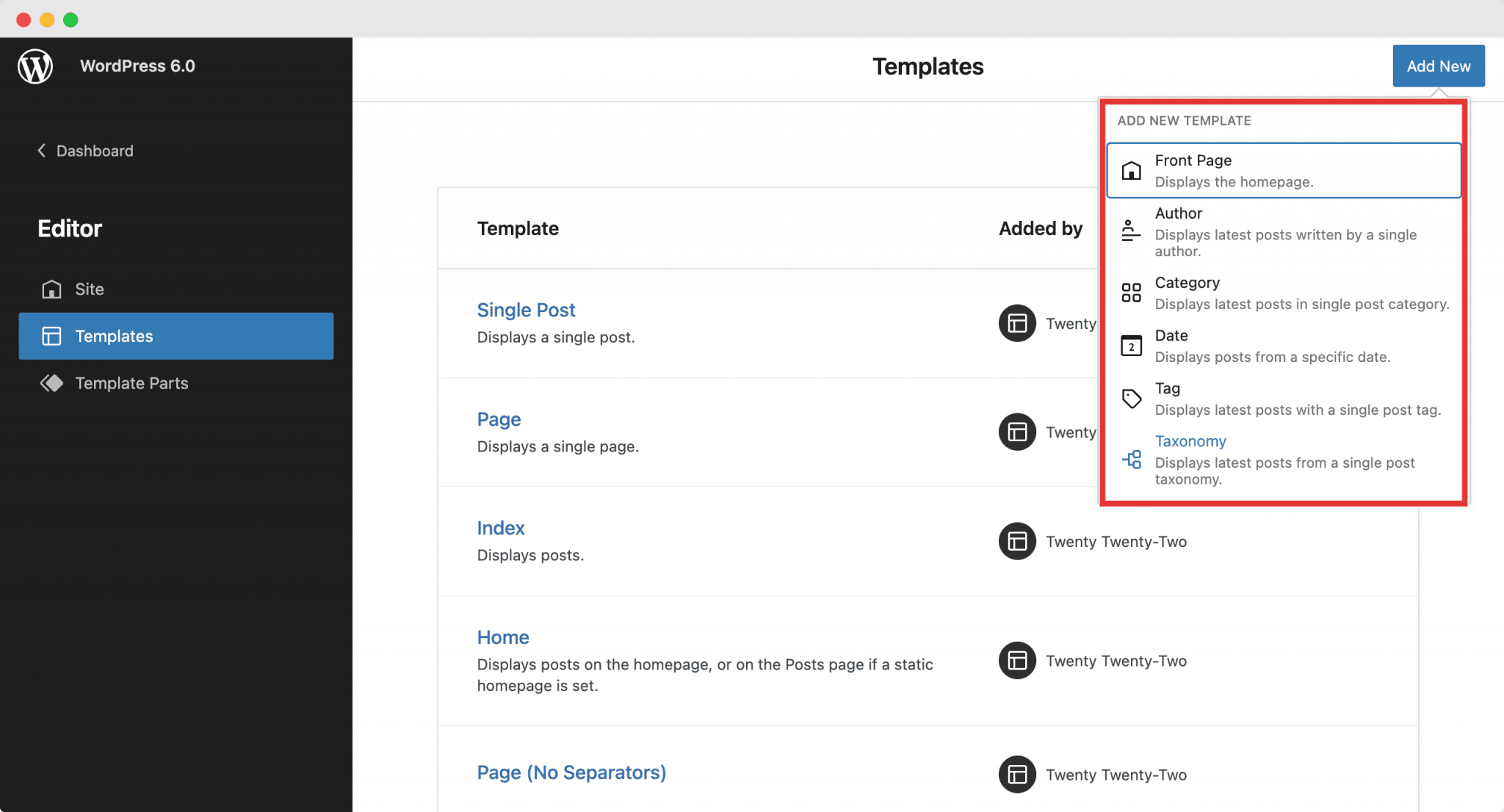 Improved, Integrated Patterns For Faster Web Design
Ever since block patterns were introduced in WordPress, web designing in the block editor has become much easier and more flexible for all users. With WordPress 6.0, patterns are now available in more locations, even when adding a header or footer.
Block Enhancements: Improved Controls, Block Locking & More
With this new major WordPress release, you will also be able to take advantage of tons of new block enhancements and improvements. Take a look at them below. 
Introducing 'Comments' And 'No Results' In Query Loop Block
The query loop block, originally introduced in WordPress 5.8 update, comes with several improvements in this new WordPress update of 2022. Now, you can add comments in your query loop block, and it will also come with sub-blocks like comment author, avatar, edit link and more.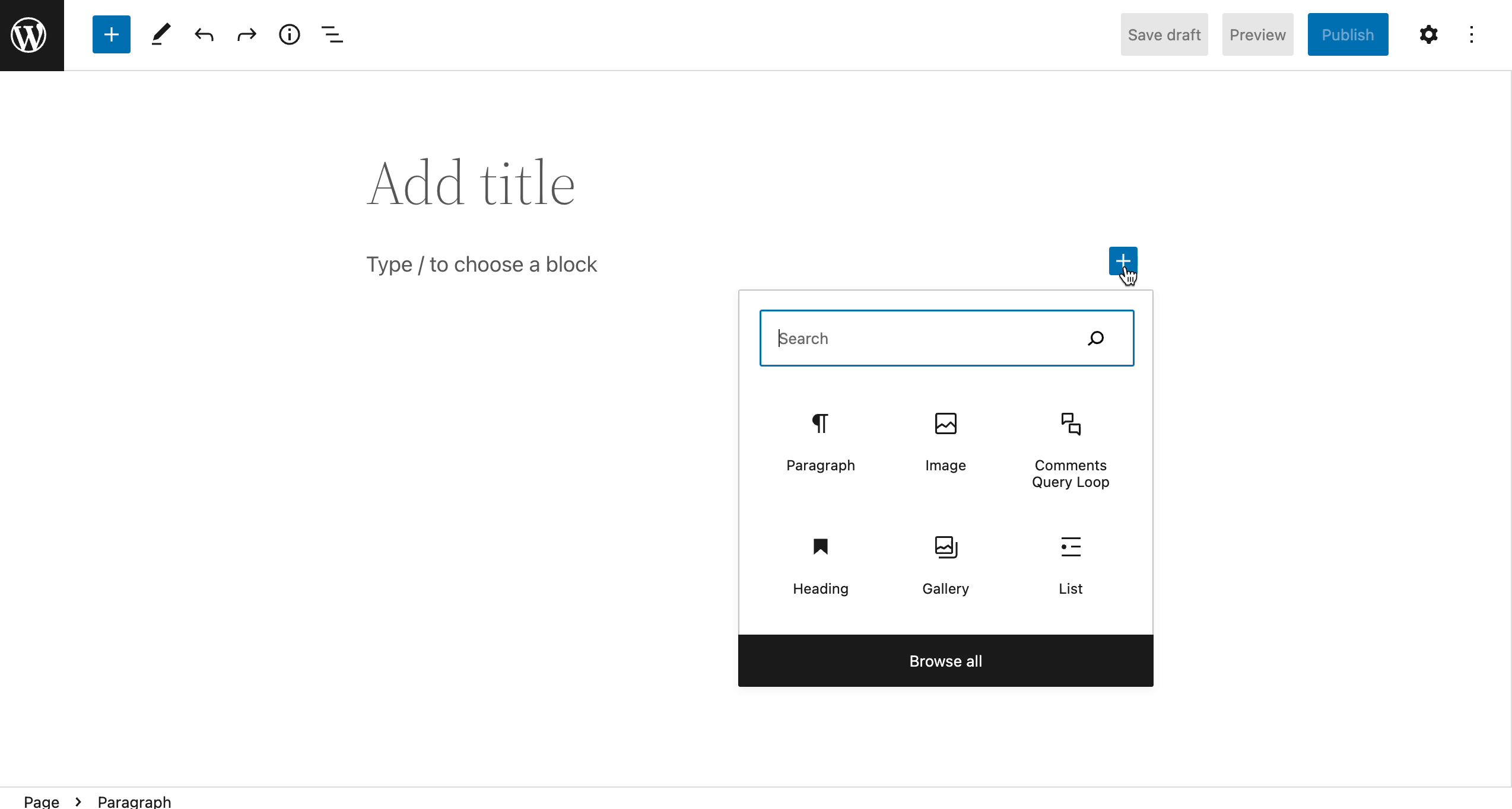 In addition to this, you can also now add the 'No Results' block inside the query loop block. However, it will only work if the selected query does not have any results. 
Customizable 'Read More', 'Avatar' & 'Post Author Biography' Blocks
WordPress 6.0 comes with a separate 'Read More' block which you can insert anywhere in your page or post. You can even customize this Read More button, change the button text and color to your preference.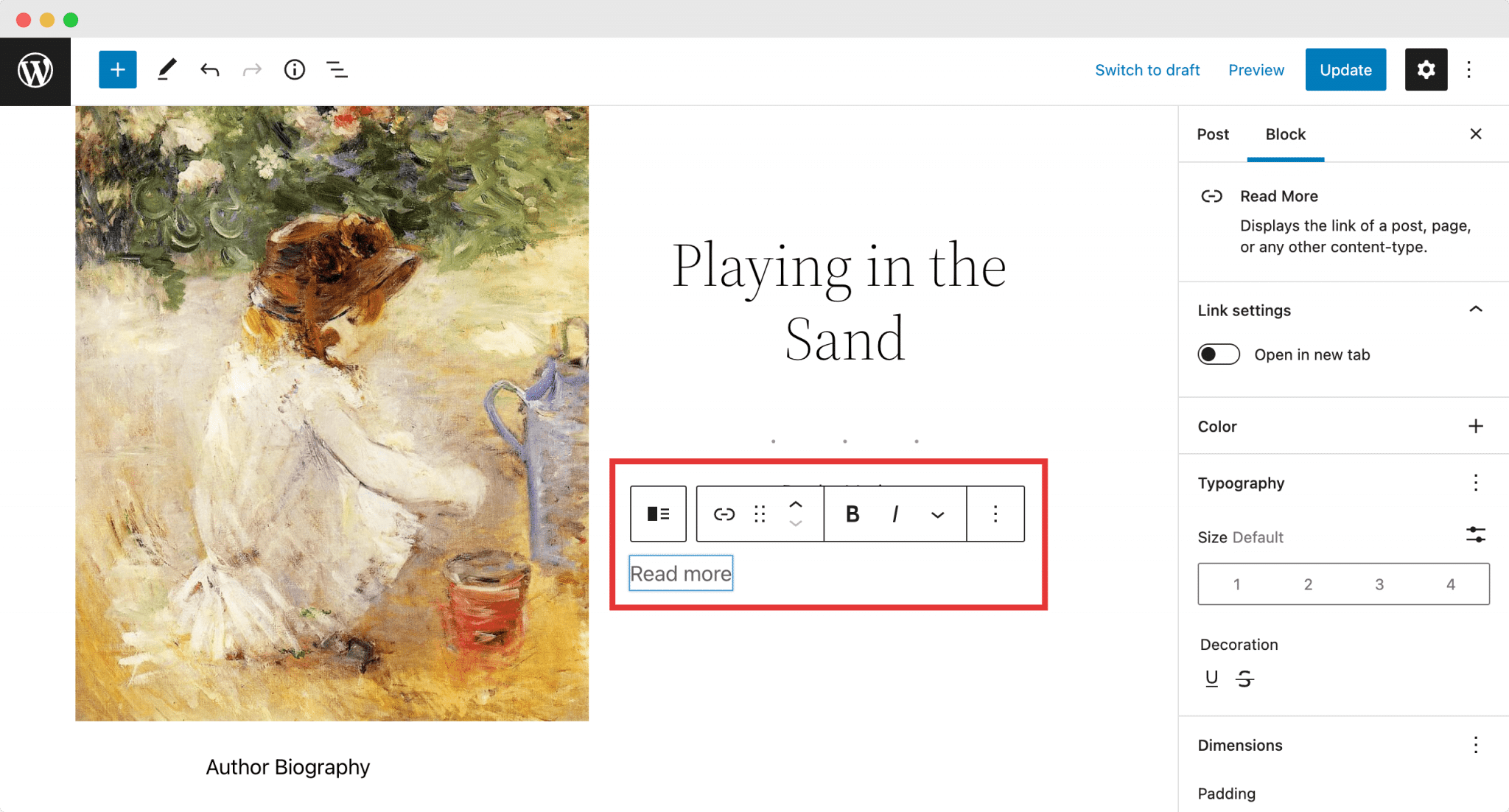 In addition to this, you also get access to several new blocks such as the 'Avatar' block, 'Post Author Biography' block and more, which allows you to create a customizable, engaging section about the authors on your website. 
Improved Cover Block With Featured Images For Posts And Pages
Thanks to this new major WordPress release, you can now enjoy a much-improved Cover block. This block now allows you to add featured images for your posts and pages, and thus helping you create attractive, unique content effortlessly.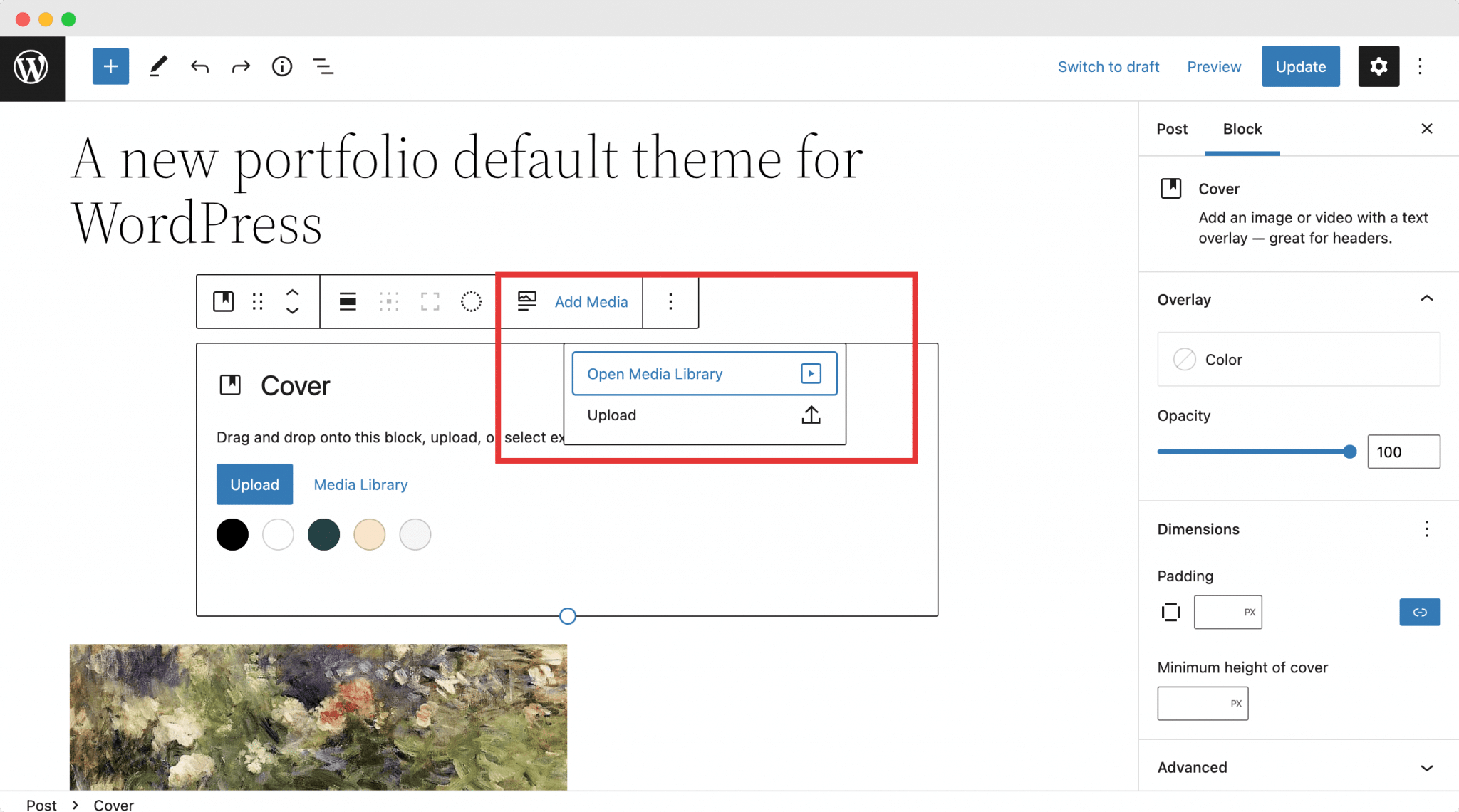 Enhanced Text Selection Across Multiple Blocks In Gutenberg
Previously, selecting text in the block editor was a bit troublesome, as more often than not, the editor would select all of the text inside the 'Paragraph' block or other content blocks. However, with WordPress 6.0, you can now easily only select the text you want to select across multiple blocks in the Gutenberg editor.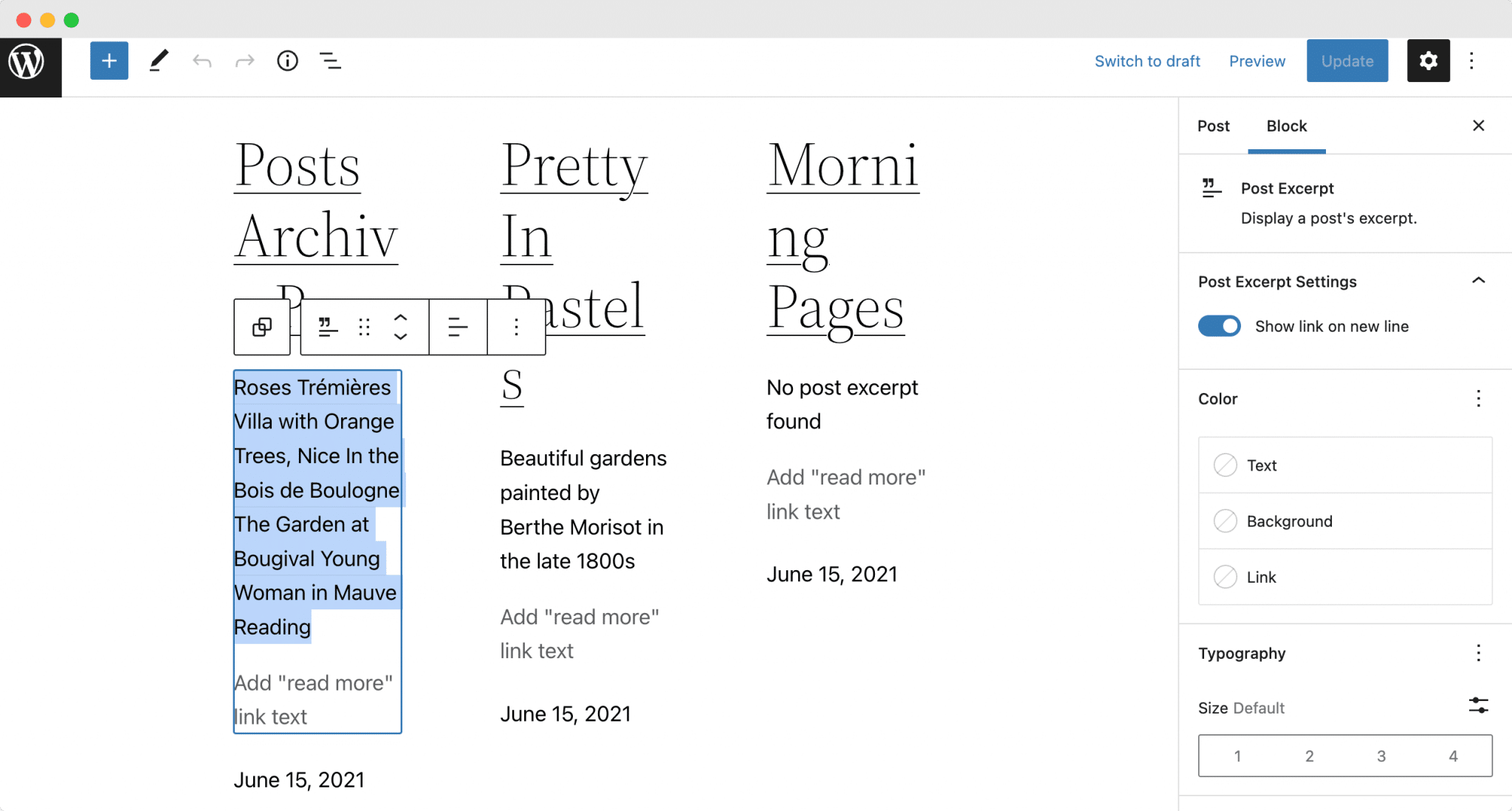 Lock Reusable Blocks And Choose Your Own Lock Restrictions
Reusable blocks have made page building in the block editor a breeze when it was first introduced. You can group blocks together and save them as reusable blocks and insert them into different pages or posts to speed up your design workflow. 
To make this amazing block even more user-friendly, we can now lock reusable blocks and even add what type of lock restrictions we want to implement.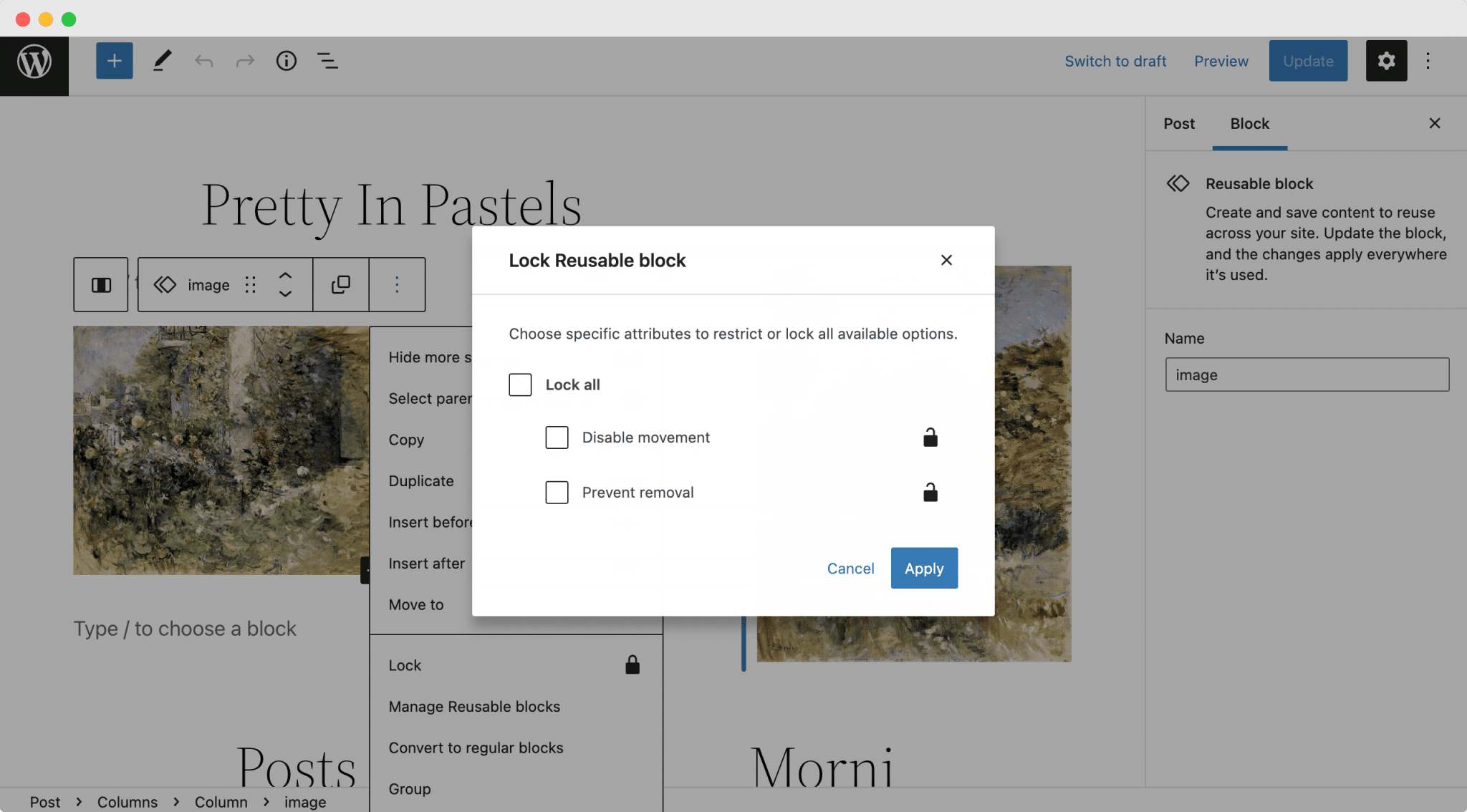 This is a very important enhancement, as previously, whenever a user made any changes to a reusable block, the changes were saved and implemented everywhere the block had been used. 
Select Multiple Blocks In List View From Your Gutenberg Editor
Selecting multiple blocks within the editor is now easier than ever with the new major WordPress release. You can now click on 'List View' and then click on any of the blocks to select multiple blocks inside it, as shown below.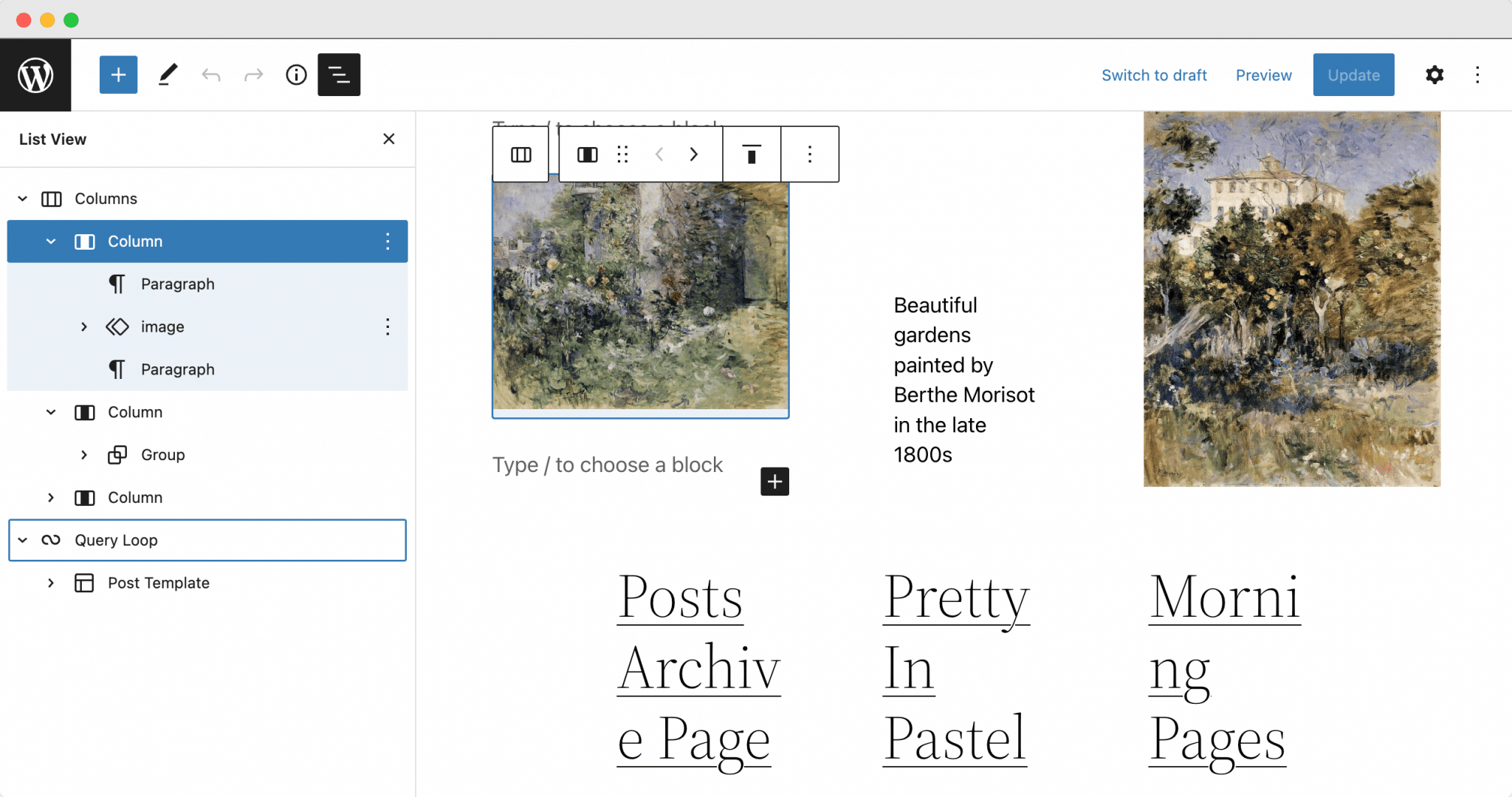 More Improvements For Accessibility With WordPress 6.0
The WordPress open source project is an inclusive space where accessibility is at the core of everything, and with every new major WordPress release, there are new improvements for accessibility.
With WordPress 6.0, the following accessibility improvements have been introduced to improve the user experience for all:
If no image alt-text is provided for featured images, then the post title will be automatically used as alt-text.

Blocks with placeholder elements now have better, improved tabbing. 

 Text labels on the admin bar are now readable on smaller screens by screen readers
These are just some of the notable accessibility improvements you can expect with WordPress 6.0. Make sure to check out this post to learn more about all the accessibility improvements that came with this major WordPress update.
Nearly 1000 Bug Fixes And Enhancements Introduced
These are just some of the notable changes you can expect to see with WordPress 6.0. But if you want a complete roundup, then there are nearly 1000 bug fixes and improvements awaiting you in this major WordPress release. You can check out the full details and lists of all improvements and bug fixes in this WordPress 6.0 Field Guide here. 
Say Hello To WordPress 6.0 "Arturo"
Excited to dive into these new changes? Then update to WordPress 6.0 'Arturo' today. 
For more news, updates and tutorials about all things WordPress, make sure to subscribe to our blog or join our friendly Facebook Community.