WordPress 5.8 is now available for beta testing and has been scheduled to be released on July 20th, 2021. It will come jam-packed with tons of new features, advanced blocks, a new pattern directory and tons of more improvements. Let's find out what's coming with this latest WordPress update.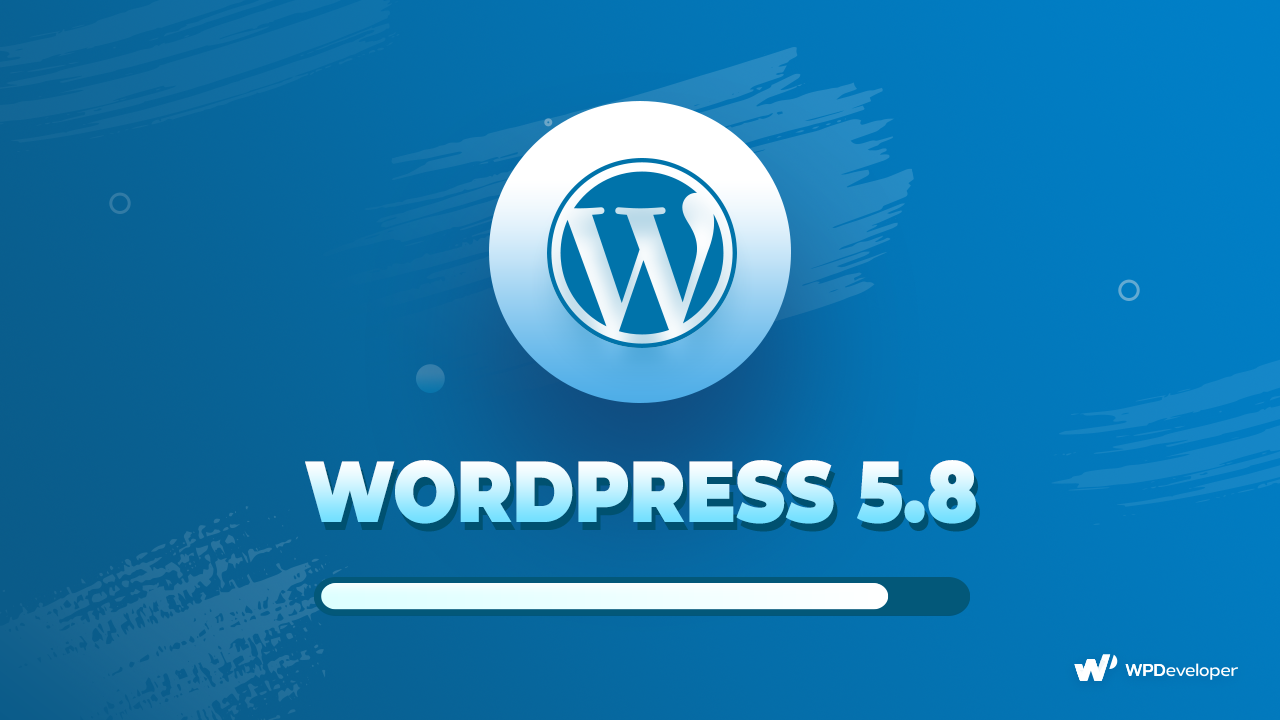 Introduction Of Pattern Directory & New Blocks
With the introduction of block patterns that came with the release of WordPress 5.5 creating beautiful pages and websites in Gutenberg editor has become easier than ever. Now, with WordPress 5.8, we are excited to see the launch of the new pattern directory, which users can access from WordPress.org. 
Block patterns give WordPress users more flexibility and allow them to be more creative when it comes to designing web pages. You can easily convert any collection of blocks with one click to make a unique pattern. And now, with the upcoming latest version of WordPress, you will be able to find tons of ready block patterns with the launch of the new pattern directory on WordPress.org.
It should be noted that the pattern directory will not be integrated into the WordPress admin dashboard yet. Web creators can simply copy a pattern they like from the pattern directory on WordPress.org and paste it into their editor. 
New Block-Based Widgets Screen For More Flexibility
Another new feature that we are getting with WordPress 5.8 is the block-based widget editor. You can now effortlessly add any kind of blocks in widget areas of your website. This gives you more flexibility when customizing your website, and opens up new possibilities for web design and creativity with the latest version of WordPress.
You can access the widget editor and add blocks in widget areas in two ways. From your WordPress dashboard, you can head over to Appearance→ Widgets as shown below and insert any block you want in the widget areas of your website.
Alternatively, you can also go into the WordPress Customizer and click on the 'Widgets' tab. From here, you can choose whichever blocks you want and customize them to your preferences in the widget areas of your website.
If you use third-party widgets on your website, you can continue doing so with WordPress 5.8 with the Legacy Widget block. It will allow you to add and edit third-party widgets with the new WordPress update. 
Not quite a fan of this new way of adding blocks as widgets? Don't worry, you can install and activate the Classic Widgets plugin to disable the block-based widgets screen and revert to the previous, familiar widgets screen. 
Improved Template Editor For Custom Page Templates
WordPress 5.8 will come with a new template editor that will allow users to create their own custom post or page templates by using the block editor. When you are editing a post or page in Gutenberg, you can click on the 'Template' option in the right sidebar. 
From there you can choose an existing template from the dropdown menu or save your current page as a template by clicking on the 'New' link as shown below.
This will open up the Template Editor where you can customize your page template by adding blocks or block patterns. You can also rename your template or delete it from the dropdown menu at the top of your template editor.
With this new template editor from the latest version of WordPress, we are one step closer to full site editing features with the default block editor. You can save yourself hours by creating templates for pages and posts and simply insert them whenever you need to maintain a consistent design system for your website. 
New Advanced Theme Blocks, Duotone & Query Loop
WordPress 5.8 will introduce tons of new theme blocks that will take web creators one step further towards full site editing with Gutenberg. In addition to these theme related blocks, we can also expect to see cool new duotone effects for images and an advanced query loop block for showcasing your content beautifully in a feed.
Post Title, List, Content, Excerpt And Date Blocks
The latest version of WordPress will come up with several dynamic blocks for your posts. These include the Post Title block, Post List, Post Content, Post Excerpt and even a Post Date block.
New Blocks For Site Logo, Title, Tagline & Page Lists
Similarly, with WordPress 5.8 we will also get new several theme blocks for website design such as Site Logo block, Site Title and Site Tagline blocks.

In addition to this, with the Page Lists block, web creators now can quickly display a list of all their pages in the block editor. If you want you can even add this block to widget areas to help improve navigation for your website and redirect site visitors to different pages on your website.
As of now, there isn't any option to choose which pages should be displayed with the Page Lists block. The block will automatically display every page that is published on your website.
Advanced Query Loop Block & Duotone For Image Blocks
Another powerful block that you will get with WordPress 5.8 is the new Query Loop block. You can display a list of all your posts and customize the appearance using this advanced block in Gutenberg. There are tons of premade layout options available for you to choose from, and you can even create a new post specifically to be displayed in this feed.
That's not all though. With the latest version of WordPress, you can add an amazing duotone effect to all your image blocks with one click in Gutenberg. There are tons of ready duotone color effects to choose from, you can customize the duotone effect further by picking custom colors with this block.
As you can see, this block lets you add extra styling to your images easily with only a few clicks. And the ability to add custom duotone colors will help you make your web pages truly stand out.
Enhanced Gutenberg Editor For Easier Page Building
As always, with every WordPress update, we see tons of new improvements in the default block editor. WordPress 5.8 is no exception. 
With the release of WordPress 5.8, page building in Gutenberg editor will be smoother and faster than before introducing several new advanced blocks and improvements in user interface and drag-and-drop functionality. 
Let's take a look at all the upcoming changes that we can expect from the latest version of WordPress below.
List View Option For Easier Page Building In Gutenberg
When you are creating and designing pages in Gutenberg editor, it might be hard to navigate quickly from one section to another or one block from another. Especially if your design involves adding many different types of blocks.
To help you design pages easier and faster in the default editor, the latest version of WordPress will come with a 'List View' option for Gutenberg.
By enabling this option, you can get a bird's-eye view of all the blocks used on your page or post. You can even see where each block has been used and click on their names to quickly jump to that particular section.
Customizable Size For Social Icons Block
The social icons block will see some improvements with WordPress 5.8. You can now easily change the size of your social icons without having to add custom codes in the block editor. 
Vertical & Horizontal Layouts For Button Blocks
With WordPress 5.8 you can now customize the layout of your button blocks. If you are adding multiple buttons in one section of your page, you can enhance the appearance of your website with vertical or horizontal layouts. 
Simply select the button block and then click on the 'Transform to variation' drop-down menu from the right-hand sidebar as shown below. You can then choose between a vertical or horizontal layout for showcasing your buttons in Gutenberg editor.
Added Support For WebP Image Format
WebP is an image format that was introduced last year by Google and it is the most modern image file format that is supported by the majority of all web browsers. It is so popular now because of its smaller size compared to PNG or JPEG images and therefore can help improve your website speed.
By adding support for WebP image formats with the latest version of WordPress, users now have an opportunity to reduce their bandwidth and optimize their website performance a bit more efficiently.
End Of Support For Internet Explorer 11 
The latest WordPress update will no longer support Internet Explorer 11. So if you are still using this browser, it is strongly recommended that you switch to a modern web browser such as Google Chrome, Mozilla Firefox, Safari or even Microsoft Edge.
New Streamlined Default Color Palette
WordPress 5.8 comes with a revamped, streamlined default color palette for WordPress admin dashboard that complies with the new accessibility standards. The new range of shades meets the WCAG 2.0 AA recommended contrast ratio and uniformly moves from lighter to darker shades within the range. This new WordPress update is an important step towards making websites more accessible for all users.
One-Click Switching From HTTP To HTTPS 
Another important update that we can expect from WordPress 5.8 is the one-click shifting from HTTP to HTTPS. This means that any website that previously did not have SSL encryption can quickly shift to HTTPS and WordPress will automatically update all links in your website database during the switch. This will save you hours looking for links that will require updating when you shift from HTTP to HTTPS.
New Robots API  & Default Lazy Load For iFrames
Default lazy loading was a feature that came with WordPress 5.5 to help reduce the lazy load for images. This helps you improve your site visitor's experience as your images will load quickly when they visit a page on your website.
Now with WordPress 5.8, lazy loading has been enabled by default for iFrames too. If the width and height of your iFrames are specified, WordPress will add the lazy loading tag to your iFrames automatically.
Besides this, the latest version of WordPress will also introduce a new Robots API. This will automatically allow search engines to display large previews for images on your website which can help boost your traffic. 
Tons Of Bug Fixes And Other Enhancements
Whenever a WordPress update is released, tons of bugs are fixed and new enhancements are added by the release team behind it. The latest version of WordPress will also have lots of improvements. At the moment, WordPress 5.8 Beta 2 is available for testing and already more than 214 bugs have been fixed by the contributors. 
Note: As WordPress 5.8 is still in its beta phase, some of the features mentioned below may not be available in the final release.
Bonus: How To Test WordPress 5.8 Beta On Your Site?
As you can see, the latest version of WordPress will come with tons of new features and is so far the second major WordPress update for 2021. If you want to see what's coming in the upcoming WordPress release, or you want to help contribute by testing for bugs in the latest version of WordPress, then try out WordPress 5.8 Beta today.
Follow the steps below to test the new upcoming WordPress update:
☑️ Create a test site or a staging website. You can check out our guide on how to install WordPress on Localhost here to find out how to do this.
☑️ Install and activate the WordPress Beta Tester plugin on your local site. Then navigate to Tools→ Beta Testing from your dashboard. 
☑️ Next, select the 'Bleeding edge' option and afterward, select the 'Beta/RC Only/ option and save your changes to start testing WordPress 5.8.
Alternatively, you can also directly download the WordPress 5.8 Beta version in zip file format and install it on your local site. 
Stay tuned for more news and WordPress updates, and make sure to come back and see what features made it to the final release of the latest version of WordPress 5.8 here. Don't forget to subscribe to our blog or join our friendly Facebook Community to get all the latest updates and fun tutorials.