The closure of museums, art galleries, and other auctions has opened up a new era for art enthusiasts. Creating a WordPress NFT website can be the most effective way of helping painters, artists, auctioneers, and art collectors in buying and selling their digital art tokens. Let's look at how the NFT marketplace has seized the lead in the virtual economy and how WordPress NFT websites may help you to build one without any coding.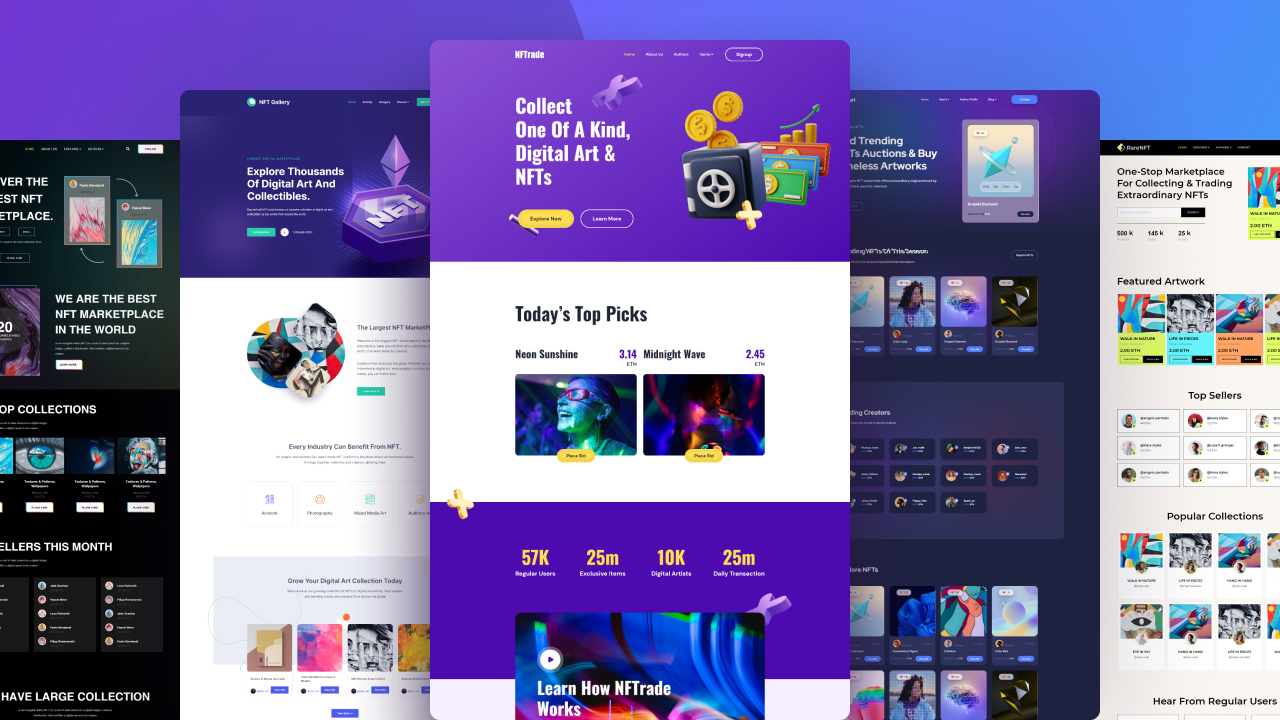 Did you know that according to Yahoo! Finance,  the non-fungible token (NFT) market is expected to be worth US$7390.8 million by 2028? The word NFT, which stands for Non-Fungible Token, is the most popular in today's digital era of art. In a nutshell, it refers to a piece of digital content that is linked to the blockchain. Digital content for NFT includes texts, photographs, digital artworks, audio recordings, domain names, trade cards, and in-game objects. 
There are some unique features of NFTs that you must keep in mind. No NFT can be partially sold to anyone. Every single NFT token has information about its creator and owner encoded in it. Moreover, these NFTs are not exchangeable either. 
How Creating WordPress NFT Websites Can Help You?
WordPress, as we all know, is an all-in-one platform for building any type of website from the ground up using some excellent page builders and plugins. If you want to make a great NFT website, you can utilize template plugins like Templately to obtain access to 1700+ ready-to-use templates that only need to be incorporated into your web page. Let's look at how WordPress NFT websites can help you properly maintain your NFT marketplace or sales.
🎯WordPress is best for beginners or professionals who are new to coding. You need zero coding knowledge to create a functional NFT website all from scratch. 
🎯Also when you create your NFT website on WordPress, you will get access to unlimited themes and template plugins and easily implement them on your site. 
🎯WordPress has some powerful page builders that can help you create dynamic websites with lots of customization options. For example, Elementor is one of the best page builders that can break all the boundaries of web building and customization. And a lot more to explore.
Essential Pages You Should Get  In Your WordPress NFT Website
After deciding to build an NFT website using WordPress, the following question is: what pages or aspects should your WordPress NFT website include? We've compiled a list of the most important things to enter in your NFT store or marketplace.
An Attractive Landing Page
A landing page for any website, whether it's an NFT marketplace or an NFT store, is important since it allows you to rapidly capture the attention of your visitors by showing your products or creations. You can also advertise your NFT store's mission and vision by combining different types of products on one page. That is why, in order to convert customers and maximize sales, you must create a spectacular landing page.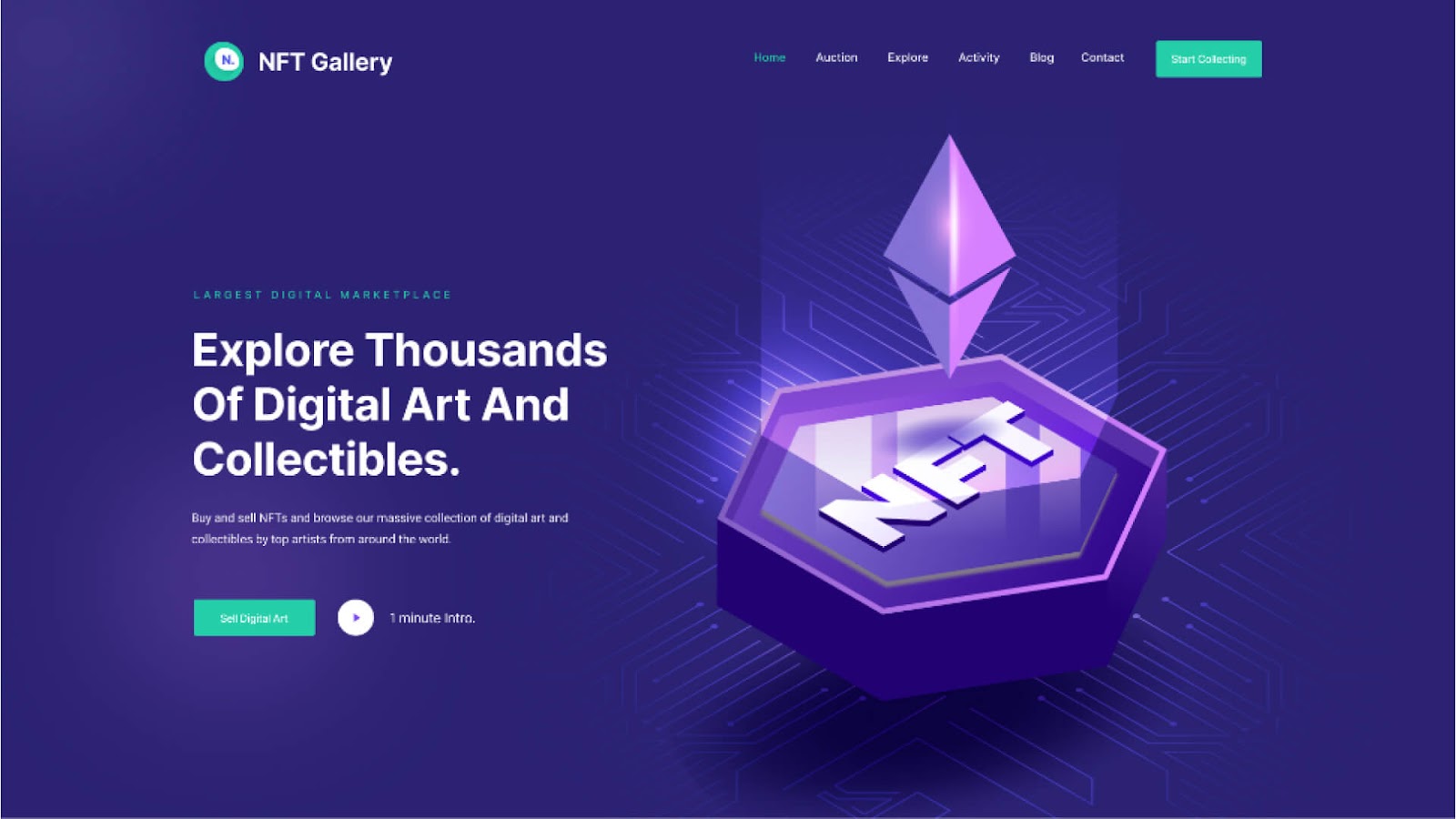 A Synchronised Product Page 
Of course, the product page is important for any WordPress NFT store website, but it must have a synchronized pattern so that it increases user experience. Customers can easily browse all of your NFT products on the shop page before proceeding to the checkout page.
A Separate Blog Page 
Blogs are now widely regarded as one of the most effective organic marketing techniques for promoting your digital arts. As a result, ensure you have a blog page when creating one. You can use blogs to promote consumer testimonials, product reviews, and comparisons, among other things. You can also optimize each of your blogs for SEO and rank better in search engine results.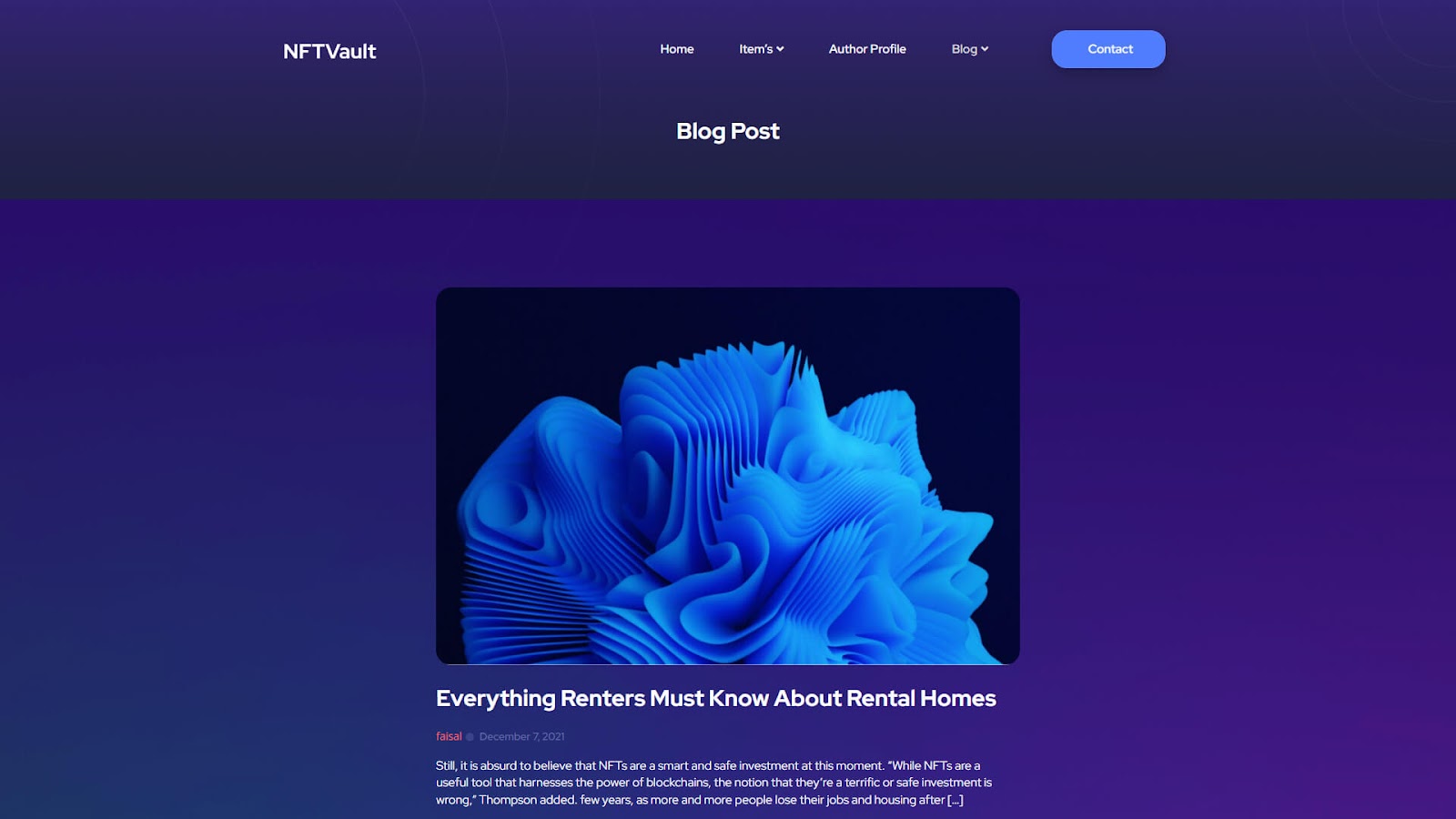 Top 5 WordPress NFT Website Templates For Elementor To Start Without Coding
As you know all the benefits of using WordPress to create your website, now it's time to explore the right kind of NFT templates that you can think of using. We have listed down the top 5 WordPress NFT website templates below to help you choose the best one for you. 
1. RareNFT – NFT Agency Website Template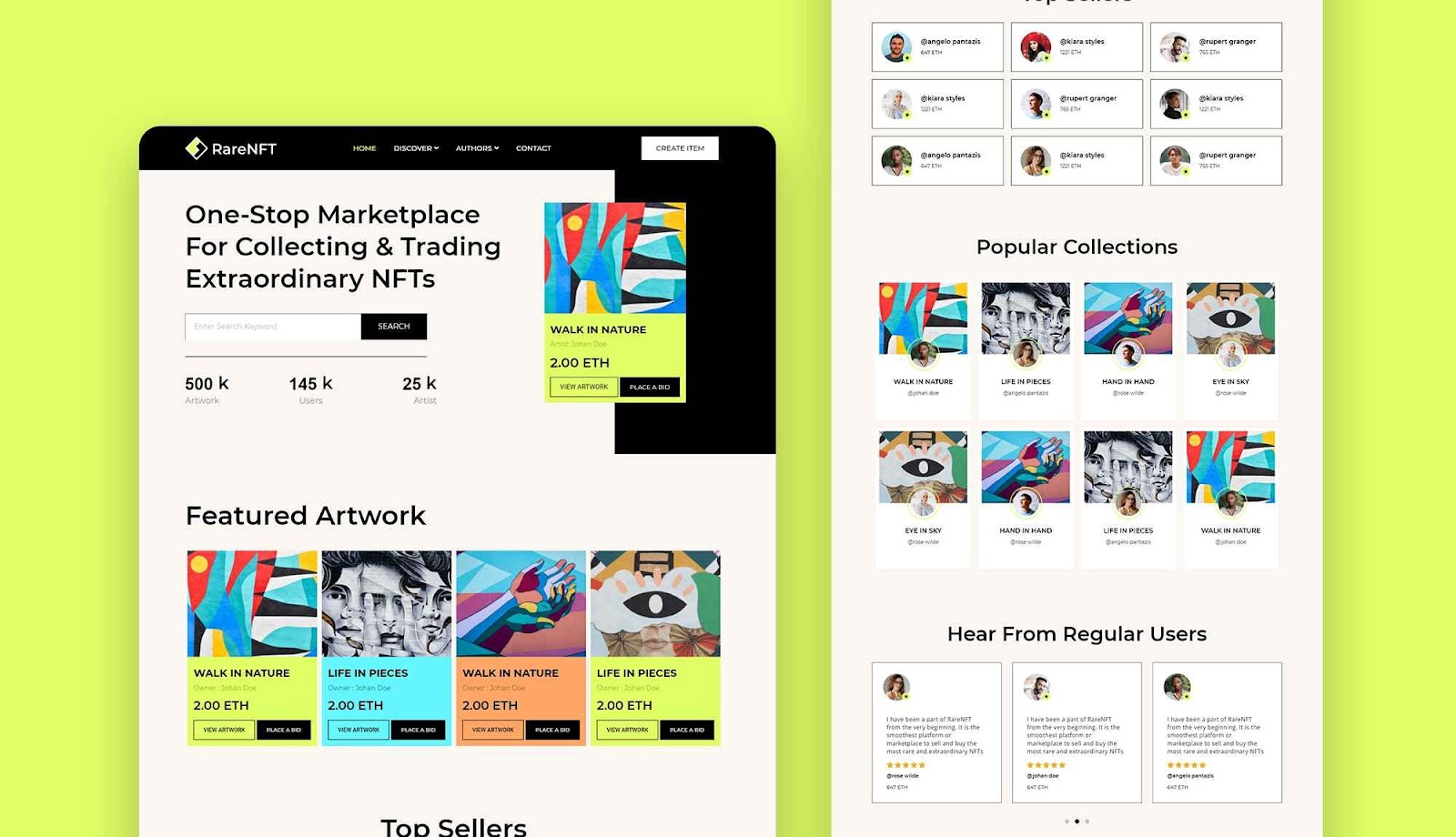 You can use this template pack to create an NFT agency website because it comes with a trippy colour theme and a lot of Elementor customization options. RareNFT is a lightweight and user-friendly template that will not slow down your site. Try out this dynamic template, which also comes with 6 attractive website landing pages, if you want to increase your sales and conversion rate. You will get – 
Home Page

Discover Page 

Item Details Page 

Author Page 

Author Details Page 

Contact Page 
2. NFTrade – NFT Marketplace Website Template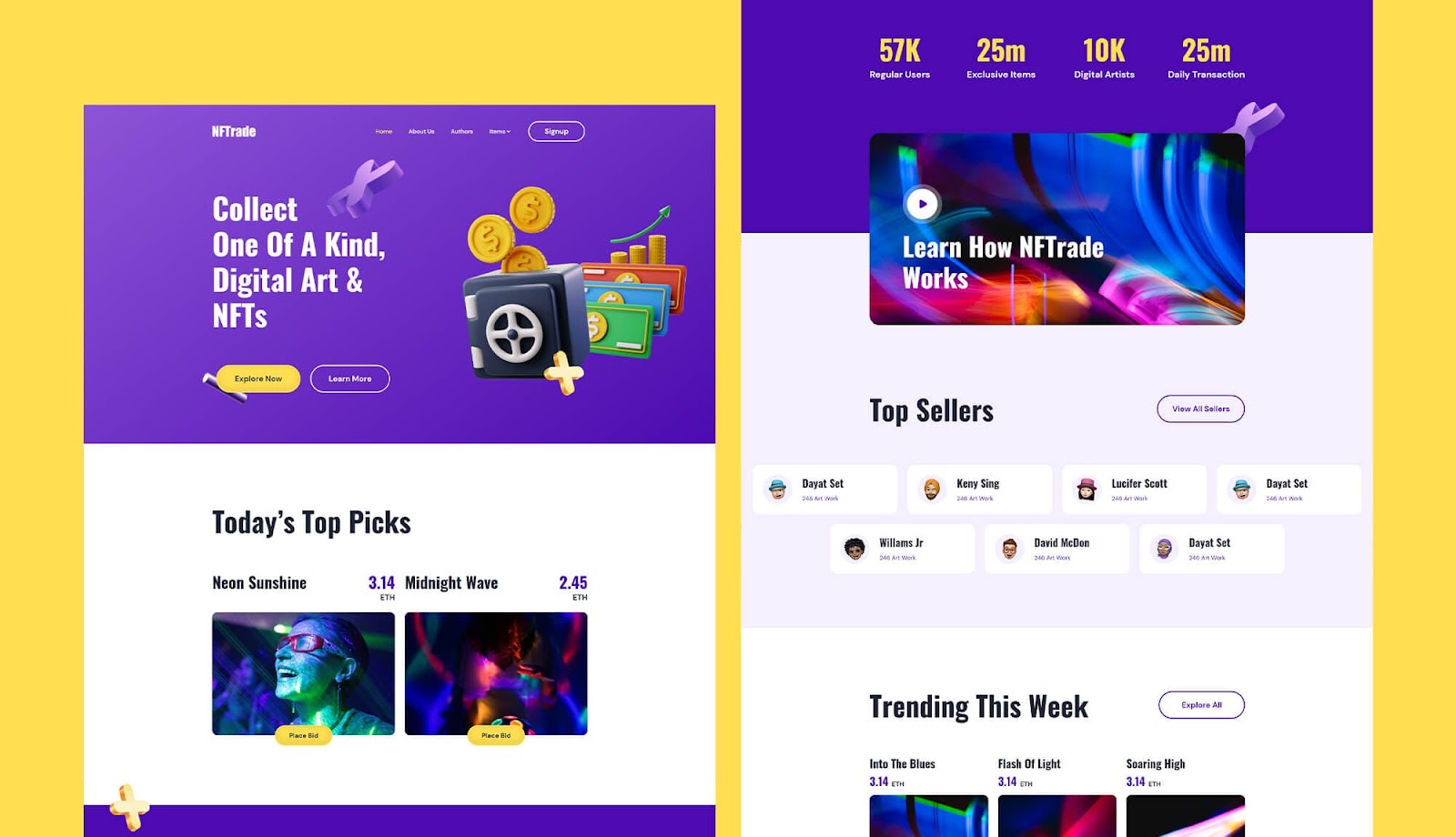 NFTrade is an NFT selling marketplace website templates pack that works fantastic with Elementor, an incredible page builder. If you want to start from scratch and develop a stunning, dynamic NFT website, try Templately's NFTrade template and customize the content or appearance as needed. 
This template pack is ideal for building NFT stores, NFT agencies, Crypto markets, and digital asset bidding websites, among other things. This premium template includes 5 attractive landing pages that will help you in creating a fully functional WordPress NFT website without the need for coding. You will get- 
Home Page 

About Page 

Author Page

Items Page 

Item Detail Page 
3. NFTGallery – NFT Marketplace Website Free Template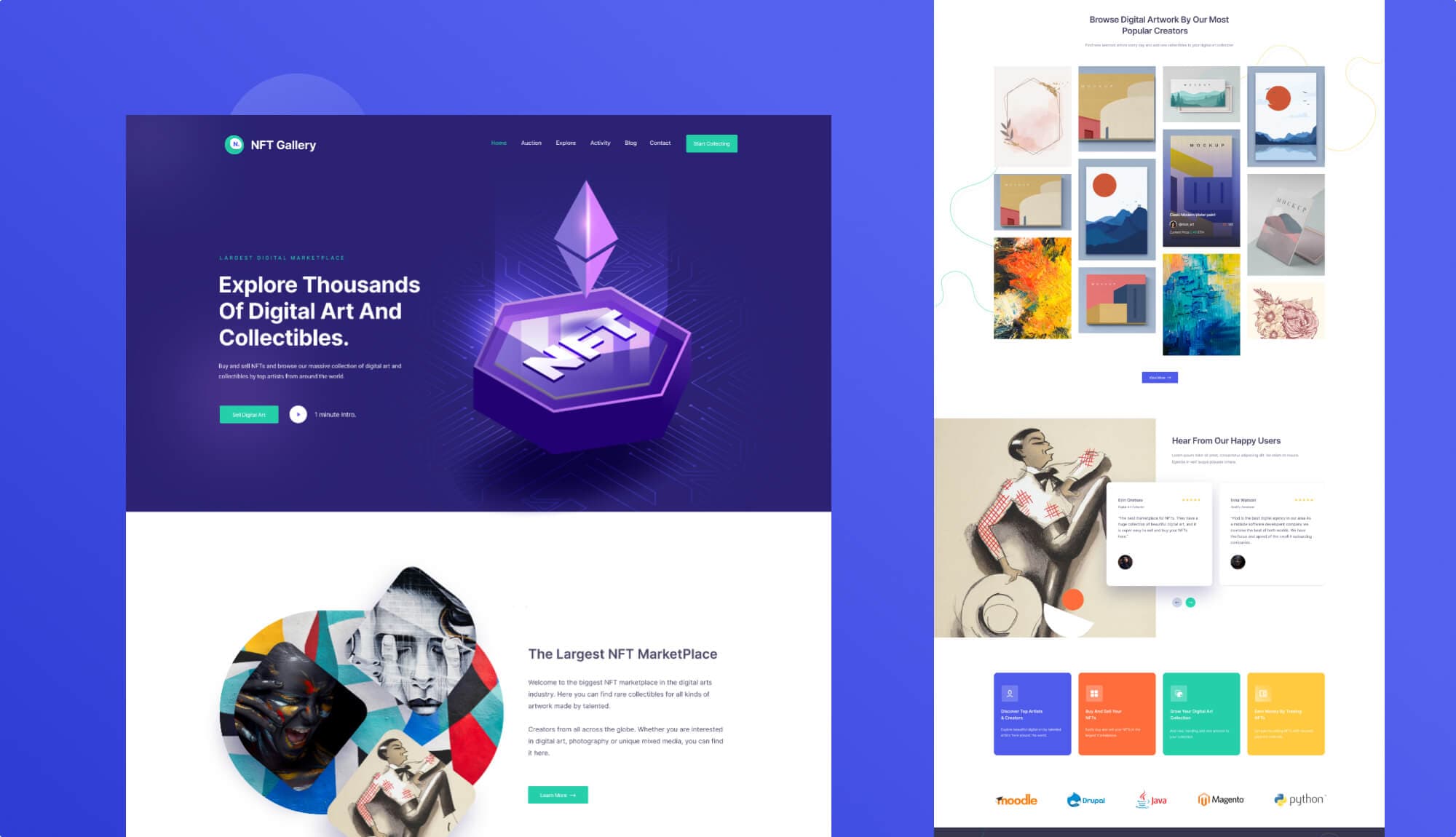 These excellent template packs have been carefully created and developed for NFT marketplace and businesses, making it simple to get started with their websites. Because it is created with Elementor and Essential Addons, its 5 gorgeous landing pages can be effortlessly implemented without any coding. If you like the edgy color theme of these template packs, you can choose the NFTGallery templates and try them. You will get- 
Home Page 

Activity Page 

Browse Page 

Category Page 

Details Page 
4. NFTLibrary – NFT Agency Website Template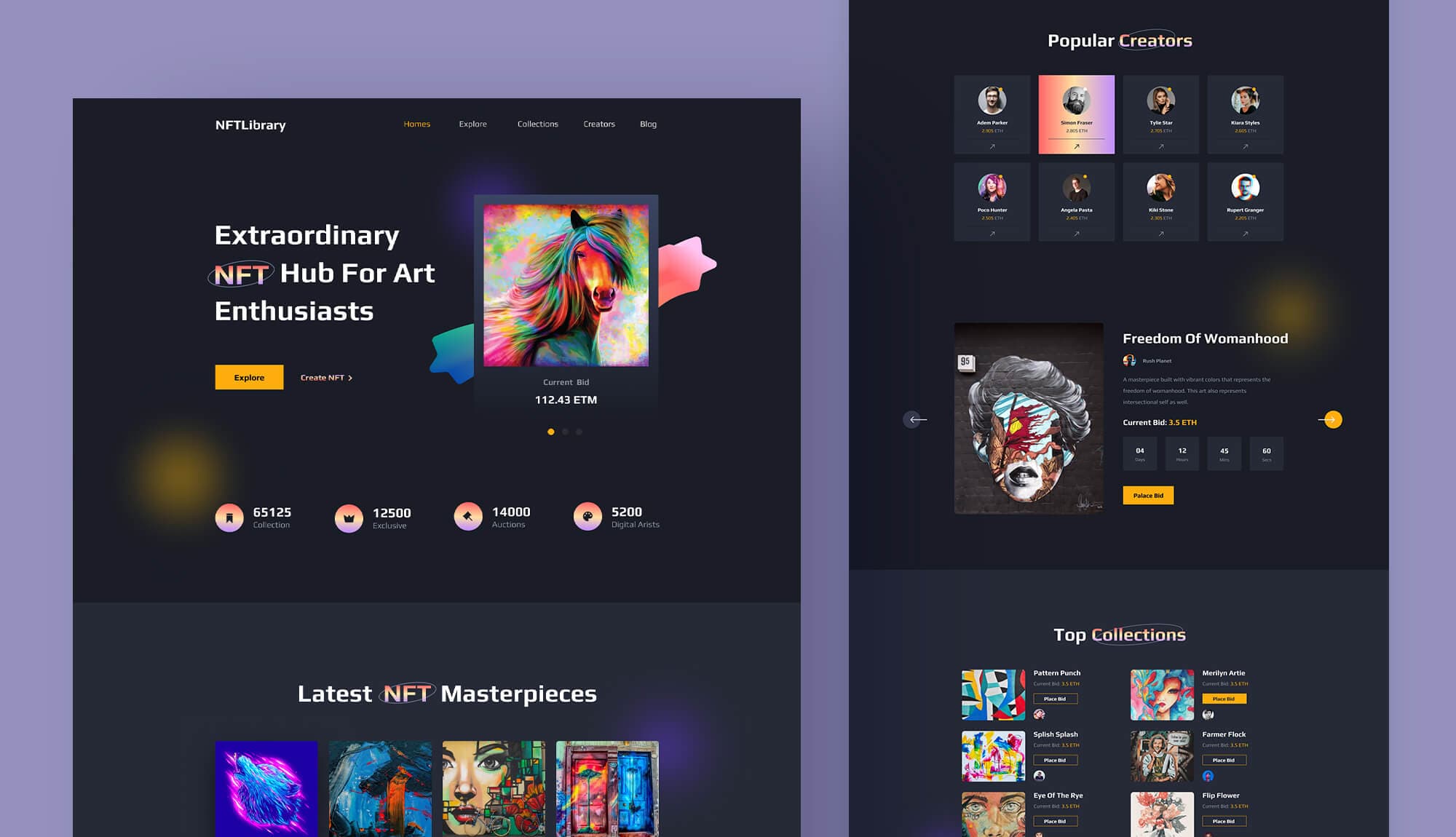 These ready-to-use Elementor template packs can be used to create websites for NFT market, art enthusiast, digital artists, NFT endeavors, and other related sectors. NFTLibrary also has attractive, animated testimonial carousels, info boxes, and Call-To-Action buttons, among other features. Home Page, Collection Page, Explore Page, Creator Page, and Details Page are examples of NFTLibrary template pages. You will get- 
Home Page 

Collection Page 

Explore Page 

Creator Page 

Blog Page 

Blog Details Page
Items Details Page
Contact Page
5. NFTVault – NFT Business Website Template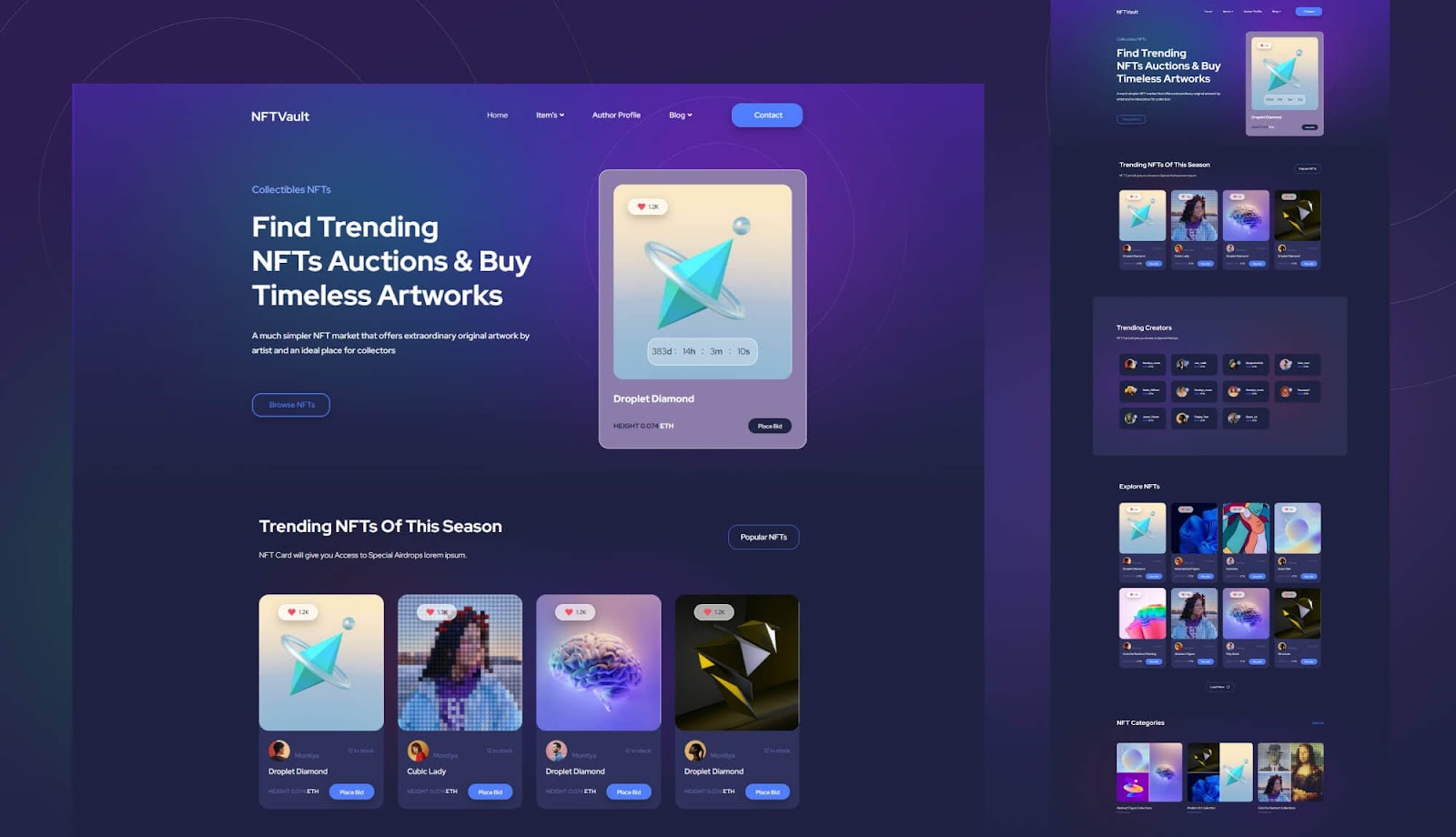 NFTVault is a ready-to-use premium and dynamic templates pack that can be effortlessly placed into any Elementor page builder. With eight interactive pages, this template can be used to build a whole NFT website from the ground up. You won't need any coding skills to make a responsive, lightweight, and quick-loading NFT website. You will get – 
Home Page 

Items Left Sidebar Page 

Items Right Sidebar Page 

Author Page 

Item Details Page 

Blog Page 

Single Post Page 

Contact Page 
Watch The Video Tutorial & Learn How To Use It Easily
Guide: How To Create WordPress NFT Website In Elementor 
To use these NFT templates, make sure you have a Templately account and have both Elementor and Essential Addons installed on your WordPress site. Once you've completed that, you're ready to begin. Simply follow the steps outlined below to create your NFT website with Elementor and Templately in no time.
Step 1: Easily Insert NFT Website Template 
To begin, go to Pages → Add New in your WordPress dashboard and create a new page. After you've finished creating your page, go to the top and select the 'Edit With Elementor' button. This will bring up the Elementor Editor.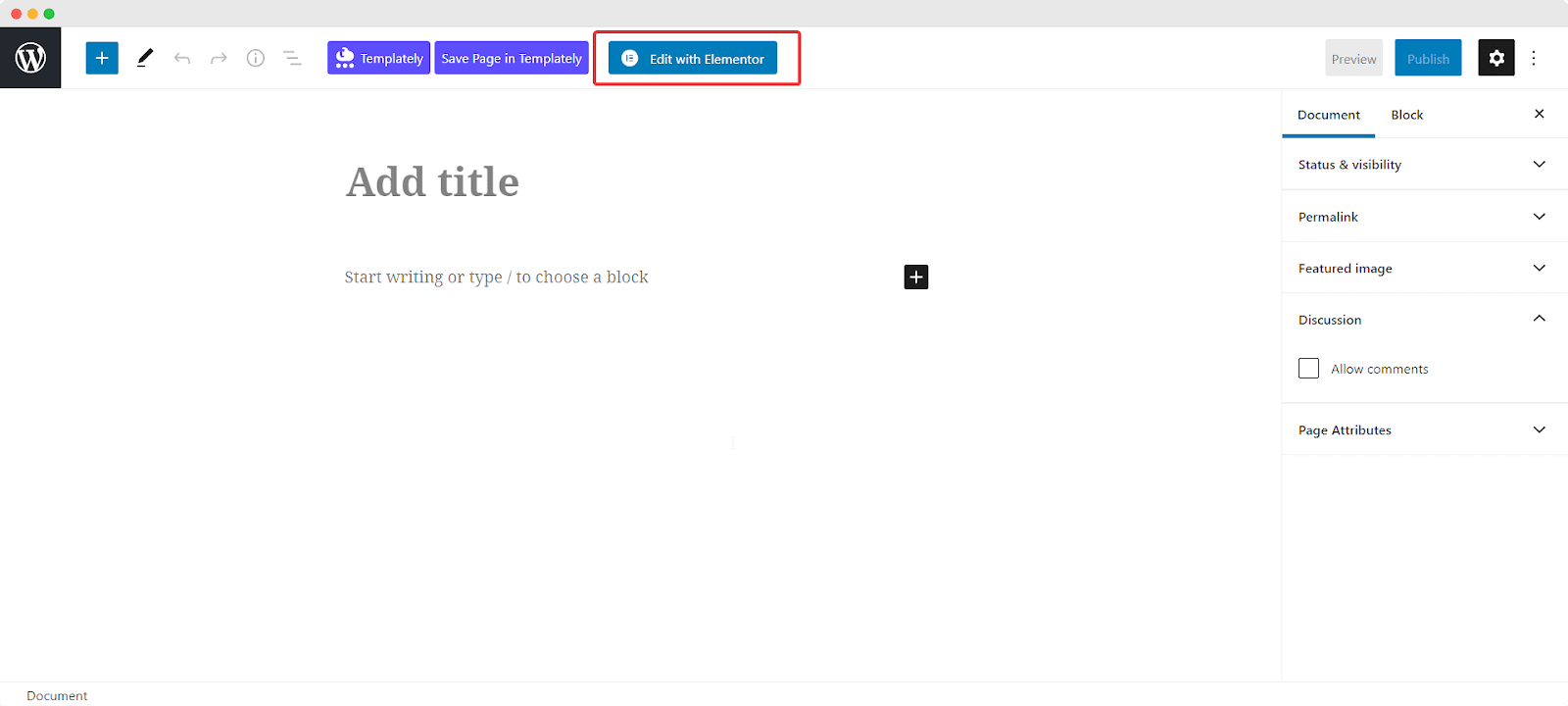 Simply click on the blue Templately icon once the Elementor Editor has finished loading. A pop-up window should appear, allowing you to look at NFT website templates. Select a template that you like and paste it into your website.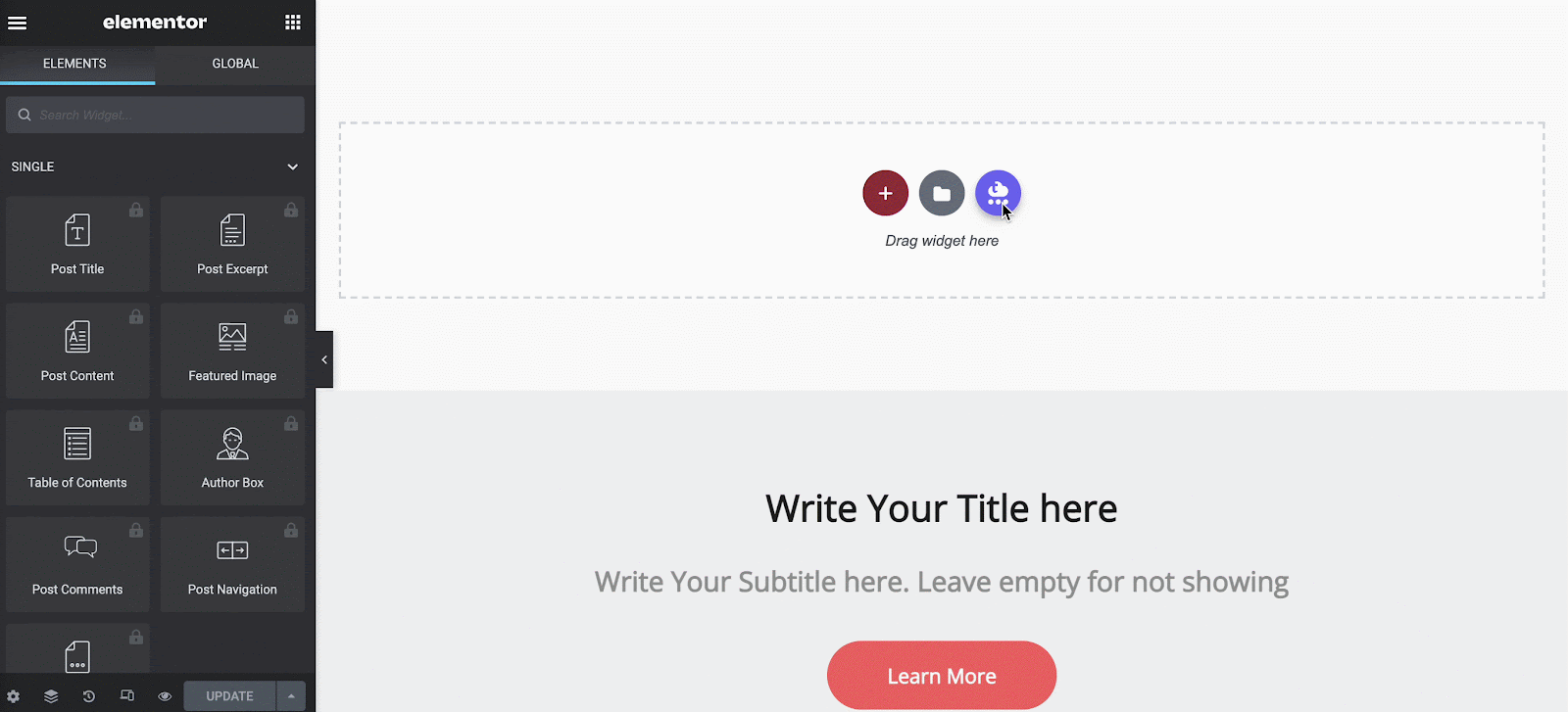 The NFTVault template will be used in this tutorial. This is how the page template will appear on your website once it is inserted.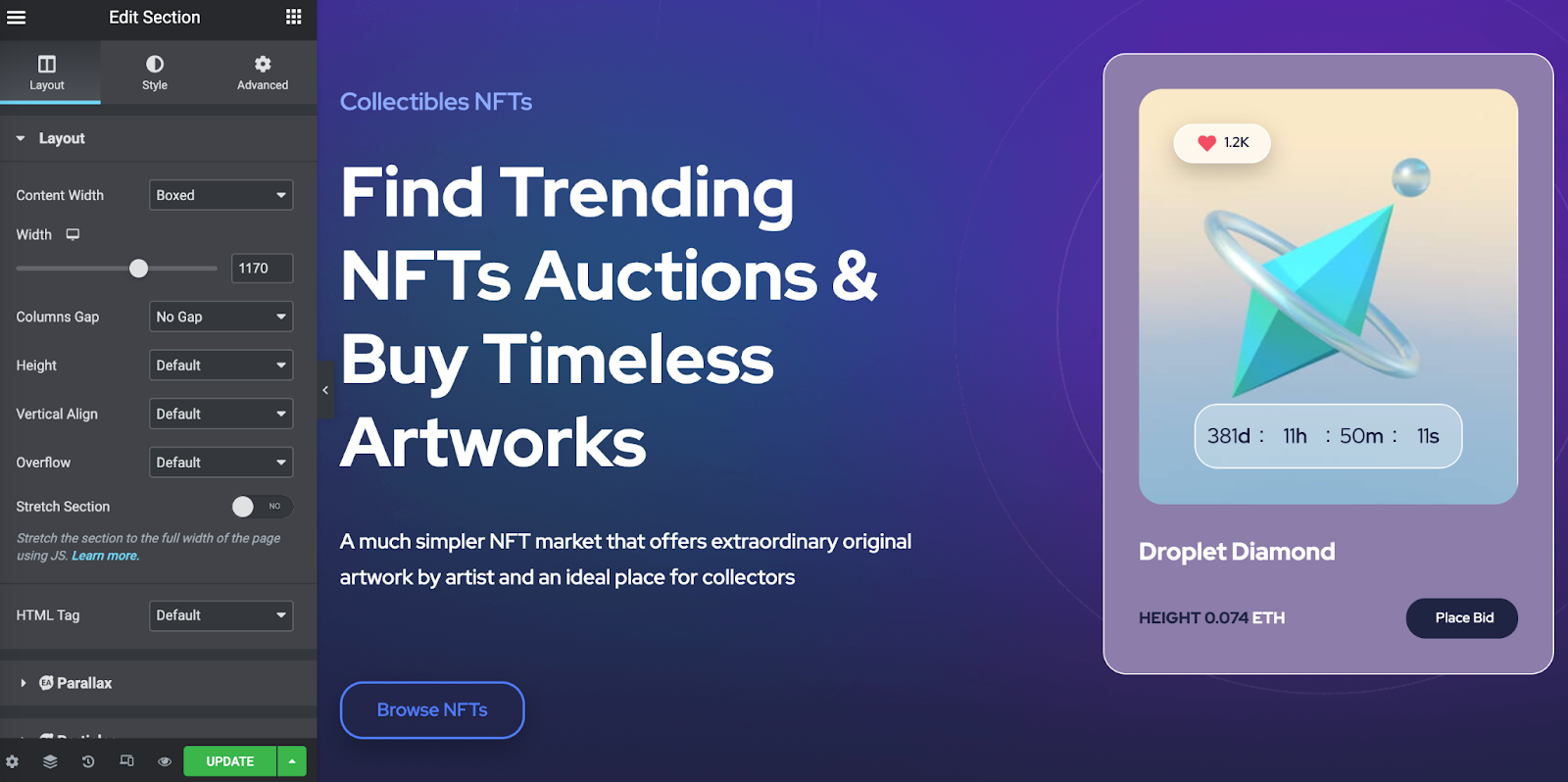 Continue to add pages until you're satisfied with your fantastic NFT website. It's time to add your personal touch after you've finished adding the pages you desire. 
Step 2: Customise NFT Website Template Content
You can change your NFT template in any way you like if you want to. Simply use the Elementor Editor on the left-hand side to experiment with the options in the 'Content' and 'Style' tabs. Change the colours, photos, typography, and other aspects until you're satisfied with the final result.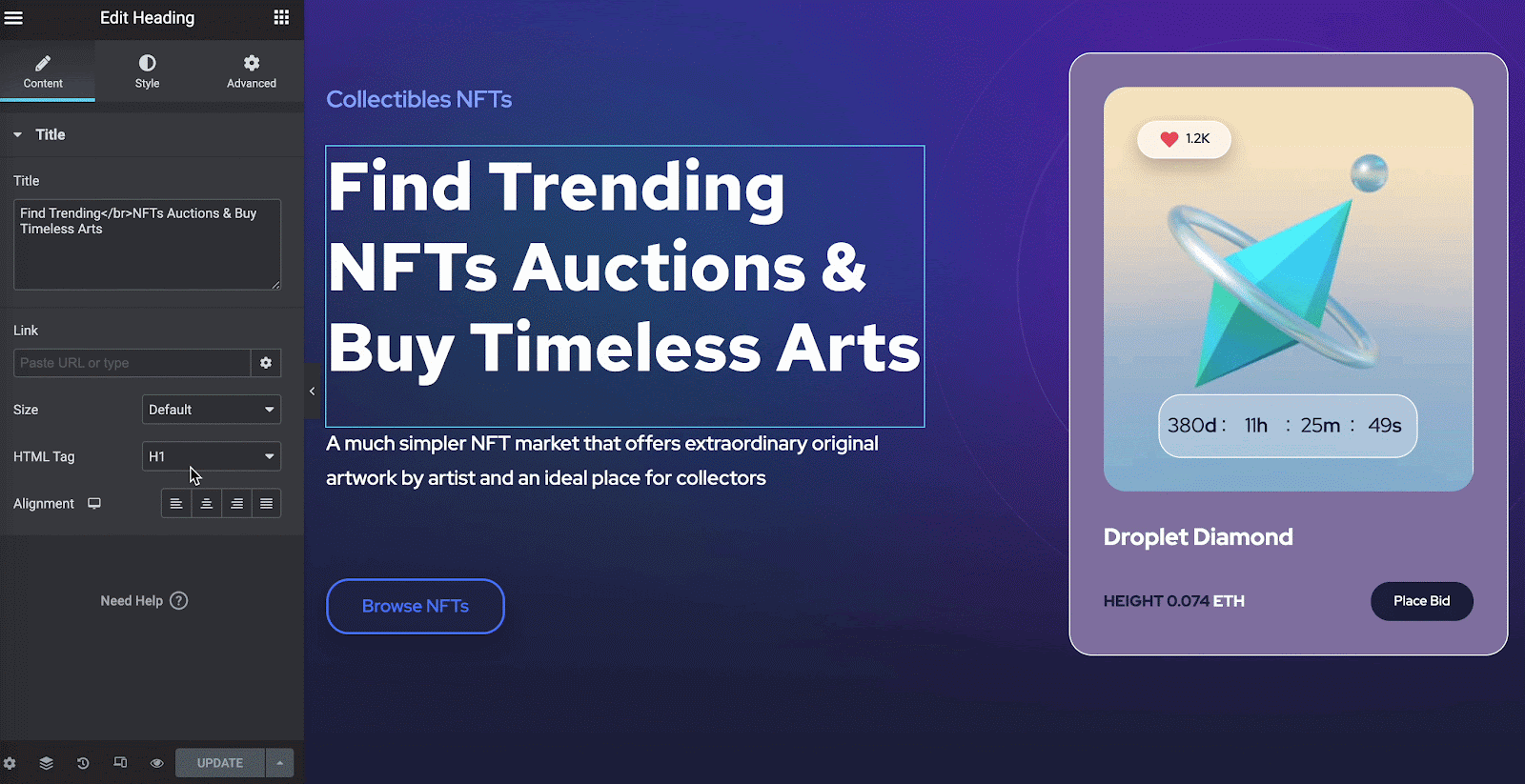 You can alternatively keep the template's basic style and simply add your own content. Remember to click the 'Save Draft' option to save your changes when you've finished making any changes.
Step 3: Launch Your NFT Website Template Live
You can save your NFT website design to Templately's cloud storage after you're satisfied with it. You'll have a backup of your website design and will be able to reuse it next year. If you wish to store your NFT website design on MyCloud, simply right-click anywhere on the page and select 'Save Page To Templately.'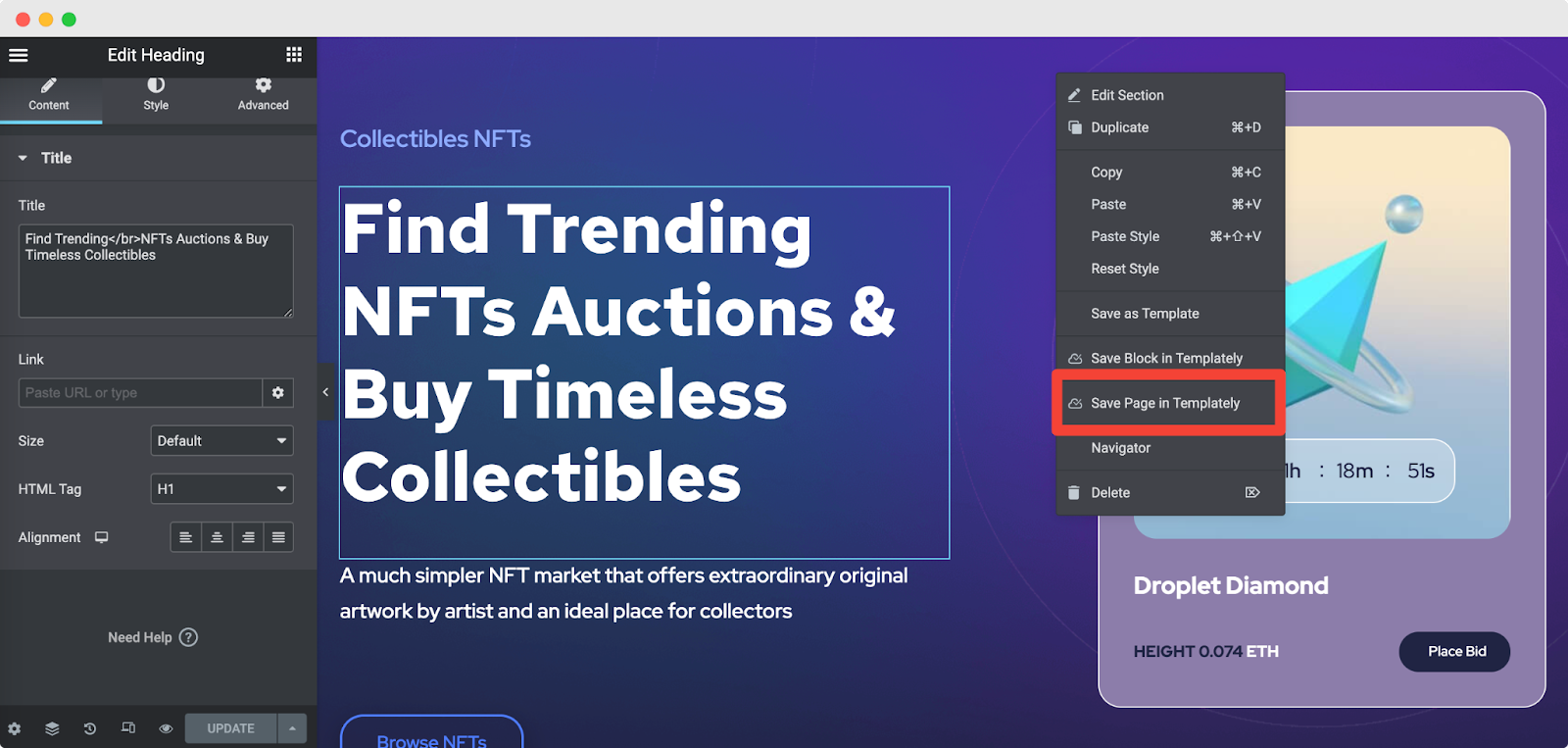 In less than 5 minutes, you've created your own outstanding NFT website with these three simple steps. You did an excellent job!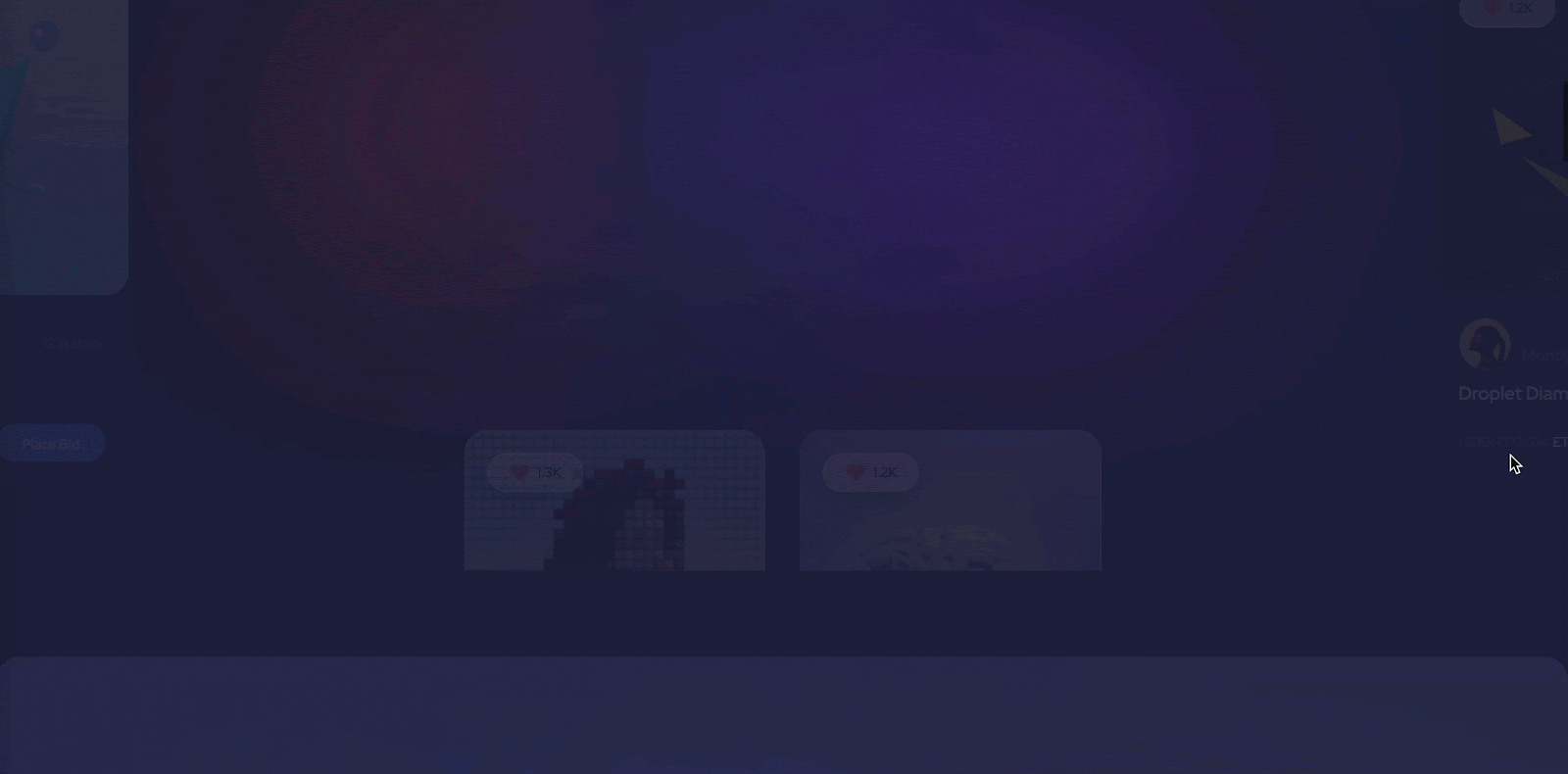 Start Creating WordPress NFT Website With Templately
This is how simple it is to set up an NFT website and display your merchandise. The best part is that you won't need any technical knowledge to create websites with Templately WordPress templates. If you require help with the development of your WordPress NFT website, please contact Templately's dedicated support team.
You may also join our Facebook community to interact with other Templately users or subscribe to our blog to stay up to date with our latest blogs, tutorials, and insights.