Imagine, whenever customers search on YouTube, they can find your video at the top of the search results page! It is very achievable if you can follow YouTube SEO tips thoroughly. And today we are going to share all the tested & proven SEO tricks with you, to rank your videos higher.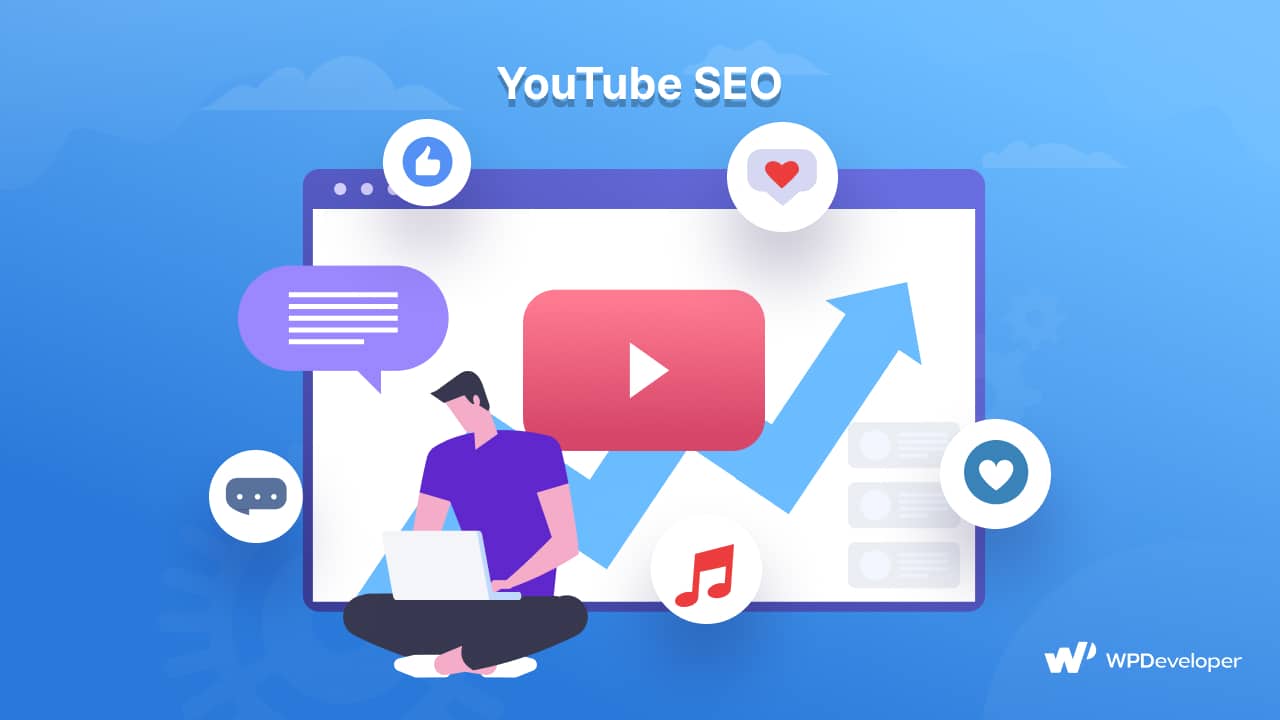 Is It Worth It To Rank Videos On YouTube?
By no means is Google the only search engine, though. But you can increase your search presence and conversions if you use more search engines. The truth is that less well-known search engines serve particular purposes. You can reach an audience on Bing, for instance, that you can't reach on Google. You are doing a disservice to your company if you overlook other search engines.
Well, not everyone knows this, but YouTube is considered one of the most trustworthy search engines after Google. So if you can rank your videos on YouTube, they will get maximum views, which will result in more subscriptions, likes, and comments. And most importantly, while your videos will rank on YouTube, Google will showcase the YouTube rankings differently on search results.
Even though it might not seem like it, ranking YouTube videos is an important part of your inbound marketing plan. Inbound video marketing was a novel concept just a decade ago. Marketers began to realize that, in addition to publishing a lot of material, they also needed to ensure that it was of high quality and optimized for search engines. The written word used to be the main source of that content.
That's not the situation anymore. A complete content strategy now encompasses both written content (such as blogs and ebooks) and visual content (such as podcasts, visual assets, and videos). The necessity to optimize them for search has also increased with the popularity of alternative content forms. YouTube is one of the most significant places to do that.
For instance, if you search by the keyword 'Fix WordPress Error', then you will see that in addition to articles and website suggestions, Google also provides the best-ranked YouTube video as well.
By optimizing your videos for YouTube SEO, your videos will get exposed as you planned and fulfill your main objective of having YouTube videos. It can be for service purposes, vlogging purposes, podcasting purposes, and so on.
Understanding How YouTube SEO Works
Understanding the YouTube algorithm and ranking variables is a must for getting videos to rank on the platform. Like any search engine, YouTube aims to provide results that specifically address the user's query. For instance, YouTube won't show a video on "how to tie your shoelaces" if someone searches for "how to tie a tie." Instead, it will present search outcomes that address that particular query.
Consider how you might add words and phrases that your target audience uses as you experiment with YouTube SEO. You should also consider YouTube metrics and engagement. YouTube considers "watch time", or the amount of time people spend watching your video when ranking videos. A long watch time indicates that your material is worthwhile; a short watch time indicates that your content is probably not going to rank.
Try to generate material that is optimized for longer watch periods if you want your videos to rank. For example, by promising a surprise or prize, you might entice viewers to stick around until the very end of the video.
Ultimate Youtube SEO Tips: Optimize Youtube Videos For Search
Scoring high on YouTube SEO and increasing the visibility of your videos is an easy task if you can follow the right path. Most of the time, we make the mistake of putting more emphasis on video quality and content than presentation in YouTube or YouTube SEO. That's why so many good-quality videos have been left invisible in the ocean of YouTube videos.
Let's check out 15+ amazing YouTube SEO tips that will help you rank videos higher.
1. First, Research & Select The Keyword You Want To Rank
Keywords play an important role in YouTube SEO. So, you have to choose a keyword wisely on which you want to rank your video. We just can't create a video without doing YouTube SEO and expecting the video to be ranked in search engines. If you can do proper YouTube SEO, then your video can be ranked for multiple keywords. But, first, let's see how you can research and select keywords smartly and efficiently.
The YouTube platform is so flexible that you can do YouTube SEO for both uploaded videos and would-be-uploaded videos. If you want to do YouTube SEO for your uploaded videos, don't worry, this can also be taken care of. To help you select the right keyword for your video, you can use keyword research tools. These tools will assist you in gaining detailed insights into keywords as well as determining whether or not it is profitable to target them. The most popular tools for YouTube SEO keyword searches are: UberSuggest, Keyword Everywhere, AHrefs, Google Keyword Planners, etc. You can also search manually on YouTube and check out which videos are ranked for those keywords.
2. Rename Your Video File With The Target Keyword
Before you even publish your video to YouTube, you should add the keyword to your video file as the first place to use it. Wondering why? As you will see in the instructions below, there are only a limited number of places on your video's watching page where you can enter this keyword after it has been published. Additionally, YouTube cannot "see" your video to assess how relevant it is to your target keyword. Yet, when you upload a video to YouTube, it can read the file name and all the accompanying code.
For instance, if your keyword is "How To Configure & Style Business Reviews," the file name of your video should be "How-To-Configure-&-Style-Business-Reviews" followed by the video file format you like (MOV, MP4, and WMV are some of the most common that are compatible with YouTube).
3. Organically Include Your Keyword In The Video Title
One of the first things our eyes are drawn to when searching for videos is the title. The title should be not only intriguing but also succinct and clear because that is frequently what prompts the user to click to watch your movie. Although your video's title heavily utilizes your keyword, it also helps if it closely corresponds to what the audience is looking for.
According to Backlinko's research, videos with an exact keyword match in the title only slightly outperform those without one.
While adding a keyword to your video title, you mustn't forget to keep the title short and simple. It is also part of the YouTube SEO strategy. Big video titles actually drive away visitors rather than attract them. The simple and short video title will get viewers' attention easily. So you can't forget about that either.
Check the below video. For the video, the target keyword was 'Business Reviews'. In the title, the keyword is placed gracefully.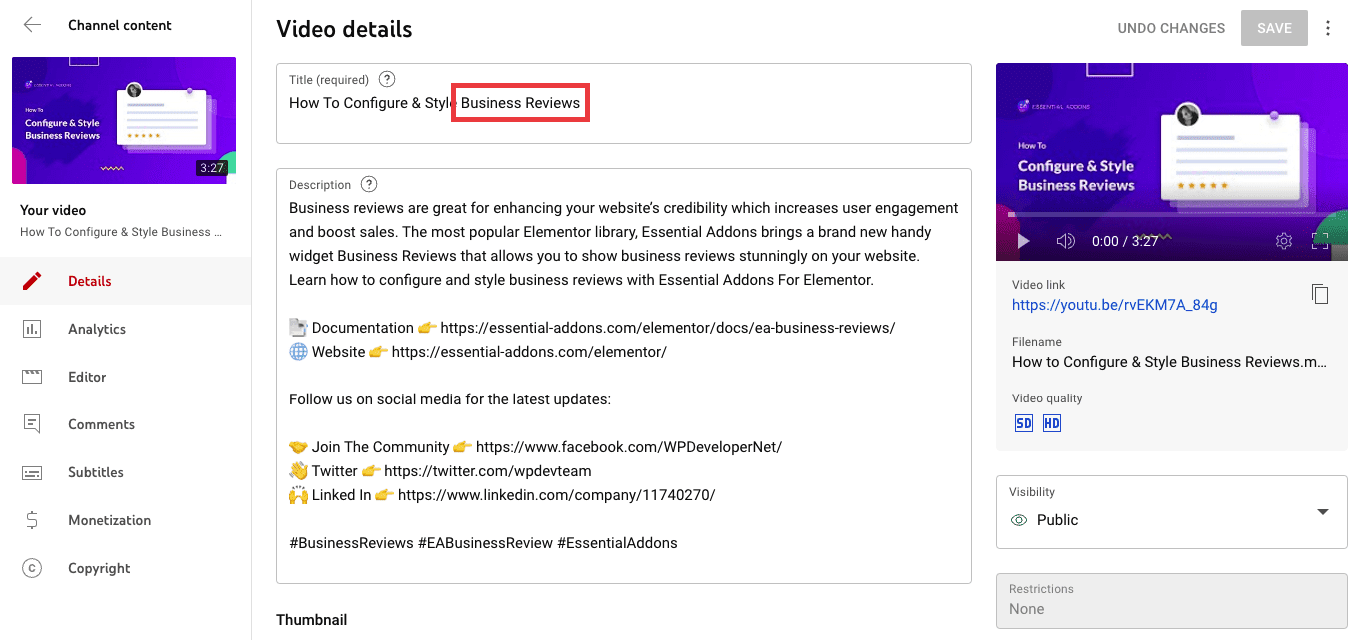 4. Improve The Description Of Your Video
Before getting started with these stunning YouTube SEO tips, let's start with a YouTube trivia:
'The word limit for a YouTube description placeholder is 5000.'
That gives you a huge opportunity and freedom to showcase what's in your video. Descriptions help videos represent them more effectively. Remember that, YouTube only shows the top two or three lines of text, or roughly 100 characters, if you decide to create a longer description. Viewers must then click "show more" to view the entire description after that. We advise front-loading the description with the most relevant details, such as targeted keywords, CTAs, or important links.
for instance, if you search for 'create knowledge base', then you will see that the first 10% of content only showed. So, you must add the target keyword in the first line of the video description.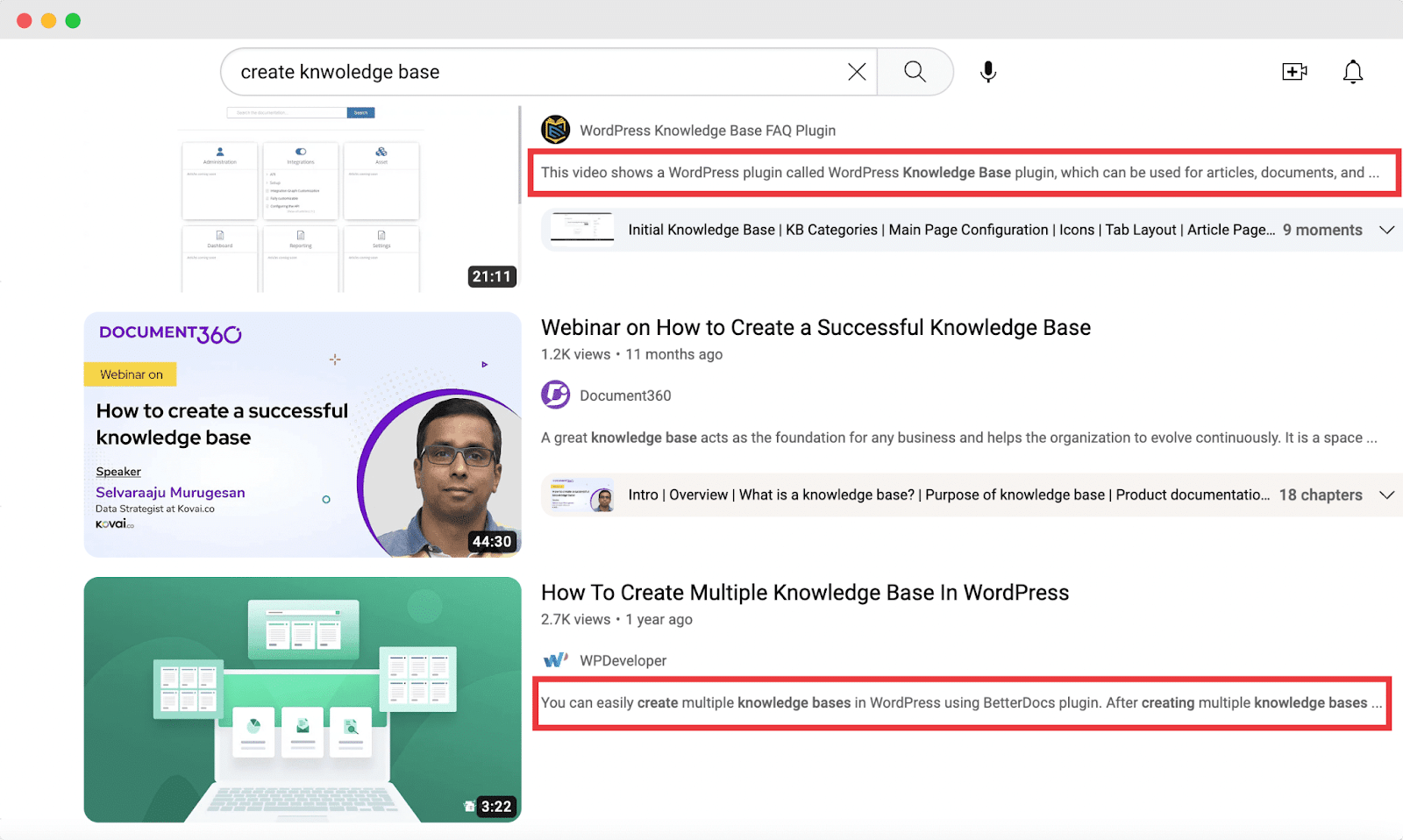 Regarding the video's optimization, adding a transcript wouldn't do any harm, especially for viewers who have to watch it without sound. The ranks for a given term did not, however, appear to be correlated with descriptions that were optimized for that term, according to Backlinko's research.
5. Add Relevant And Popular Video Tags With The Video
To help people understand what your video is about, YouTube advises utilizing tags. Nevertheless, you're not only educating your audience; you're also educating YouTube. The purpose of tags is to help the platform "understand the content and context of your video." In this manner, YouTube learns how to link your video to other related videos, which can increase the audience for your material.
YouTube allows 500 characters for the tags. So you have to prioritize tags that are related to the targeted keyword, and then add the most common relevant tags. Here is how the tags are added to the YouTube video.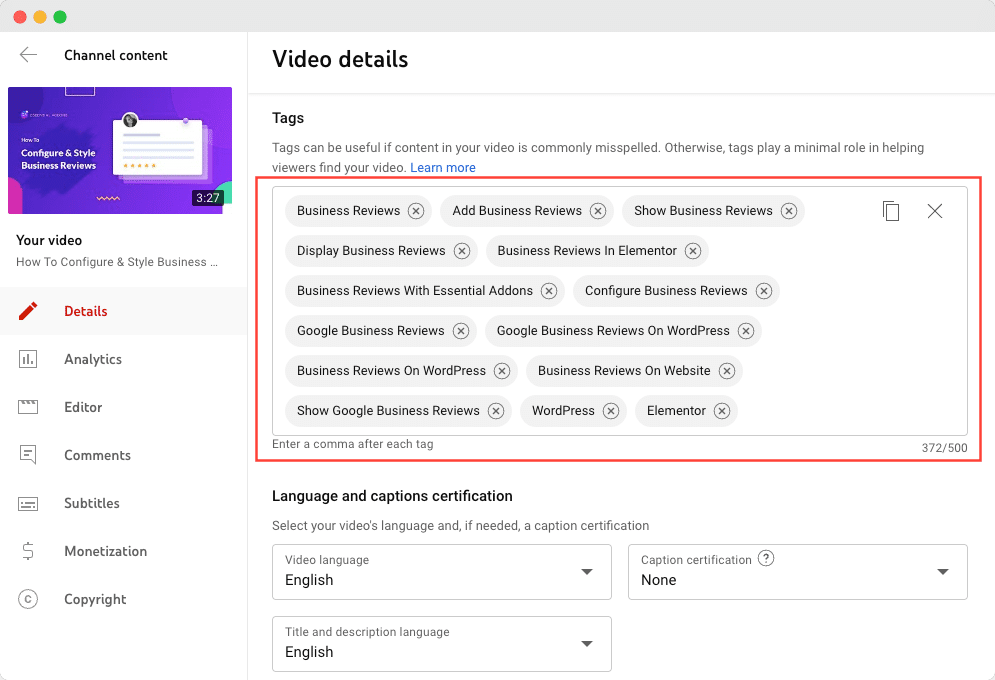 However, pick your tags carefully. Use relevant tags instead of irrelevant ones if you want to increase views; otherwise, Google may penalize you. A solid combination of both popular and more long-tail keywords should be used in the lead, similar to how you would in your description.
6. Include Proper Categories To Your Video
A video can be categorized after it has been uploaded under "Advanced options." On YouTube, selecting a category is another approach to organizing your video with related content so that it appears in various playlists and is seen by more people who fit your target audience. That might not be as straightforward as it seems. In actuality, it's crucial to follow a thorough procedure to decide which category each video fits in. Identify the top creators in the category, for example.
What do they excel at and what are they known for?
Are there any trends among the viewers of comparable channels within a specific category?
Do the videos in a category have anything in common, such as production quality, length, or format?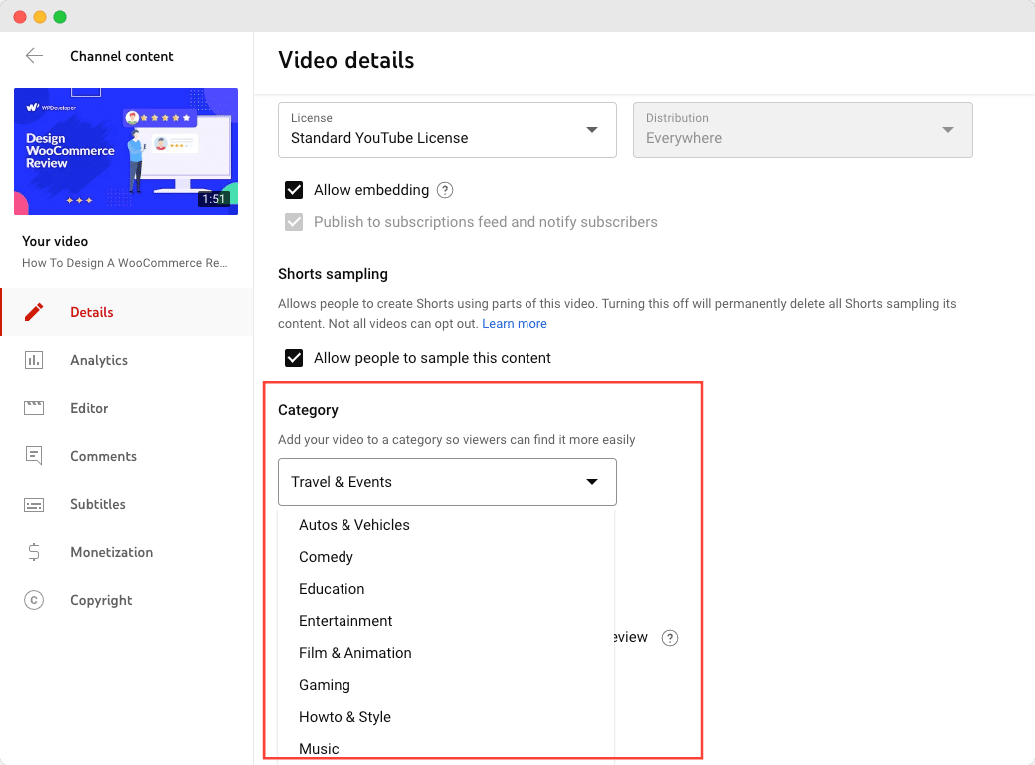 7. Insert A Custom Video Thumbnail Image
The primary image that viewers see while navigating through a list of video results is your video's thumbnail. This thumbnail, together with the video's title, informs viewers about the video's subject matter, which might affect how many clicks and views your video gets.
Although you can always choose from the auto-generated thumbnail options provided by YouTube, we strongly advise creating a personalized thumbnail. As you are providing a custom video thumbnail, make sure you have added the targeted keywords to the banner. It is another of the oldest YouTube SEO tips.
According to YouTube, images with a 16:9 aspect ratio and a resolution of 1280 x 720 pixels should be used. These images should be stored as 2MB or smaller jpg,.gif,.bmp, or .png files. Following those guidelines can help to guarantee that your thumbnail displays in the same high quality on various viewing platforms.
Here are examples of creative custom video thumbnails. You can see that the target keyword and video gest are nicely put together in the thumbnail.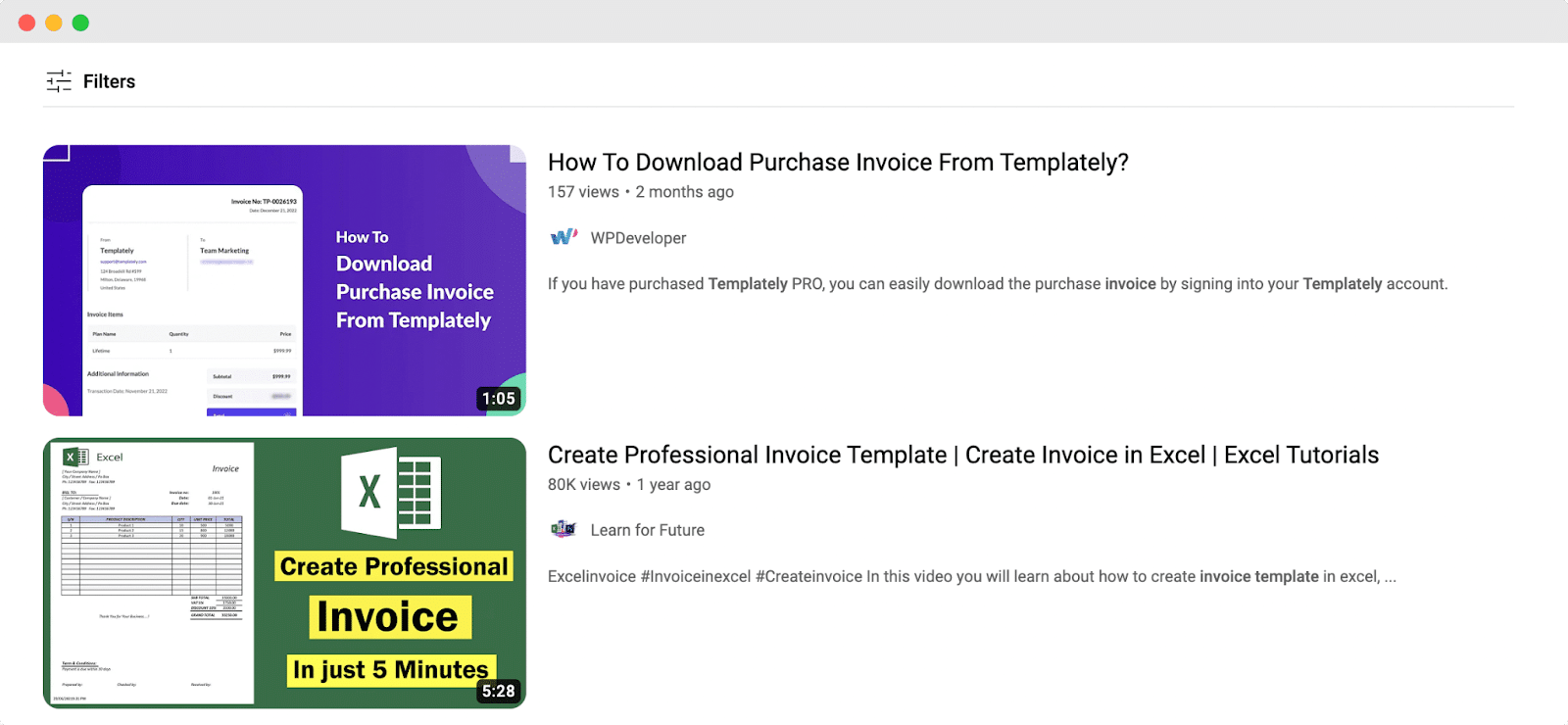 It's crucial to remember that in order to upload a custom thumbnail image, your YouTube account must be confirmed. Visit youtube.com/verify and follow the directions there to accomplish that.
8. Use An Srt File To Add Closed Captions And Subtitles
Closed captions and subtitles, like most of the other content we've addressed here, can improve YouTube search performance by emphasizing relevant phrases. You must supply a valid text transcript or timed subtitles file in order to add closed captions or subtitles to your video. You can easily insert transcript text for a video in the first case, and it will automatically sync with the video.
The same steps are followed when adding subtitles; however, you can choose how much text is shown. Go to your video manager and select "Videos" from the list of options there. Click the drop-down arrow next to the edit button after locating the video to which you want to add closed captions or subtitles. Then, select "Subtitles/CC". The method for adding closed captions or subtitles is then your choice.
9. Add Cards, End Screens & Grow Your Youtube Channel Viewers
Have you ever been viewing a video when a tiny white circle with an 'I' in the center or a transparent bar of text inviting you to subscribe appears in the corner? Cards are preformatted notifications that appear on desktop and mobile devices and may be set up to promote your brand and other videos on your channel, according to YouTube.
There are six different sorts of cards, and you can add up to five to a single video:
Channel cards that link viewers to another channel.
Donation cards to promote charity fundraising for American nonprofit organizations.
You can use fan fundraising to enlist the aid of your audience in financing the production of your video content.
Link cards that point users to external websites, authorized platforms for crowdsourcing or authorized platforms for selling goods.
Poll cards, which ask viewers a question and let them choose a response.
Cards for videos or playlists that link to similar YouTube material.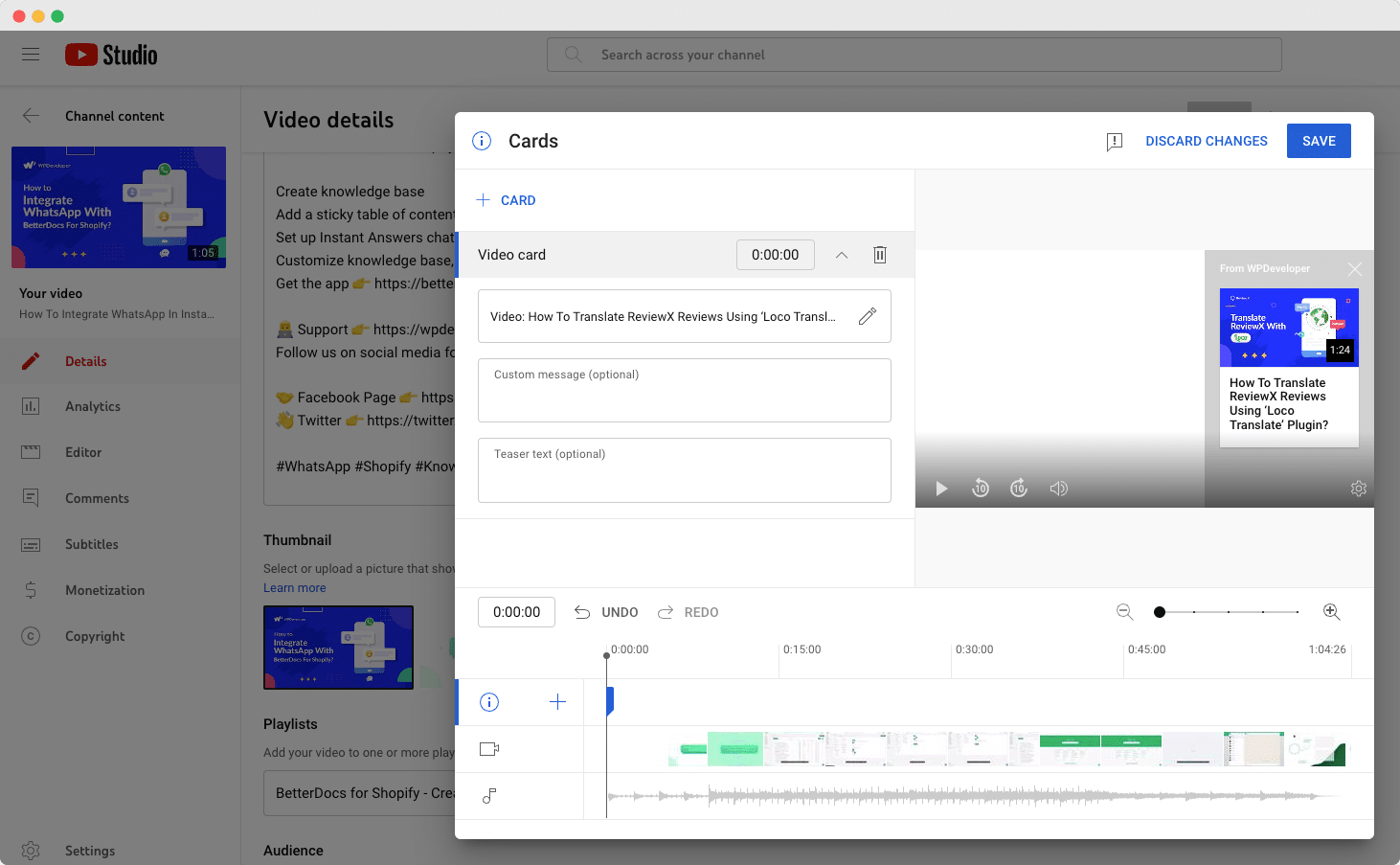 Depending on the kind of platform you want to design end screens for and the various kinds of content that YouTube permits for them, there are a variety of specific instructions for adding end screens. Here, Google provides specific instructions on how to optimize for each of those factors.
You should be aware that YouTube frequently tests end screens in an effort to improve the viewing experience, so occasionally "your end screen, as specified by you, may not show". While deciding whether to use cards or end screens, keep these things in mind.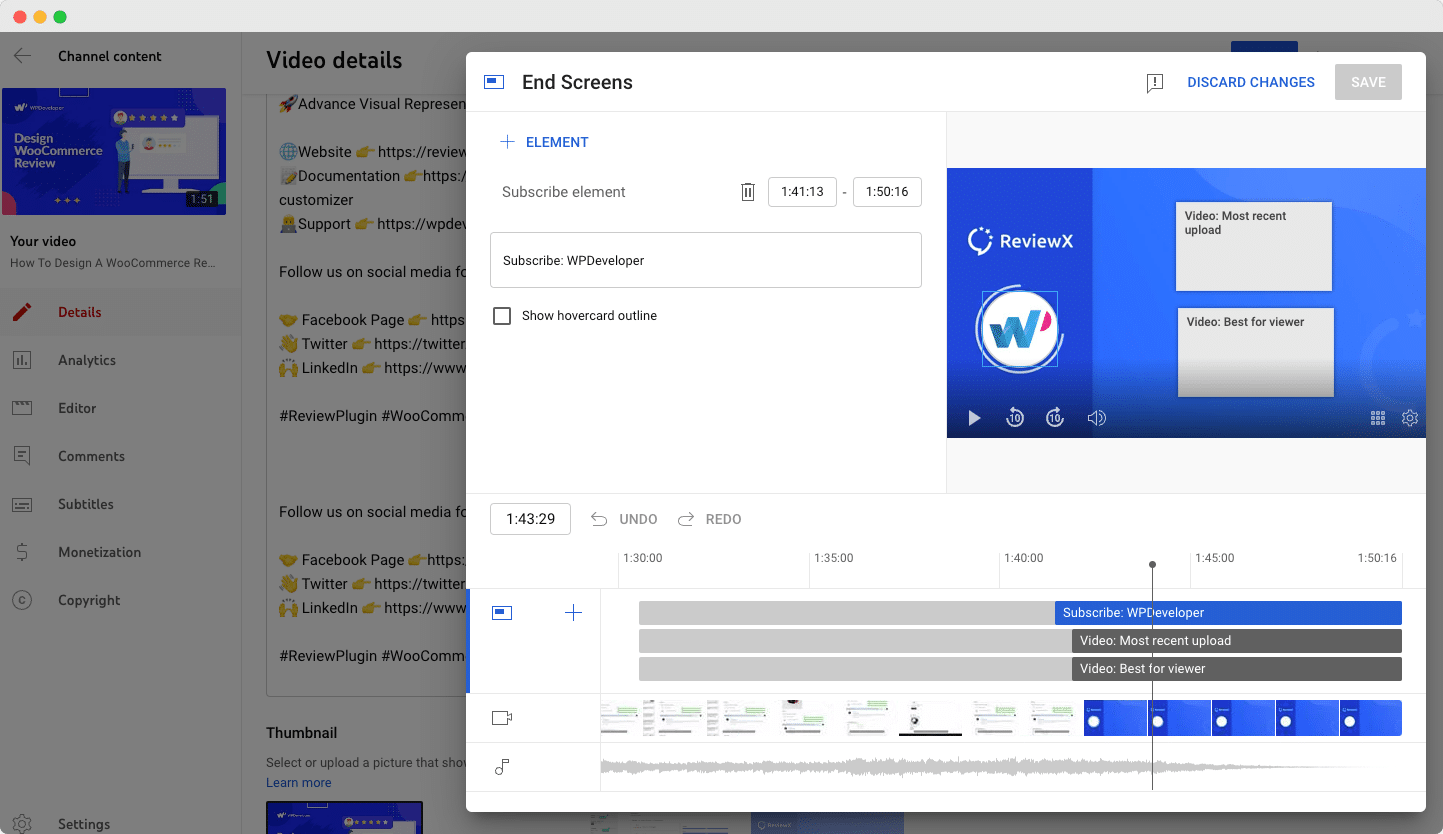 10. To Expand Your Audience, Use Hashtags
Like on LinkedIn or Instagram, hashtags are a recent addition to the YouTube user interface that lets you add related terms to your material. Hashtags appear directly above the title of your video for quick clicking and discoverability. Use your company name, as HubSpot does in the example below, or add relevant keywords.
Also, as a YouTube SEO guide, we advise you to use hashtags in your YouTube description, but keep them in check—the YouTube algorithm is continuously looking for spam. Overusing hashtags could unintentionally flag you. Instead of using all possible hashtags, pick two or three that you believe best represent your video.
11. Make A Playlist That Addresses The Broad Subject Of Your Video
Create keyword-focused playlists for the videos as you continue to add them to your content repository. This will not only provide YouTube with more information on the subject matter of your films, but it will also encourage people to watch more of them, raising your view count and, thus, your ranking.
For instance, all WordPress hacks that have been developed have been added to a playlist called "WordPress hacks." The title is succinct and descriptive, and the playlist description also uses words like "WordPress Troubleshoot," "WordPress Fixes," and others that are relevant.
12. Leave A Pinned Comment On Your Own Video
Although leaving a comment on your video may appear excessive, it's a wise move. More comments boost your video's rankability, but they can increase audience engagement if you play your cards well. Many people will reply to a pinned comment.
Make sure your pinned comment adds to the discussion or benefits the readers by being interesting. For instance, some popular YouTube channels keep a resource posted so that visitors may learn more about the subject.
13. Share Videos In Social Platforms & Elsewhere
The web of today is social. As YouTube is a social platform, you should distribute your videos on all of them to increase their visibility and SEO. Sharing your video on Facebook should be one of your initial actions. Facebook may generate a ton of traffic, especially if your description is interesting. The following is crucial information regarding YouTube videos on Facebook: 'YouTube videos shared on Facebook receive fewer impressions than Facebook native videos.'
Yes, Twitter's native videos are effective. Nonetheless, there are many more YouTube shares on Twitter than there are uploaded native Twitter videos. Tweeted videos will receive a lot of views and engagement.
Using video on LinkedIn is a powerful method to expand and strengthen your corporate page or personal profile.
One of the best locations to share your videos is on Quora. Why? Individuals use Quora expressly to find in-depth knowledge that can help them with their difficulties.
More than just the number of views you will receive on social media networks, sharing has a bigger total worth. Sharing on social networks will help you increase your social presence and create links to your channel. Win-win situation.
14. Maintain Your Email List & Send Your Videos
One of the most successful marketing strategies is the email list. In a matter of seconds, you may send an email to thousands of recipients, and within a few hours, your material will be viewed by countless people. You will receive more views as a result, which is essential for effective YouTube SEO.
15. Embed Videos For Better YouTube SEO
You can achieve two goals by embedding your videos. The first benefit is that more people will see your video. Your video can be embedded anywhere, although I suggest blog postings. Also, it will boost user engagement. This is a direct outcome of increasing the number of viewers for your video.
💡WordPress Tips:
If your website is WordPress-built, then you can easily embed videos without any hassle using WordPress plugins. Among all embedding plugins, you can go for EmbedPress without any hesitation. Apart from giving you the opportunity to embed more than 150 sources, it adds exclusive controls for YouTube videos. By using those, you can easily customize your video's appearance on the site and get more attention.
Skyrocket Videos Performances With YouTube SEO Tips
A successful YouTube channel starts with quality material, regardless of the SEO strategy or software you choose to use. Make sure that when people find you, they can watch something of great quality and relevance. If you have followed the above-mentioned YouTube SEOs, then you can observe the dramatic changes soon. Don't forget to share this helpful guideline with others and subscribe to our blog for more.