Wouldn't it be great, if you could auto-schedule blogs on Facebook from WordPress websites directly? Bloggers and social media marketers know how difficult it can be to share posts from websites on Facebook or other social media manually. Again, most people don't know that they can automate the scheduling process for free using the right tool.
So today, we will guide you on how you can easily auto-schedule your blogs on Facebook for free.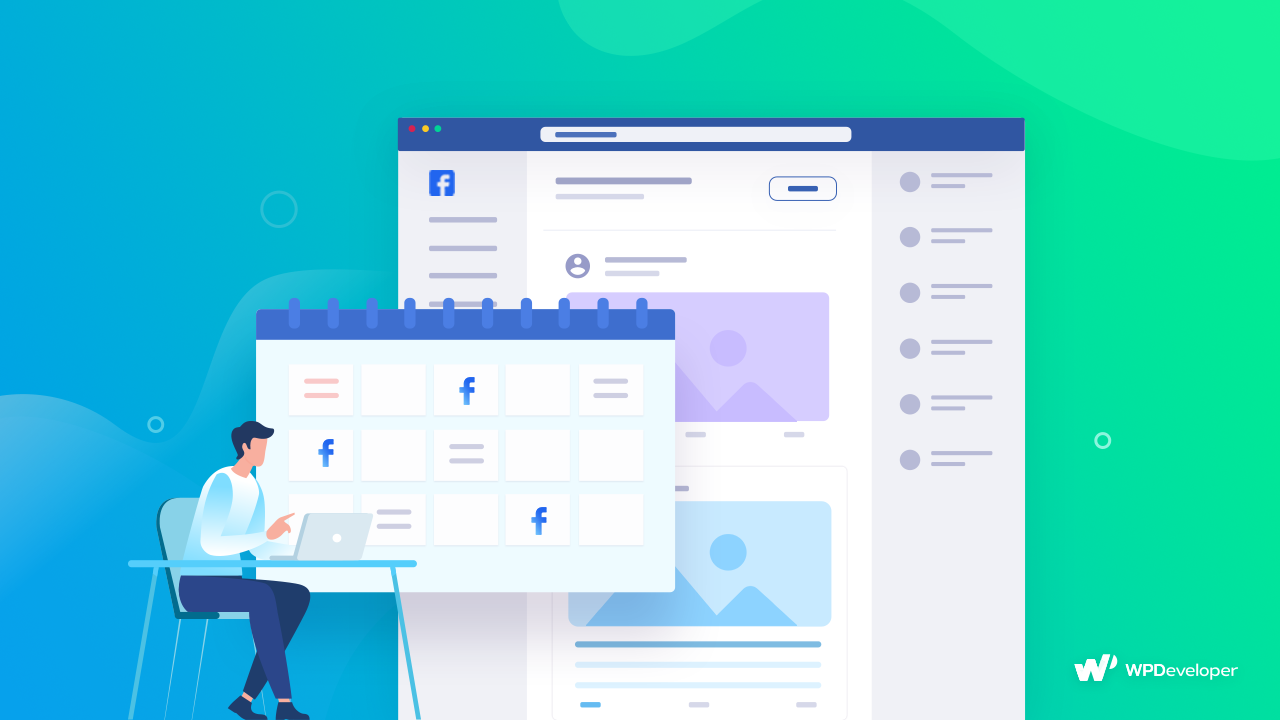 Why Should You Share Blogs On Social Media Platforms? 
It's crucial to understand why your site blogs need to be shared across multiple social media platforms before we share the 'How To' with you. It's totally free of cost to open profiles for your blogs or organizations on social media. Here is mentioning the top benefits you will get for your blog on social media platforms. 
1. Best Source To Get Organic Traffic
Availability of the internet and advanced gadgets, it's made easier for people to stay active on social media platforms. Moreover, every day on average 144 minutes are spent on social media by the data of Statista. So, when you start auto-scheduling your blogs on Facebook or other social media platforms it will help you to get organic traffic and increase your post engagement. Furthermore, there is nothing to lose in sharing blogs on Facebook and other social media platforms. 
2. Your Blogs Will Get Indexed Faster On Search Engine 
Google and other search engines crawl the web, bookmark pages, and rank websites based on the value and recognition of the information they find. In general, the greater the number of quality content bots find on your site, the higher it will rank. Auto-scheduling blogs on Facebook and other social networks are crawled and indexed much faster than simply adding a new page to your site, so you can take advantage of high search engine rankings much earlier. 
3. Boost Your Blogs Ranking On Google & others
Recent statistics reveal that people who have more views and engagement on social media platforms like Facebook, Twitter, etc. are also very successful on Google visibility. Additionally, Google is undoubtedly the very best and most effective search engine for ranking high.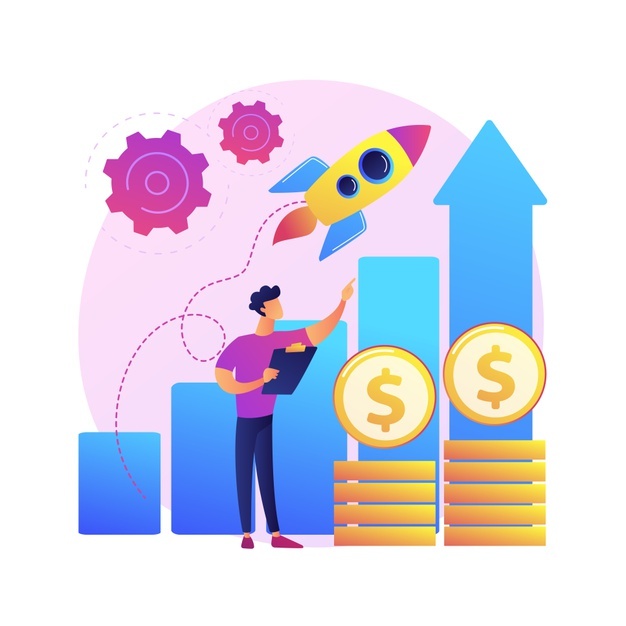 Along with your site viewers, Google algorithm also tracks down the views you are getting from social media platforms, thus these matrices help your blog to build credibility and rank higher. 
4. Help To Build A Better Relationship With Customers
You need to nurture your social media following until you can get them to make a purchase. In spite of the simplicity of the premise, the results are astounding. It will also help you to get new leads. Hence, social media engagement combined with blogs is a powerful right hook that closes the deal.
Auto-Schedule Blogs On Facebook Is A Proven & Tested Practise
We are now ready to grab your attention to the benefits of auto-scheduling your blogs from your WordPress website using Facebook. These data will help you to get a clear visualization of the importance of Facebook in recent times.

When your Facebook profile has lots of followers and viewers, anything you post there will influence your audience to look at you. So, when you will start sharing your blogs on Facebook, it will reach out to all your viewers and followers. Thus it will increase your blog's reading count. Moreover, by clicking on the blogs on Facebook, it will directly take them to your website. This helps to promote your brand, increase site visibility, as well as increase your site engagement.
Step-By-Step Guide: How To Auto-Schedule Blogs On Facebook From WordPress
Time to check out the tutorial you all have been waiting for. Here we will guide you through to auto-schedule your blogs on Facebook from WordPress websites directly. Need to mention that, obviously, you can auto-schedule your blogs on Facebook if your website is built rather than WordPress. By the data, almost every website uses WordPress to write and publish its blogs. So, this tutorial is for WordPress users. 
Step 1: Get Blog Schedule Management Plugin With Great Usability 
One of the benefits of having a WordPress website is that you do not need to learn coding to implement any additional features. You will get WordPress plugins for almost all types of functionalities. 
To create a system where you can auto-schedule your blogs on Facebook from WordPress, you'll need a schedule management plugin. When it comes to usability, easy-to-use, user experience, and user interface, SchedulePress– WordPress plugin for blog schedule management is a good choice. 
Here is the list of stunning features of SchedulePress, explaining why we use it to auto-schedule blogs on Facebook from the WordPress website.
✔️ You can directly auto-schedule blogs on Facebook page and group from the same panel
✔️ Sharing only the link of your blog or caption or both together is available in SchedulePress
✔️ SchedulePress will fetch your blog category and tags and display them on Facebook social share.
✔️ In SchedulePress, you get the facility to give custom social shares or directly fetch excerpts.
✔️ You can also set a limit to social sharing individually. Moreover, create ready templates for social sharing, so no need to modify every time you schedule blogs.
SchedulePress offers more than auto-scheduling features for Facebook and other social media platforms, so let's check out other features of this WordPress schedule management plugin.
You will get a built-in schedule calendar to manage your blog and page publishing smoothly. 

 You can schedule your blogs and pages automatically and manually using SchedulePress. 

If any blog or page missed its scheduling, you will get notified instantly and then can reschedule the post. 

Besides Facebook, you can auto-schedule your blogs and posts on Twitter, Pinterest, LinkedIn, and other platforms. 

You will get a pagination bar from where you can check out the scheduled posts and pages at a glance.
So, open your WordPress dashboard, then install and activate SchedulePress immediately. 
Step 2: Retrieve App ID & APP Secret From Your Facebook App
To auto-schedule your blogs on Facebook pages or groups, you have to connect your accounts with ShcedulePress. As ShcedulePress will take publishing access to your page and group, you have to provide your Facebook App ID and Secret Key. So go to your Facebook app and retrieve the App ID and Secret key from Settings → Basic.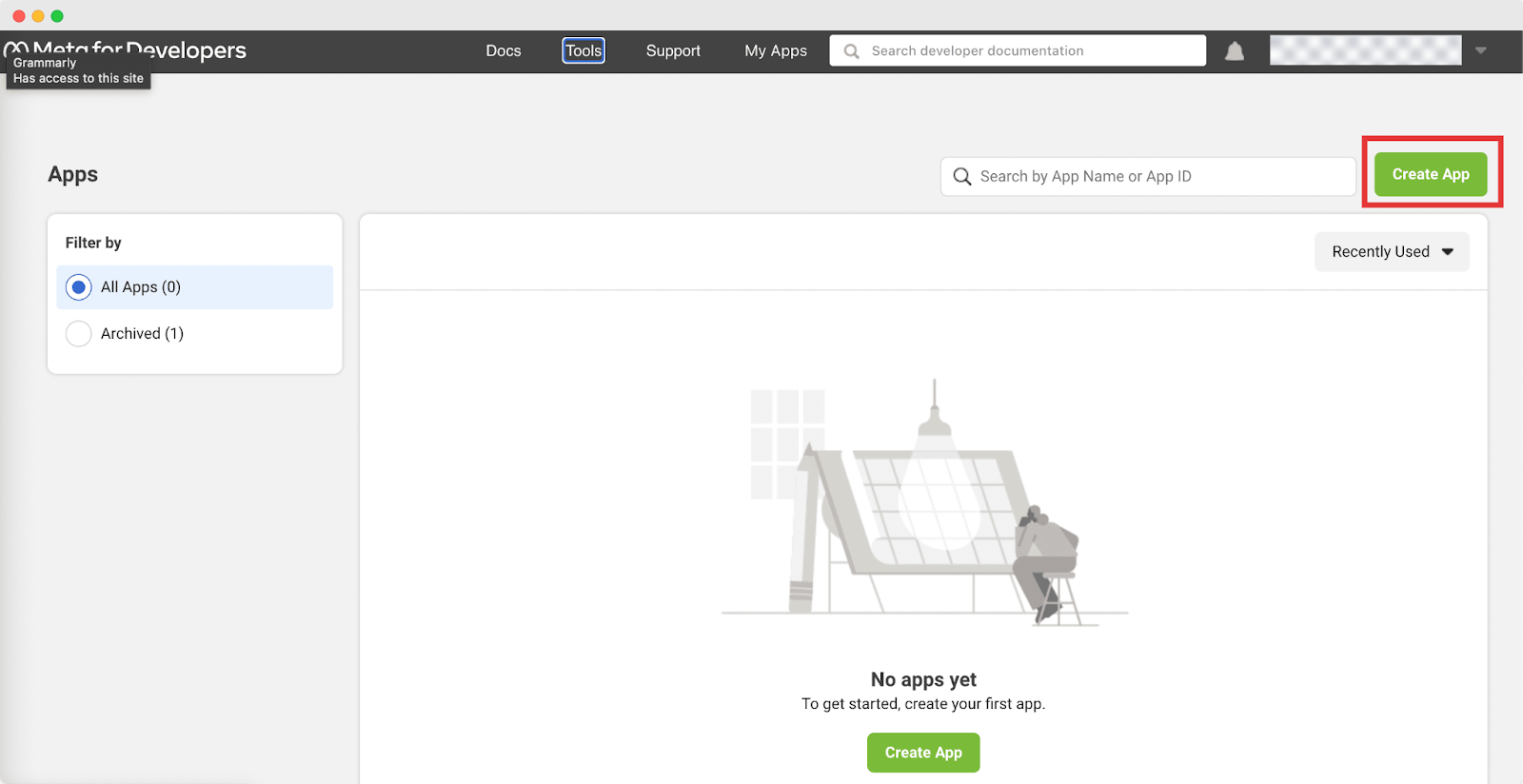 If you have not yet opened a Facebook App, then log in to your Facebook Developer Account and create an App ID. From there you can retrieve additional information easily. 
Step 3: Connect Your Facebook Page With SchedulePress
Now time to connect your Facebook page with SchedulePress. Go to 'Social Profile' tab from the SchedulePress dashboard and select Facebook. Then toggle to enable auto-schedule blogs on Facebook. Click on the 'Add New Profile' to integrate your Facebook page with SchedulePress.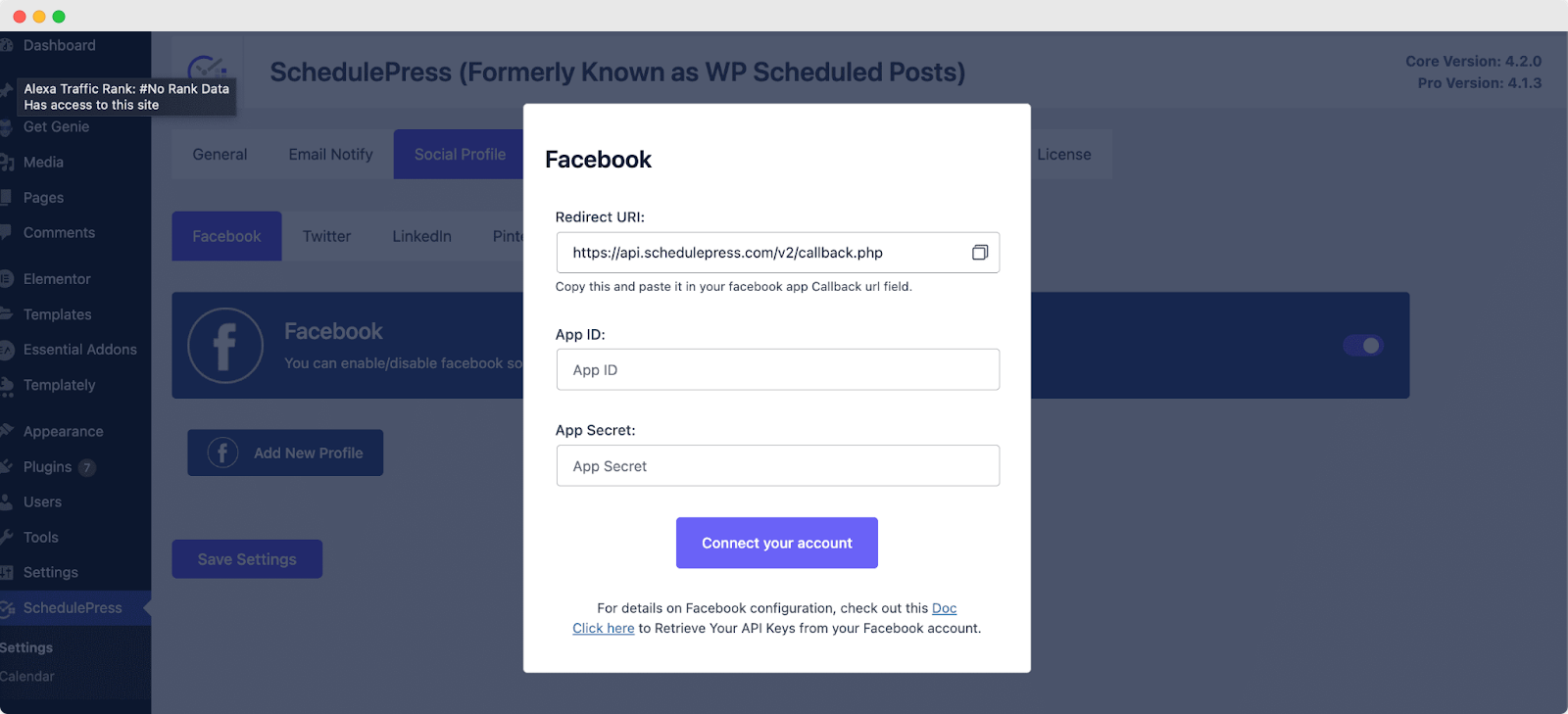 Instantly a popup will appear. There you have to add your Facebook page link, your Facebook App ID, and Secret Key. then click on the 'Generate Access Token'. Now choose the page in which you want to connect with SchedulePress and hit the 'Save' button. That's it, your Facebook page will be connected with SchedulePress. 
💡 How To Connect Your Facebook Group In SchedulePress?
With SchedulePress, you can also connect your Facebook groups also. So all your auto-scheduled blogs will publish directly to your Facebook groups. To do so, go to your Facebook group, add SchedulePress in the Apps field of Settings. Then you will find all your Facebook groups in the SchedulePress dashboard, select the groups where you want to publish, and then click on the 'Save' button.
Step 4: Configure Templates For Social Share
In SchedulePress, you will get the privilege to set up a ready social share template for sharing blogs in one click. Go to the 'Social Templates' tab and you will find all the customization options for all the social media platforms. As we are planning to auto-schedule blogs on Facebook from WordPress, let's check out that configuration below. 
Using Facebook Meta Data, you can show content as either a Link or a Status. The Facebook Status Template Settings also allow you to set the surrounding content parameters based on how you want the status to appear. Additionally, you can display your tags and categories as 'Hashtags', select your favorite 'Content Source' as Excerpts or Contents, as well as set your 'Status Limit' from here. You need to click the 'Save Settings' button after you have made any changes.
Step 5: Set Auto-Scheduling Times For Your Blogs 
All the setups are done. Now, open the blog you want to auto-schedule on Facebook. From the left-side Setting panel, you will find all the options of SchedulePress to Schedule Your blogs. 
Select the 'Facebook' social sharing platform from the 'Social Share Settings' section. By clicking the 'Share Now' button, your post will be shared instantly, or you can schedule it for a later time. You can even add a custom 'Social Share Banner' to your Facebook post if you wish.
You've Successfully Auto-Published Blogs On Facebook From WordPress
If you have followed all the steps mentioned above, then Congratulations! As soon as your WordPress posts go live, they will be automatically shared on your Facebook account. 
Besides, if you are looking for a video tutorial, then here it is. Find out how you can auto-schedule your blogs on Facebook from WordPress.
3️⃣ Tips To Keep In Mind While Auto-Schedule Blogs On Facebook From WordPress
This section is for you if you are planning to smoothly manage auto-scheduling blogs on Facebook. Check out these 3 trending tips that will help you to increase the engagement and viewers of your blog. 
⭐ Don't Over Schedule Your Blogs On Facebook
Some people think that they can schedule all their posts in advance for weeks at a time, and then neglect social media for days. However, this is not true. The customer interest on your page starts to dwindle if you regularly post multiple times a day, as it becomes more of a sales vehicle than a social platform. Although it's worth announcing new products or big changes to your business, avoid overscheduling.
⭐ Keep An Eye On Competitors Social Share Practices
Have you thought about scheduling posts ahead of time, but are worried about inauthentic or robotic content? Then the best thing to do is follow your competitors. Check out how often and what they post and use this information to improve your own social media campaigns. Analyzing your competitors' social profiles main motive is not to copy them, rather take cues and inspirations to make your blog sharing optimized and get the best output.  
⭐ Enhance Your Social Shares With Emojis & Hashtags
To make your social share attractive and make it more relevant to the reader, emojis are a great help. So you should start practicing using interacting emojis on your social media to grab the utmost attention. Also, to reach the target audiences of your blog among millions of social media posts, hashtags are the key. So practice including relevant hashtags in your blogs.
✨ Bonus: Easy solution to Auto-Schedule Blogs On Facebook From Elementor
There is good news for WordPress users who use Elementor page builder to design pages, posts, and blogs. With SchedulePress, you can directly schedule all your posts and pages from the Elementor editor panel, without leaving the interface. You can also make posts unpublish, or reschedule them if needed. 
Increase Your Blog Engagement With Facebook
Sharing your content on Facebook gives you the chance to reach millions of people. Easy schedule management plugins let you share your blog posts directly to social networks without having to spend time manually doing so. So, install SchedulePress and start automatically sharing blogs on Facebook from WordPress.
If you want to get more of these kinds of detailed tutorials, guidelines, blogs, etc. then subscribe to our blog. Also, we want to hear about your experience with SchedulePress. So share through comments or by joining our Facebook community.