SchedulePress is a complete content management solution that helps you manage and schedule your posts & pages effortlessly in WordPress. It's so easy to manage scheduled posts with its simple functions. As SchedulePress is fully compatible with the Elementor website builder that can help you schedule posts & pages directly in WordPress from Elementor Editor.
How To Schedule Posts From Elementor? #
Follow this step-by-step guideline to schedule posts from the Elementor website Builder using SchedulePress:
Note: To schedule posts through Elementor Editor, make sure to install and activate the Elementor plugin on your website.
Step 1: Create A Post Or Page With Elementor #
First, open your WordPress dashboard, then click on the 'Posts' if you want to create posts, and if not then click on the 'Pages' to create a new page.
Afterward, click on the 'Edit with Elementor' button to start editing in Elementor. Then add the necessary contents and customize accordingly.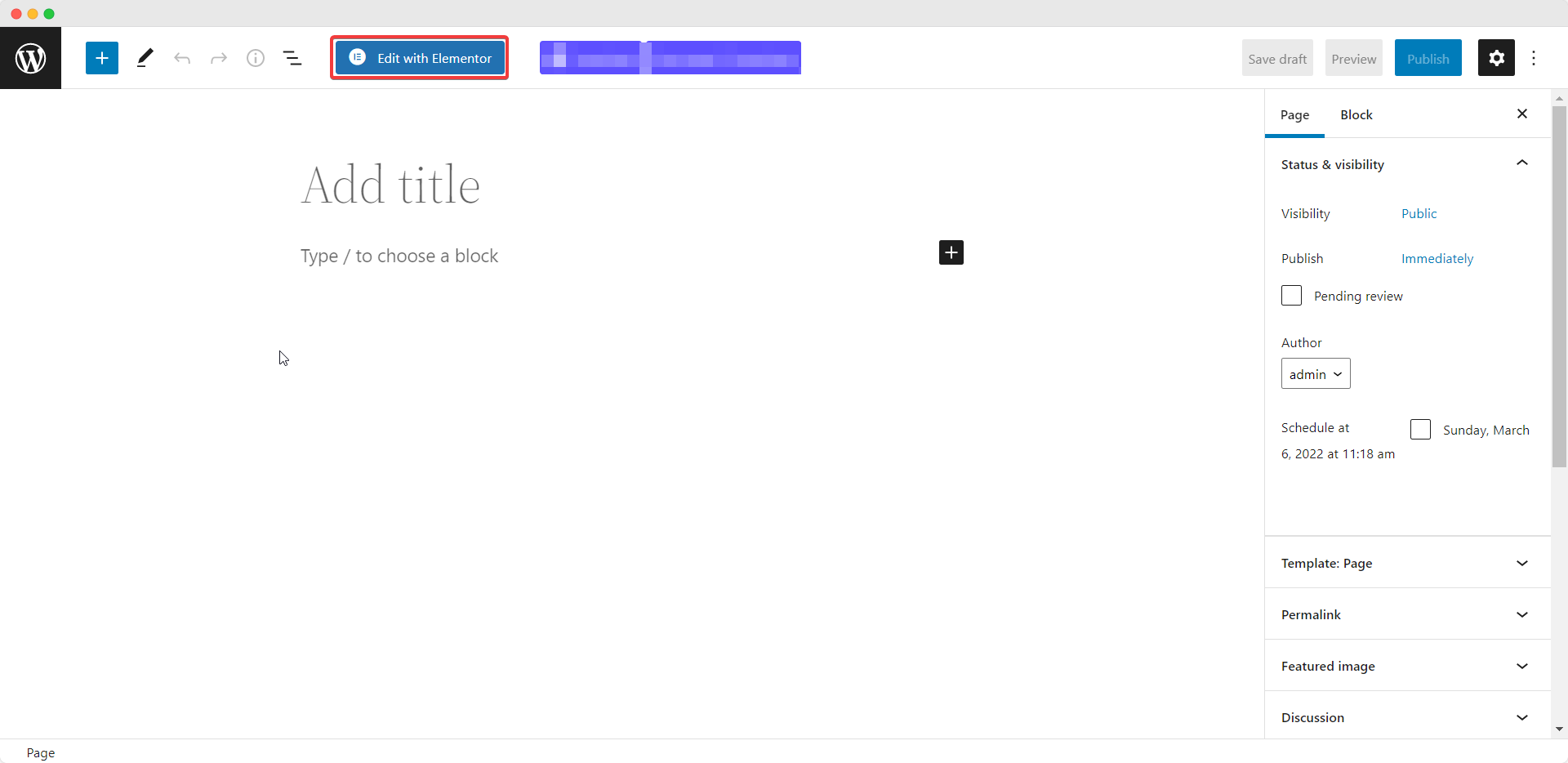 Step 2: Schedule Posts From Elementor #
Moreover, click on the 'SchedulePress Clock' icon from the bottom-left to schedule your post directly from Elementor. Instantly a popup will appear with essential fields like Publish On, Republish On, & Unpublish On.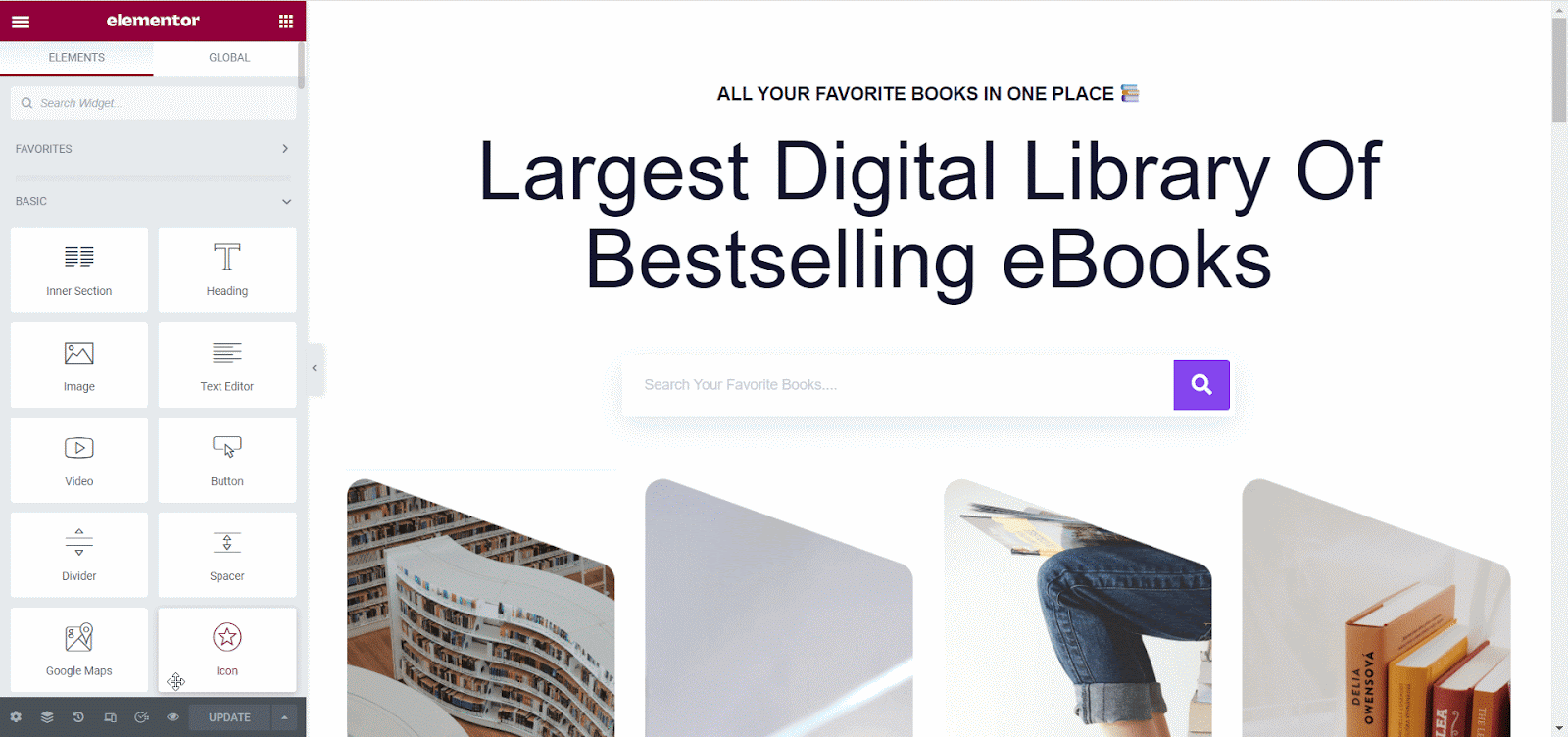 To schedule your post on a certain date, click on the Publish On field. Put the scheduled date from the popup calendar.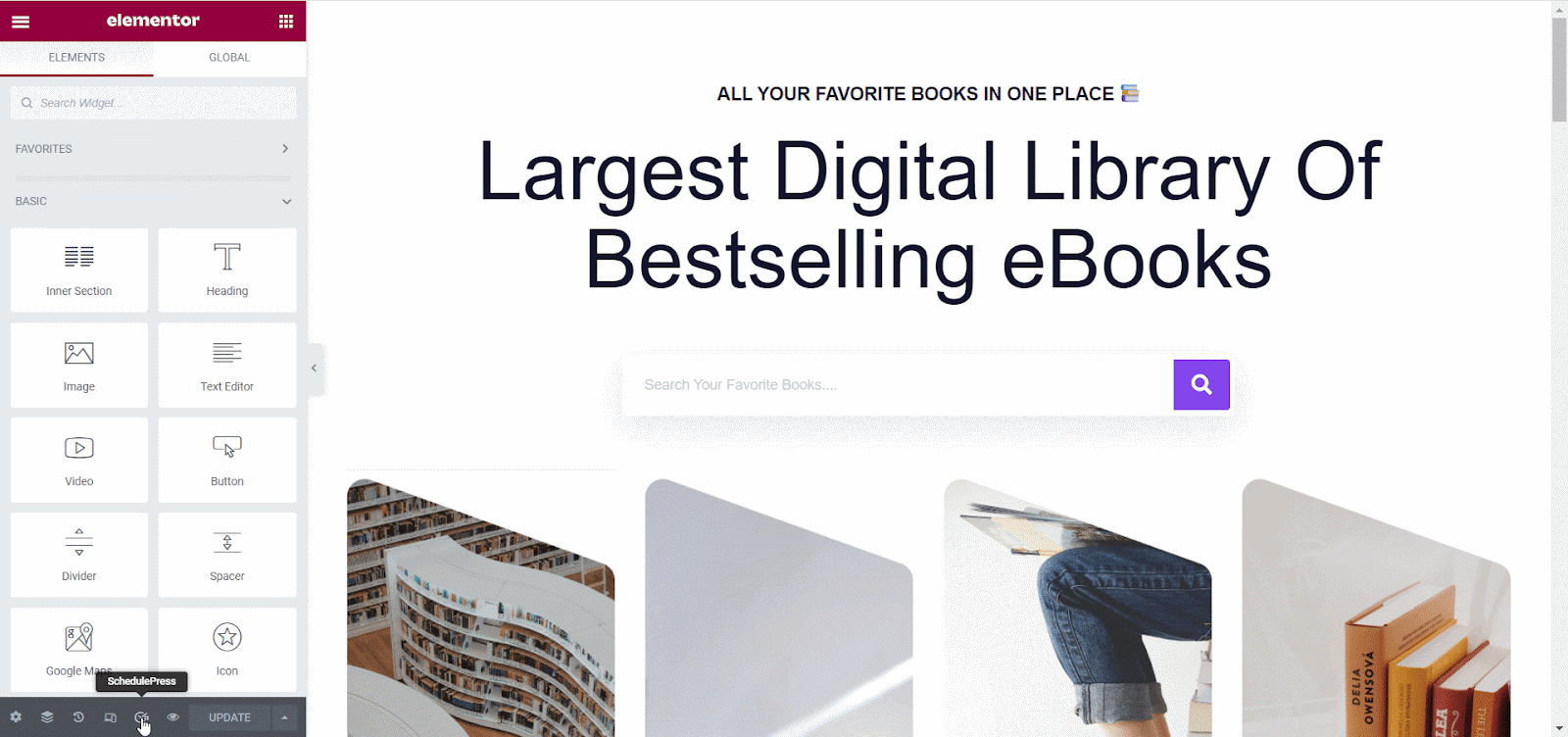 You can also set a preferred time to publish your scheduled posts. To do that, set the time from the popup calendar below section. Afterward, click on the 'Schedule' button to schedule the post. Your post will be successfully scheduled.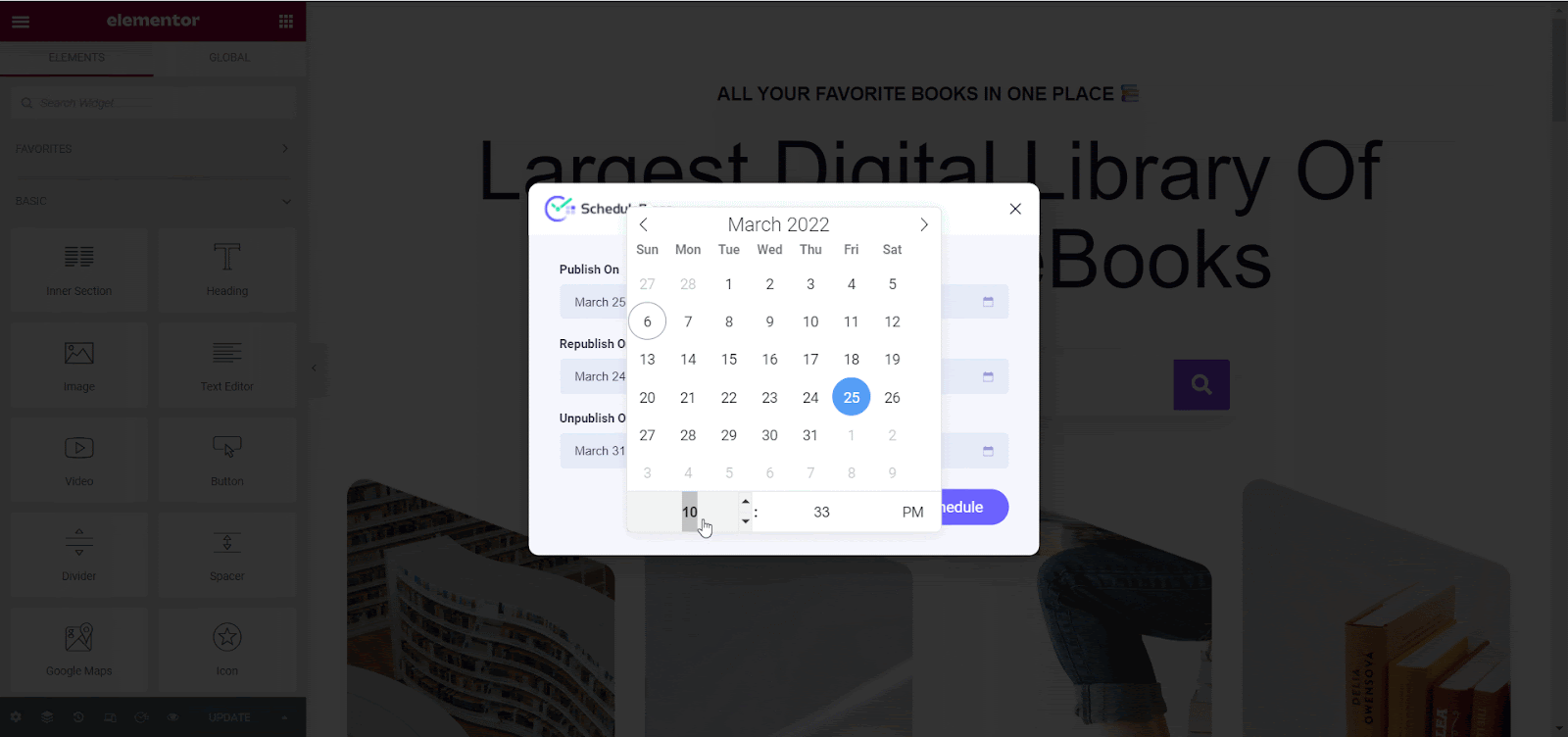 How To Publish Schedule Post Immediately? #
If you want to immediately publish any scheduled posts, then click on the 'SchedulePress Clock' icon from Elementor Editor. From the popup, click on the 'Publish Post Immediately' button and the post will be published instantly.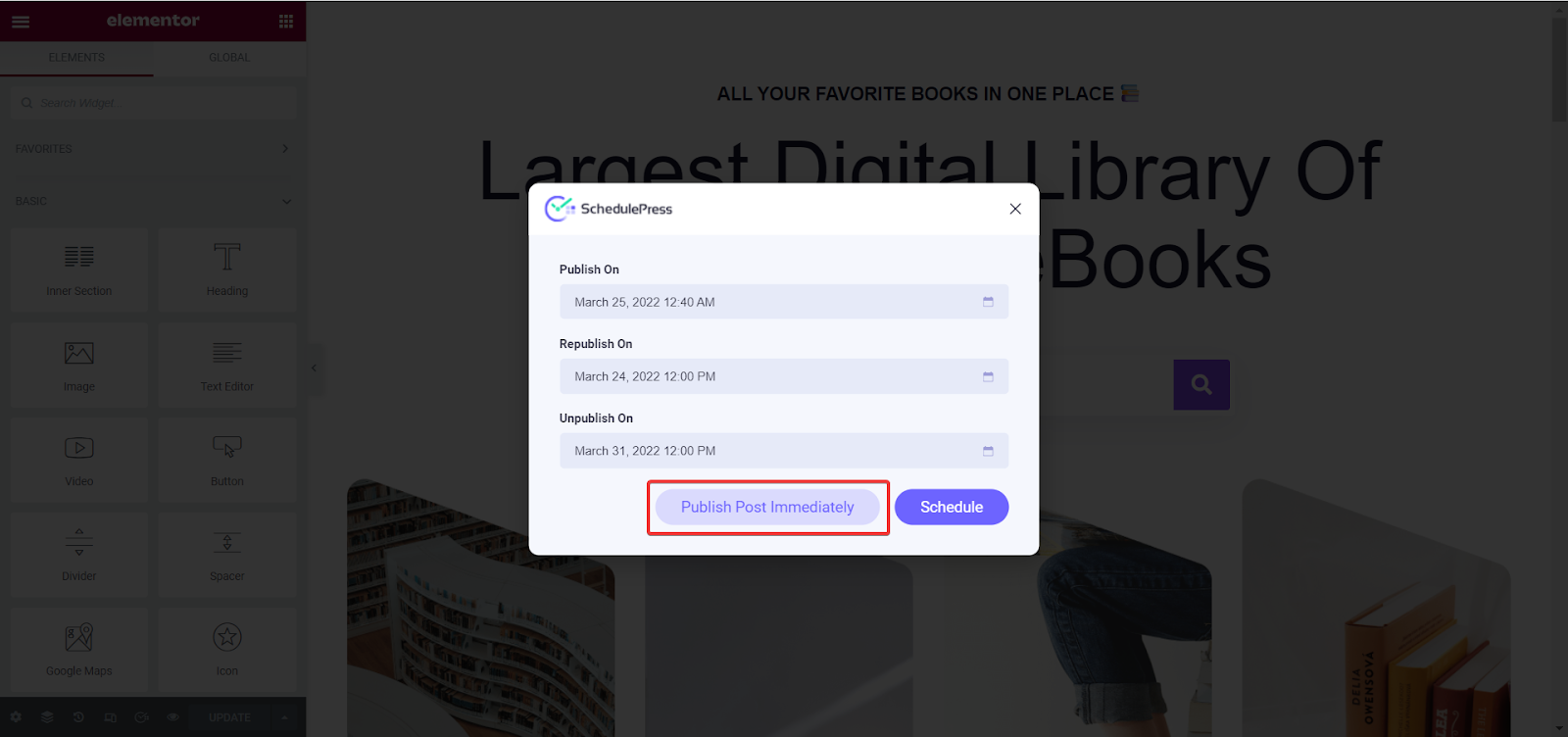 This is how you can easily schedule posts from Elementor with SchedulePress. Also, if you are interested in republishing or unpublishing your published posts directly from Elementor, then find out the guidelines here.
Got stuck? Don't worry. You can contact our support team here.