Are you enjoying your web designing experience on WordPress' default block editor, Gutenberg? The largest website templates library, Templately, is here to make your experience smoother, faster, and more fun. It brings you some of the most stunning Gutenberg templates to help you create high-converting, attention grabbing websites within minutes, with literally no need for any codes.

Templately Brings You The Top 10 Gutenberg Templates For Your Site
When we introduced Templately, our goal was to enhance the web designing experience for all WordPress users everywhere. And with time, to our biggest delight and outstanding achievement, the ultimate templates library brings you stunning new Gutenberg templates with a thousand new designs, content, and functionalities.
You'll undoubtedly find something that exactly meets your requirements, whether it's a template pack, a landing page, or even a webpage block. So, without further ado, here's a quick review of Templately's top 10 Gutenberg templates and packs.
🏆 AppMentor: A Landing Page Template Pack For Your Advanced Mobile App Solution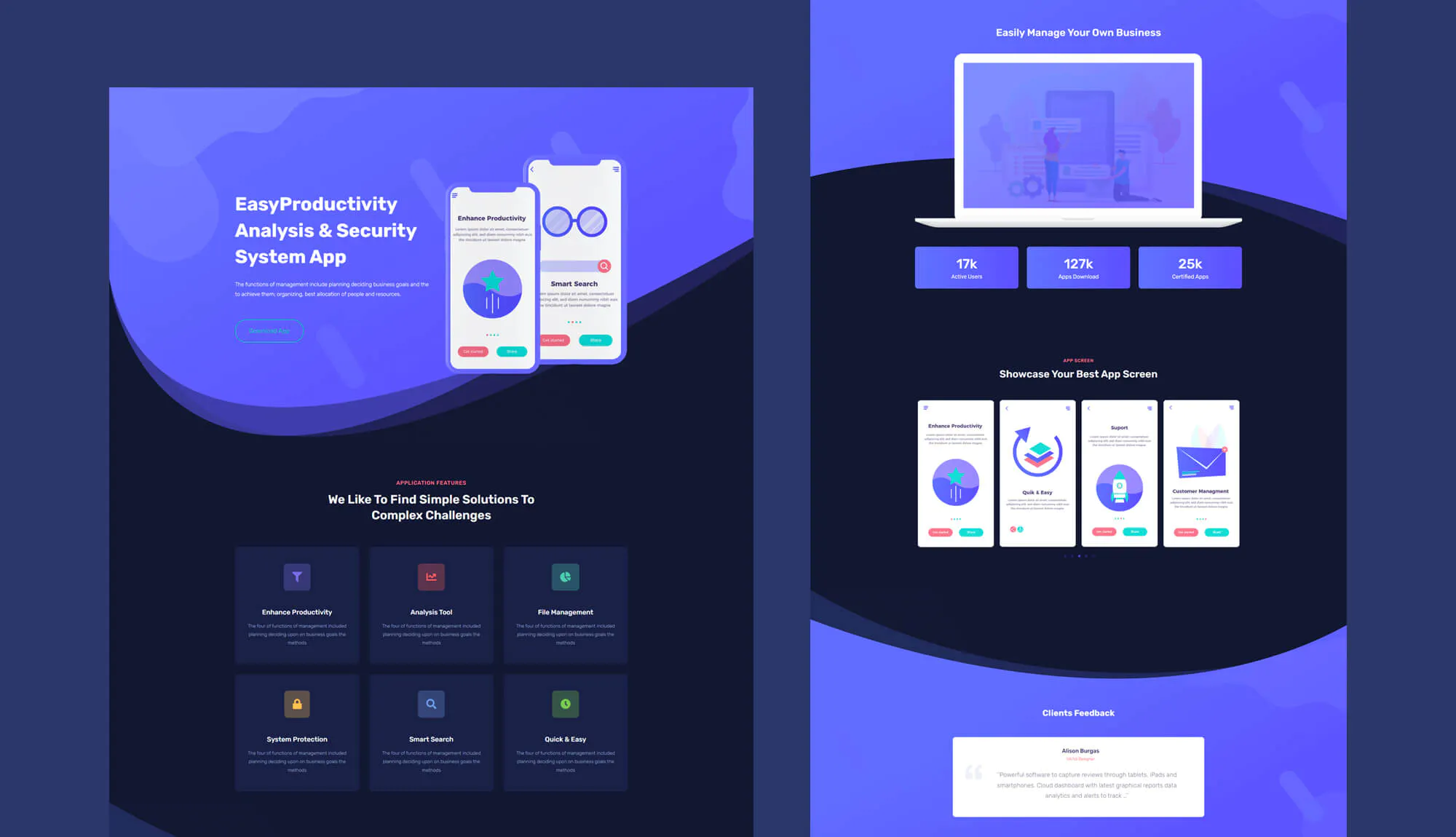 Is your startup business creates unique mobile app solutions? Then, you will be delighted to know that Templately brings you one complete Gutenberg template pack, 'AppMentor', to help you attract a mobile app website to promote your android, iOS, or desktop applications. 
This stunning, responsive app landing page is developed solely for Gutenberg block editor, complete with full customizability that helps you tune the templates to sync with your business brand and grab visitors' attention immediately. Moreover, it features 100% compatibility with Essential Blocks for Gutenberg, a WordPress plugin built to take your web building experience to higher heights of success on WordPress' default browser. 
With 4 sleek and modern landing page templates, AppMentor is one of the most popular Gutenberg template packs from Templately. You will not only be able to grab users' eyes instantly with the Home Page, but also display all the outstanding features your app offers while also providing customers an easy method to get in touch with you. 
🏆 NFTGallery: The Most Popular & Unique Template Pack For NFT Marketplace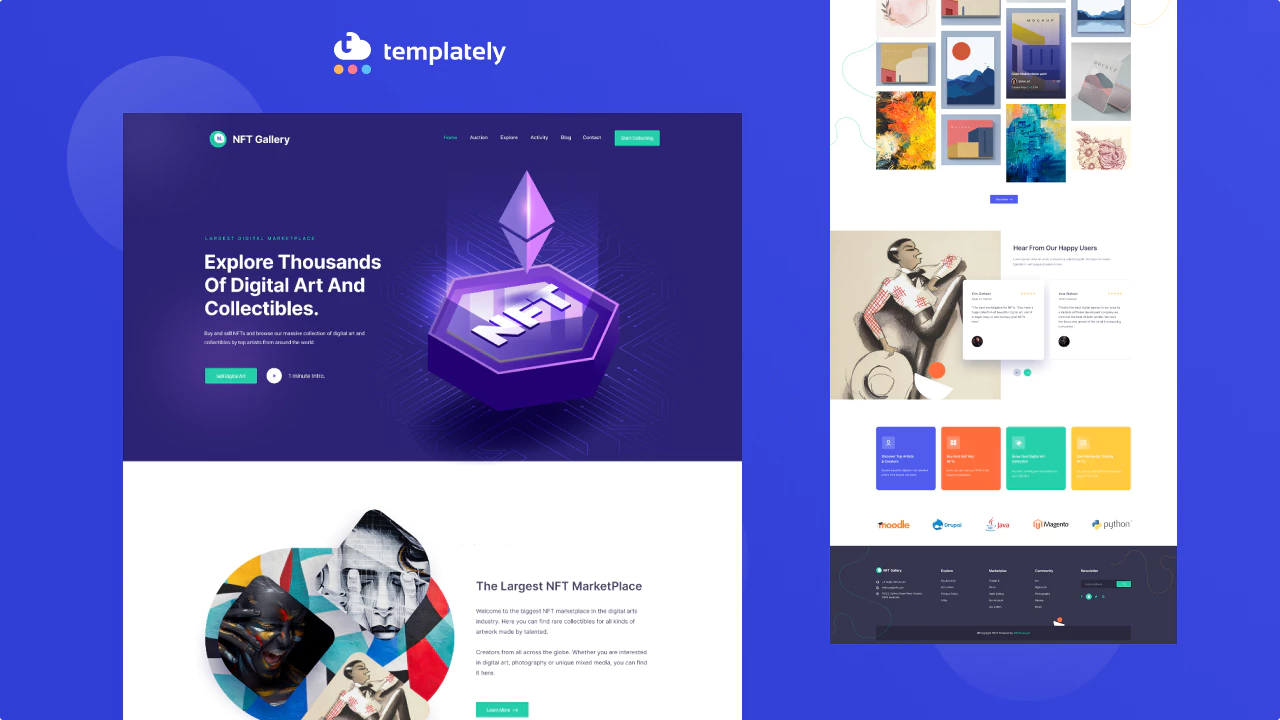 Kickstart your NFT marketplace using Gutenberg and set it apart from the rest of the industry using the most popular template pack, NFTGallery. It is perfect to create websites for NFT markets, blockchain websites, cryptocurrencies, and other related fields. The template pack is colorful and dynamic, and brings you interactive call-to-action buttons, animated testimonial carousels, informative infoboxes, and much more, to help you get started with a buzzing marketplace that converts in great numbers.
It is also mentionable that NFTGallery comes with 5 beautifully crafted landing pages that include Home Page, Activity Page, Browse Page, Category Page, and Details Page. And with this template too, Templately, brings you complete customizability that allows you to create a one-of-a-kind website.
🏆 Artesian: A Website Template Pack For Construction & Building Companies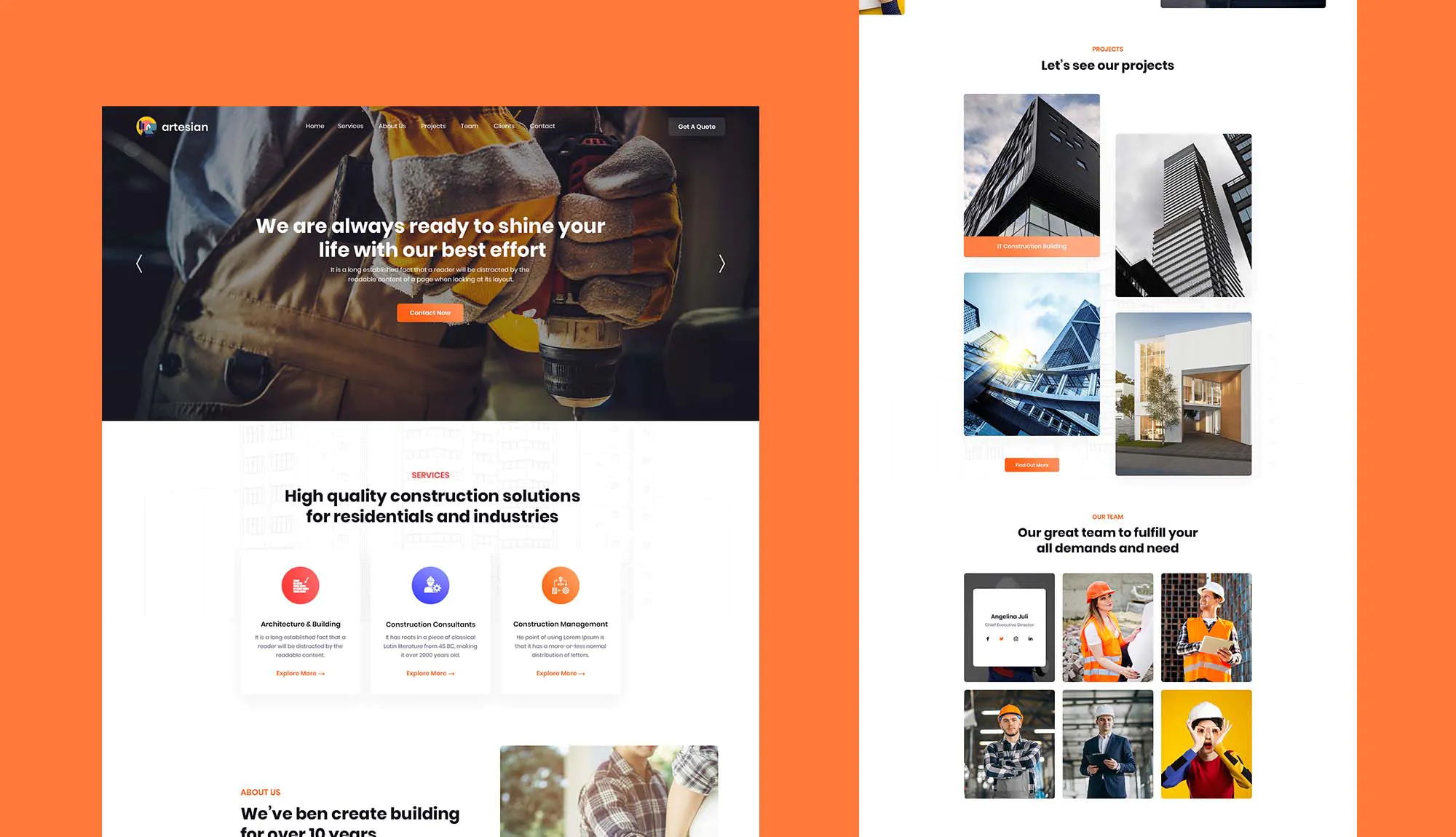 Templately also brings you a creative website template that is for the perfect solution to create your construction website on WordPress block editor. Introducing Artesian, is an attractive, modern, and versatile single landing page Gutenberg template designed specifically for construction companies, building renovation businesses, architecture organizations, interior decorating businesses or any kind of companies that offer building and construction-related services.
What makes it incredible? Designed with Gutenberg & Essential Blocks, it is a completely ready-to-use template that is responsive and loads quickly for the best user experience on any device. To top that too, Artesan is a completely free template that can help you build your entire website without touching a single line of code. And you can customize the content and colors based on your needs, or even add features to it from your favorite Gutenberg block editor. Within seconds the construction website will be ready to go and bring recognition to your company instantly.
🏆 BusinessCube: A Ready Business Consultancy Template To Grow Website Clients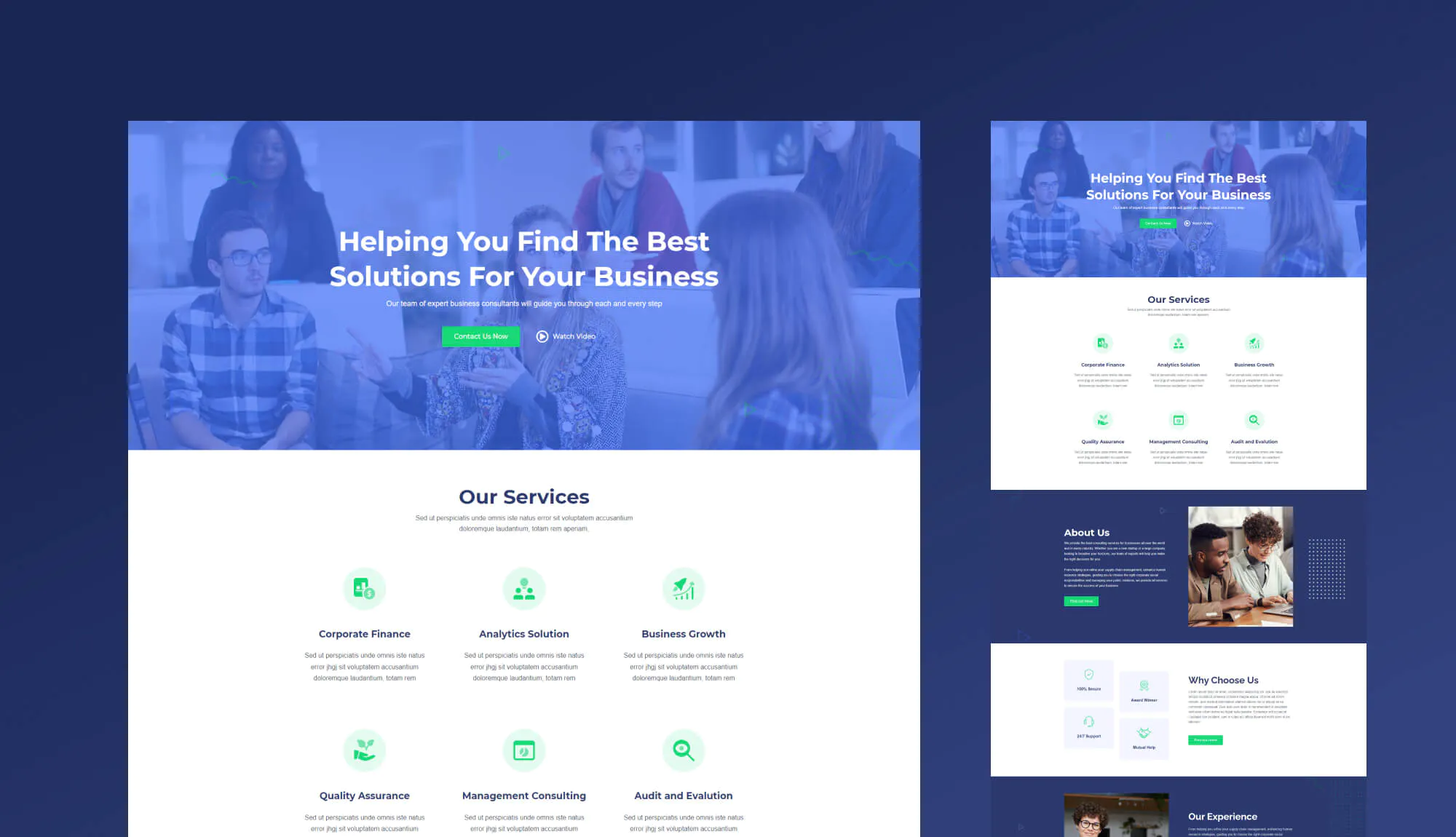 Next up on our list we would like to introduce a business consultancy website template, named BusinessCube, that can be perfect to grow your own business. With this sleek template that instantly catches everyone's eyes, you will be able to display all the services that your team offers, showcase your experiences in the field to add credibility and present your excellent team to the world.
However, the stunning Gutenberg templates for WordPress are built to be used for more than one purpose – it is not a concrete need that you must be working as a business consultant or business advisor to use this powerful template pack. BusinessCube has been designed to be also useful in creating websites for financial consultants, financial advisors, insurance companies, agencies, or anyone working in similar fields.
With the help of Gutenberg and Essential Blocks, you can customize the 7 attractive, ready landing page templates that come with this pack without any coding. So take a look at this Gutenberg template pack if you want a truly versatile template for your brand new website.
🏆 Holistic Wellness: A Colorful Pack Of Templates For Mental Healthcare Centers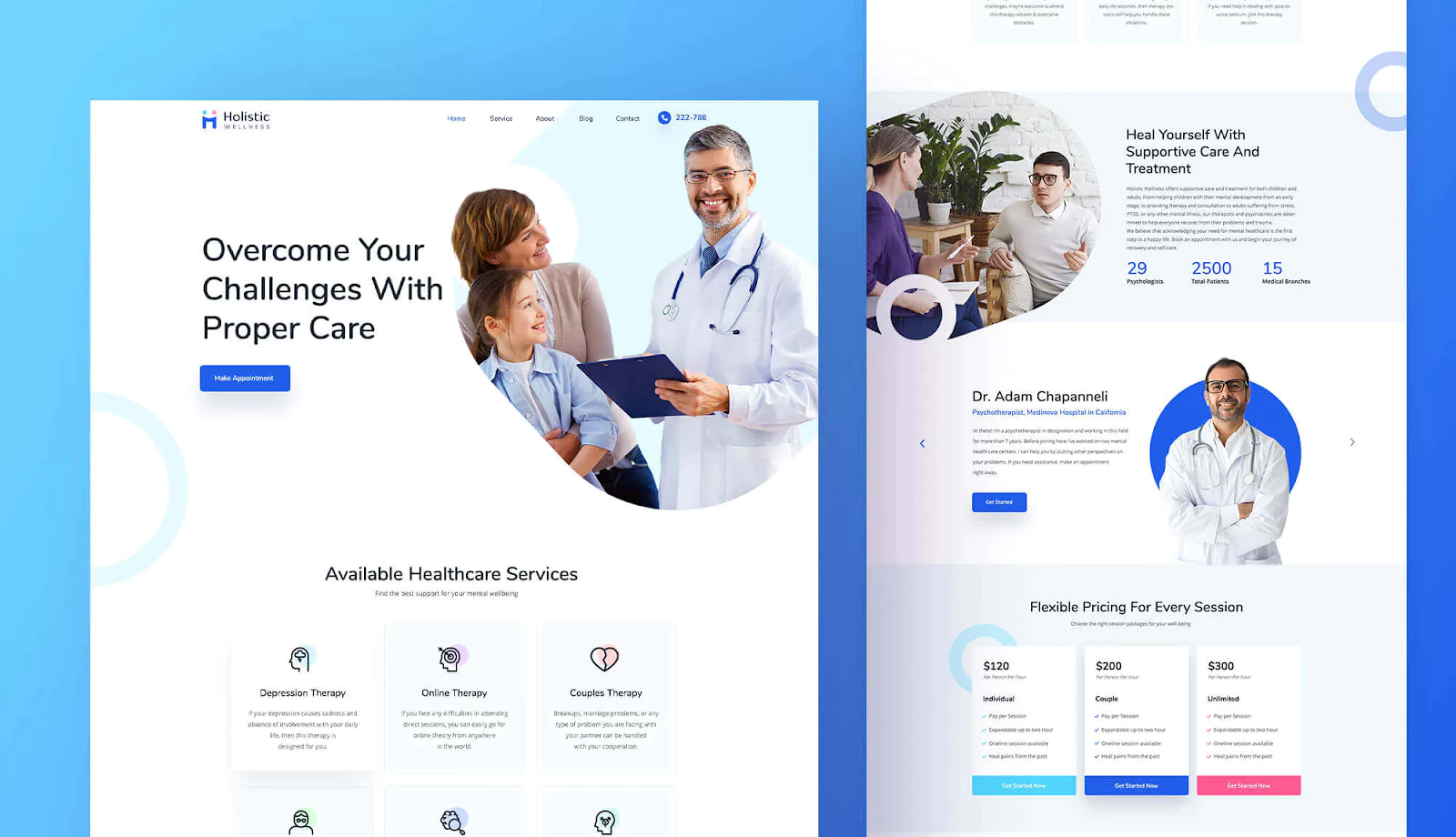 Holistic Wellness, is another highly popular template pack from Template for creating a visually appealing Gutenberg website in just a few minutes without writing a single line of code. It offers you 4 ready to use landing pages that you can use to instantly build a comprehensive website for mental healthcare hospital or a mental wellness center.
This template pack with its eye-soothing colors and many interactive features it is perfect for websites for counseling centers and institutes, mental healthcare services, psychiatrists, psychologists, psychotherapists, mental hospitals, consultants, and much more.
🏆 SEO Tab: A High-Converting Marketing Agency Template For Gutenberg Users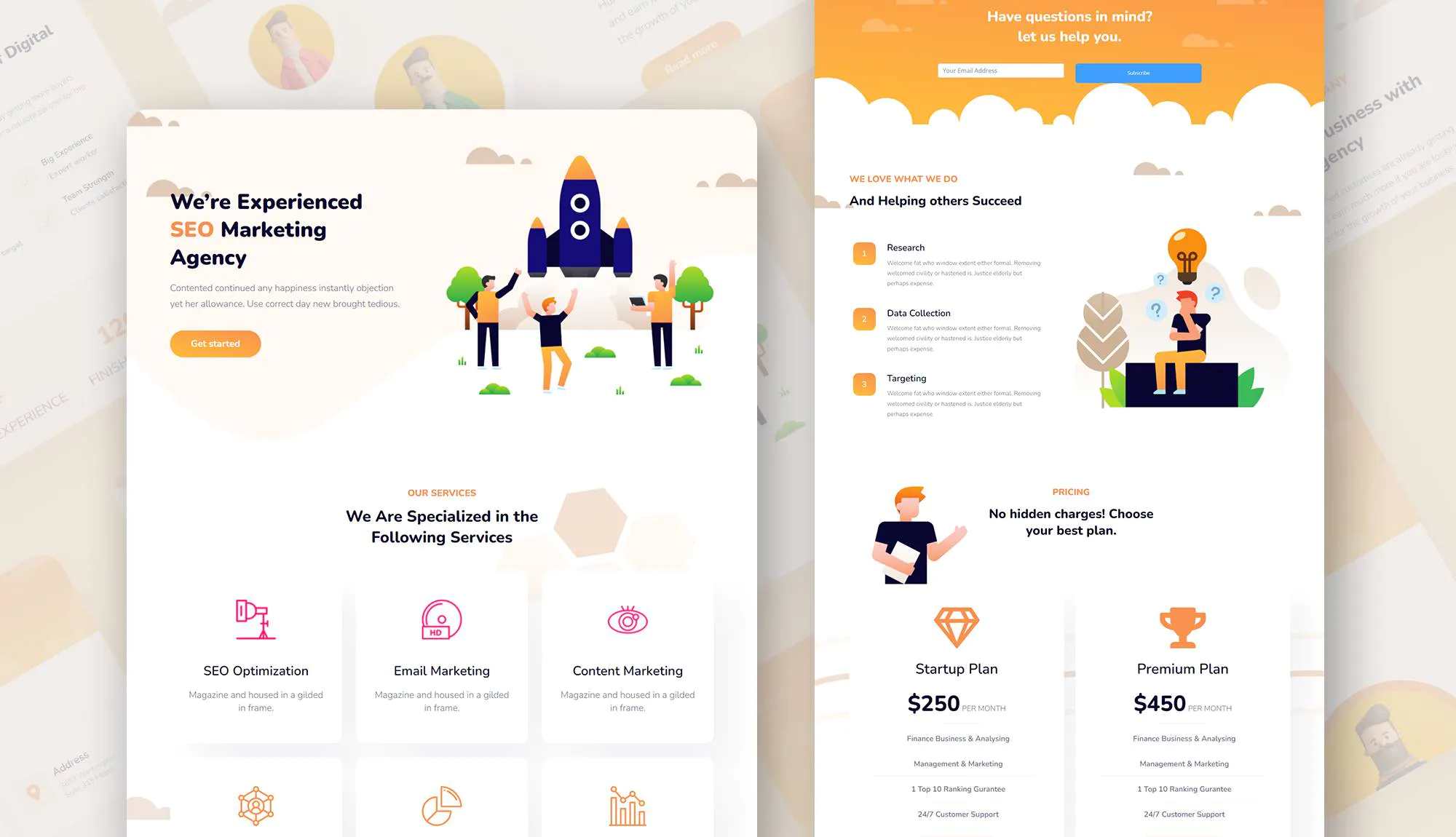 Next up on our list, we want to highlight a powerful, complete Gutenberg template for SEO Marketing Agencies, SEO Tab – that is one of the most popular templates among the 200,000+ users of Templately. SEO Tab is the perfect template for creating an excellent, high-converting website for any SEO agency, SEO marketing organization, digital marketing agencies, and other companies in related services. Similar to the template packs listed before, this template will make your company's website outstanding to explore without codes.
You will get all the essential pages and blocks with which you can effortlessly promote all kinds of search engine optimization agencies. And the best part is, to truly keep up with advanced technologies – this template have been crafted to be fully responsive and load instantly on any type of device that website visitors might be using. You will not only be able to ensure high traffic from all different platforms but really high conversion rates with all the engaging call-to-action buttons and dynamic designs it offers.
🏆 PhotoSpark: An Interactive Website Template For Photography Websites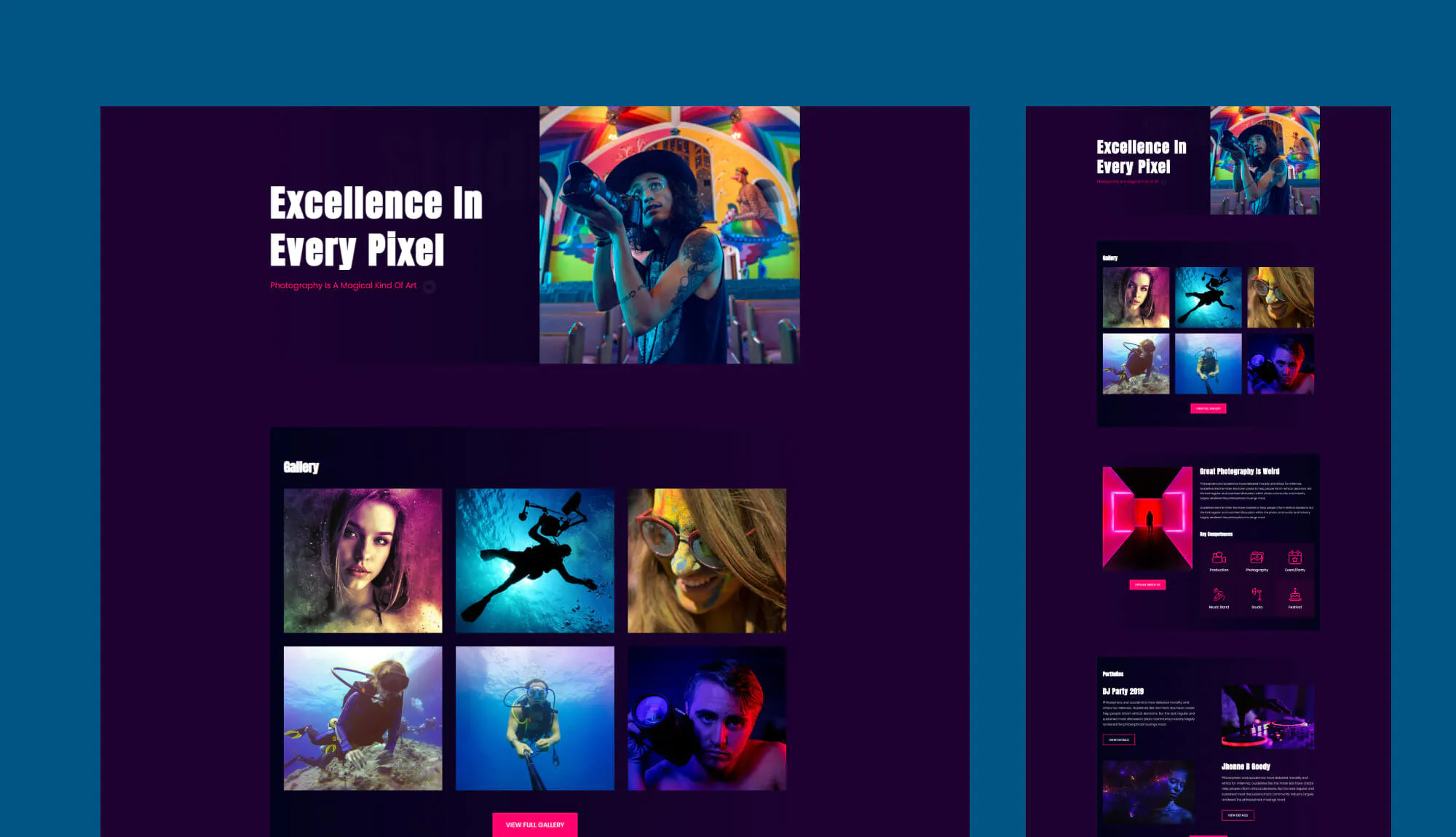 As you can already tell, Templately does not only focus on website templates meant for business and corporate organizations but also brings you a large variation of the best Gutenberg template packs for your WordPress website to help you grow your conversions. And one such stunning, interactive Gutenberg template pack is PhotoSpark. It's uniquely designed to create websites for photographers, photography studios, design agencies, videographers, video production studios, artists, bloggers, content creators or anyone working in the creative industry.
This modern website template pack is made with Gutenberg and Essential Blocks in a layout and color scheme that helps you highlight your photography skills to onlookers with absolute ease. Anyone visiting your website is sure to be mesmerized by your content, spread out over 5 ready to use page templates. Among them, the most notable landing page templates include Portfolio Page & Gallery Page.
🏆 Greenzone: A Unique & Soothing Gutenberg Template For Plant Stores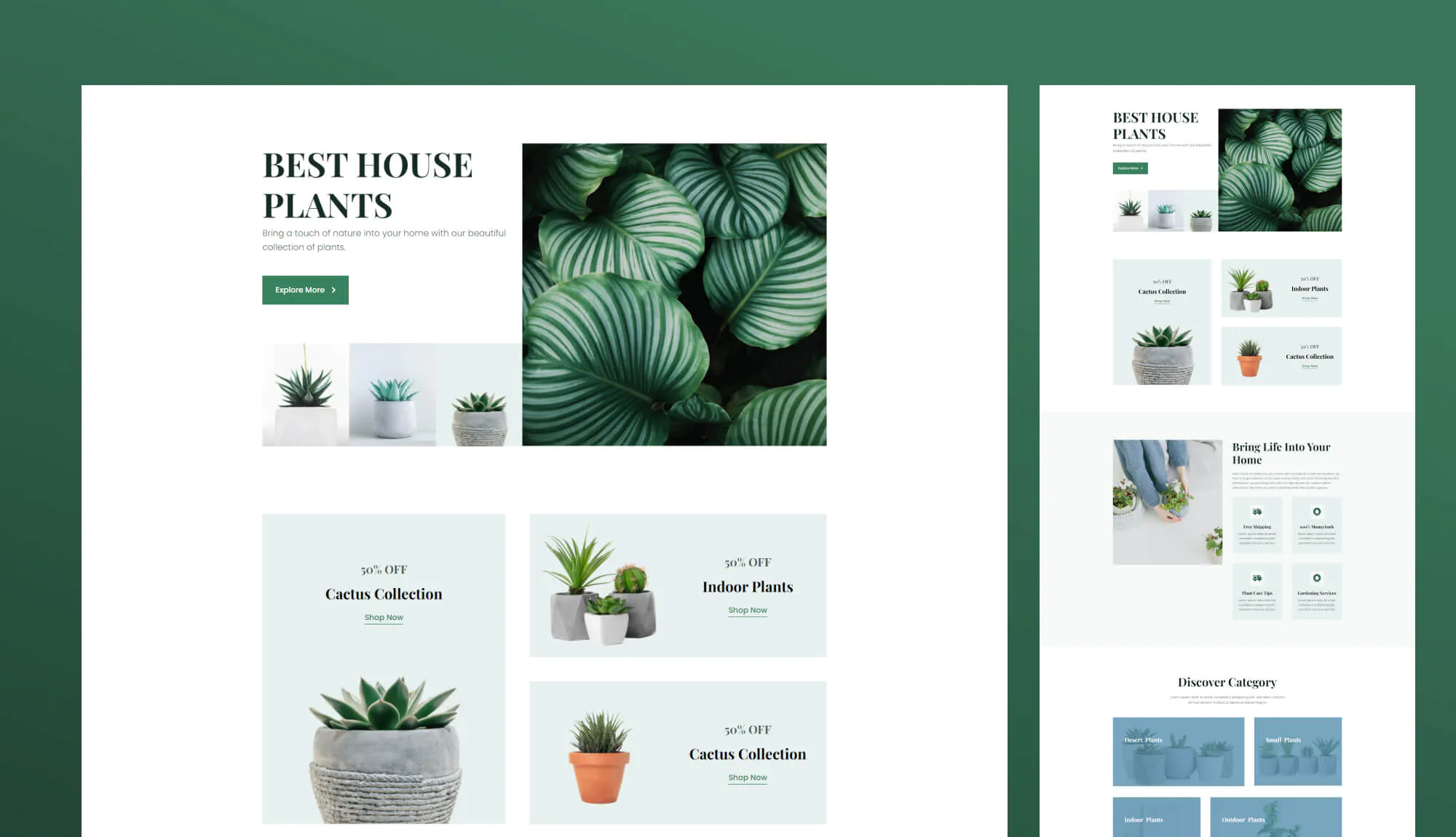 Keeping up with the uniqueness of the previous template pack, this time, we have Greenzone on our list – a Gutenberg template developed for one-of-a-kind plant store websites. Any nursery, plant shop or online plant retailer who creates their website with 3 ready templates and a soothing, green color palette of this pack is sure to notice a boost in their engagement rates, sales and conversions within the shortest possible time.
🏆 Wave Digital: A Template To Create A Highly Attractive SEO Agency Website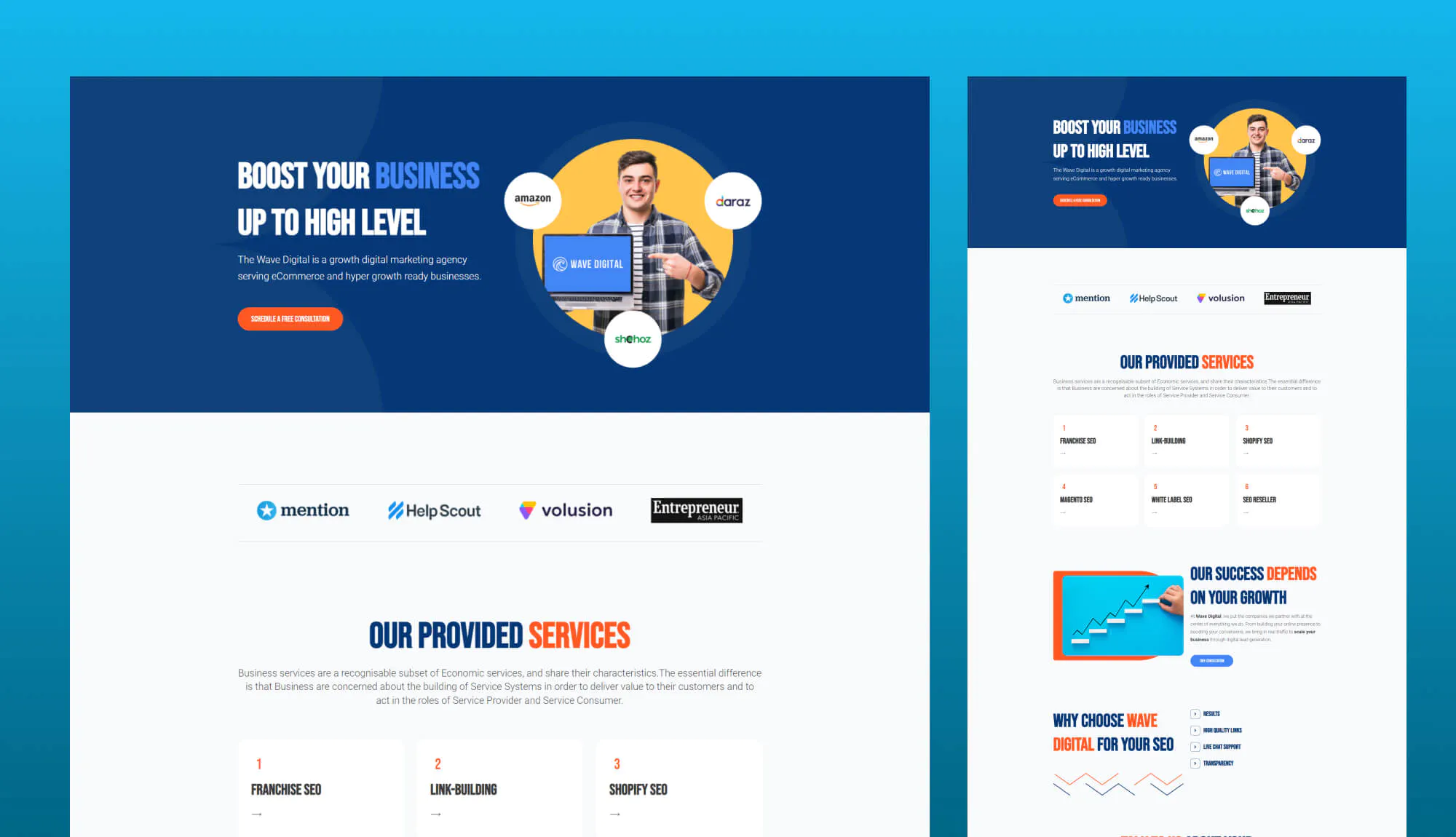 Jumping back to organizations and business website templates for Gutenberg websites, we have one that is build for SEO agencies. It is named 'Wave Digital', a highly polished, sleek, and powerful Gutenberg template that is sure to help business working in this field grab attention from interested clients and grow conversion rates with a wave.
Unlike most of the Gutenberg templates that we have mentioned in this listicle blog, Wave Digital is a single landing page template instead of being a pack. Regardless, it is perfect in every way for your SEO agency website because it brings you many sections where you can highlight your services, pricing, company history, and much more, just the way you need.
And of course, just like all the other Templately Gutenberg templates, the template is fully customizable with Gutenberg and Essential Blocks, making it super easy for you to modify and mold it to make your brand shine through the competition. It's also completely responsive and loads fast on all types of devices with ease.
🏆 Balance: A Minimalistic Health & Wellness Template For Gutenberg Block Editors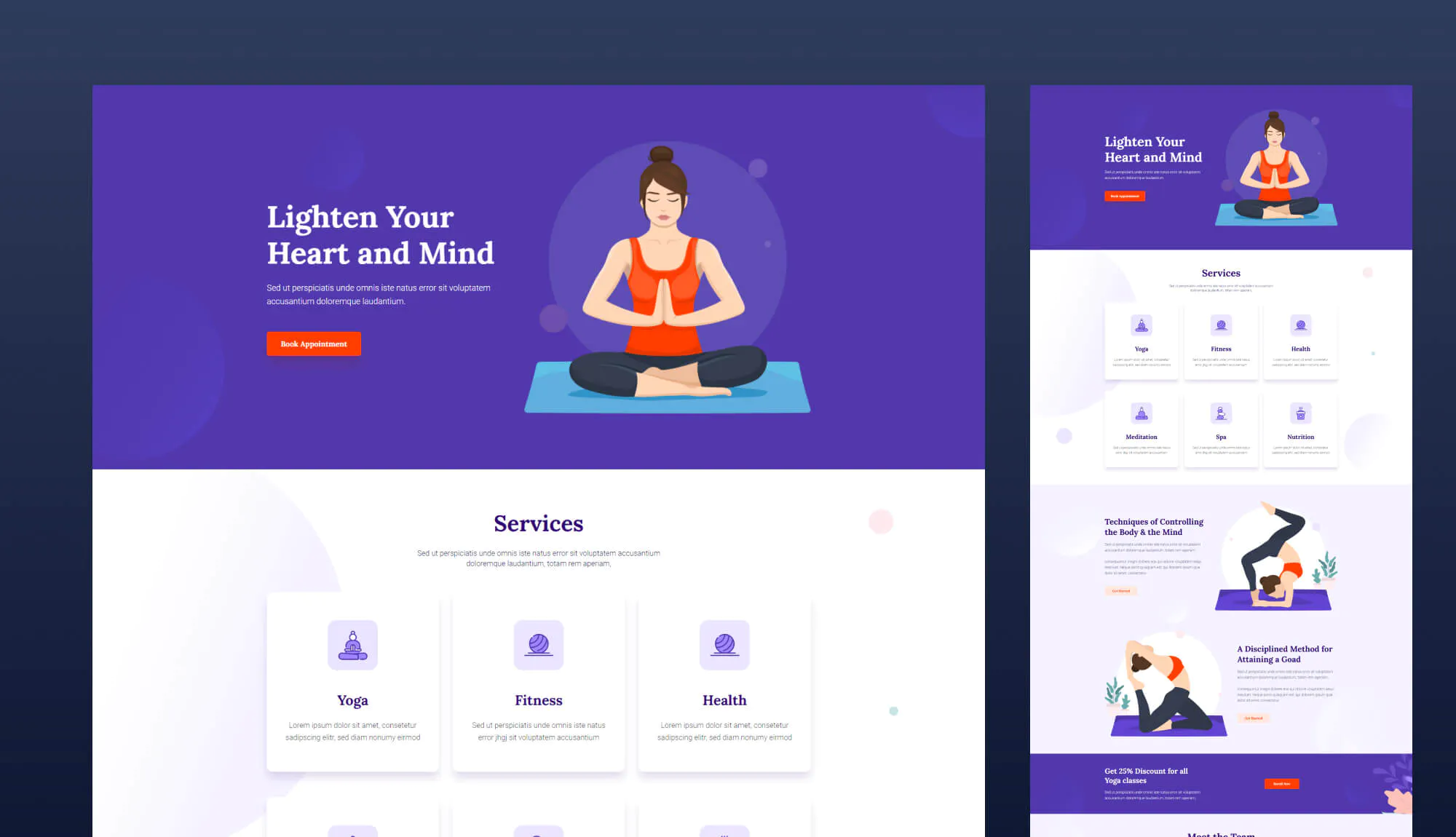 And finally, if you want to built a website from scratch, then 'Balance' by Templately is the best Gutenberg template for you. With a minimalistic outlook, Balance is s fully responsive, completely customizable, SEO friendly, handy, ready-to-use design to make a complete yoga website using its 7 outstanding pages and 5 blocks just in minutes. Balance also includes amazing pictures, elegantly designed Call To Action buttons, info boxes with hover animations, and much more to help you create attractive websites for yoga studios or other health and wellness businesses.
Join 200K Active Users & Grab Access To Best Gutenberg Templates
Finally, we've come to the end of our ultimate list of Templately's top 10 most beautiful Gutenberg templates. But, before we go, we'd want to share some exciting news with you: the ultimare templates library has already passed a MAJOR milestone in the year 2022 – we now have a community of 200K active users who are producing fantastic websites every day using unique template designs. Find out more about this remarkable achievement and a lot more from our blog here.
Sign up for Templately today and join our massive community of 200K users today if you haven't already and get access to tons of Gutenberg templates, and more coming in the near future. And to learn more about our monthly releases, subscribe to our blogs.
But do not forget that you are always welcome to share your suggestions with us anytime; just comment below.  Don't forget to subscribe to our blog or join our Facebook community for more new templates, updates, and fun tutorials.