To achieve your nonprofit organization's goals, creating a charity website is a great way to gain recognition for your cause. Unlike the big guys like the Red Cross or WHO, who can hire an entire team to create their charity websites, most local organizations lack the resources to do so. 
But it's not always necessary to have a giant budget to create an impressive nonprofit donation website in today's world. Today we will show you how it's done in 5 minutes with ready website templates.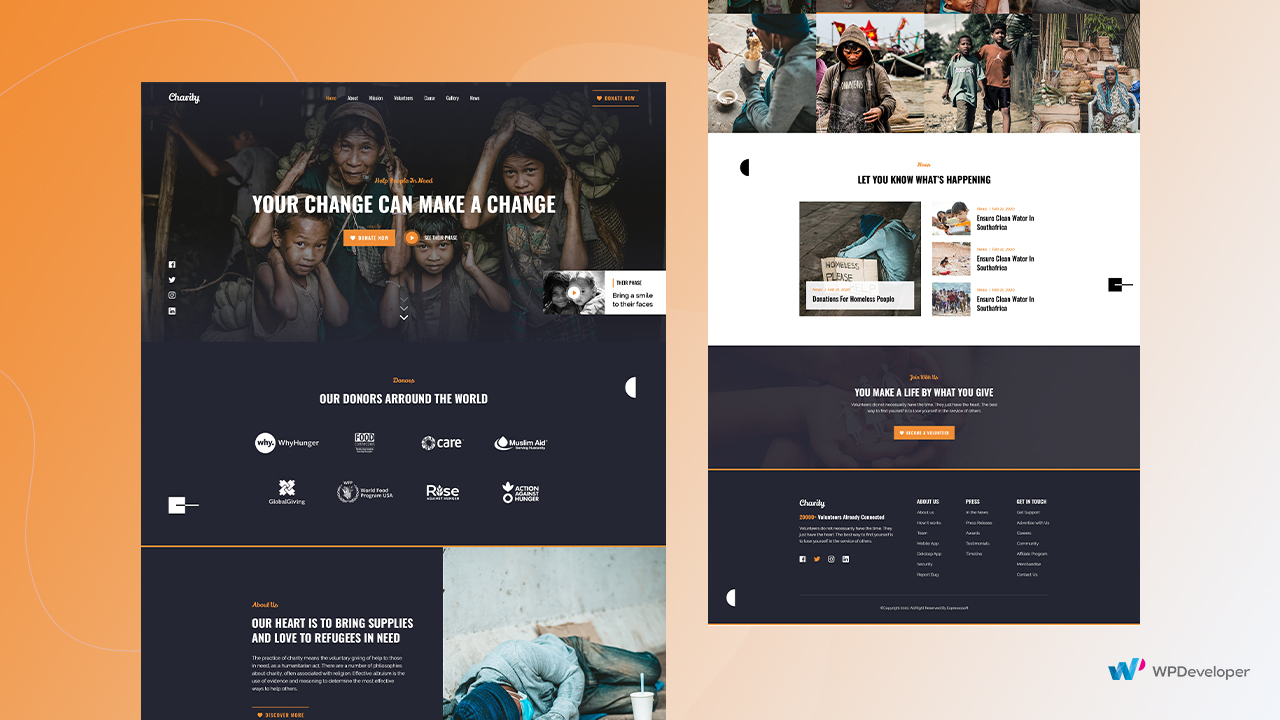 Why Should Your Nonprofit Organization Get A Charity Website?
Most of the local nonprofit charity organizations don't feel the urge to maintain charity websites. Some of the reasons for this are high budget, lack of technical knowledge, lack of manpower for maintenance, and so on.
But if your organization launches a charity website, you will reap immense benefits and find it easier to raise awareness, collect funds and make a better impact on your community.
Before jumping into our tutorial for creating a charity website, let's run through the advantages of having it in the first place.  
⭐ Charity Website Helps You Bring Your Story Upfront
You can effectively communicate essential information about your nonprofit organization through an excellent nonprofit donation website, which has many benefits for you. By using a website that is built using WordPress, you can tell your story more effectively. 
⭐ Expand Reach For Your Donation Campaigns
For local nonprofit organizations, it's quite challenging to reach out to localities for collections donations. An online charity works like a magic spell. You can use the nonprofit donation website to reach donors and contributors from all over the world. Therefore, it helps you to reach the donation goal more swiftly and efficiently. Also, you don't have to spend money on unproductive physical promotional materials like printing banners or putting up festoons.
⭐ Provide Seamless Donation Process For Contributors
When it comes to donations or other purposes, managing hard cash is always a hassle. If you offer online transaction services to the contributors, they will donate seamlessly and your fundraising will increase. A charity website can help you to manage online donations for your ongoing charity campaigns easily.
⭐ Manage Organizers & Fundraisers From One Place
A nonprofit organization is run by a variety of volunteers, collectors, fundraisers, etc. Most fundraisers also run charity campaigns under the organization. Keeping track of all members can be challenging with pen and paper. However, crowdfunding platforms and charity websites allow you to do so from one location.
What Makes WordPress The Ideal Platform For Nonprofit Donation Websites?
In order to create your charity website on a limited budget and with less technical expertise, you'll need a platform where you can build a website and maintain it easily. And considering these aspects, WordPress is the most popular website cheating platform in today's world. Let's take a look at why you should create a WordPress charity website.
⭐ Among all website-creating platforms, WordPress is the most user-friendly one. Without having any coding knowledge, you create your WordPress charity website all by yourself. 
⭐ As WordPress is an open-source platform, creating a charity website with it is totally free of cost. It will save a lot of money when you are on a limited budget. 
⭐ To support your donation, payment, or management-related functionalities, WordPress comes with 50,000+ plugins of various functions. Using these plugins, you can implement all the necessary functionalities of your donation site easily. 
⭐ WordPress is fully capable of supporting responsive layouts, but be sure to choose a theme that supports this feature. As 99% of themes released in the past few years are responsive, this should not be too difficult.
WordPress is so flexible and customizable that you can easily manage and maintain your nonprofit donation website without any hassle.
WordPress Charity Theme Vs Charity Template: Which One Should You Go For?
The three most important things you'll need to run a WordPress charity website are a hosting provider, domain name, and WordPress theme. Besides providing a default lightweight theme, WordPress also provides themes based on categories, such as charity themes.
Clearly, there are alternatives to charity themes, and they are WordPress charity templates. Let's discover which one of our charity themes or charity templates would be appropriate for your WordPress charity website.
Mentionable themes for WordPress charity websites are FT Charity NGO, Walker Charity, Rise Charity, and many more. But the problem with charity themes is that you can't use them for different category websites like business websites, portfolios, etc. Moreover, your extra functionalities of themes will make the site slow and will make it hard to rank on the search engines.
Instead of choosing category-based themes, you can go for a lightweight, responsive, simple WordPress theme that you can use in multipurpose ways. That will also save your money and time in managing it.
To make your WordPress charity website attractive and fully- functional at the same time, you can go for WordPress charity templates.
WordPress charity templates come with a stunning appearance and most importantly you can use them without coding. When you don't have basic knowledge about web designing, WordPress charity templates will take the responsibility to make your website outstanding. So as a beginner, WordPress charity templates are the best option to go for.
There are several template libraries in the WordPress repository that can assist you in creating outstanding nonprofit donation websites. Here we are mentioning the most popular WordPress charity templates down below.
1. TrustAid NonProfit Donation Website Template
To help the underprivileged in your community is to create a donation website in WordPress using the TrustAid WordPress template pack. So that you can raise funds for the underprivileged. In addition, you don't need to touch any code at all to do this. As TrustAid is a premade, ready-to-use template, you simply need to insert the code into your website to get started.
2. DoNation WordPress Charity Template For Websites
DoNation is a pre-made solution for creating a WordPress Charity Website during this pandemic and other times of need. This ready-made template by Templately enables you to publish your site immediately and to raise funds to serve your charitable work on a continuous basis. This free WordPress template pack comes with 9 ready pages to help you in creating a complete nonprofit donation website.
3. Hope – Charity Website Template For WordPress
Hope is an amazing WordPress charity template pack available in Templately template library. With this template pack, you can create a complete nonprofit donation website with a home page, about page, campaign page, gallery page, etc. Nonprofit and charity websites, nonprofit organizations, donations, and fundraising websites can benefit from this WordPress template pack. Hope template pack is fully responsive and cross-browser compatible.
Step-By-Step Guideline: How To Create A WordPress Charity Website
You are in the right place if you are looking for WordPress donation website guidelines with no coding! Here presenting the easy-to-follow guideline to create a WordPress donation website without coding.
Step 1: Establish A Space For Your Nonprofit Organization On the web
We must first climb a few technical hurdles before designing a WordPress charity website. They are, you'll need to set up a domain name, and hosting. The data for any website on the internet needs to be stored on a web host to which the visitors will connect to gain access. 
It is also necessary for your website to have a domain name in order for a web browser to locate it. This acts as a waypoint in the direction of the server the computer is looking for.
Your WordPress charity website name needs to be unique. You can easily look for available domain names in GoDaddy, Namecheap, etc. sites. Also, you need to get a user-friendly hosting provider to run your WordPress charity website smoothly. As the best-managed hosting provider, you can go for FlyWheel, BlueHost, etc.
Step 2: Adding Functionality With Plugins
As you are creating a nonprofit donation website with WordPress charity templates, you will need to install and activate essential WordPress plugins related to the templates. Here is the list of plugins you will need on your WordPress dashboard.
➡️ Elementor: Above mentioned WordPress charity templates are built with Elementor. So, you have to install and activate Elementor on your website. 
➡️ Templately: As templates are from the largest template library Templately, you must install and activate it on your site. To get stunning templates like Hope, you must get Templately Pro.
➡️ Essential Addons For Elementor: Essential Addons is the largest widget library for Elementor with 70+widgets and 1 Million+ active users. To add stunning functionalities to your site, install and activate this plugin too.
Step 3: Insert An Attractive WordPress Charity Template
Now time to create web pages for your WordPress donation website with charity templates. First, open a new page and give it a title from your WordPress dashboard. Then click on the 'Edit with Elementor' button to edit in Elementor editor.
In the middle of the page, you will find the blue 'Templately' icon. Click on it. It will directly take you to the Elementor template library. From there search for WordPress charity templates and pick a suitable one for your nonprofit donation website.
For the tutorial purpose, we are choosing Hope – WordPress Charity Website Template Pack. Select the homepage template from the library and insert it. After inserting, it will look like this.
Step 4: Personalize Your WordPress Charity Website Content
Templately Elementor templates come in such a way that you can use their ready content for your charity website as well. For branding purposes and giving a personalization touch, you can update images, logo, header, footer, etc. to do this, click on the section you want to customize. Then explore all the available options for customizations, and give your charity website an outstanding look.
Step 5: Save Your Customized Designs With Templately MyCloud
All your customized designs you can easily save with Templately MyCloud feature. With this feature, you can easily store template pages and sections and use them on other pages. It will save your time from recreating the same section again. To save sections in MyCloud, right-click on the section and select 'Save Blocks In Templately'. Your selected section will be saved instantly.
If you want to collaborate your saved designs with other teammates, then you can use Templately WorkSpace. It will allow you to collaborate with your teammates on cloud items instantly.  
🎉 Time To Launch Your Charity website!
Cross-check your website contents again. If you are happy with the final outlook, then click on the 'Publish' button from the left corner. Congratulations! Your WordPress charity website is live. Now create other essential pages and run online donation campaigns easily. Check out the final outlook of your WordPress charity website.
✨ 
Bonus: Manage Charity Campaigns Swiftly Using Crowdfundly
The more plugins you add to your WordPress charity website, the easier it will be to manage donations, fundraisers, and contributors from your website. Adding multiple plugins can be time-consuming, so Crowdfundly is the suitable plugin for managing all from one place.  
This stunning fundraising platform allows you to manage all donation-related activities all at once easily. Moreover, Crowdfundly is WordPress compatible. So you can easily integrate it to your WordPress charity website and manage it all from there.
Let's have a look at the stunning features of Crowdfundly fundraising platform: 
🔥 Get a pre-made career site without any coding. 
🔥 Collect contributions easily from the same place. 
🔥 Manage all contributions, wallets, escrow for fundraisers. 
🔥 Get an overview of every donation campaign's performances. 
🔥 Run campaigns from verified custom domains.
🔥 Integrate all popular payment methods. 
🔥 Run both reward-based and donation-based campaigns and many more. 
This is how easily you can create your WordPress charity websites instantly without any coding. It is not necessary to be a tech-savvy individual to build a website for your nonprofit organization if you use WordPress charity templates. In case of any questions, do not hesitate to contact Templately's support team. 
We would love to get your thoughts and opinions via comments or joining the Facebook community, where you can share all your inquiries and experiences with other template users. Don't forget to subscribe to our blog to get these kinds of easy tutorials, insights, blogs about managing charity websites.