Whether you're an experienced eCommerce business owner or just a beginner, having a reliable, secure payment gateway is essential for operating your business smoothly and ensuring the best possible customer experience. But how to set up a WordPress payment gateway for your website? This blog will provide you with a definitive guide on setting up a payment gateway for your WordPress websites.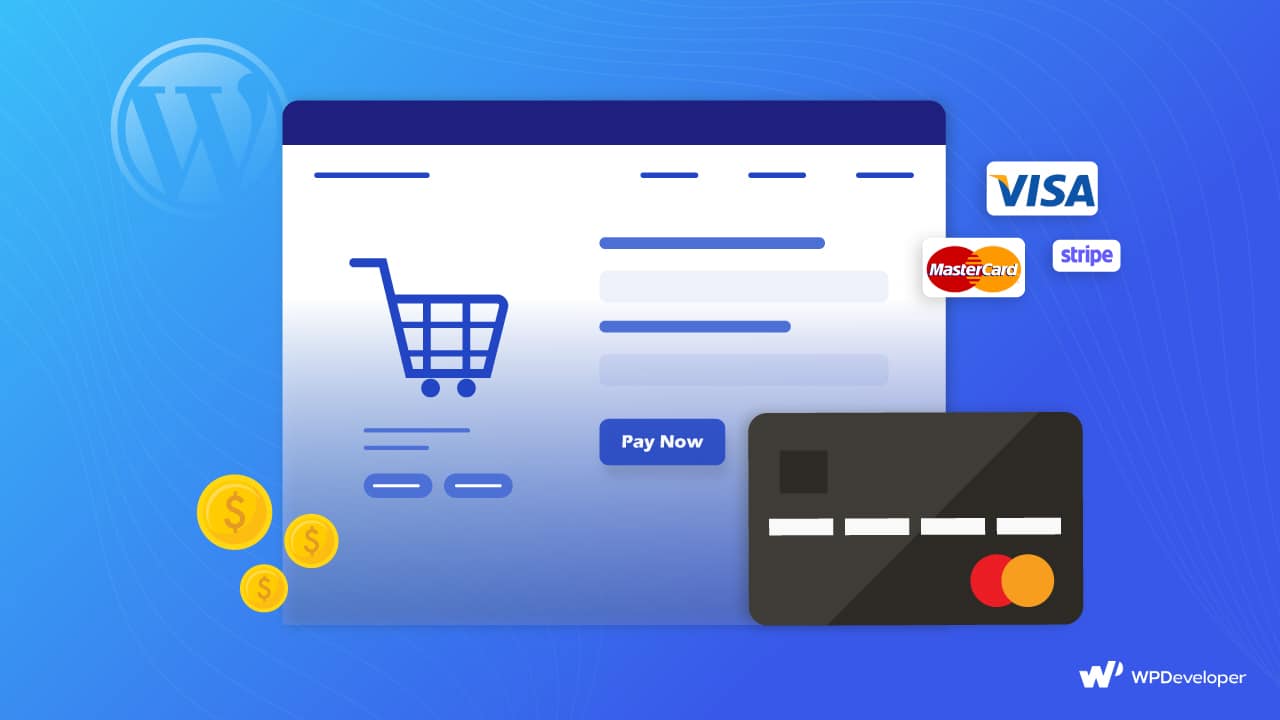 WordPress Payment Gateway: What It Is & How Does It Work?
An essential component of the eCommerce infrastructure that connects online businesses with their customers and determines whether the experiences were pleasurable or not is a payment gateway. But what is a WordPress payment gateway? A payment gateway is a third-party service that, on behalf of merchants, securely processes, validates, and approves or rejects credit card transactions using secure encryption on your website.
Let's look further into how it operates. Customers are asked to enter their payment information when they choose to buy a product or service from your website. The issuing bank or the payment processor receives this information via a secure payment gateway and verifies it. Money is sent from the customer's account to your company's account after the transaction has been approved. The customer's experience is frequently flawless during this process, which increases their overall pleasure with their purchase. And the process takes only a few seconds.
WordPress payment gateways are crucial for users who maintain a business website on WooCommerce. In the first place, it gives your consumers a safe and convenient way to pay, which is especially important in the age of the Internet, when fraud and other security risks abound. Customers will have more faith in your business and your brand as a whole if you use a secure payment gateway for WordPress.
Additionally, it helps business operations run more smoothly, enabling you to concentrate on other crucial issues like product development or marketing. There are several ways WordPress Payment Gateways help to manage invoices, process transactions, and keep track of related documents.
Managing Invoices: Many WordPress Payment Gateway plugins offer integrated invoicing systems. This means that when a customer completes a transaction, the plugin automatically generates an invoice that gets sent to the customer's email. This eliminates the need for manual invoice generation and distribution, saving significant time and reducing the risk of human error.
Processing Transactions Automatically: A Payment Gateway for WordPress is essentially an intermediary between the merchant's website and the payment processor. When a customer makes a purchase, the gateway securely transmits the customer's payment information (like a credit card number) to the payment processor. The processor communicates with the customer's bank to ensure that sufficient funds are available, then sends back a response—either approving or declining the transaction. The gateway then communicates this response back to the merchant's website. All of this is done automatically, in real-time, without requiring any manual intervention.
Keeping Track Of Related Documents: All the transactions processed by a WordPress Payment Gateway can be recorded and stored for future reference. This includes invoices, receipts, transaction records, refunds, etc. Many plugins offer a dashboard where you can easily view and manage all of these documents. This can simplify bookkeeping and tax preparation, as well as aid in troubleshooting and dispute resolution.
Security: A key function of a payment gateway is to encrypt sensitive information, ensuring that data like credit card numbers are securely transmitted during the transaction process. This helps to protect against fraud and data breaches.
A payment gateway for WordPress is essentially more than just an add-on; it's a crucial element that propels the expansion and success of your online business.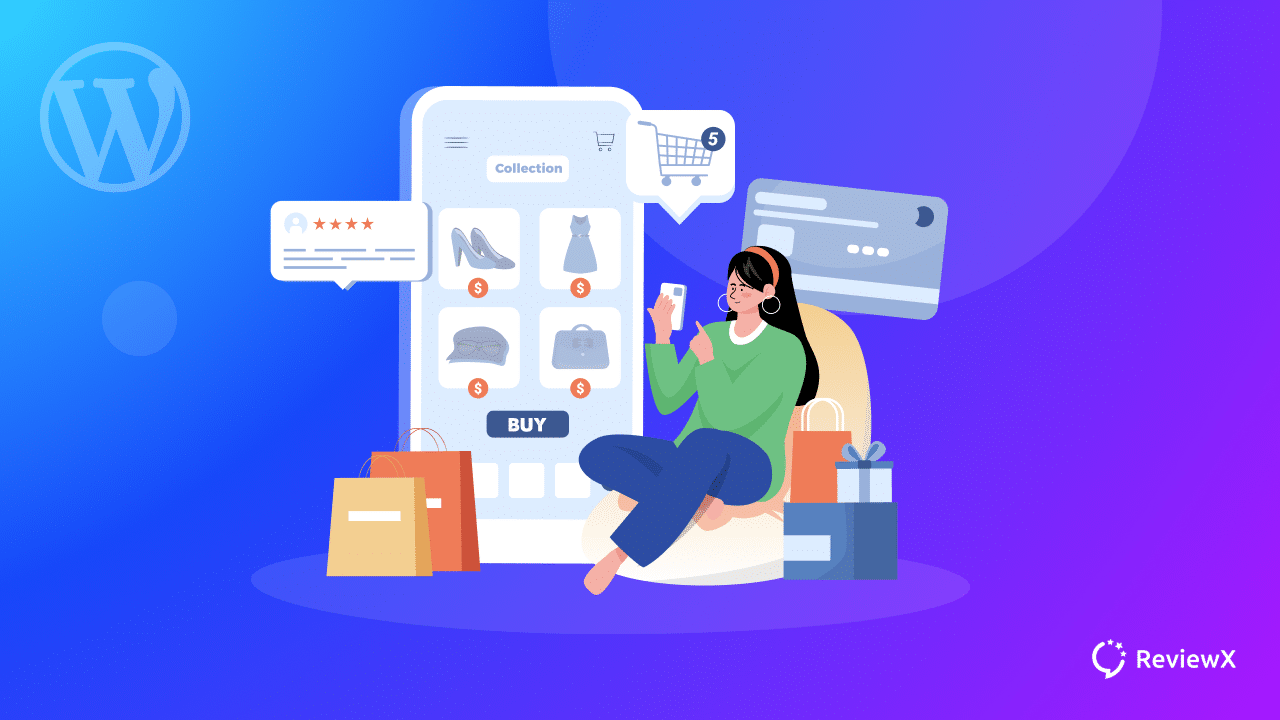 Selecting The Right WordPress Payment Gateway For Your Website
Choosing the right payment method can be like trying to find your way through a maze. So, what should you think about it? Let's talk about these important points.
First, there's the price. Payment platforms often have costs for setting them up, fees every month, and transaction fees. Compare the costs of these things on different sites and think about how they fit into your budget. It's important to find a mix between how much something costs and how well it works.
Next, think about the kinds of fees you'll accept. In today's global market, your payment gateway should be able to accept a wide range of payment methods, such as credit and debit cards, digital wallets, etc. Using the payment method that your customers prefer can improve their shopping experience and help you make more sales.
Security is not up for discussion. Make sure the WordPress payment gateway you choose meets the PCI-DSS standards and uses encryption to protect private data. A secure payment gateway is your first line of defense against cyber threats. It protects the image of your business and helps customers trust you.
Lastly, it's important that your website works with your eCommerce software. Whether you use WooCommerce, a special plugin, or custom code, the payment gateway you choose should work well with WordPress.
Remember that the right payment method should make things easier for you, make things better for your customers, and help your online business grow. Pick carefully!
Easy Steps Setting Up A WordPress Payment Gateway Using WooCommerce
WooCommerce is a powerful, free WordPress plugin made to help businesses of all kinds with their eCommerce needs. This powerful tool has a lot of great features, such as the ability to sell anything from physical products to digital downloads, a lot of ways to customize it, and, most importantly, the ability to work with many different payment gateways.
Let's go over the steps to set up and set up WordPress payment gateway with WooCommerce:
Step 1: Install WooCommerce Plugin
Navigate to your WordPress dashboard, click on 'Plugins', select 'Add New', and search for 'WooCommerce'. Click 'Install Now' and then 'Activate'.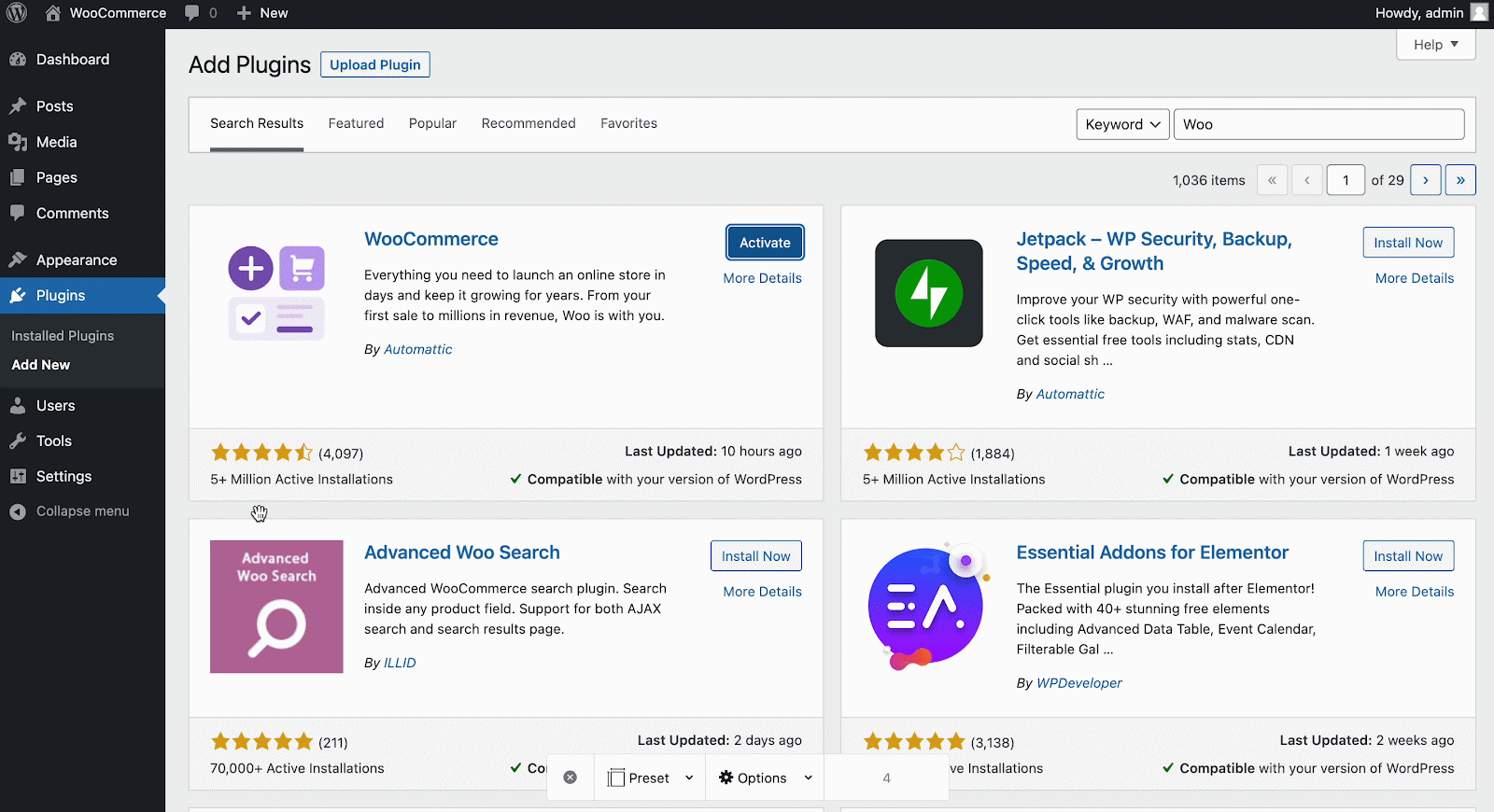 Step 2: Configure WooCommerce Setup Wizard
After activating, you'll be directed to the WooCommerce Setup Wizard. Here, you'll fill out essential details about your store, shipping, and tax information.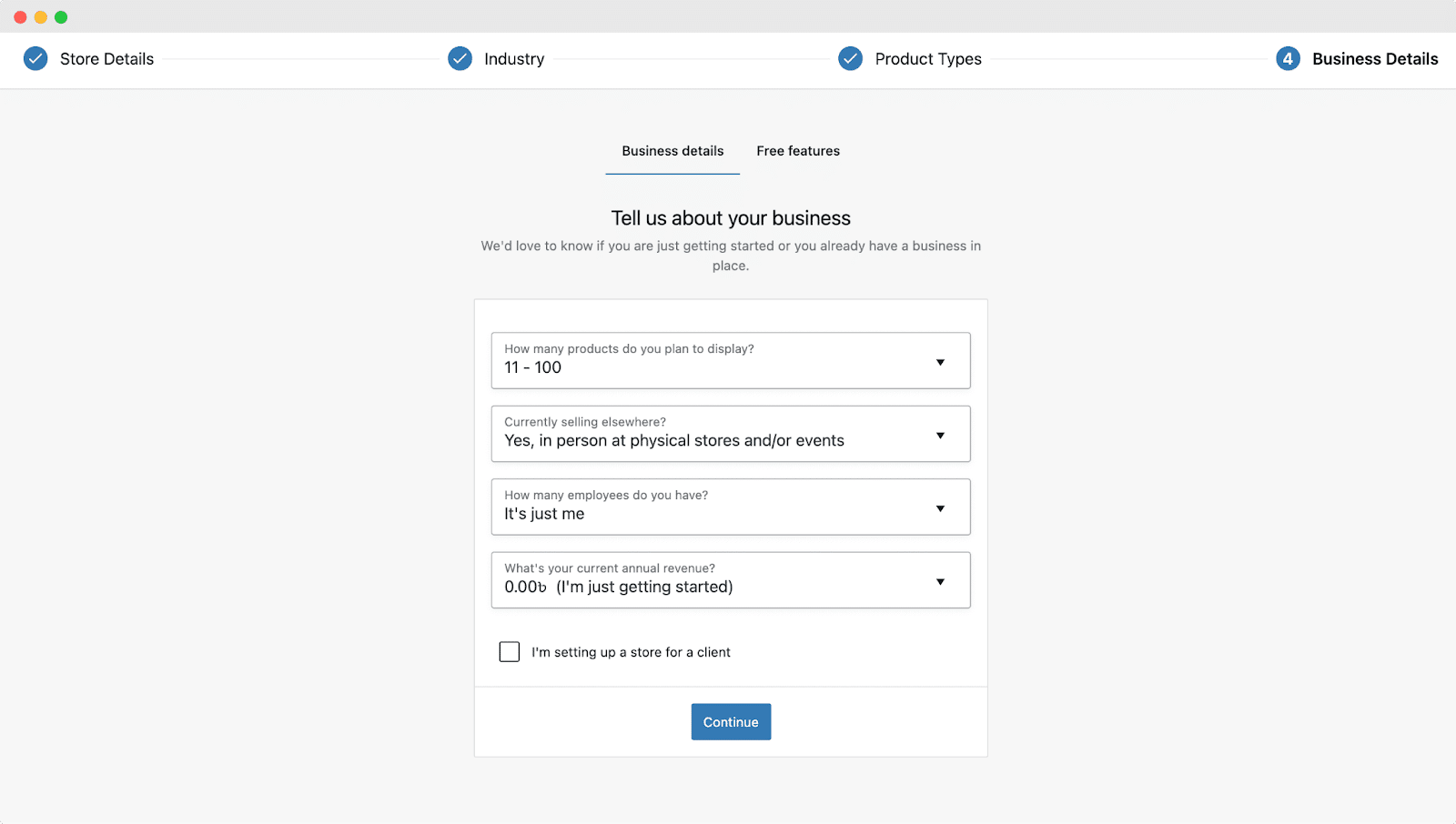 Step 3: Choose Payment Methods
In the setup wizard, you'll also choose your desired payment methods. WooCommerce supports a variety of gateways like PayPal, Stripe, and more.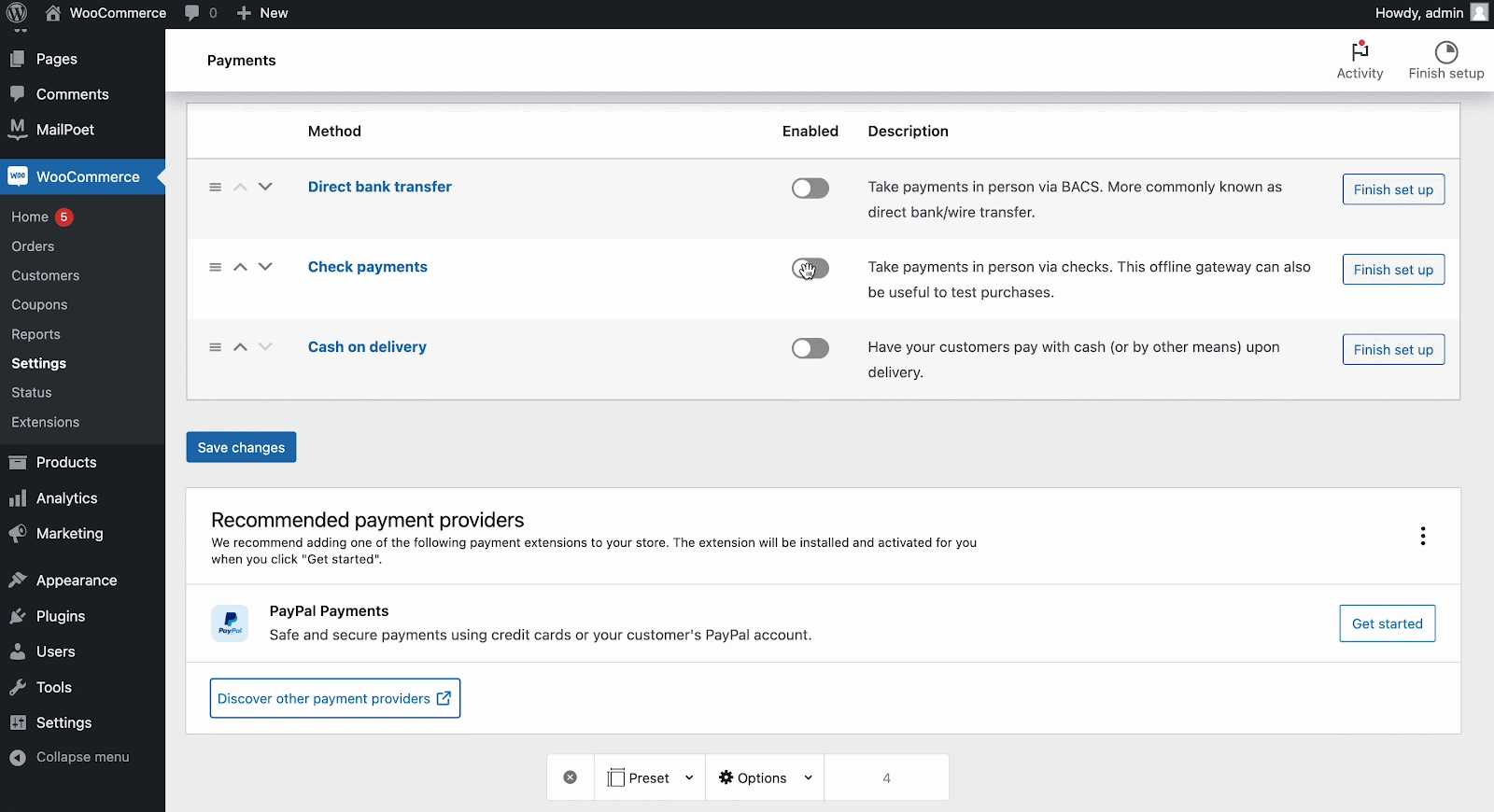 Now it's time to set up the payment gateway for WordPress. To integrate a specific payment gateway with WooCommerce, follow this process:
Step 1: Install The Gateway Plugin
For instance, to add Stripe, search for 'Stripe' in the 'Add New' plugins. Install and activate the 'WooCommerce Stripe Payment Gateway' plugin.
Step 2: Configure the Settings
Navigate to 'WooCommerce' > 'Settings' > 'Payments'. Here, you'll see your installed gateways. Toggle the Stripe button to activate it. Click on 'Enter Account Keys' next to enter your API credentials and configure the settings.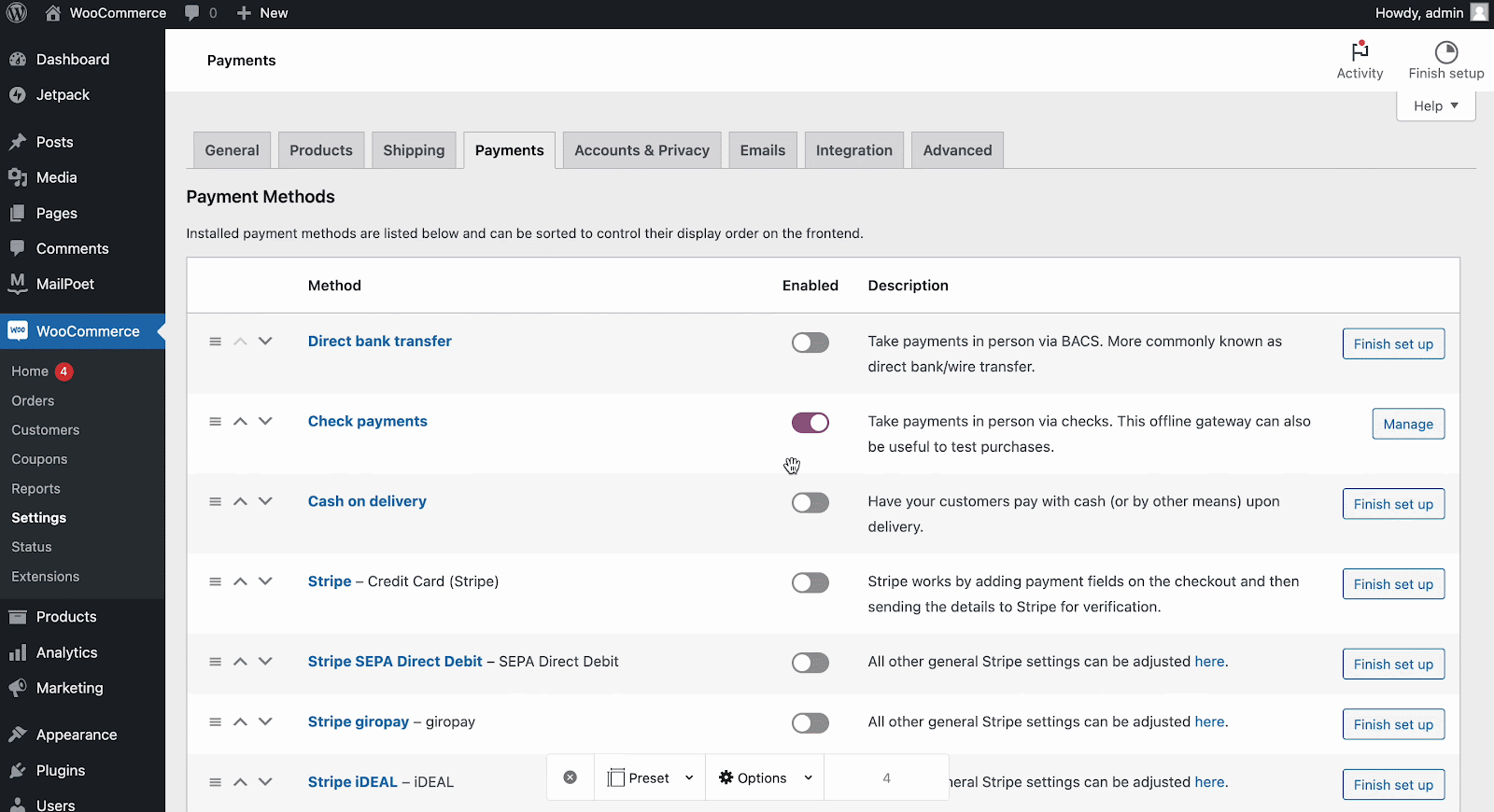 Now add your Stripe Publishable and Secret Keys and click on the 'Save Live Keys' button and Stripe payment is now set up.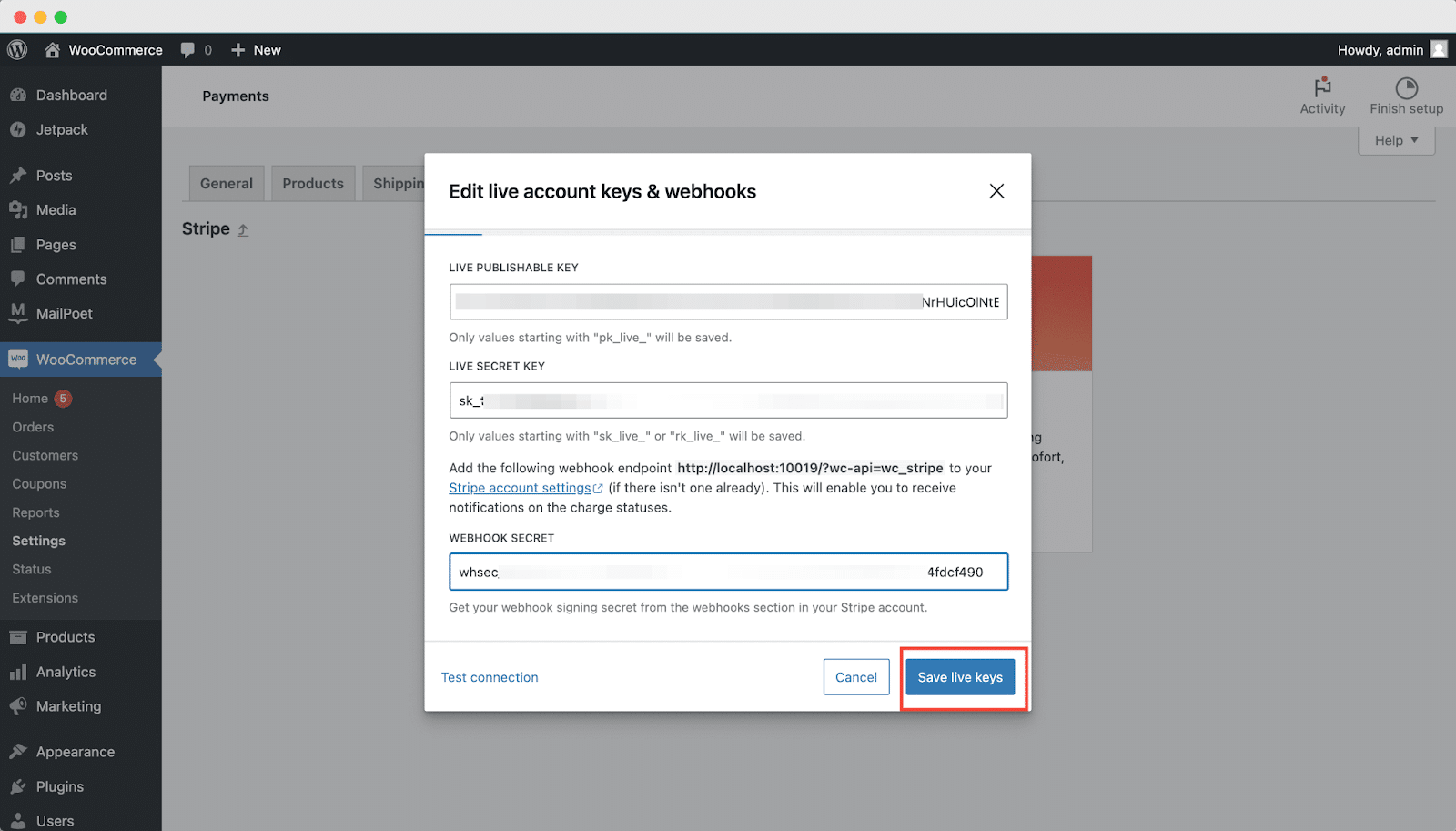 Step 3: Enable the Gateway
Make sure the 'Enable' box is checked for your payment gateway. Save your changes.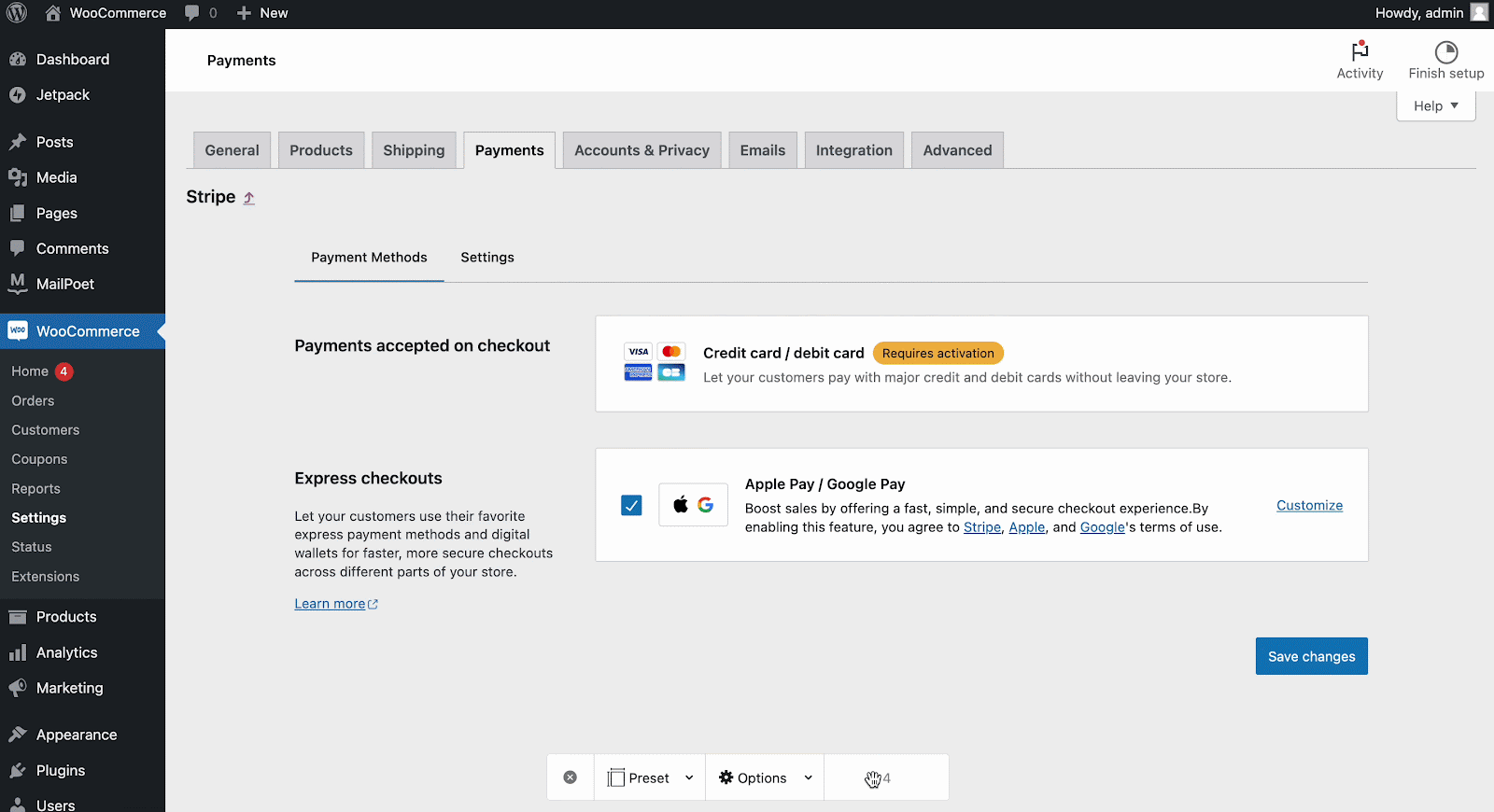 Your WooCommerce store is now ready to accept payments via your chosen gateway. This easy-to-navigate method allows you to offer a secure and efficient payment system to your customers, contributing significantly to a seamless shopping experience. Thus, you can set up a WordPress payment gateway easily.
Was this blog helpful for you? Share your thoughts and subscribe to our blogs for more useful blogs like this. Also, join our Facebook community to connect with other enthusiasts.