In this technology-driven world, there has been an exponential rise in NFTs (non-fungible tokens), opening up new doors for designers, collectors, and artists to exchange digital goods and artworks. Now, you can also create a marketplace on WordPress with stunning NFT website templates. You can even add attractive galleries and pricing tables and customize the way you need in Gutenberg. Want to learn how? Dive right in to learn more from this complete blog.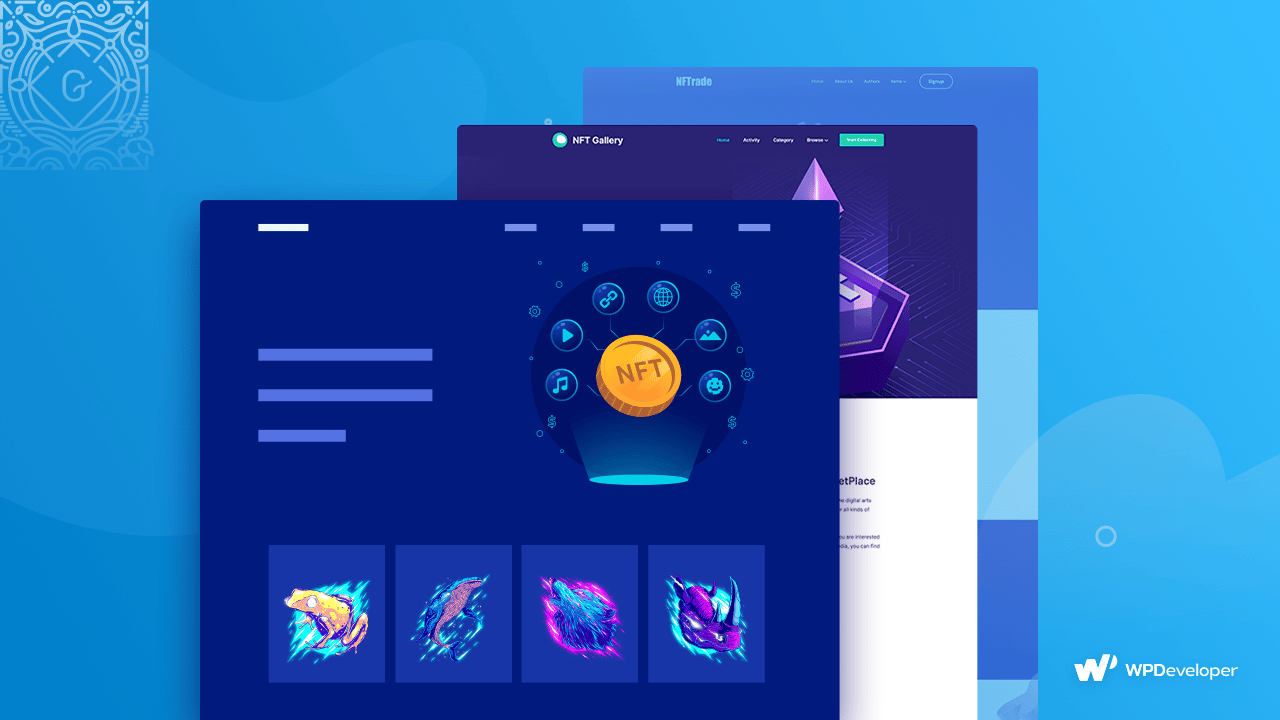 Advantages Of Creating A WordPress NFT Website
Following the most recent technological advancements, you've probably heard of NFTs growing in popularity around the world. Non-Fungible Tokens ( or, NFTs) are offering designers, collectors, and artists a unique way to buy and sell digital goods on blockchain-based online marketplaces. It is claimed by many experts that NFT virtual art or product galleries are offering people a whole new experience and enhancing the global tech market.
This virtual space for showcasing and selling digital products is gradually transforming the industry and is expected to rise more. If you want to make a strong presence in the NFT marketplace for buying and selling digital goods too, a visually fascinating website where you can beautifully display virtual art pieces or products can certainly help you stay ahead of the competition.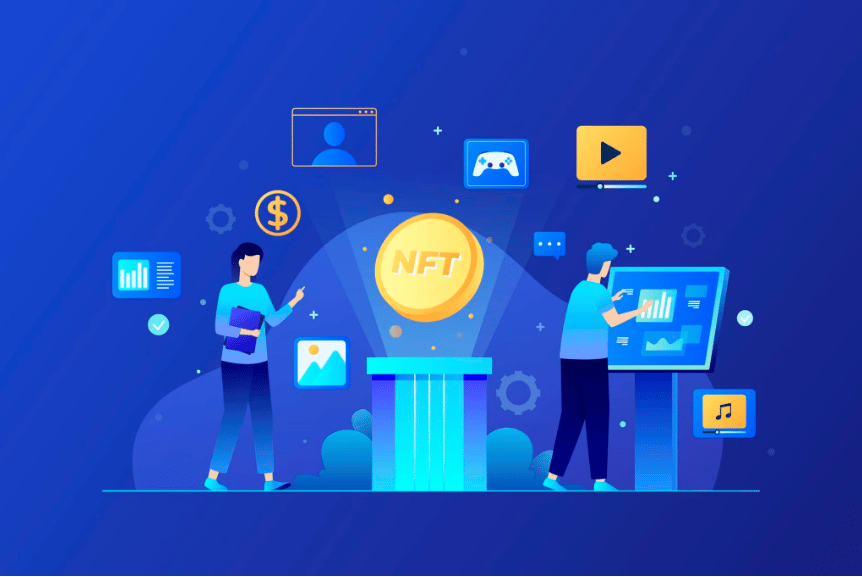 However, creating an NFT website on WordPress is the easiest way to start your marketplace. For expert professionals or beginners who are new to coding, WordPress is the finest option. To build a fully functioning NFT website, you need no prior experience in coding.
Additionally, you will have easy access to a lot of themes, templates, and plugins for websites when you build your NFT website on WordPress. With the help of several powerful WordPress page builders, you can design dynamic websites with plenty of customization options in just a few clicks.
Create Your Own Visually Appealing NFT Gallery In Gutenberg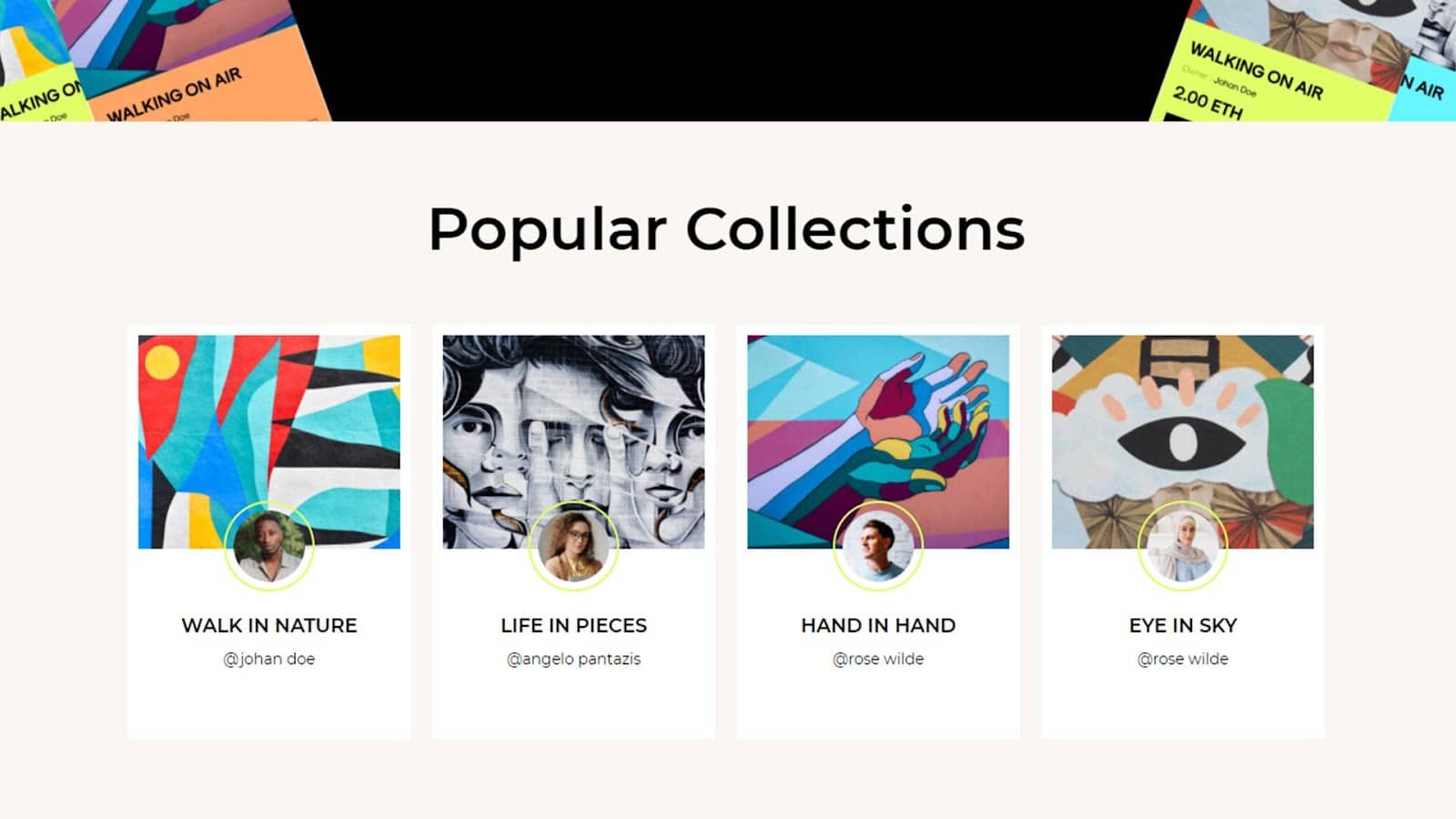 Without a doubt, non-fungible tokens are a special kind of digital asset. It uncovers new opportunities to learn about blockchains for those who are new in this field. The benefits of non-fungible tokens may inspire the development and growth of a brand-new creator economy that would concentrate on helping content creators avoid having to provide ownership of their works to the platforms they use to promote their works.
In this highly competitive marketplace, you always need to come up with a unique and smarter way of presenting your product collections. This holds true for NFT businesses as well. If you can showcase your virtual collectibles in a fascinating way, it will make a good impact on visitors. So, while creating a WordPress NFT website you must keep this in mind of highlighting your virtual assets interestingly and if you are creating a website in Gutenberg, you can easily add an attractive gallery displaying your NFT collections as well.
How To Create An NFT Website In Gutenberg With Ready Templates?
The benefits of creating a dedicated WordPress NFT website for your collectibles are evident from the discussions above. You must be looking forward to a quick and easy way to build a full-fledged website for Non-Fungible Tokens. Using ready-made NFT website templates can be the easiest solution when it comes to creating a website without any code.
So, to create a full-functioning website in Gutenberg we are using Templately, which has some amazing WordPress NFT website template collections. Follow the step-by-step guide below to create your own NFT website in Gutenberg without any coding.
Note: Before you start, make sure that you have Templately installed & activated on your site.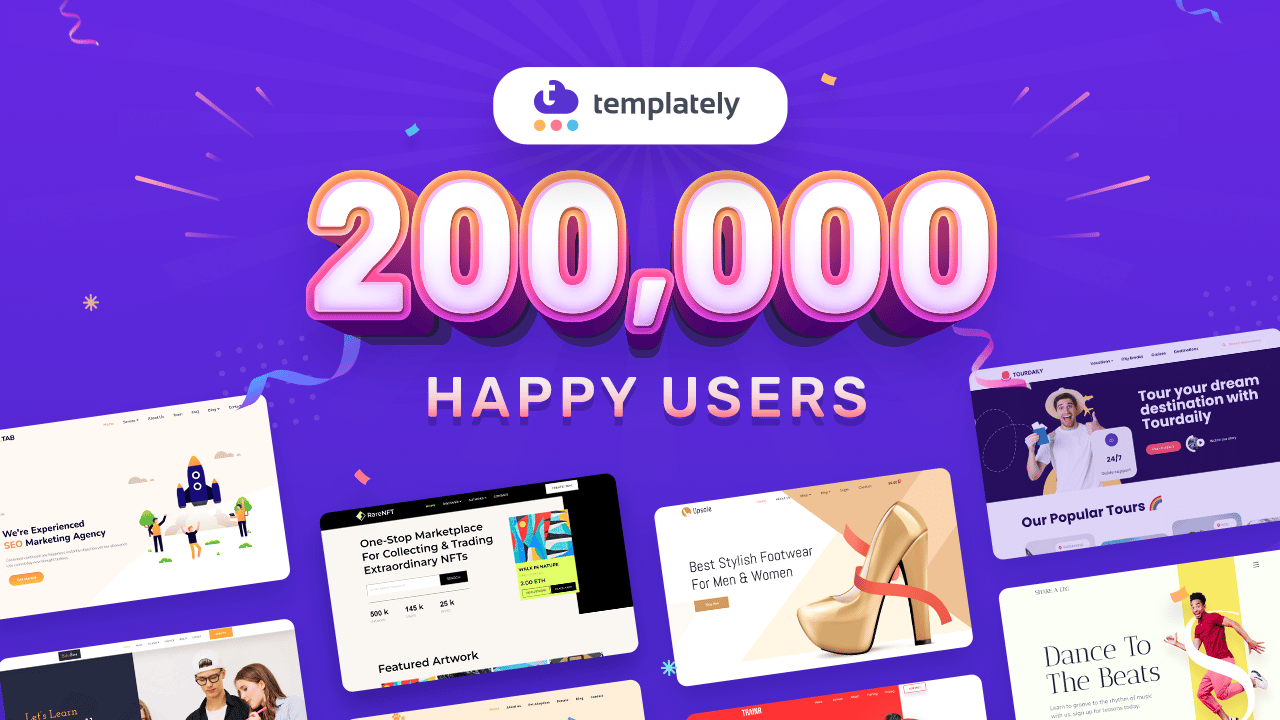 Step 1: Create A New Page On Your WordPress Website
To design an NFT website using Gutenberg, you must first create a new page from your WordPress dashboard. Log in to your WordPress dashboard and navigate to the Pages → Add New. You will find yourself in the default Gutenberg editing panel of WordPress.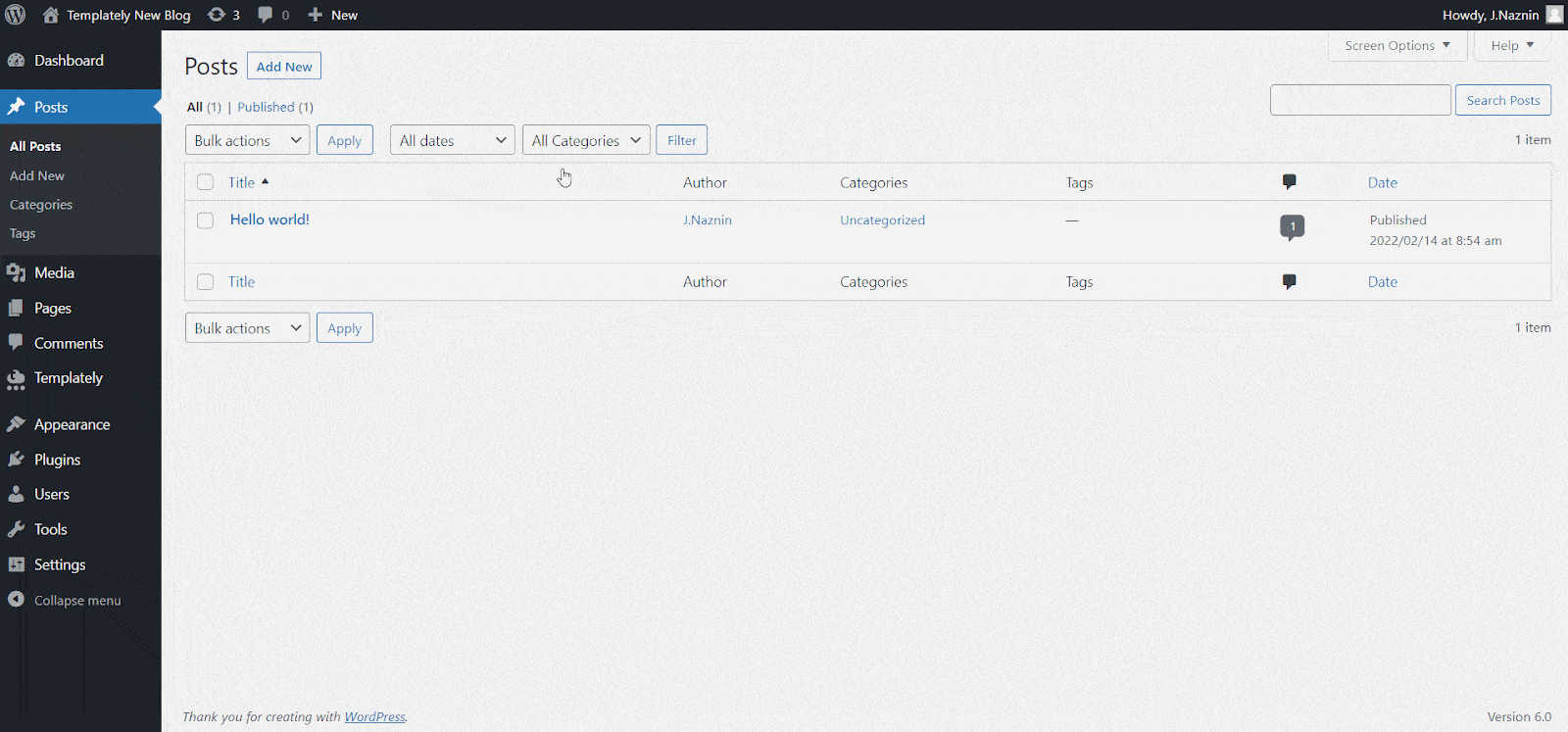 Step 2: Insert A Template For Your Website
You will find the 'Templately' blue button on the page as shown in the image below. Click on it to get access to the entire Templately template library.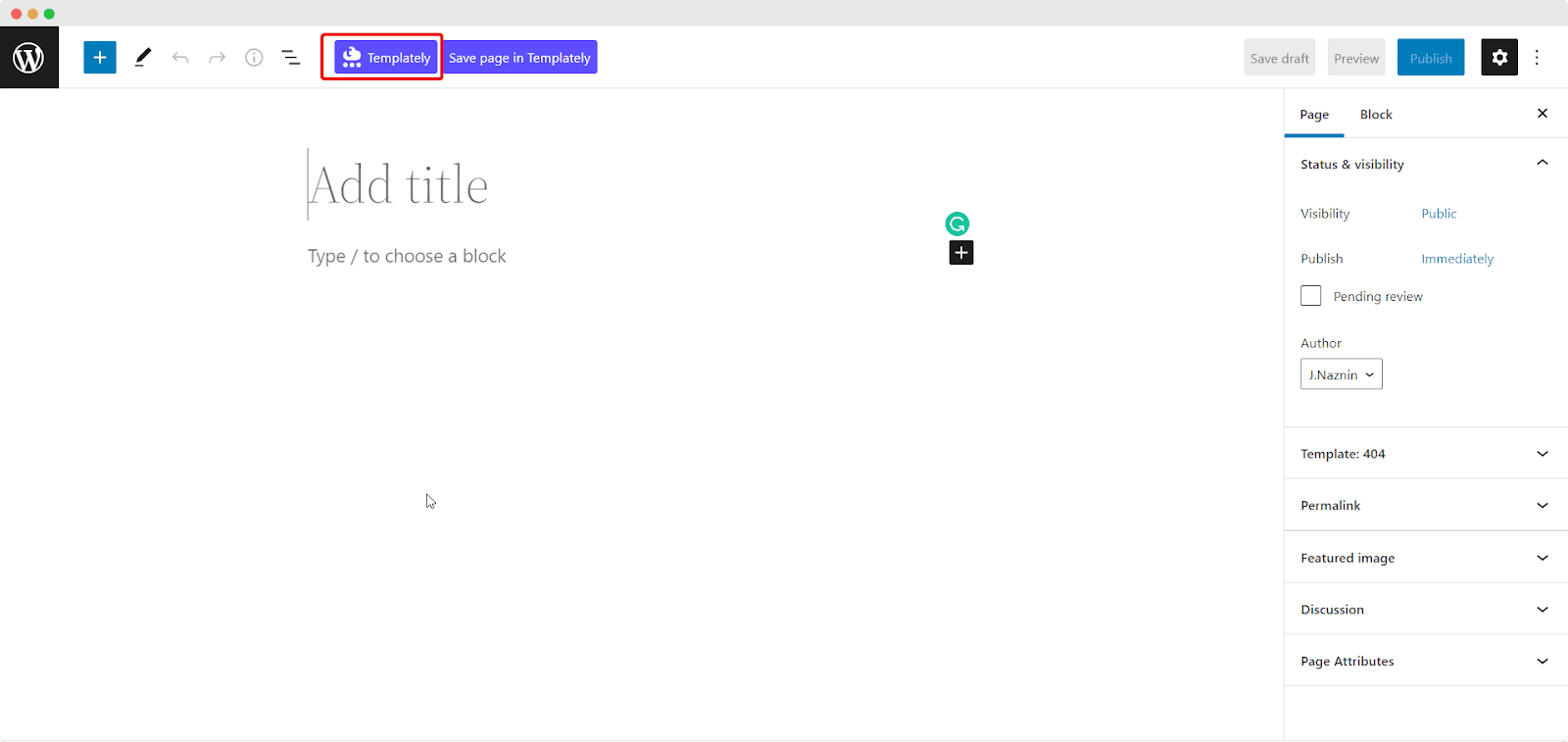 In the tutorial, we have chosen the 'NFTGallery' template pack from Templately to create the NFT website in Gutenberg. From the search bar, search "NFTGallery," and you will find a stunning ready NFT website template pack that comes with 5 ready-to-use template pages for your website. Insert it into your page by clicking on the 'Insert' icon.
In just one click, you will get the website template for events. The landing page of the website is being designed here in this tutorial. After inserting the NFT website Landing Page, it will instantly appear.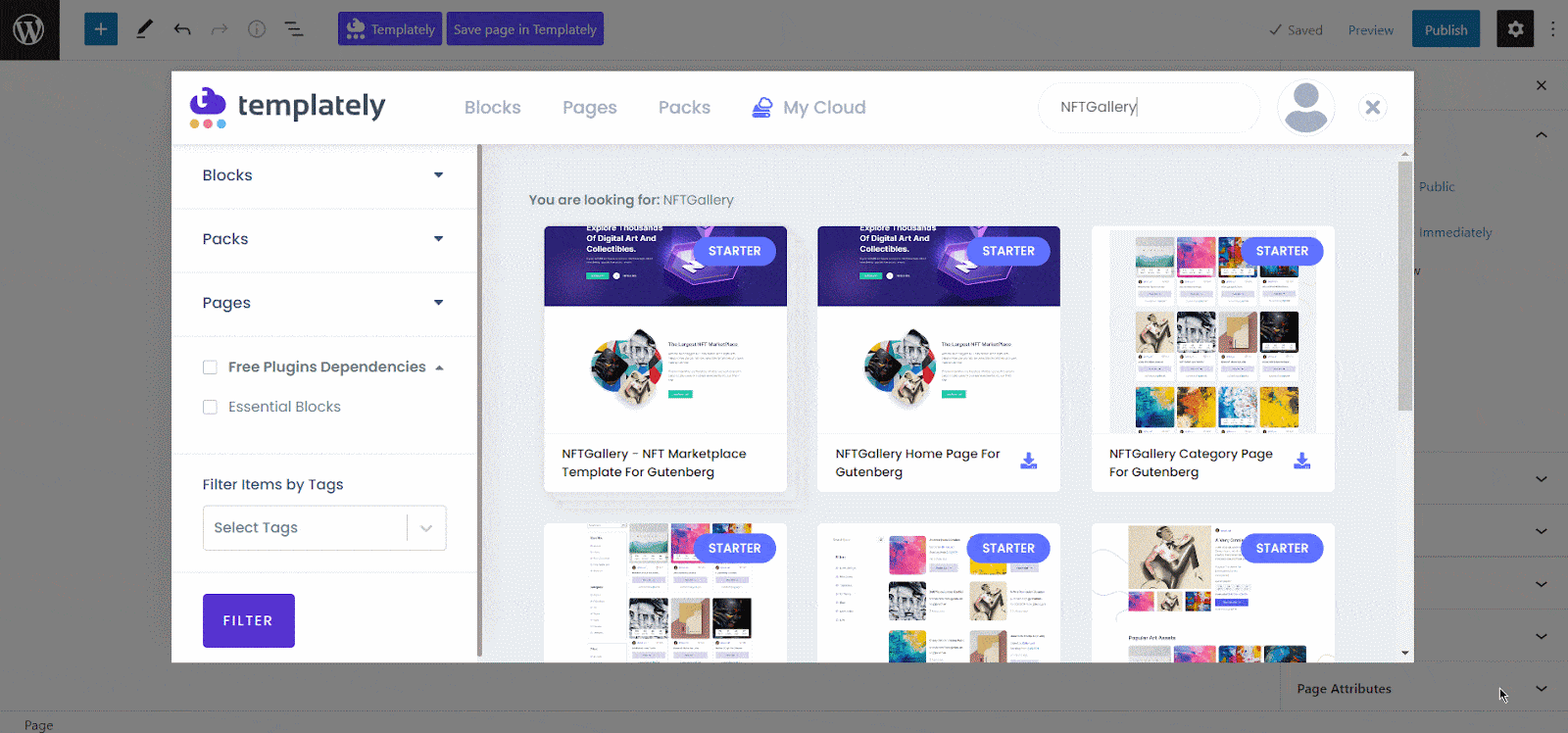 Step 3: Customize & Design The Template
Once you are done adding the template, now you can start customizing it the way you want. Get on to the editing panel on the right side of your website by clicking on the page template you want to personalize. Make all the necessary adjustments now to give your website the appearance you want.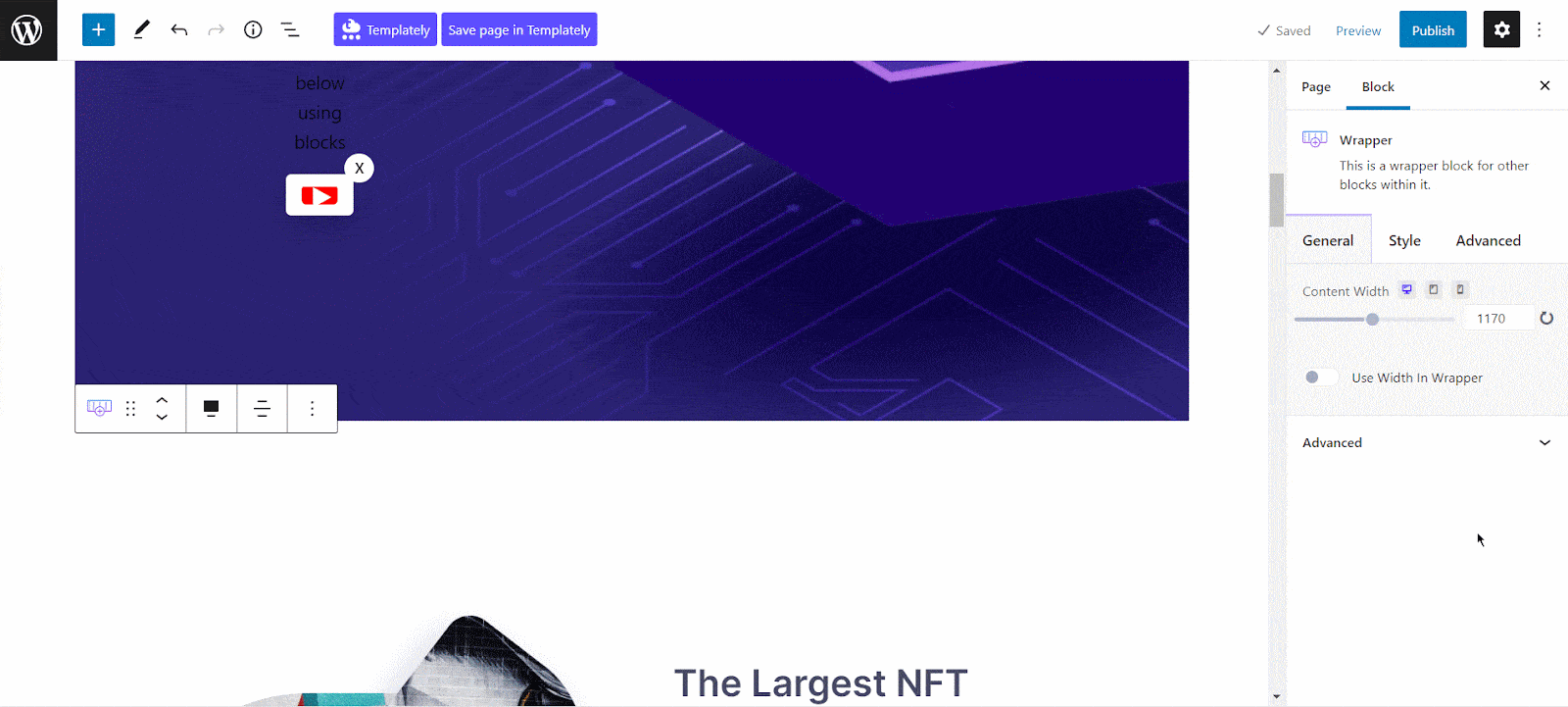 How To Add A NFT Gallery Block In Gutenberg?
To promote your digital products or arts, it is important that you showcase them beautifully which catches the attention of the visitors and deeply engages them with your products. If you want to create a visually appealing NFT gallery for displaying virtual products, Essential Blocks For Gutenberg can be an ideal solution that comes with an amazing block EB NFT Gallery.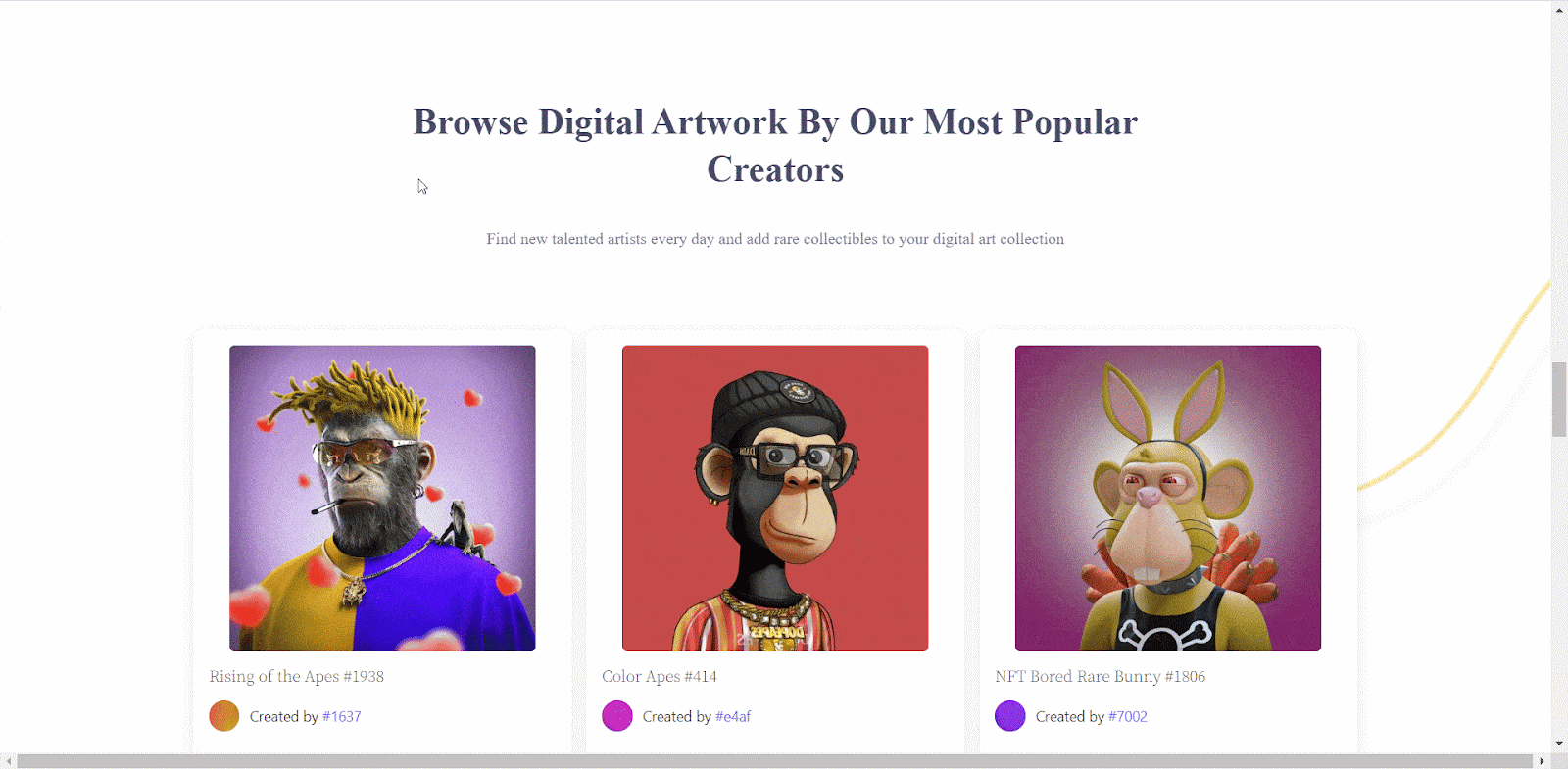 You can use this block to create a beautiful NFT products gallery in Gutenberg without any code. This Gutenberg block makes it simple to display your NFT possessions, collections, or wallets in a beautiful gallery view.
Follow this step-by-step guide of the blog to display your NFT items & collections using the NFT Gallery block in Gutenberg.
Explore More Stunning NFT Website Templates For Gutenberg
An engaging NFT website can do a lot for your business to expand and to create your NFT website with ease you can check out some of the amazing NFT website templates from Templately.
With over 2000 ready templates, Templately is one of the most popular template libraries for WordPress. Without any code, you can start designing your website right away. Here, we have put up a list of the 3 best NFT website templates for Gutenberg for you to kickstart your NFT business.
NFTrade – NFT Marketplace Website Template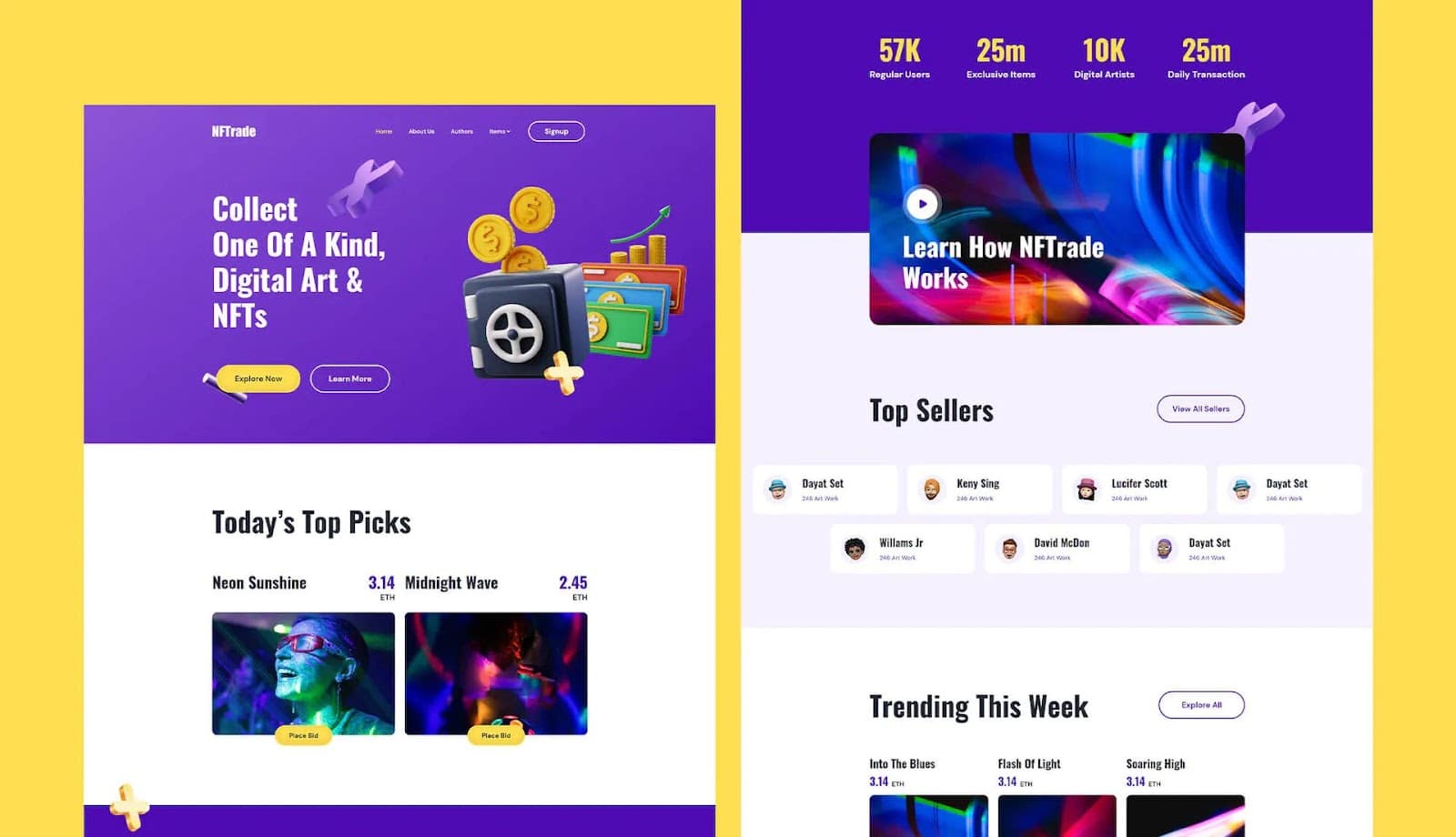 If you are looking for simple yet mesmerizing NFT website templates then NFTrade is worth trying. NFTrade is a premium Gutenberg template pack with a very stylish, colorful, vibrant, and attractive design. This outstanding template pack was made especially to help NFT businesses quickly create their websites and online marketplaces. It features dynamic designs and striking colors.
NFTrade WordPress NFT website template pack comes with 5 ready-to-use, interactive, and fast-loading landing pages to help you create a fully functioning website in Gutenberg. The modern features and stylish outlook of this exclusive template pack can grab the visitors' attention instantly.
NFTGallery – NFT Marketplace Website Free Template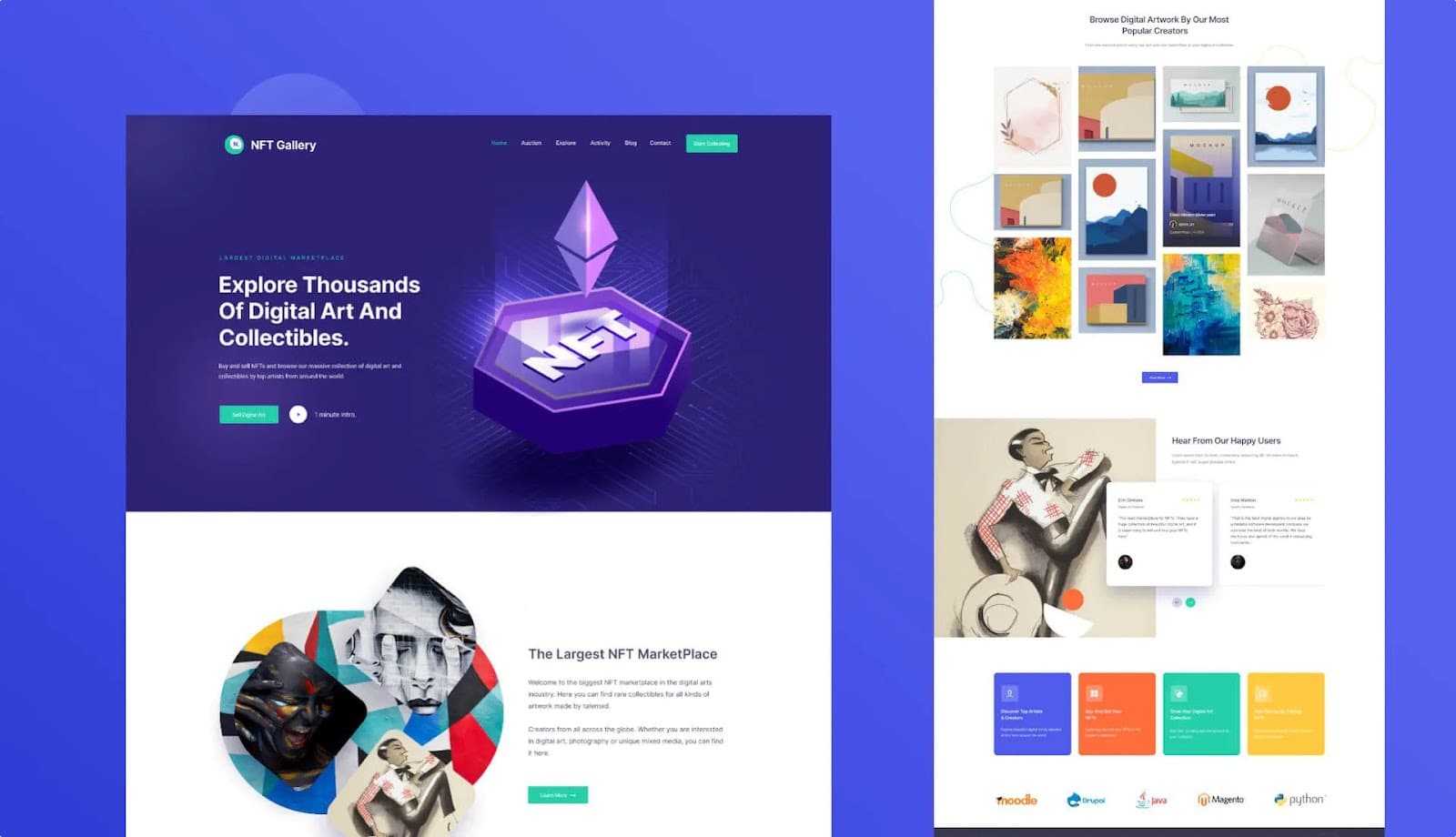 NFTGallery WordPress website template pack is created beautifully with amazing design and is a free NFT website template pack from Templately. It is intended to create websites for NFT markets, blockchain websites, cryptocurrency websites, and other related business industries.
It is a powerful, eye-catching, and stylish WordPress NFT website template pack that comes with 5 beautifully designed ready pages to effortlessly design your NFT website. This template pack is fast-loading, responsive, and completely customizable without any code.
CryptoCurrency-Landing Page For Gutenberg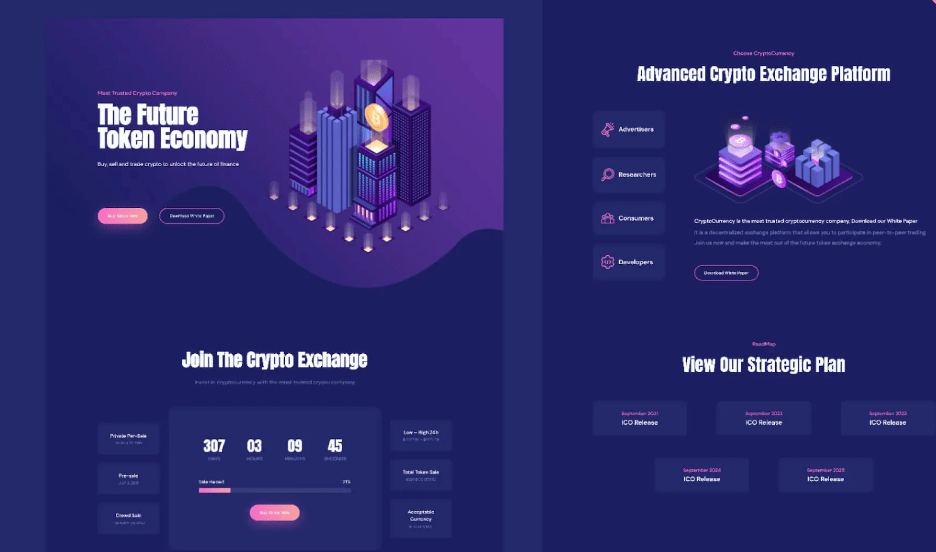 Another stunning NFT website template for Gutenberg is CryptoCurrency designed with a very compelling design that easily engages the visitors. It is dedicatedly designed for professional cryptocurrency and investment consulting services. This website template is suitable for any crypto business, ICO advisor, NFT marketplace, or NFT business.
It is a premium NFT website template for Gutenberg that includes everything you need to design a complete NFT website landing page without any code. This modern, stylish, and beautiful NFT website template is perfect for any crypto business which is fast-loading and lightweight at the same time.
Mesmerize Your Audience With A Beautiful NFT Website
As people look for new ways to sell distinctive products or items, NFTs are growing in popularity, and new types of physical and digital assets will be turned into tokens. NFT is not just a trend, it is expected to expand more to generate sales & provide incredible digital experiences.
So, what's your opinion? Share your feedback in the comments section, subscribe to our blog, and join our Facebook community for more updates.