Text-to-speech is one of those latest trends which helps to enhance your website user experience and make your site more accessible to a greater extent. You can easily reach out to a diverse audience range and uplift your customer base without hassles.
And guess what, you can easily now add this facility to your website if it's built with WordPress. Excited? Let's check out this blog in detail to get the top 3 best text-to-speech plugins for WordPress and more!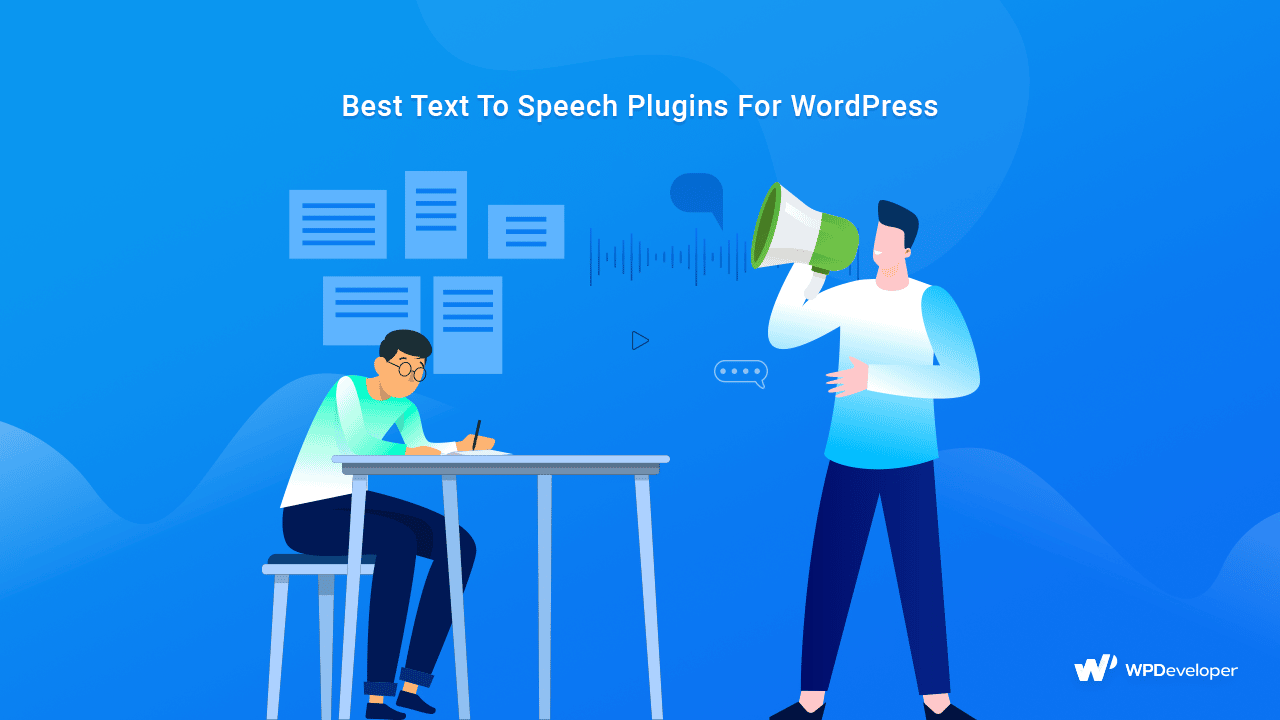 Text-to-speech(TTS) is now considered one of the most trending facts that help convert your words into audio speech on digital devices. It also considered saying 'read aloud' technology. It is also helpful for those who have problems reading on-screen text or prefer to be read to.
Suppose those who have accessibility problems as blind people can easily understand what your business is all about by reaching out to your website if you integrate TTS service. Within a click, they can hear your words even if they can not see. So those who have accessibility issues can get along with things that they would be able to read out. Without this, if someone has faced issues with reading, they can easily understand by hearing the text on their devices.
Research says, "The global text-to-speech (TTS) market was valued at $2.8 billion in 2021 and is projected to reach $12.5 billion by 2031, growing at a CAGR of 16.3% from 2022 to 2031."
Top 3 Best Text-To-Speech Plugins For WordPress
In this section, you will know all the top 3 best text-to-speech plugins for WordPress and all details. This will help you to choose which solution will be best for your business to enhance your site user experience.
BeyondWords

BeyondWords is one of the popular AI voice platforms that helps you to convert text to speech. It brings frictionless audio publishing to newsrooms, writers, businesses, and others. BeyondWords helps you to create audio versions of WordPress posts and pages automatically. That you can easily embed it via a customizable player and a lot more.
Key Features for BeyondWords:
Add text-to-voice options for posts, pages, forms, or others automatically.
Create or edit audio in the Text-to-Speech Editor anytime and a lot more to explore.
GSpeech

GSpeech is another popular text-to-speech plugin for WordPress. It comes with Google power which helps you to provide the best quality of automatic text-to-speech service for your WordPress site. GSpeech allows listening to any type of text from the site and more.
Key Features For GSpeech Text to Speech:
Provide the best quality automatic text-to-speech service
Help you Listen to the selected text with ease
Play.ht

Next is Play.ht which is another popular text-to-speech plugin for WordPress that converts your articles, blog posts, courses, and almost all written content into audio. It uses state-of-the-art TTS technology. Also offers SEO-friendly embedded audio players along with RSS podcast feeds which will help you create, embed, and generate your articles in audio format.
Key Features for Play.ht:
Easily convert 260+ high-quality realistic AI text-to-speech.
Convert text-to-speech voices in 55+ different languages with a lot more facilities.
Get Started With The Best Text-To-Speech Plugin Now!
Enabling text-to-speech services for your website can help you get a more diverse audience and satisfied customers. TTS can make your business more reliable and increase your service acceptance without any doubt. Those who struggle with reading can get instant help if you include this TTS service on your website by using their preferred digital devices.
And if your website is WordPress built, then you can easily include this TTS service in your website and attract a diverse audience with ease. As this blog is all about the top 3 best text-to-speech plugins for WordPress. So make sure you have picked the right WordPress solution for your business.
Also, don't forget to let us know your real experience by commenting below. If you want to read more exciting blogs like this, subscribe to our blogs, and don't forget to join our Facebook community. Enjoy!
Read More Exciting Blogs Here!