On November 1st, WordPress 6.1 has been released to further improve the site-building experience for users. Around 800 WordPress enthusiasts from 60 countries have contributed for WordPress Core over the last few months. This time, WPDeveloper makes its own place with a blast – the company ranked as 3rd top company with the largest number of contributors among 179 identified companies. With these contributions, WPDeveloper also made an impact on the home country and for the very first time, Bangladesh comes in the top 3 by the number of total contributors among 60 countries.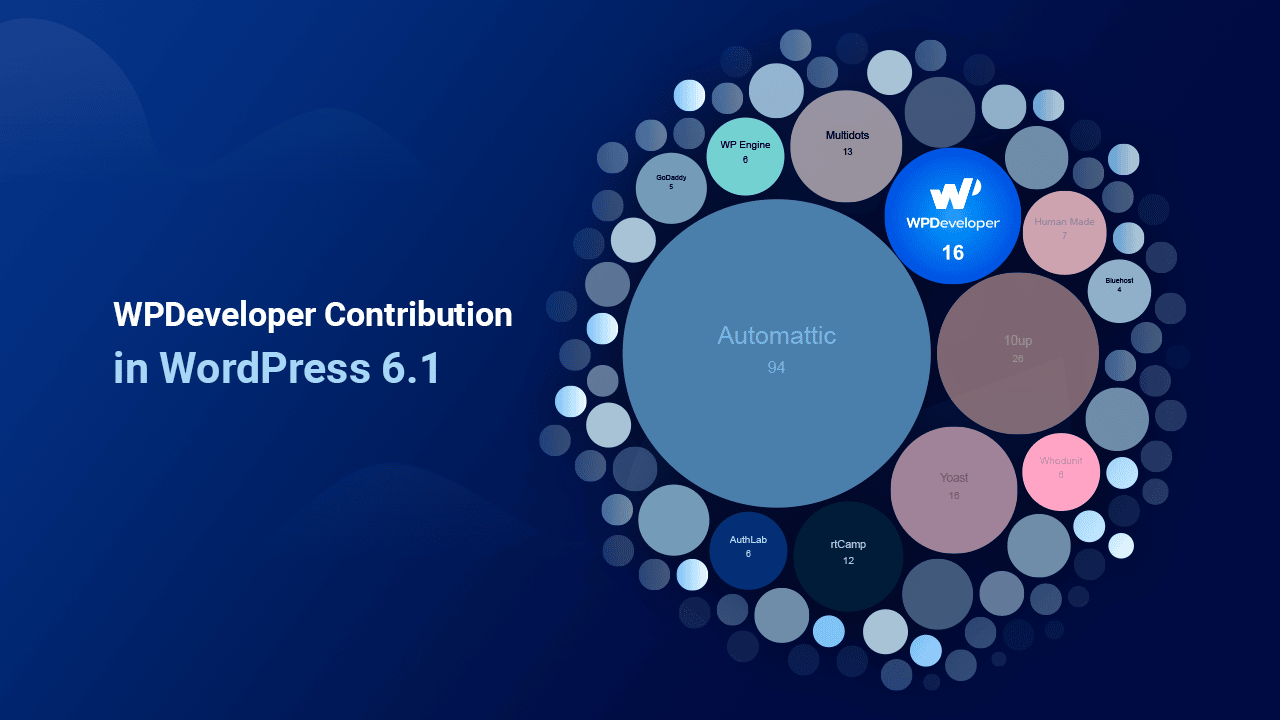 This is an extremely proud and exciting moment for WPDeveloper to share this WordPress experience with our audience for a grand celebration.
WordPress 6.1 'Misha' Is Here With All Exclusive Updates
WordPress 6.1 "Misha" was named with inspiration after the jazz pianist from Ukraine Michail Jefimowitsch Alperinthe. A bunch of super-talented individuals enthusiastically invested their time and effort effectively into creating WordPress 6.1 a blast.
The new version comes with a brand new Twenty Twenty-Three theme, new templates, improved block placeholders, a streamlined style system, updated interface options and more.
🥳 WPDeveloper Holds 3rd Place In WordPress 6.1 Contribution
At WPDeveloper, we love WordPress and we contribute to the ecosystem in different ways from the start. The founder of WPDeveloper, M Asif Rahman is a long-term WordPress core contributor and previously took multiple sessions to encourage and help people to start contributing to WordPress core. The CEO Nazmul Rupok is also a WordPress contributor and provides the team members time and flexibility to spend time in WordPress open source community.
The CMO of WPDeveloper, Afshana Diya is also a Global Community Deputy for WordPress.org and contributing passionately to the WordPress community for years and inspiring the global and local community to get involved in WordPress by organizing WordCamp, meetups, and also with the resources and guidance community need.
As our team grows bigger over the years, we have started contributing more for Make WordPress. This time, the company has encouraged the team to get more involved in the WordPress Core and arranged internal training sessions as well as organized Local WordPress Meetup to train and promote WordPress Core Contributions.
As a result, with 16 team members' participation, we have become the 3rd top company with the highest number of contributors for WordPress 6.1. It is a huge milestone to achieve and we are proud of it!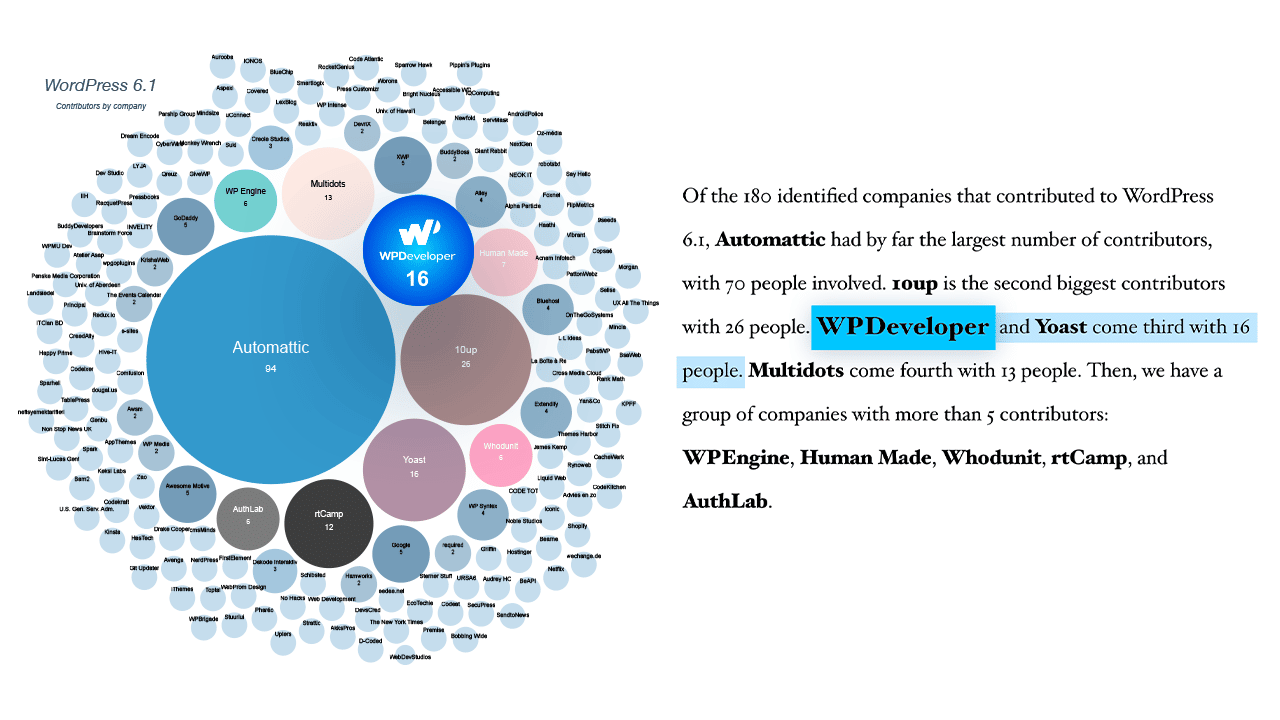 Special thanks to Robin, Linkon & Taifun from WPDeveloper team who have helped others to get started with core contributions.
It's Also A Celebration for Our Home Country, Bangladesh
Bangladesh got to the 3rd position as a whole in WordPress contribution for the very first time. It is surely a great success to celebrate. Many more surprises and successes are waiting for the future as well.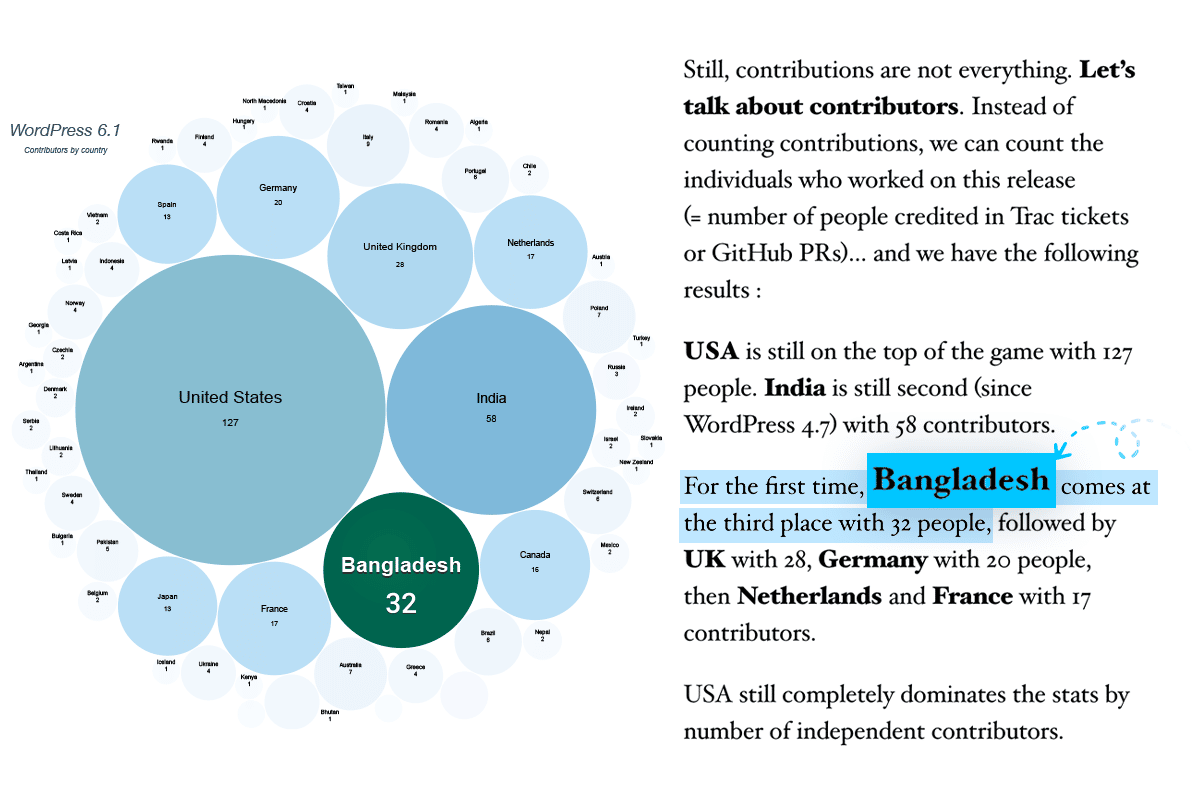 🚀 More To Go With WordPress Five For The Future
As a renowned WordPress-based organization, WPDeveloper is dedicated to contributing to WordPress and powering up WordPress user experience with years of experience and expertise.
Hopefully, we are going to make more changes in the future and repeatedly contribute to WordPress undoubtedly. This is just a great beginning that we want to cherish and celebrate. 
For more WordPress-related news, updates, and fun tutorials, subscribe to our blog or join our friendly Facebook Community to connect with other WordPress enthusiasts like yourself!