Another new achievement comes our way in 2023 as SchedulePress hits a new milestone: the exceptional WordPress plugin is now powering up content marketing strategies for over 20,000 Happy Users. This major accomplishment would not have been possible without the incredible support and love that we've received from all of you and we couldn't be more grateful; thank you! 💙
Let's look at SchedulePress's incredible journey so far as we celebrate this major milestone. But that's not all; we also have a special surprise in store, just for you, to show our heartiest gratitude, courtesy of the dedicated team at SchedulePress. So, stay tuned until the end of this article.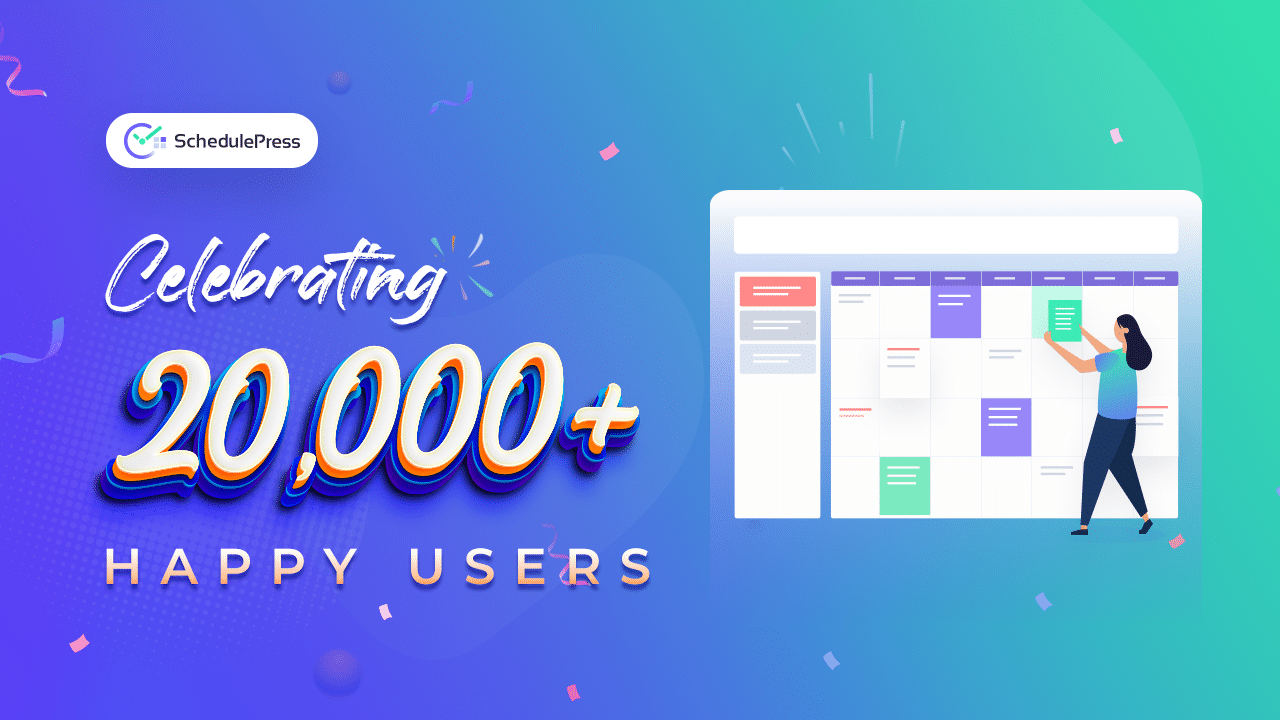 Powering Up Content Marketing Strategies For 20,000+ Marketers
At WPDeveloper, we have always aimed to provide you with outstanding WordPress tools for an incredible user experience. That's why, when we developed SchedulePress, we wanted to bring you a game-changing WordPress plugin designed to automate and power up content marketing strategies and workflow.
Since its release, the incredible response we have received for SchedulePress has been nothing short of overwhelming. And it motivated us to continuously improve and bring something extraordinary to all of our valued users.
With its intuitive schedule calendar, automated scheduling options, seamless social media integration, and others, SchedulePress has all the features and facilities required to power up content marketing strategies on WordPress and optimize your productivity. And thanks to its rapid growth over the past few years, SchedulePress is now the go-to solution for over 20,000 marketers, bloggers, and business owners worldwide.
Team Behind The Amazing Content Marketing Plugin, SchedulePress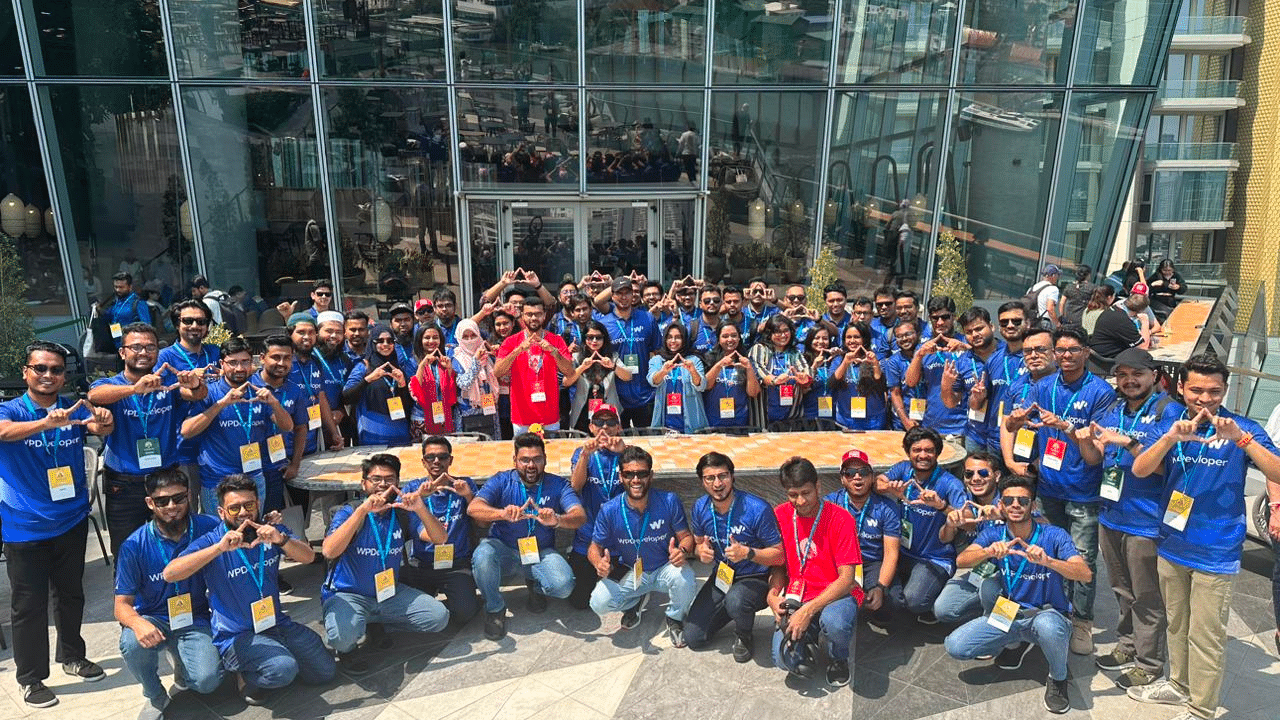 During this period, we've been tirelessly enhancing the plugin, adding new features and conveniences, and we're committed to continuing our efforts. Behind the scenes at WPDeveloper, a group of skilled and passionate individuals work together with great enthusiasm to provide you with outstanding user support and ensure that managing your content workflow becomes simpler than ever.
Embraced By Thousands As Best WordPress Content Management Tool
SchedulePress quickly became a favorite among users because of its amazing features, user-friendly design, and seamless integration with various WordPress editors. Whether you're a seasoned WordPress user or just starting out new – this outstanding plugin can help you in powering up content marketing strategies and management with ease.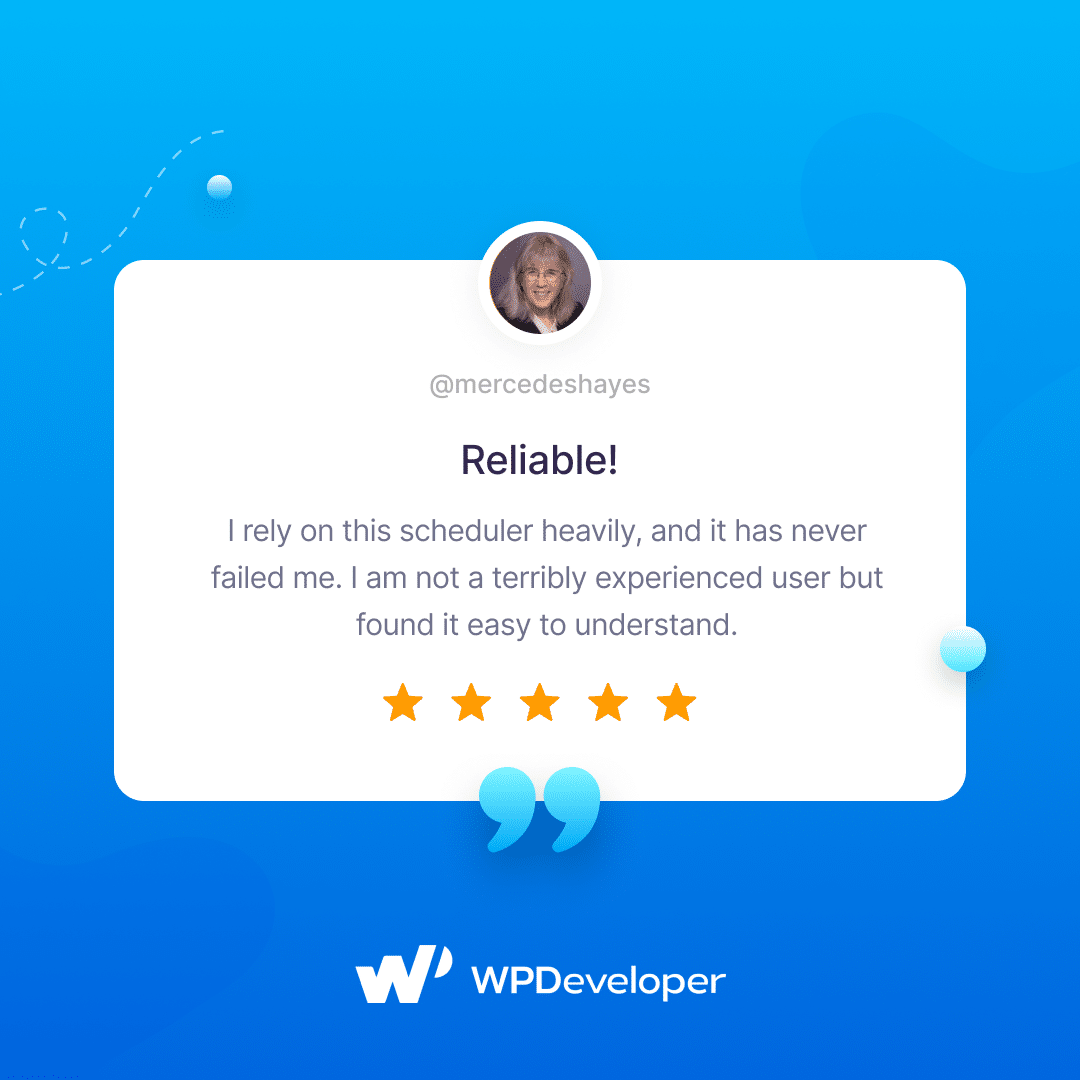 The plugin didn't take long to gain immense popularity, earning us piles of praise and recommendations from industry experts and well-known publications worldwide. Here is just a feature of the many we're immensely grateful for.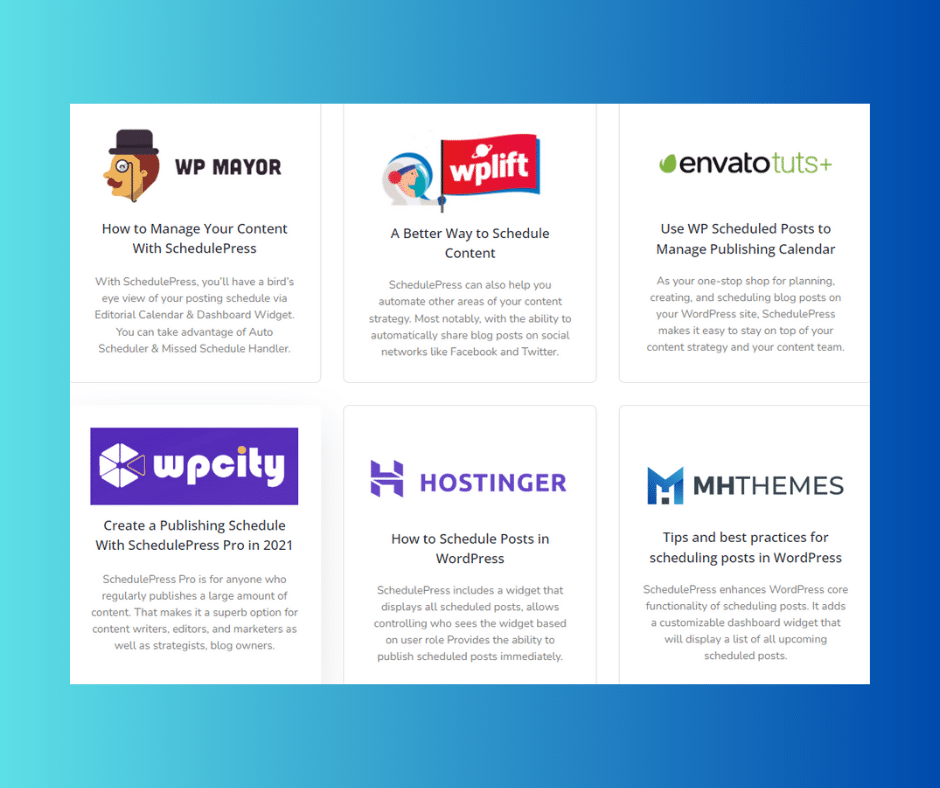 Not only that. We are happy to see users talking about SchedulePress and its many features and facilities for powering up content marketing from around the globe. Below you can check out a step-by-step video guide from a renowned platform that refers to SchedulePress as one of the best content-scheduling tools for WordPress!
Most Loved Features Of SchedulePress That Keep Our Users Hooked
Take a moment to look back at our incredible journey so far and discover the amazing facilities we've brought to you to make your content marketing workflow easier and simpler:
One-Stop Tool For Schedule Management
Managing all your schedules effortlessly with SchedulePress's user-friendly interface is as simple as it can be. WithWhether you're new to scheduling or an experienced user, getting started is a breeze.
With its incredible interface, planning your content and selecting your preferred time slots becomes a seamless experience. What's more, you can ensure your content is never missed with just a single click using the Missed Schedule handler. It also has Auto and Manual schedulers to power up content marketing workflow.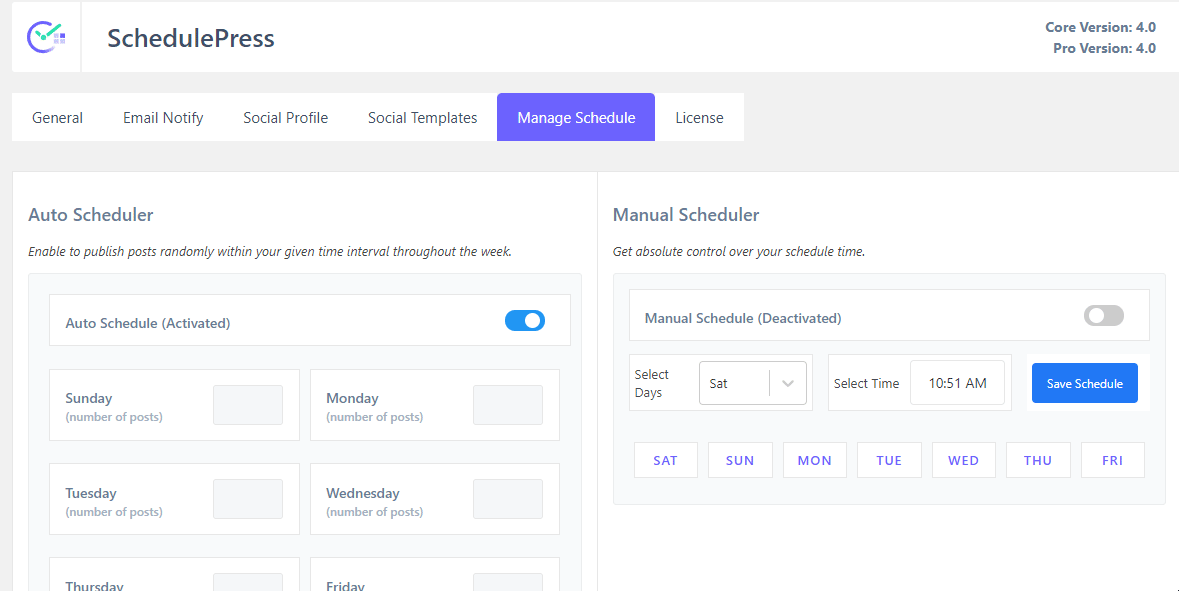 Plan Your Entire Editorial Calendar Beforehand
You can easily see all your planned content in one place using the SchedulePress Schedule Calendar. It makes managing your Editorial Calendar much easier with its user-friendly interface. You can simply drag and drop your content to change dates and update its status.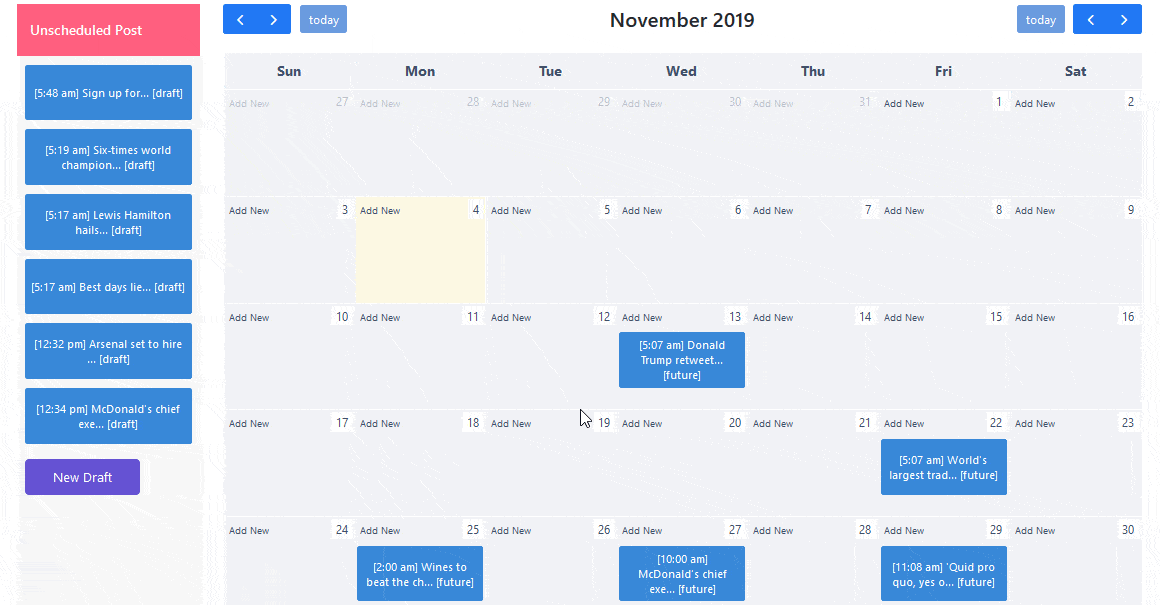 Moreover, if you have many posts scheduled for a day, you can now collapse them for better organization. The Schedule Calendar is designed to enhance your productivity with its easy setup. It allows you to schedule content months ahead and maintain a consistent strategy. In simple words, SchedulePress could be your best companion for powering up content marketing workflow.
Seamless Integrations With Social Media Platforms
With SchedulePress PRO, you can easily connect your favorite social media channels like Twitter, Facebook, LinkedIn, and Pinterest. The best part? You can schedule your content and watch it automatically shared on all your social platforms without lifting a finger! All you need to do is connect your Facebook or Twitter account, and you're good to go. No more hassle of using extra plugins to share your blog posts on social media.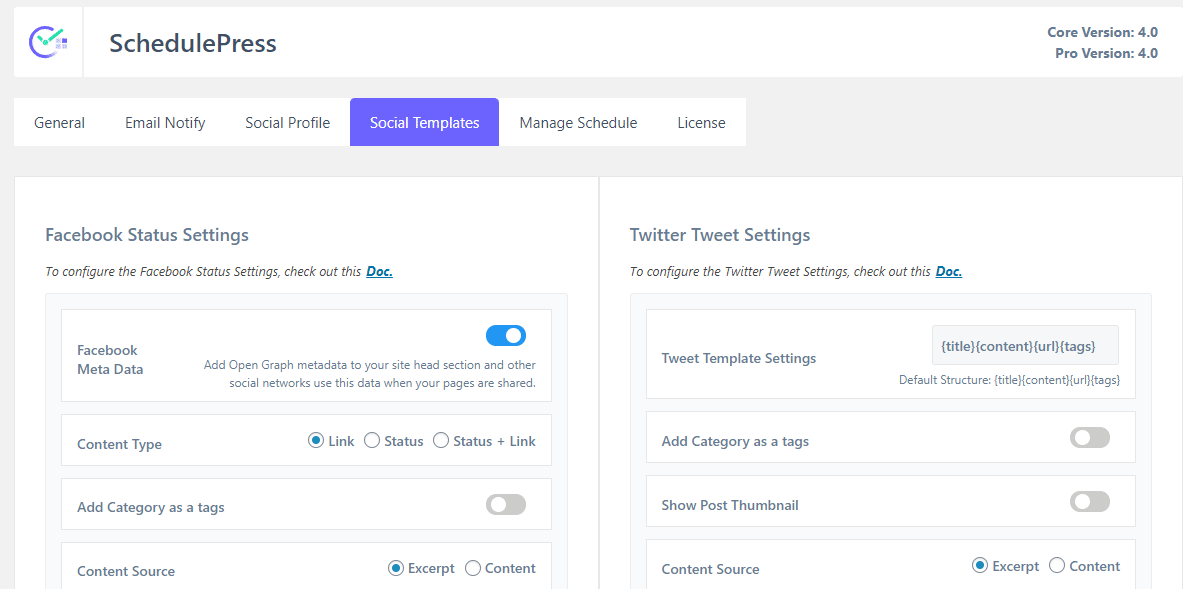 But wait, there's more! SchedulePress goes the extra mile by giving you the power to customize how your shared content looks on your social media profiles. Imagine having complete control over the template and being able to modify it to your heart's content. It's pretty impressive, isn't it?
Schedule Updates For A Future Date On Gutenberg & Elementor
One of SchedulePress PRO's premium features, Advanced Schedule, allows you to schedule an update for a blog post that has already been published by your preferred editor. You can update tags, categories, photos, featured images, excerpts, and whatever else you choose in addition to the blog and document content.
Connect To LinkedIn Business Page In Just A Few Clicks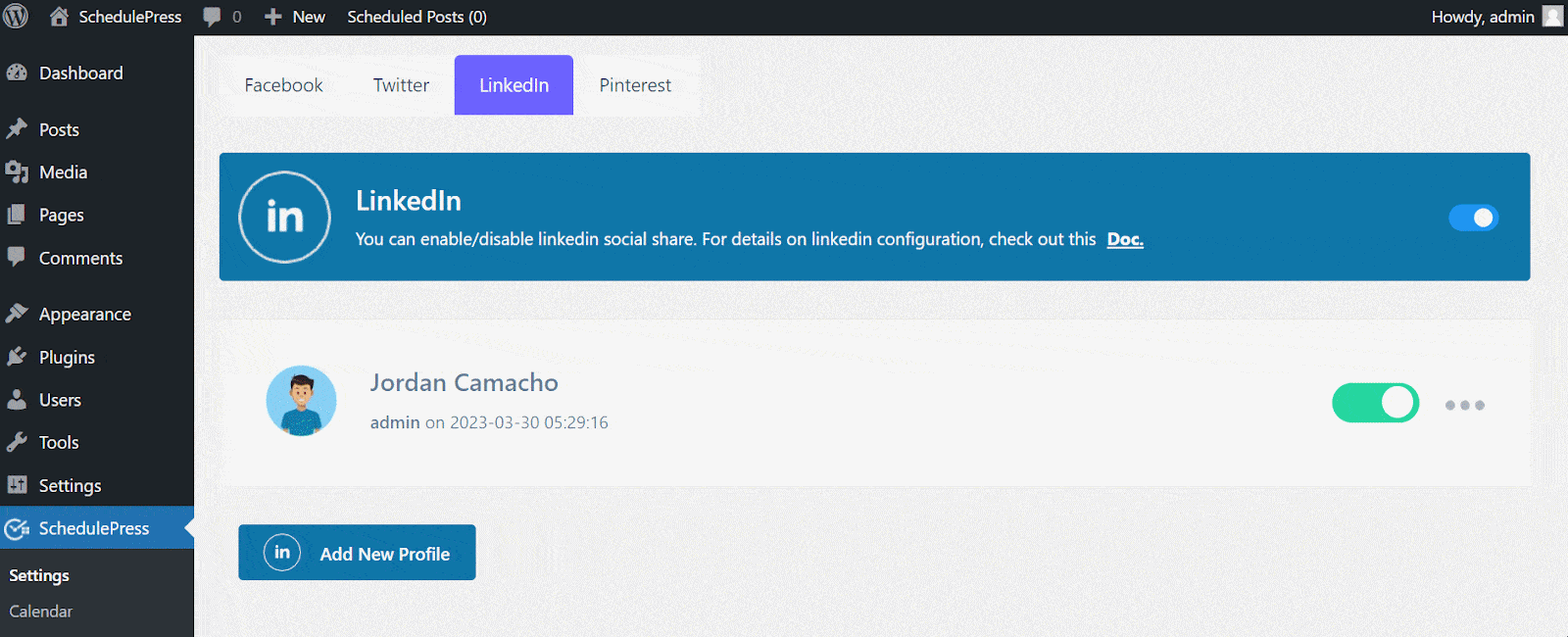 While an individual LinkedIn profile can help you with self-branding and promotion, a LinkedIn Business Page is essential if you want to create a brand identity for your business. Here at SchedulePress, we understand that and have recently introduced a seamless integration just for the platform enabling you to schedule post shares effortlessly.
There are way more advanced features in store for you in SchedulePress. And we hope to continue to bringing you more advanced facilities to help with powering up your content marketing strategies.
Let's Celebrate By Grabbing Up To 30% Off With SchedulePress!
We've made it this far, thanks to your amazing support. Our team and SchedulePress are immensely grateful for each and every one of our 20,000 happy users. We've reached an incredible milestone in powering up content marketing workflow. Let's celebrate together with an exclusive offer: enjoy up to 30% OFF on SchedulePress!

But wait, there's more. If you're just starting out, SchedulePress has advanced free features for you to explore. Experience the power of the ultimate content marketing plugin today. We can't wait to have you on board as we continue to enhance SchedulePress and introduce even more amazing features.
We value your feedback. Share your thoughts about SchedulePress in the comments below. Feel free to suggest any additional features you'd like to see. For the latest news and updates, don't forget to subscribe to our blog or join our friendly Facebook Community. Let's make content marketing easier and more exciting together!