Wouldn't this be great if you can schedule posts in WordPress ahead of time and also be able to check the list of your future content? Well, SchedulePress which is rebranded from WP Scheduled Posts is going to do just that & more. There's nothing to worry about if you have no idea how to get started. Cause we are going to give you a brief on how you can schedule posts in WordPress & show the upcoming articles.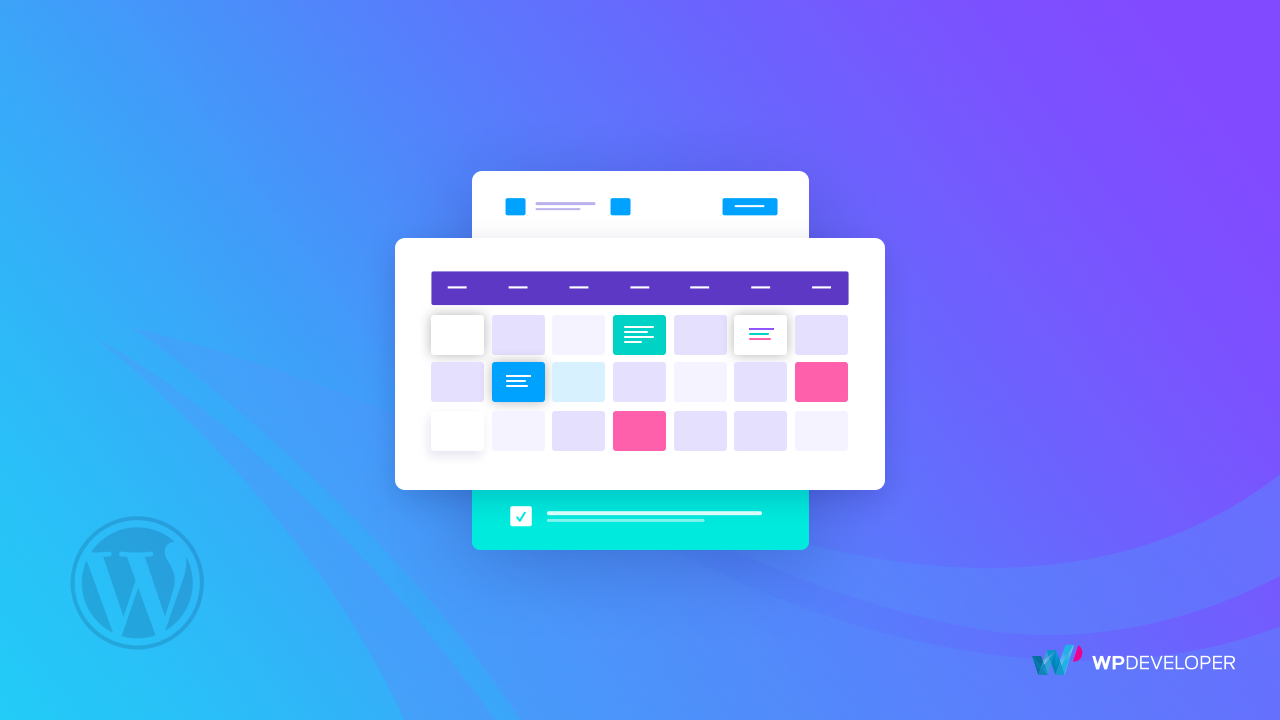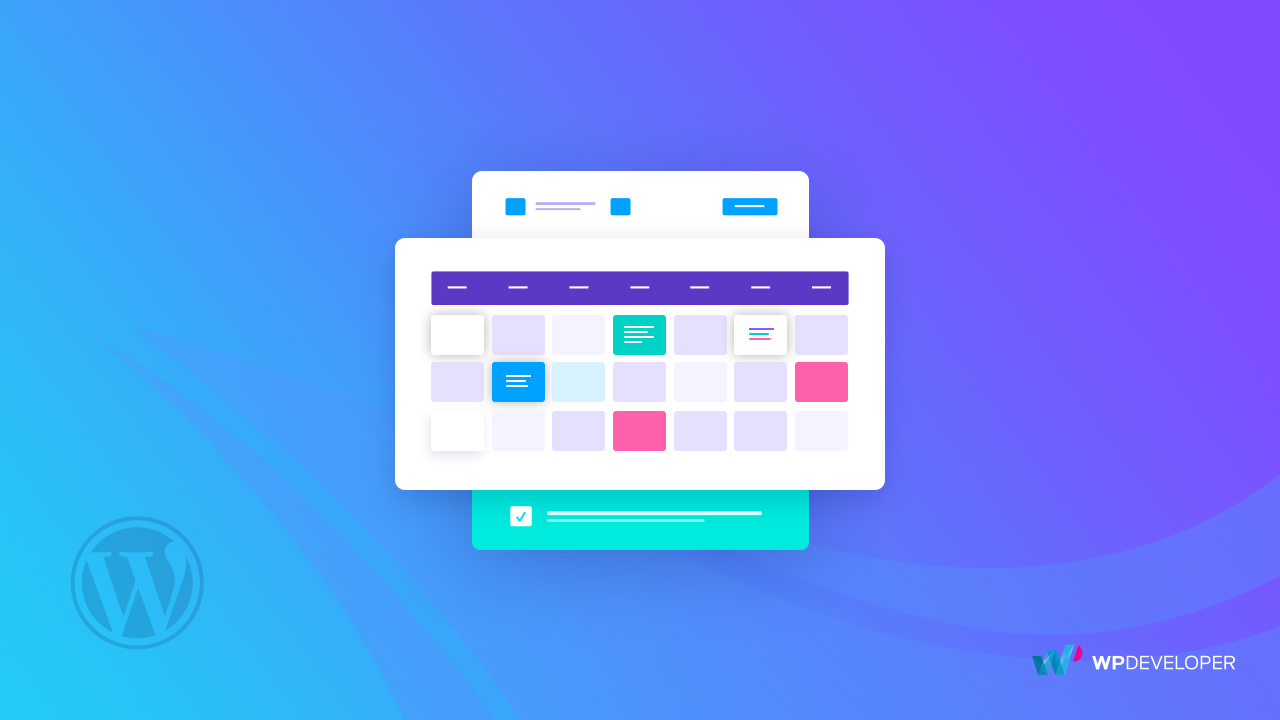 Why do you Need SchedulePress?
Engaging with your readers regularly is the most significant part for any blogger. Does that mean you will have to write a post almost daily? Well, not necessarily. And that's why you need to schedule your content.
What a schedule does is that it allows you to publish your articles at your given time. As a result, it prevents you from tirelessly working every day on new blogs. But most importantly, it allows you to connect with your readers consistently.
With SchedulePress, you are just a click away to view the listing of the articles you have planned for.
By using auto & manual scheduling, you can keep your content plan nice & well-maintained. With SchedulePress, you can set the day & time in advance in which the posts will be published.
Moreover, to prevent you from having a missed schedule, SchedulePress also automatically takes care of this by making sure that your planned contents never go unpublished. 
Key Features
Drag & Drop Schedule Calendar management
Automatic scheduling in your chosen days and interval
Manually schedule your blogs in your preferred days and time
Dashboard & Sitewide overview of your scheduled posts
Automatically handling Missed Schedules
Simplicity & Ease of use
Ability to plan your contents in advance
Auto Social Sharing facilities on multiple pages or groups
Configure your social share templates in advance
Schedule Posts Plan for the Future with Well-Designed Schedule Calendar
With a revamped beautifully designed layout, Schedule Calendar lets you plan your content. With its drag & drop capability, you can change the date of your scheduled blog to a different date without any difficulties. All you have got to do is to drag the specific article to the particular day when you want it to be published.
Through Schedule Calendar, you can easily create a new post and schedule it in your preferred time. It also gives you the flexibility to choose your content status out of these three: Draft, Pending Review & Scheduled.
Moreover, You can even edit your contents both for unscheduled and scheduled posts with its "Quick Edit" option. This is a very useful feature to make quick changes.
Best of all, you can easily move from one month to another and check all the contents in a filterable format. As you can view all your articles that are published, scheduled, or currently just saved as drafts all inside the calendar.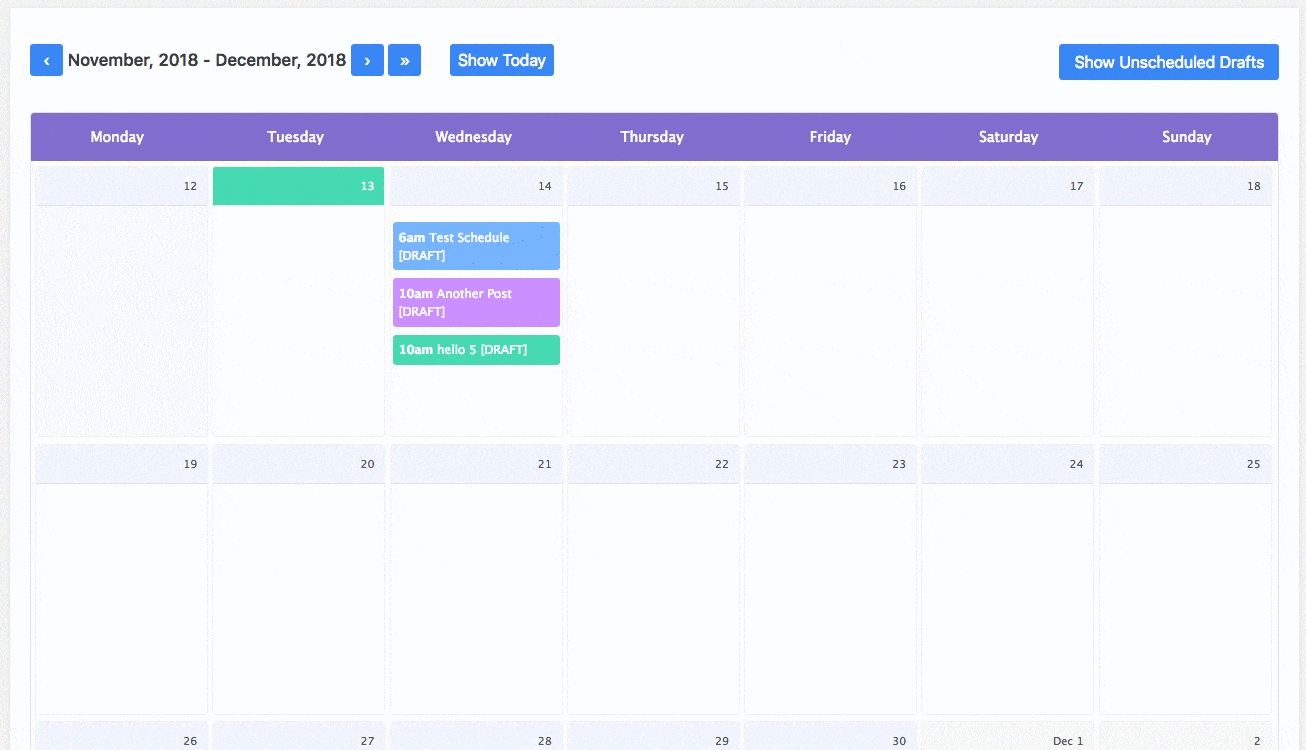 Easily Automate Or Even Use Manual Scheduler To Schedule Posts
With SchedulePress, you now have the freedom to organize your blogs by using auto & manual scheduling features. You can simply just set the time & date, then you don't have to worry anymore about planning your posts in an untimely manner.
With Auto Scheduler, all you have to do is to set the number of contents that you want to plan for the specific days and your preferred time interval. As a result, all your authors will only be able to schedule blogs at that particular time & day. This is very important to keep everything flowing in an organized way.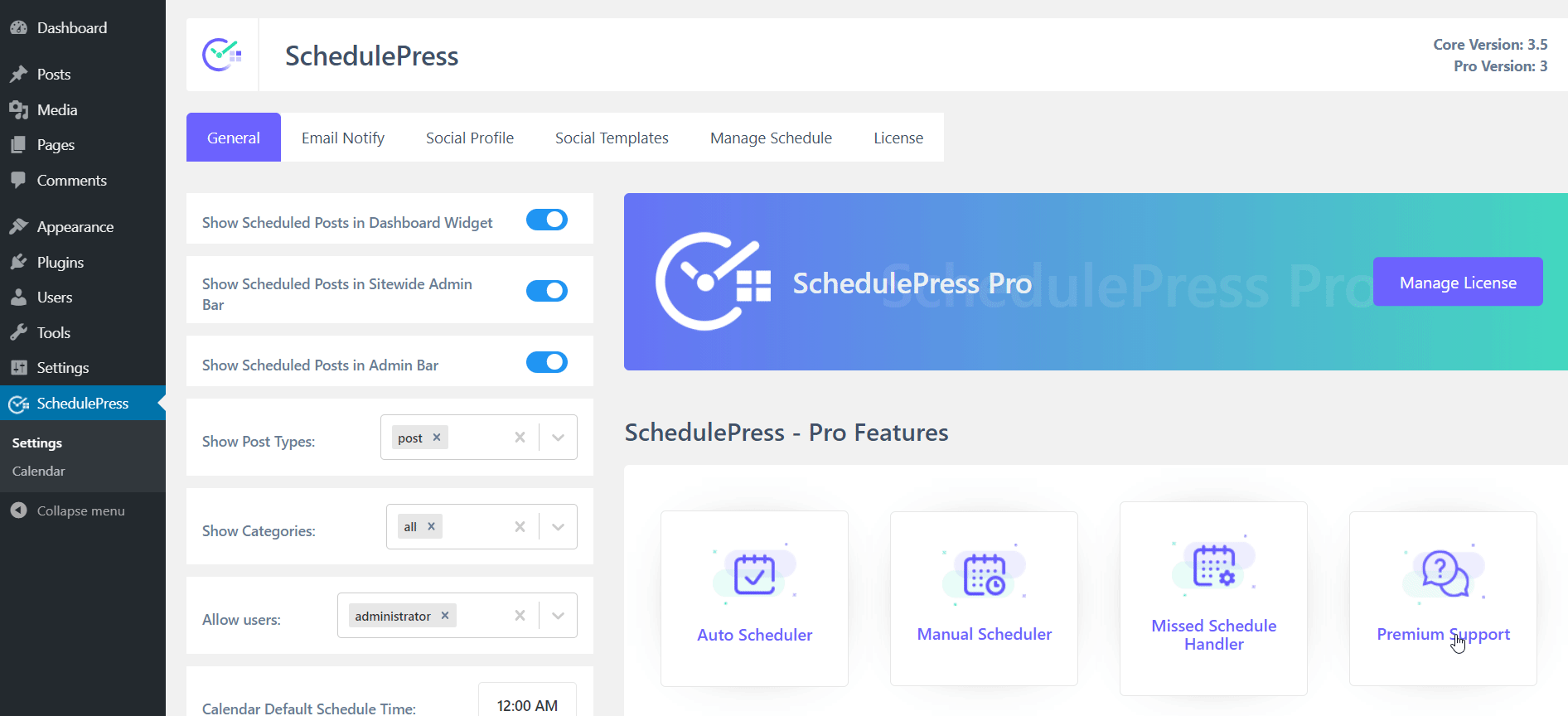 Manual Scheduler gives you total control in terms of which particular time & date you want your content to be scheduled. You have to specify the exact time and your contents will be only planned for that mentioned time. This feature also lets you easily remove any already set timing that you no longer like as well.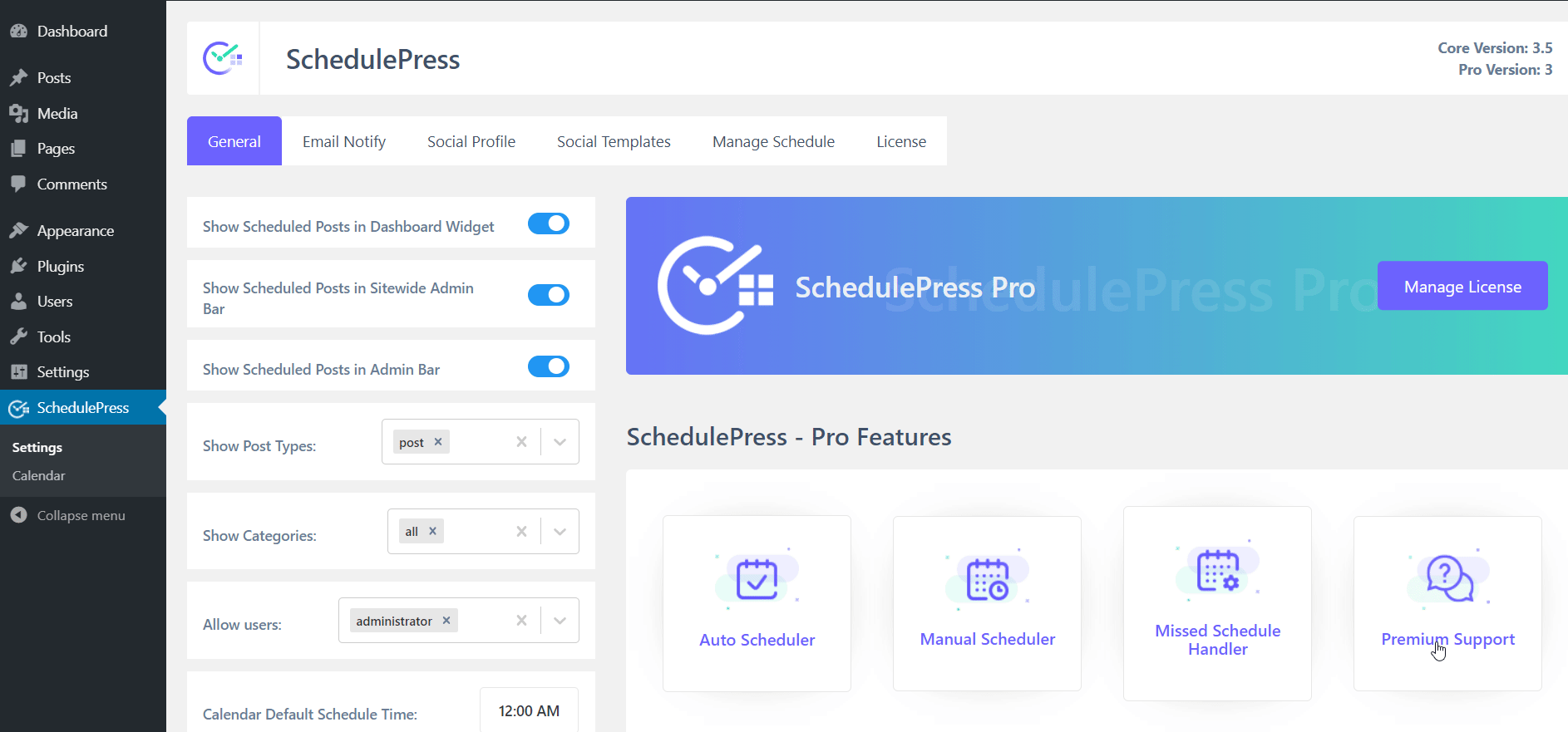 On the other hand, if you want, you can activate the Missed Schedule Handler to resolve your missed schedule errors. Suppose you have scheduled any content, but your scheduled posts had not been published on time, this advanced feature will reschedule it automatically and make it publish. You don't have to look for any more than your schedule posts are on the air on time or not. This feature is also applicable for your WordPress pages and custom post types as well.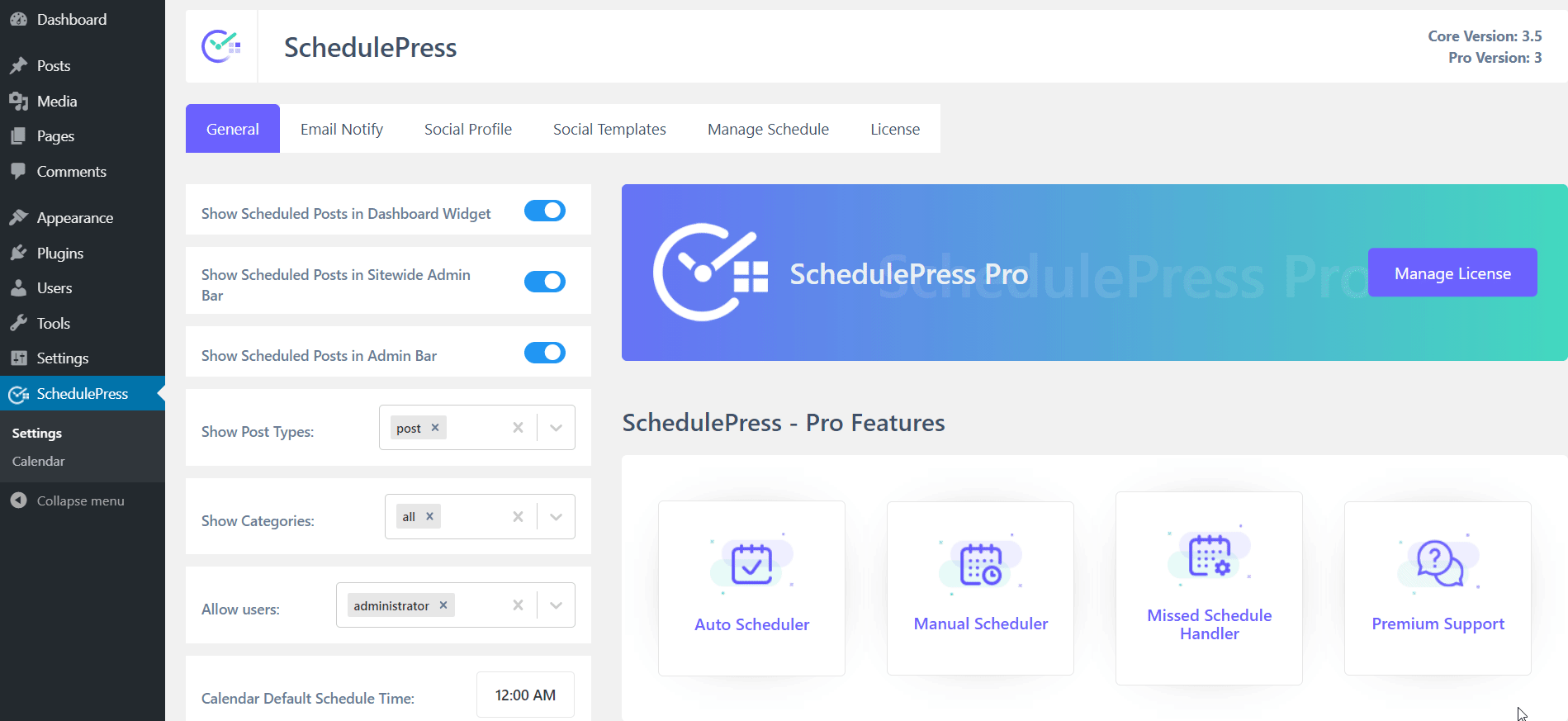 Organize Your Contents in Advanced 
Depending on the settings of your chosen timing, you will view a checkbox to select and schedule your contents accordingly. It's going to appear under the "Publish" Meta box of the post you are editing.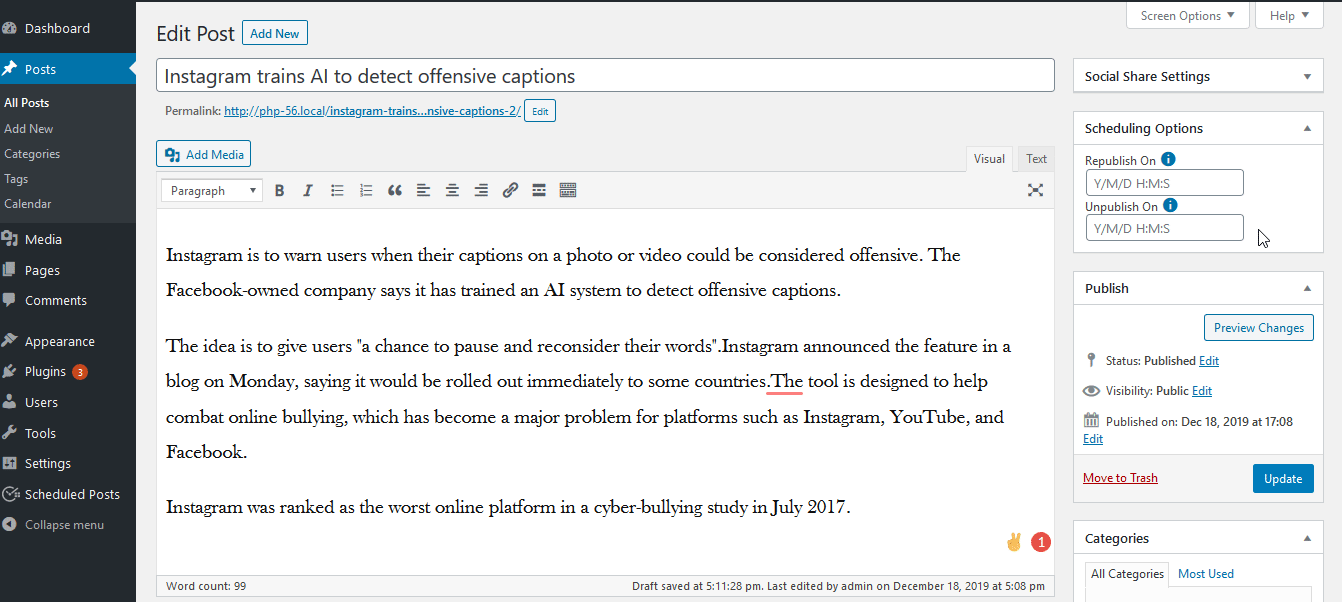 Display the Listing of your Upcoming Articles
From the SchedulePress Options, you can easily view the listing of your future contents. You will have the options to set where you want the number of Scheduled Posts to be displayed among these: WordPress Dashboard, Sitewide Admin Bar & The Backend Admin Panel.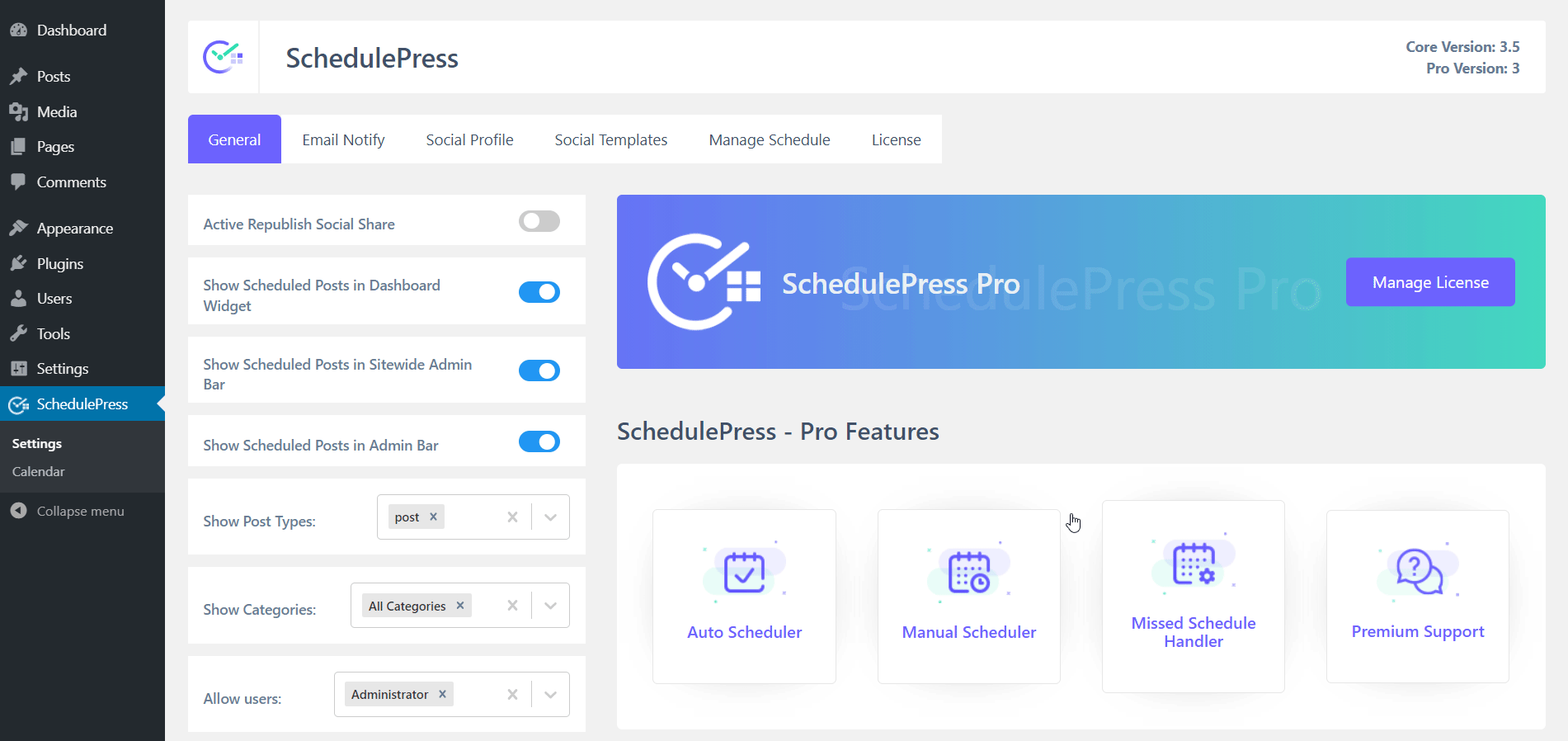 Besides, you can set the availability of the listing based on post types, categories & user roles. Suppose you choose a certain post type & category, only these specific posts will then be displayed in the upcoming articles.
Furthermore, you can also modify your Item template with your preferred HTML tags and title length. Besides, you can set your preferred date format as well.
This is how you will able to view your planned and future content on your WordPress site.

Auto Social Share Your Schedule Posts
Using SchedulePress, you can share your schedule articles or schedule posts in WordPress using the SchedulePress auto social sharing facility. You can even integrate multiple social sharing accounts of your Facebook groups or pages, Twitter, LinkedIn, & Pinterest. 
Besides, you have the full freedom to change the outlook by configuring the social share templates of your WordPress schedule posts with the help of SchedulePress. You can add Facebook metadata, categories as hashtags, entire template settings, and more with ease.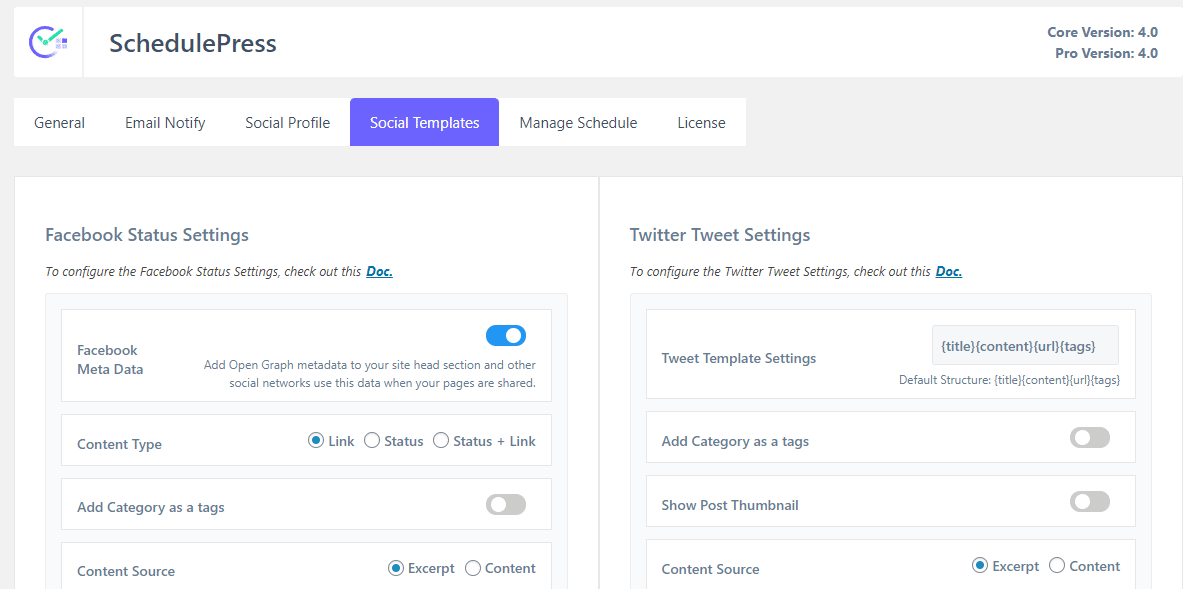 Also if you feel the necessity to share your WordPress posts instantly from your WordPress editor, use the 'Share Now' button to share your scheduled posts instantly without facing any hassle.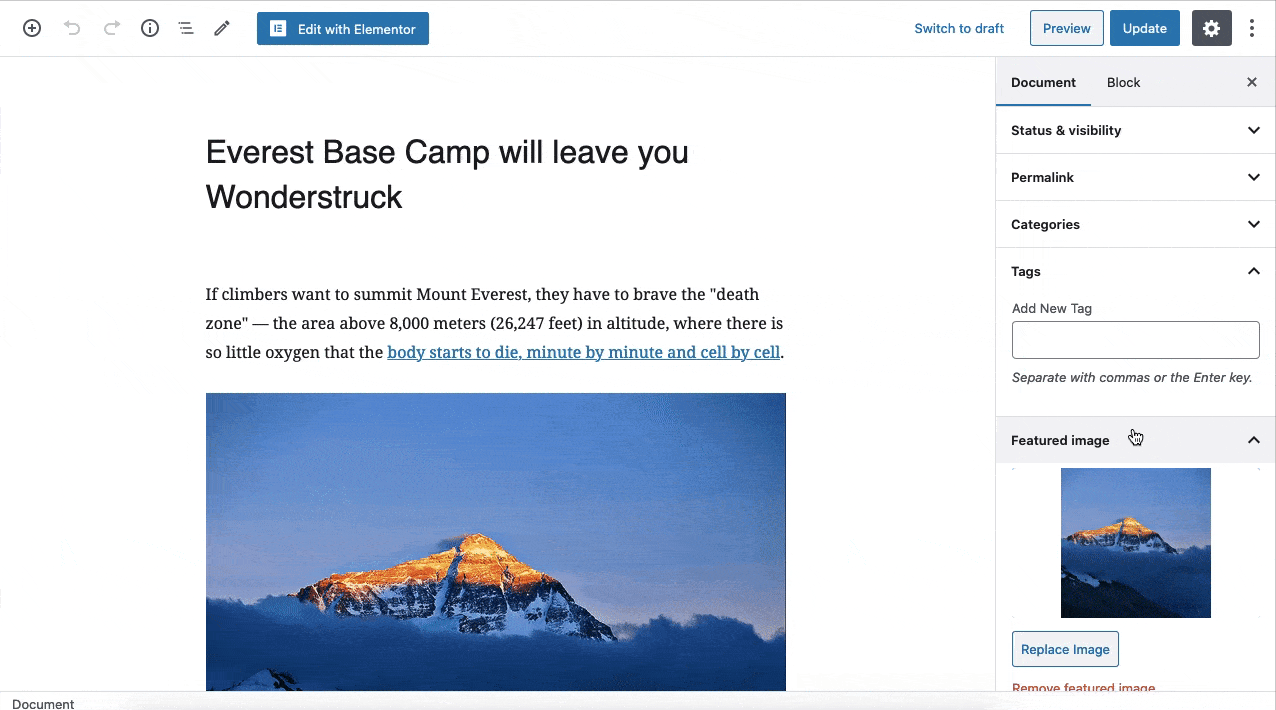 Final Thoughts
To wrap this up, we hope that this article helps you out on scheduling your content and displaying your upcoming blogs on your WordPress website.
So, why don't you get started planning your content for the future with SchedulePress? If you have any suggestions, please feel free to contact us. Our support team will get back to you. 
Hope you find this blog helpful, let us know your experience by commenting below. If you want to read all our latest exciting blogs, posts, or more, go to this blog page here or join our friendly Facebook community to get connected with WordPress experts.