This February, not only did we bring you several attractive, personal website templates for Elementor, but we also introduced the first-ever multipurpose template pack for Elementor and WooCommerce. Let's dive in and check out some of the best ready Elementor template packs released this February 2021.
Highlight Of The Month: EleMart, A Multipurpose Template Pack For Elementor & WooCommerce
We know how important it is to be able to create multiple websites quickly in one-go. It can get pretty overwhelming to constantly look for different templates when you are making many different websites in Elementor. That's why, to help you design beautiful websites without wasting time searching for templates, we introduced EleMart, the first ever multipurpose template pack for Elementor from Templately.
EleMart is designed specifically for WooCommerce websites, and comes with 7 different Home Pages so you can easily create any kind of online store. Whether it is a toy store, an online clothing store, a jewelry shop. It's also perfect for those who sell multiple types of products from their eCommerce store. There is no limit to what you can create with EleMart, which makes it one of the best ready Elementor template packs for eCommerce businesses.
In addition to the 7 different Home Pages that you get with EleMart, you also get access to 17 more page templates for building a fully functional online store. These include About Page, Shop Page, Product Page, WooCommerce Checkout Page, and much more.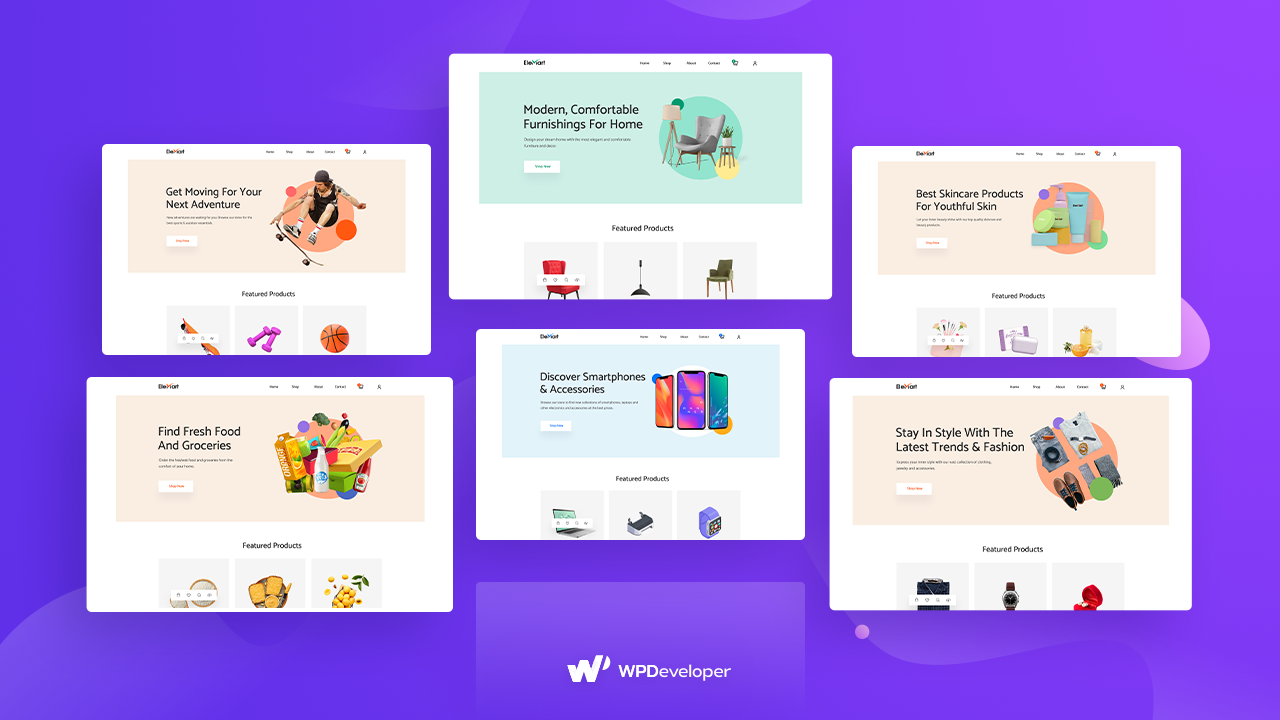 Get Access To EleMart Multipurpose Template Pack For Elementor
So, with the EleMart multipurpose Elementor template pack, you no longer need to look for several different website templates. You can just use this all-in-one templates pack to create multiple kinds of eCommerce websites.
Acrylic: A Stunning Personal Website Template For Artists And Painters
Next up on our list of the best ready Elementor template packs is Acrylic. This is a gorgeous, beautifully designed personal website template for artists or painters. It can also be used by art teachers, art studios, or even by anyone who wants to create a website for their art portfolio or art shop. 
Featuring a soothing color palette balanced with soft Gaussian blur effects, Acrylic is truly a one-of-a-kind Elementor template from Templately for anyone who loves painting or is in any kind of creative profession.
EventPress Pro: Beautiful Elementor Template Pack For Virtual Conference Websites
Although the Covid-19 pandemic is far from over, life must go on and we are all getting accustomed to the new normal of virtual meetings, or virtual conferences. That's why this February, Templately has released yet another beautifully designed virtual conference website template for Elementor. 
Called EventPress Pro, this is one of the best ready Elementor template packs for anyone who wants to build an eye-catching, engaging virtual conference website. This template pack comes with all the essential pages you could need for creating an event website or conference website, including an Event Schedule Page, Speakers Page, Blog Page and more.
Best Ready Elementor Templates For Business Consultants Or Business Consultancy Service
This February, Templately introduced not one, but two attractive and fully responsive ready Elementor templates for business consultants or business consultancy for WordPress. These template packs are designed to make personal websites for anyone who is working as a consultant, a business consultant or a business consultancy service firm.
The first one, Smith Consulting, is a full ready Elementor template pack with 8 attractive ready-to-use pages. These includes a Project Page, a Service Page, Prices Page and much more. You can also use this template pack to create a business consultant portfolio website as well.
The other ready Elementor template for business consultants is BizMentor as shown above. This template features a bold, blue color palette for a professional feel, and comes with an interactive layout, attractive Call-To-Action buttons and much more.
Allec Snee: Personal Financial Advisor Template
You can also create a personal website for financial advisors or financial consultants with the Allec Snee ready Elementor template. It's a stylish template featuring bold colors, and is fully responsive on all devices. Although it is made to be used as a personal website, you can also use it for financial consultancy firms or related services..
Do Yoga: Best Ready Elementor Template For Yoga Instructor Website
Besides these personal website templates for business or financial consultants and advisors, Templately also released a visually aesthetic ready Elementor template for yoga instructors. 
Called Do Yoga, this Elementor template features muted color palettes for a soothing and calming effect. You can use it to create a personal yoga website, or for yoga classes, yoga centers, wellness centers or for other similar types of services.
Enter Mega: An Attractive Entertainment Magazine Template For Elementor
If you want to create an online entertainment magazine website or an online news website, then Templately has just the right template for you. With Enter Mega, you can create a eye-catching website perfect for entertainment magazines, lifestyle magazines or blogs, fashion or travel magazine and more.
This versatile template pack comes with all the important sections that are essential for any magazine website such as section for trending and latest news, support for sharing video content and lets you display your posts in an attractive grid layout with hover animation. 
Get Access To 1000+ More Ready Elementor Template Packs From Templately
And that wraps up all the new templates released this February from Templately. But there are still more than 1000 ready Elementor templates left for you to explore. So head over to Templately and sign up today to start creating beautiful websites instantly.