Whether you are new to the world of eCommerce, or you have already established a successful online store, gaining customer's trust is important for any online store to sell better. Customer reviews is a great way to ensure social proof and increase sales. And you are utilize this with ReviewX–an advanced solution for WooCommerce Store that helps you gain credibility and increase your sales.
Why Does Your WooCommerce Store Need Multi-Criteria Reviews?
Product reviews and customer testimonials are essential for all businesses, but especially for online stores. This is because, in case of online stores, customers will not be able to see what your products look like in real life. For this reason, they will be more apprehensive and hesitate more when making a purchase decision. 
This is why your WooCommerce store needs multi-criteria reviews & ratings. With detailed reviews and ratings for several aspects of your product such as functionality, durability, and more, your potential customers will have a better idea of what you are offering. They will also be able to see you as a more authentic and reliable source. 
This type of strategy is also known as social proof marketing and is used by nearly all businesses. With ReviewX for WooCommerce, you can use social proof marketing to get more sales in several ways.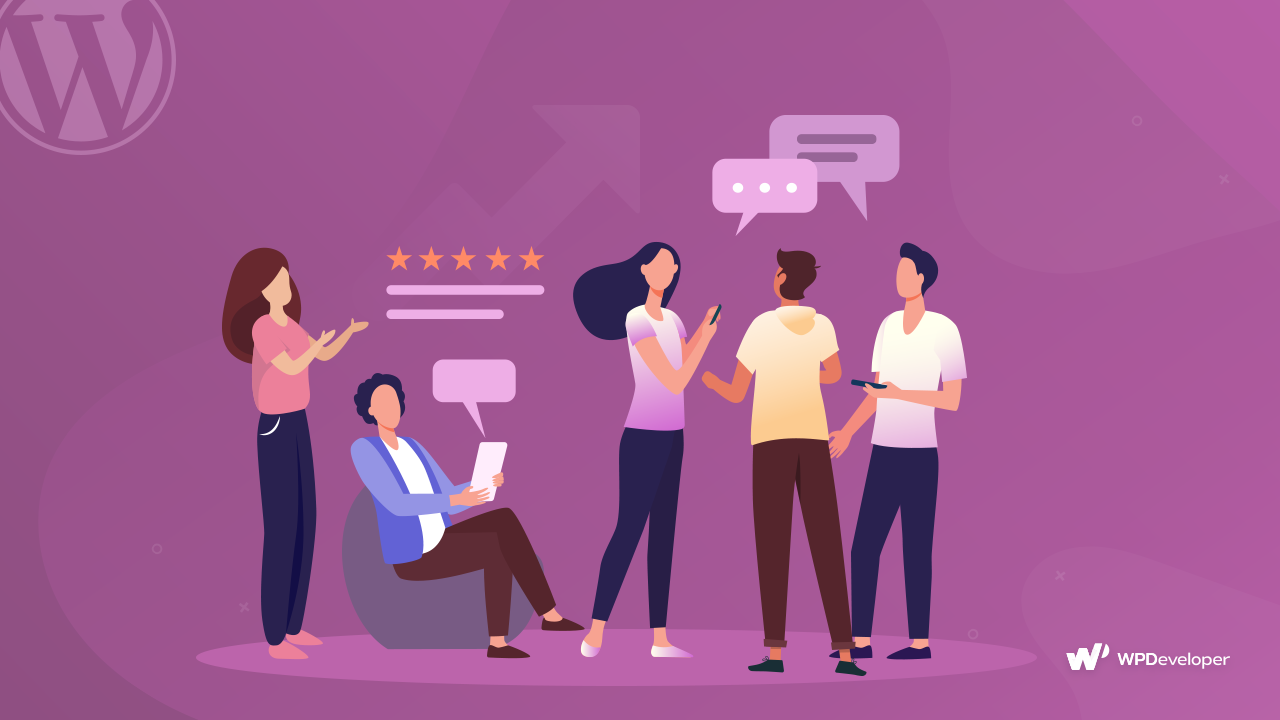 Gain Trust & Credibility By Showcasing Customer Reviews
Since trust and credibility are crucial for any WooCommerce store, you can showcase positive customer reviews on your site to help make potential customers make a purchase decision. The more detailed, relevant, and informative the reviews are, the more trust you will gain from new potential customers. So, by showcasing multi-criteria customer reviews for your WooCommerce products, you can gain more trust and credibility which can help boost your sales.
Promote Your Store With User-Generated Content 
Product reviews that include real-life images and videos are also often called user-generated content. With ReviewX you can use this type of content to promote your store and stand out from your competitors by showing site visitors the quality of your products. Not only does this help to improve your business's image and reputation, but it also helps new buyers to quickly evaluate your product quality and make a purchase.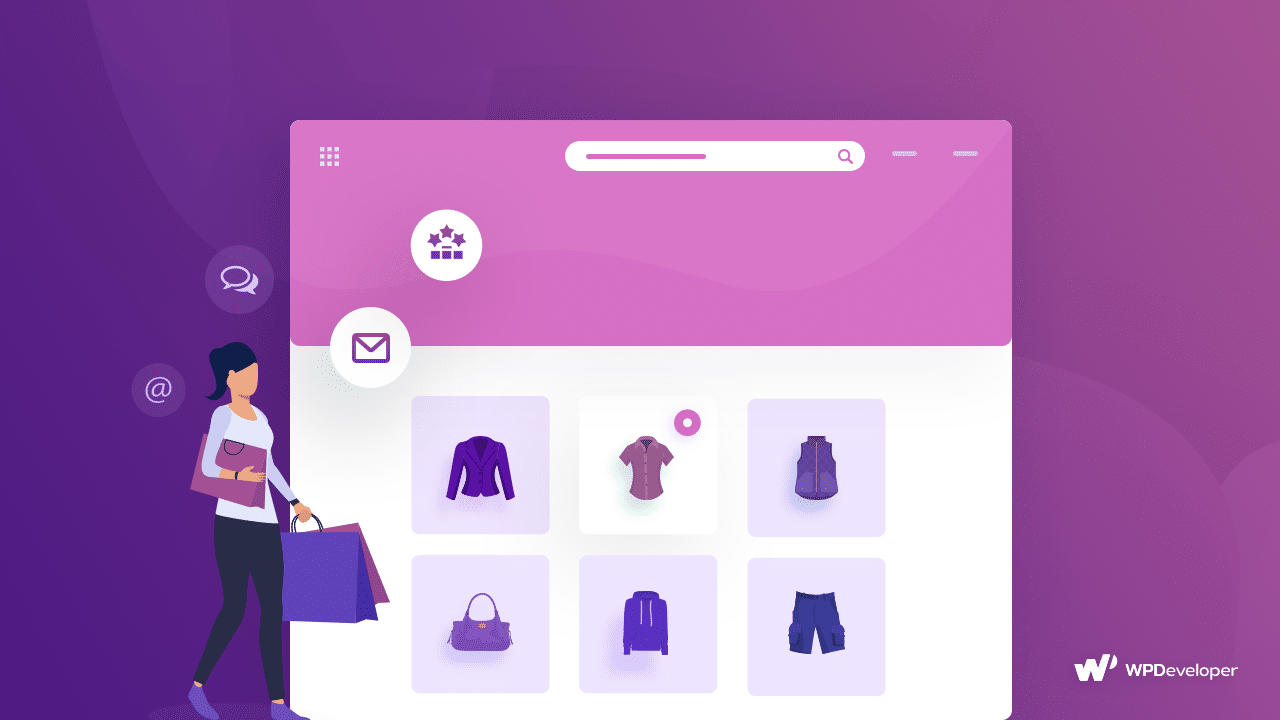 Get More Traffic To Your Store And Enhance Your SEO
Whenever your customers are reviewing and rating your products, they are creating new content for your WooCommerce website, which is used by search engines like Google. The more informative these reviews are, the easier it will be for you to rank higher on search engine results pages. This way, ReviewX helps your WooCommerce store to sell better by getting more traffic to your store and enhancing your SEO ranking.
Get More Innovative Ideas From Customer Feedback
Besides bringing more traffic to your WooCommerce store and enhancing your business's reputation, ReviewX can also help you get more innovative ideas for new products or improving existing ones. This is because with multi-criteria reviews, and ratings, you can get valuable customer feedback and insights on how to create even better products, which can help you sell better in the long run.
Watch The Video Tutorial Here
How To Use ReviewX For Your WooCommerce Store & Sell Better?
Now that you know how ReviewX helps your WooCommerce store sell better, let's look at all the features you can with ReviewX and how to use them. 
Step 1: Install ReviewX Plugin For WordPress
To get started, you will need to install the ReviewX plugin for WordPress. You can easily do this by navigating to Plugins→ Add New from your WordPress dashboard and searching for 'ReviewX'. Just click 'Install' and then 'Activate' to start using ReviewX for your WooCommerce store.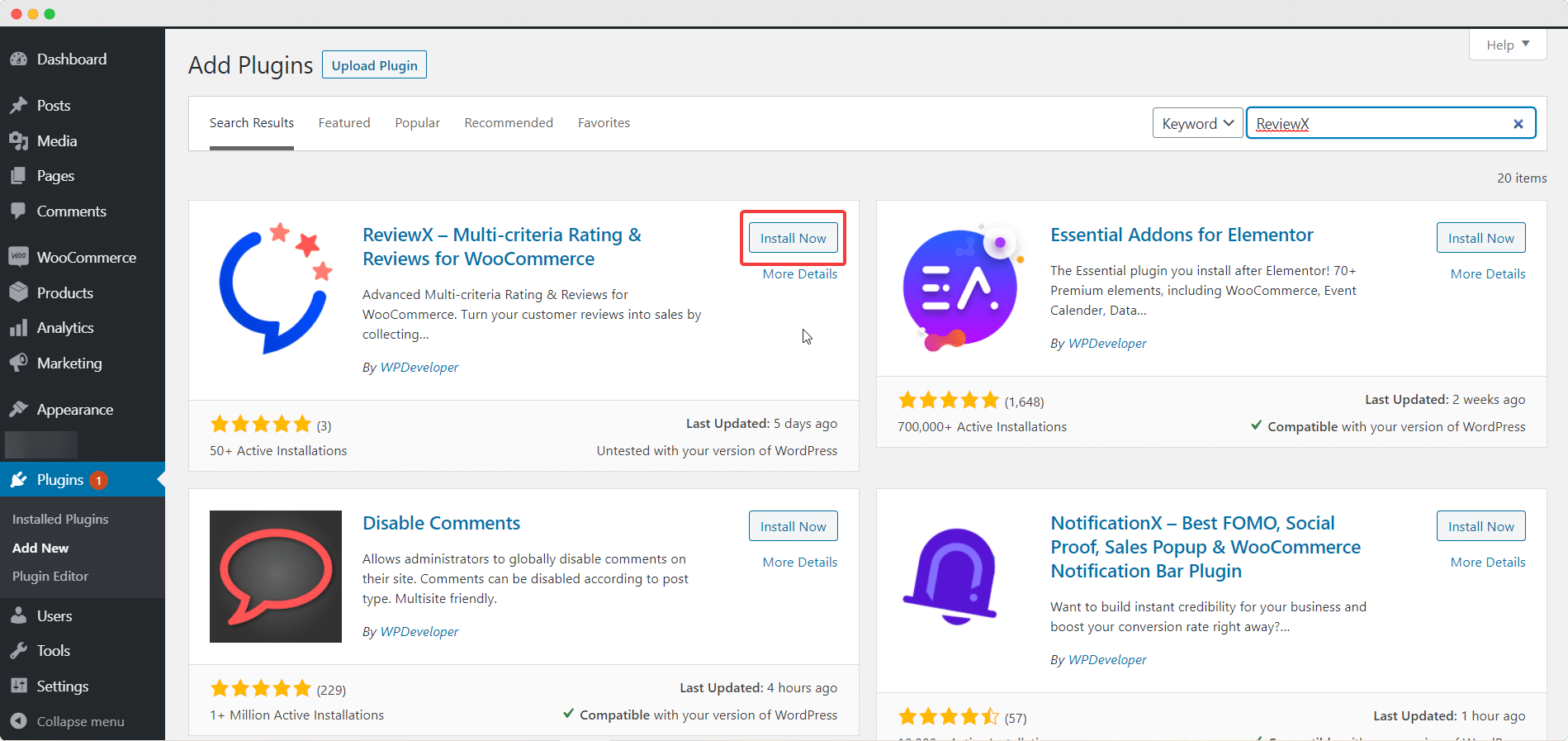 Step 2: Add Product Criteria For Multi-Criteria Reviews
Once the installation is complete, you can use the quick setup wizard of ReviewX. The first thing you will need to do is add the appropriate criteria for multi-criteria reviews of your product. This will vary depending on what kind of products you are selling through your WooCommerce store.
You can also add criteria without using the quick setup wizard by navigating to ReviewX→Settings→ Criteria from your WordPress Dashboard and clicking on 'Add New Criteria' as shown below.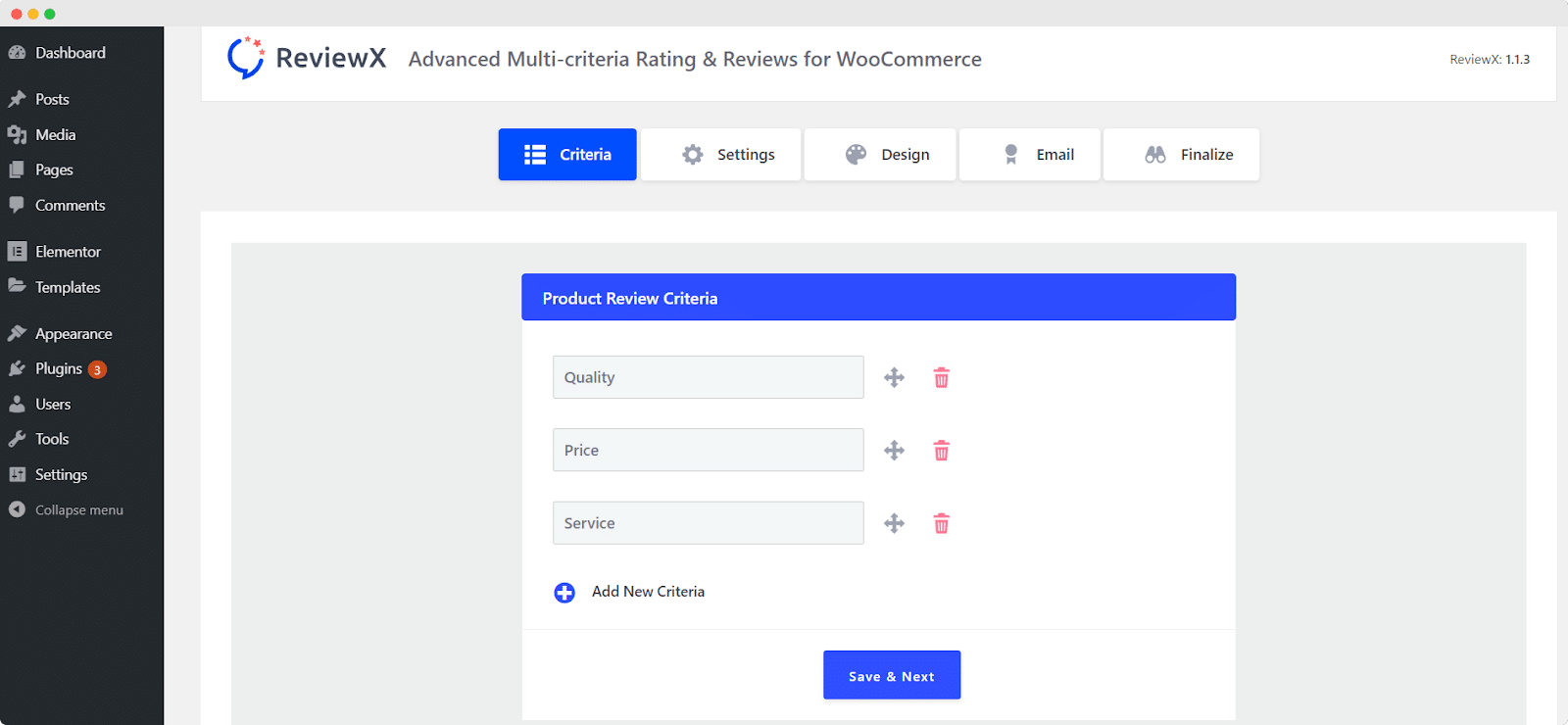 At the moment, you can only add up to three criteria with the free version of ReviewX. However, with ReviewX Pro, you can add an unlimited number of review criteria for your WooCommerce products.
Step 3: Configure Settings To Enable Images, Recommendations And More
Once you are done setting up criteria for multi-criteria reviews, you need to configure the settings of ReviewX for WooComemrce.
To start with, you need to decide when customers should be able to add their reviews. For more information and content rich reviews, you can enable reviews at each stage of the purchasing process. You can do this by navigating to wp-admin→ ReviewX and heading over to the 'Settings' tab.
Next, you can toggle the options shown above to allow your customers to share images and videos with their reviews. Since reviews with images and videos can make new buyers make a purchase decision more quickly, you can toggle to enable these settings to increase your WooCommerce sales.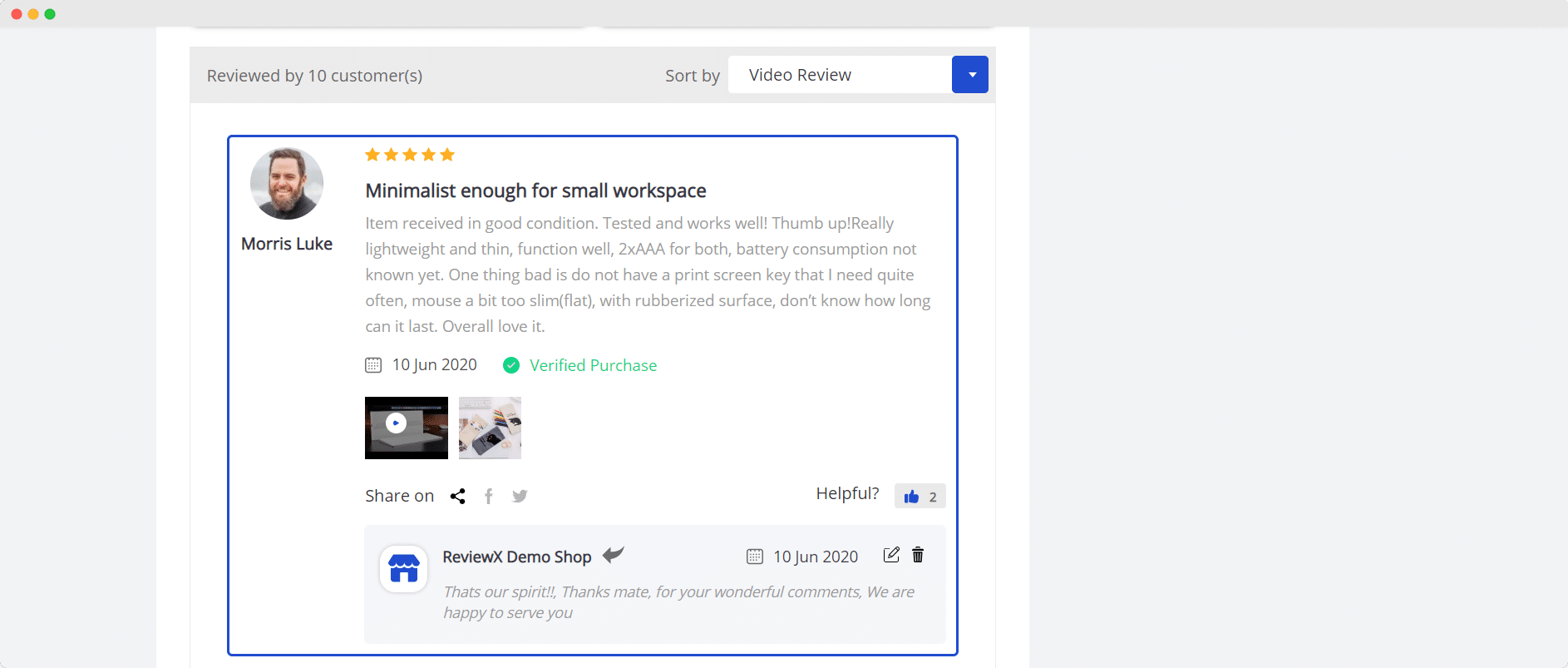 In addition to this, you can also add options for your customers to recommend your products and share their reviews on social media platforms. It is a great way to gain more credibility and help your WooCommerce store to sell better.
Step 4: Choose A Design Template For Reviews & Ratings Statistics
Next, you have to decide how you want to display your product reviews and ratings. With ReviewX, you can get many different attractive design templates to instantly grab your site visitor's attention. From graphical representations to choosing the photo review style, template style, and theme color, ReviewX gives you complete freedom to showcase your reviews and rating statistics in such a way that it instantly increases the value of your products to site visitors.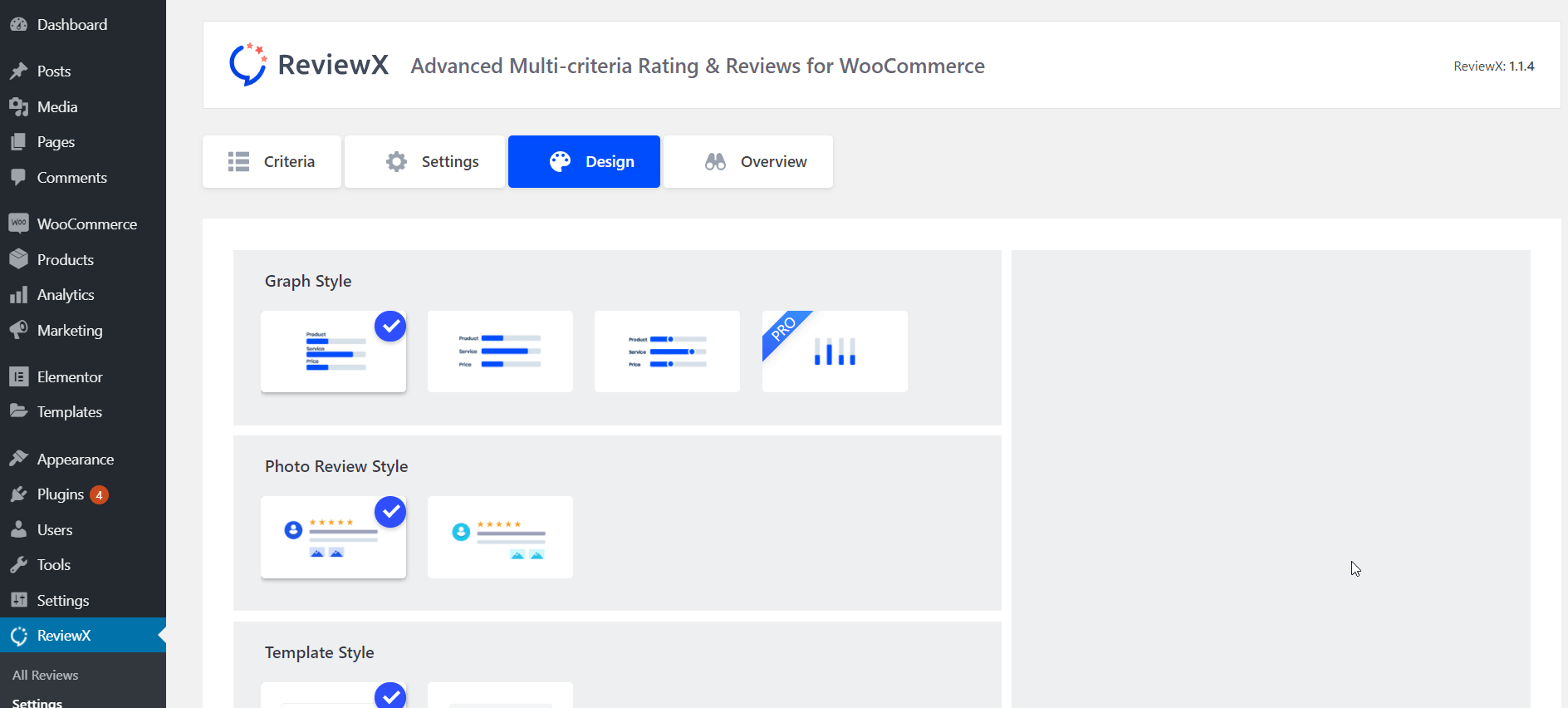 Step 5: Set Up Automatic Email Reminders To Customers
Finally, you need to set up automatic email reminders to customers who have made a purchase but have not reviewed your products. You can do this easily by using the automated email reminders feature that comes with Review X. To do this, head over to ReviewX→ Review Email.
By default, ReviewX comes with an email template complete with all the appropriate placeholders that you may need. These include presets for customer's name, shop name, order date, order ID, and much more. You can change the presets and customize the email message as necessary. ReviewX will automatically send the email reminder to your customer.
Next, head over to the Email Settings tab. From here, you can set the number of days to wait before sending your automatic email reminder. You can also allow your customers to choose if they want to receive review reminder emails by enabling the 'Consent on Checkout Page' option.
In addition to this, you can also set the number of emails per order, and add an 'Unsubscribe URL' so that your customers can unsubscribe from receiving email reminders if they want to.
By following these simple steps, you can set up and use ReviewX for your WooCommerce store and sell better by gaining trust and credibility.
Advanced Integrations From ReviewX
Aside from helping you set up multi-criteria reviews and ratings and displaying them beautifully on your site, ReviewX also comes with a few additional features to help your WooCommerce store sell more while enhancing your user experience.
Seamless Integration With NotificationX 
One of the most popular social proof solutions that helps you increase sales for your WooCommerce store is NotificationX. Trusted by more than 20,000 businesses, Notification X helps you build credibility by displaying attractive pop ups whenever a customer purchases your product, leaves a review, or makes a comment.
To help you make the most of social proof marketing, ReviewX comes with seamless integration with NotificationX. This means you can display ReviewX notification alerts and sell more from your WooCommerce store.
Full Compatibility With Elementor 
If you have created your WooCommerce store on WordPress using the popular drag-and-drop page builder Elementor, then we have some good news for you. ReviewX is fully compatible with the Elementor Editor, and comes with two different elements known as 'ReviewX Woo Review' and 'ReviewX Product Data Tabs'.
This is how the powerful multi-criteria review and rating features from ReviewX can help any WooCommerce store to sell better by gaining trust and credibility. We hope you find this tutorial useful and would love to hear your feedback. Check out the free version of ReviewX or save big with this limited time offer for ReviewX Pro.