Wondering how you can schedule content and deliver interesting, engaging, and better sale deals to your customers on a regular basis? If so, you are not alone, because this is a frequently asked question among marketers and communications professionals, from around the world, who are continuously trying to grow their businesses.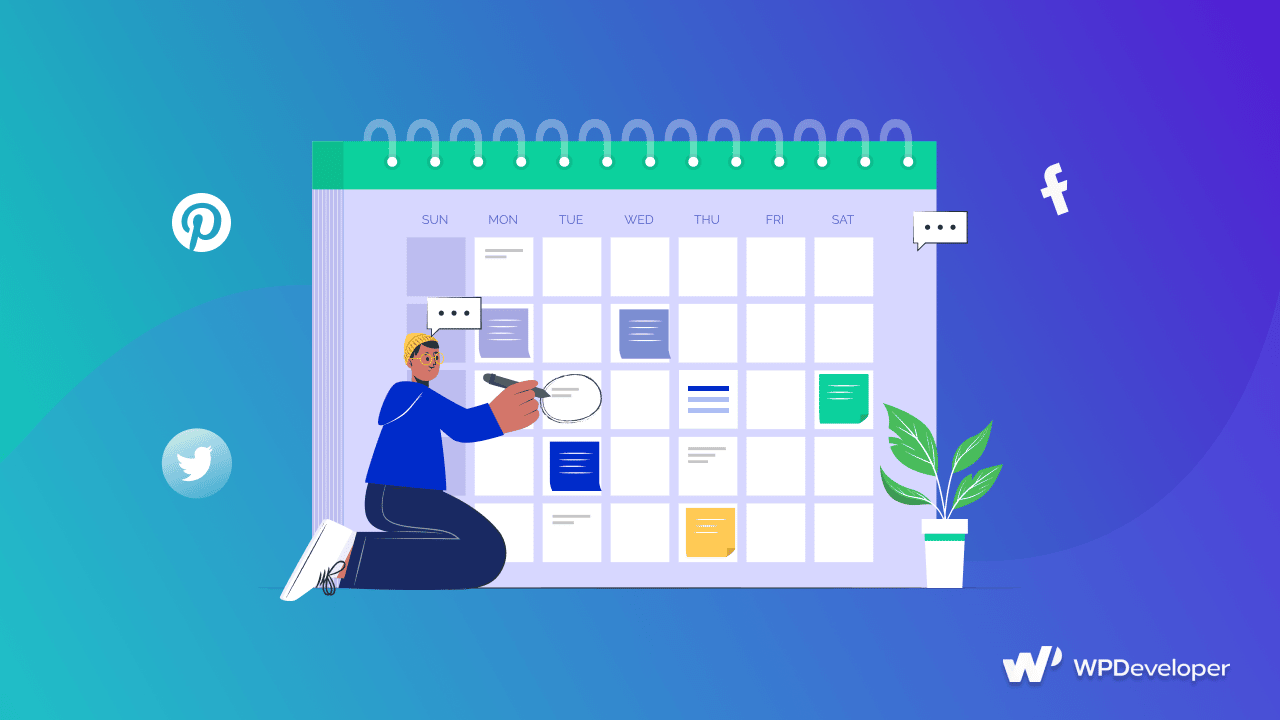 Planning ahead is crucial for anything connected to your store. Knowing which products you'll produce and when they'll be released, determining when different marketing campaigns will begin and stop, and when to make changes to the overall look and operation of your business – is always a way to stay ahead of the competition. The same is true for content management on your websites.
Future planning is also essential for SEO, particularly when it comes to the holiday season. But not to worry because with this blog, we bring you the best ways to manage, organize, and schedule content effortlessly.
Best Practices To Schedule Content For Upcoming Holidays
A schedule calendar is a simple way to address this issue and make the most of your company's resources. It is a useful tool for coordinating content creation and for breaking down your team's upcoming workload into clear, manageable units, that can later be easily scheduled and published without any hassle.
To help you effortlessly schedule content, campaigns, and everything else, for the upcoming holiday season, we have gathered some of the best tips and practices. Read below and you'll have no trouble scheduling and publishing any content successfully.
🎯 Define Your Campaign Goals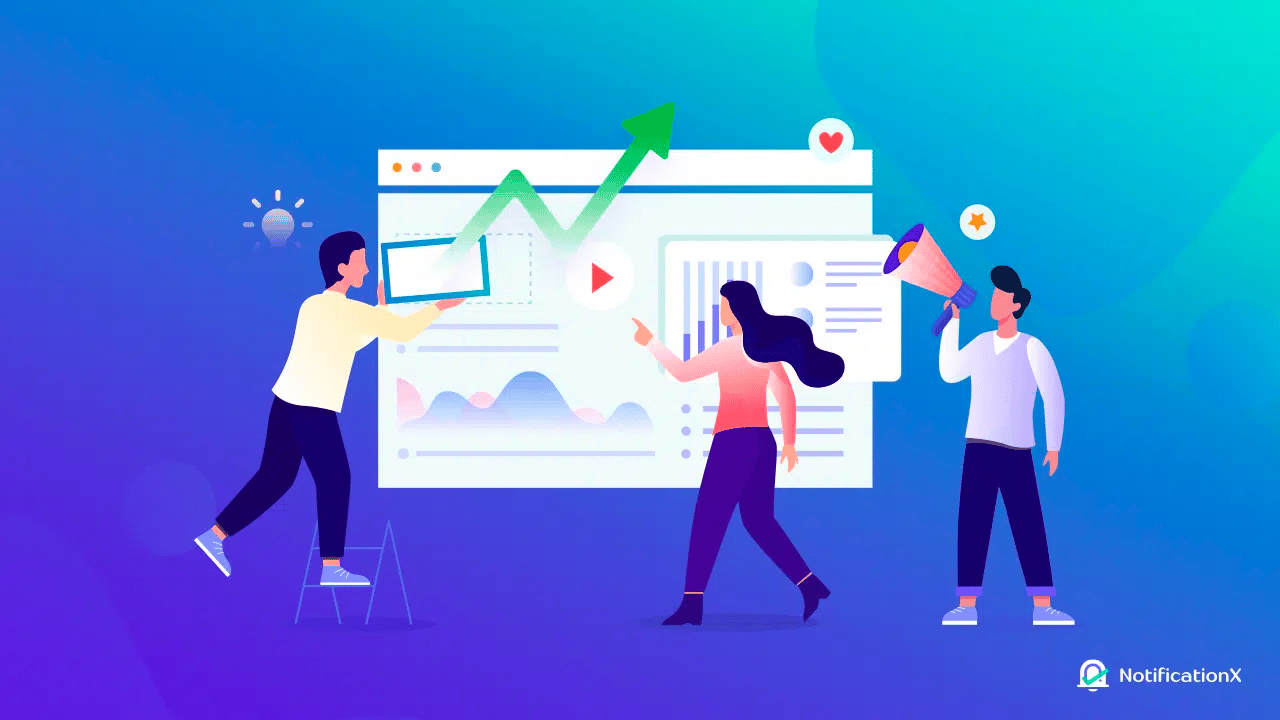 Begin by asking yourself, "What is the main goal of my future content?" The answer to the question should be used to determine the appropriate social channel and format. Is the content intended to generate new leads, direct readers to a website, gain visibility, or increase your social media followers?
The goals you set significantly impact who, where, and how frequently you publish content. As a result, it is critical that your team understands your objectives both before and during the planning process.
🎉 Create A Template Based On The Holiday Theme
On the internet, there are lots of tools that provide calendar features; feel free to select whichever template best suits your needs. Your content scheduler can be as simple as a basic spreadsheet or you can use advanced plugins like SchedulePress, but more about this tool later in the blog.
If you want to schedule content with the entire organization or other members of your team, it's best to look for a calendar that has a 'share' option. For example, you can use the free Google Sheets tool or any scheduling WordPress plugins to create a calendar template, which allows anyone involved in content creation to edit the sheet on their own computer to add comments and ideas.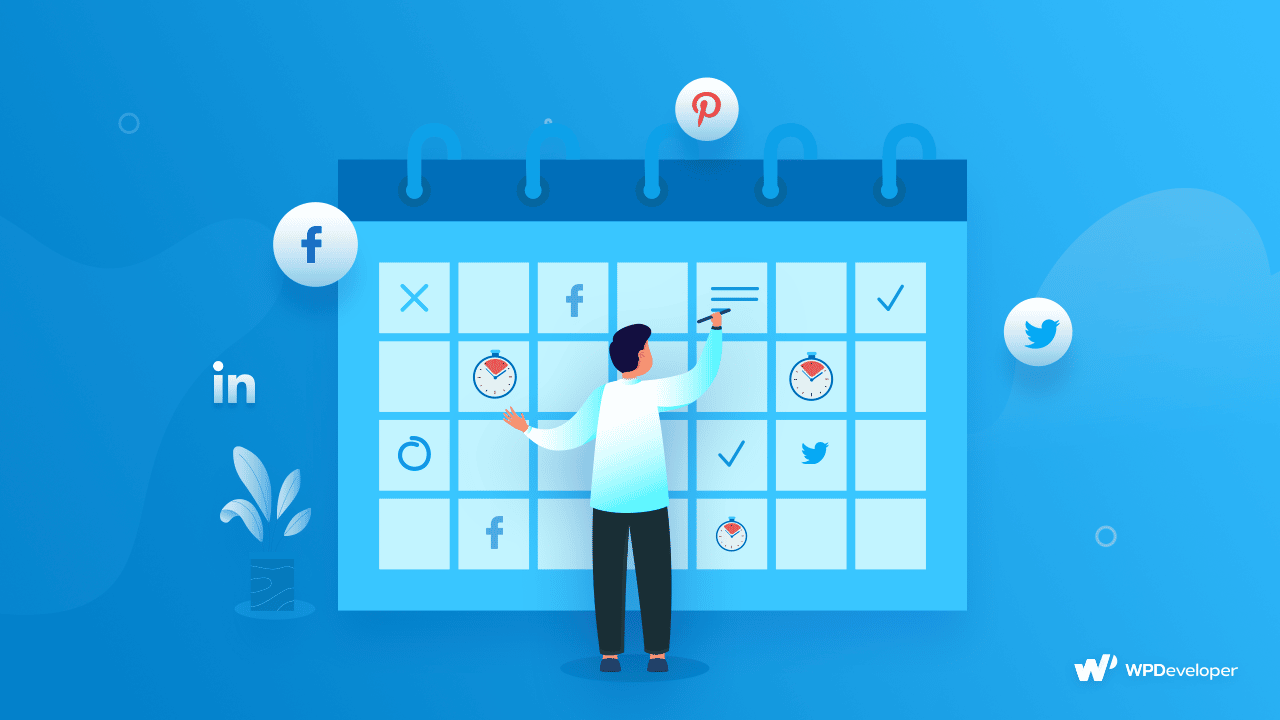 📑 Pick The Best Channel For Your Customers
Determine which social channels or platforms your current and prospective customers use. This will assist you in determining the type of content you should concentrate on creating. Should you publish blog articles on your website? Or, should you opt for Instagram and Twitter instead? Maybe a YouTube video will be more reliable to gain a greater audience. Or, a poll on Facebook can be even more interactive and engaging
It can be advantageous to publish content on multiple platforms and in multiple formats in order to broaden your audience and generate more organic traffic to your business or website. However, ensure that you have sufficient resources to focus on the platforms on which you wish to appear. Instead of posting on every platform you can think of, prioritize your most important channels and focus on creating high-quality content.
🗓️ Get Your Content Organized & Save Time
Consider how consistently you can realistically publish new content. Because creating content takes time, it is essential to choose a publishing frequency that works for you. Understanding your own boundaries is vital to the calendar's efficiency. The content will suffer if it is overcrowded – some people may even get annoyed with too much content and decide to subscribe or unfollow your posts. Therefore, there should be enough content to generate traffic and provide value to your customers on a consistent basis.
♻️ Make Use Of Ready, Earlier Content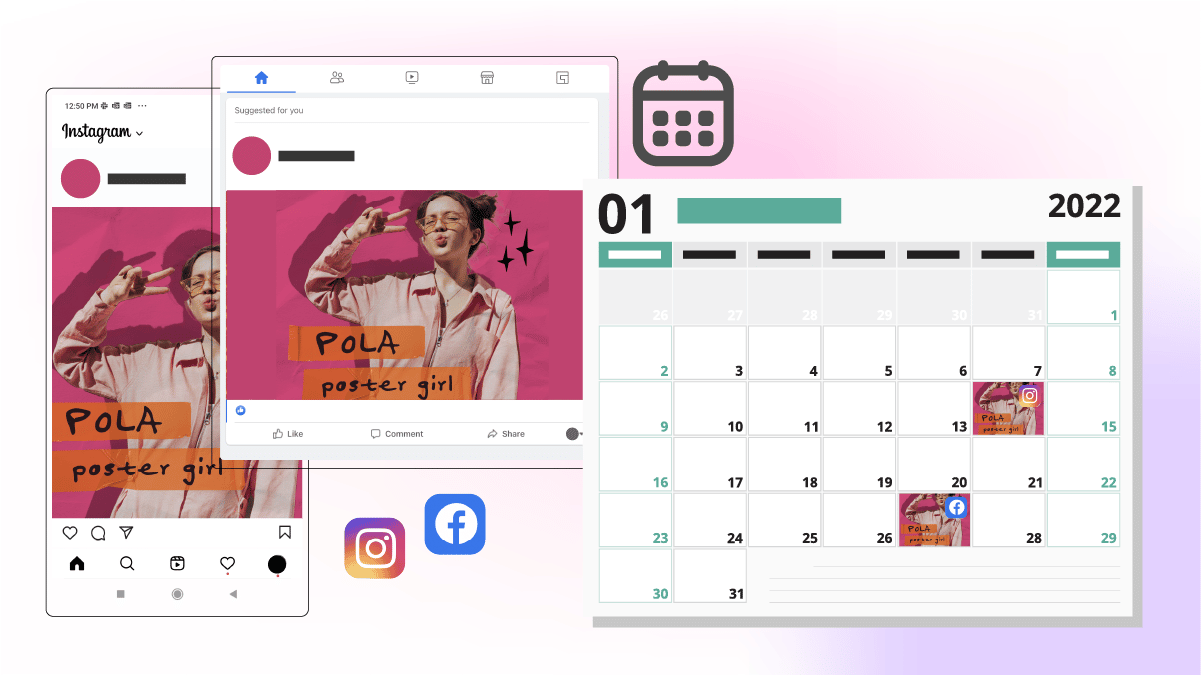 It is not always necessary to create content from scratch. Most business owners have useful content that hasn't been used, such as CRM system data and customer survey results, that can be updated yearly.
Old blog posts can also be reused and updated through various channels, such as making short videos. Because your potential customers may seek information on various platforms, it is a good approach to present similar ideas in different formats. This way, you can make the most of all of the valuable content you've created by reaching out to various target audiences. And all you need to do is update the content, and schedule it for your convenient timing.
SchedulePress: Easiest Solution To Schedule Content On WordPress
With all the best practices in mind, it's time to start to schedule content on your website. You now have a lot of control over how and when your content appears on your WordPress website thanks to the easiest content scheduling plugin, SchedulePress. With this plugin, you will have a nicely designed calendar, schedule events on your preferred day and time, and much more.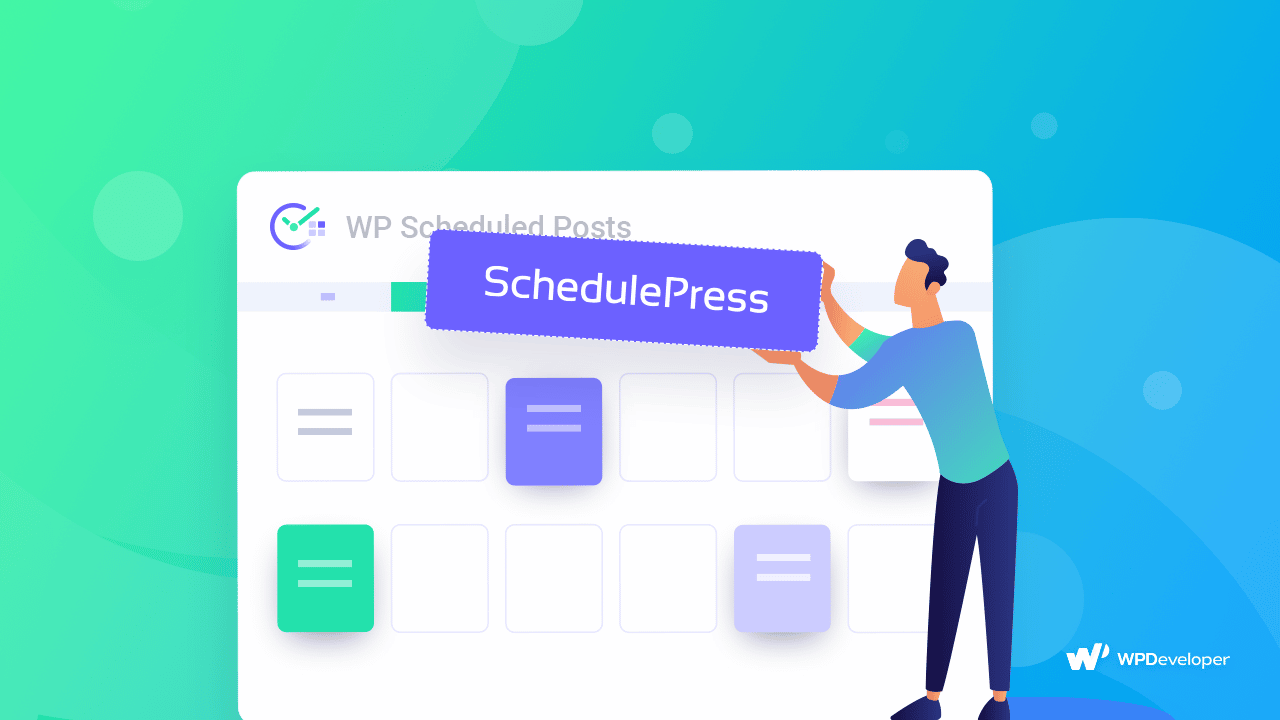 This plugin is well-known for being the best content marketing tool for WordPress with scheduling, organizing, and auto Sharing blog posts. Currently, this fantastic plugin has 10,000+ installations with 100+ five-star reviews.
Let's take a deep dive and see how you can easily schedule content beforehand this holiday season using this outstanding tool.
Advanced Drag And Drop Editorial Calendar
With the introduction of SchedulePress's new Schedule Calendar, you can quickly see what content you have planned in your queue. The new interface will make it easier for you to work with the Editorial Calendar. You can easily move your content from one date to another and change its status by using its amazing drag-and-drop feature.
If you have a large number of posts scheduled for a specific day, SchedulePress comes in handy with the long-awaited collapse option. The outstanding Schedule Calendar will significantly increase your productivity due to its one-click setup. Overall, it will allow you to plan your content months in advance and maintain a consistent strategy.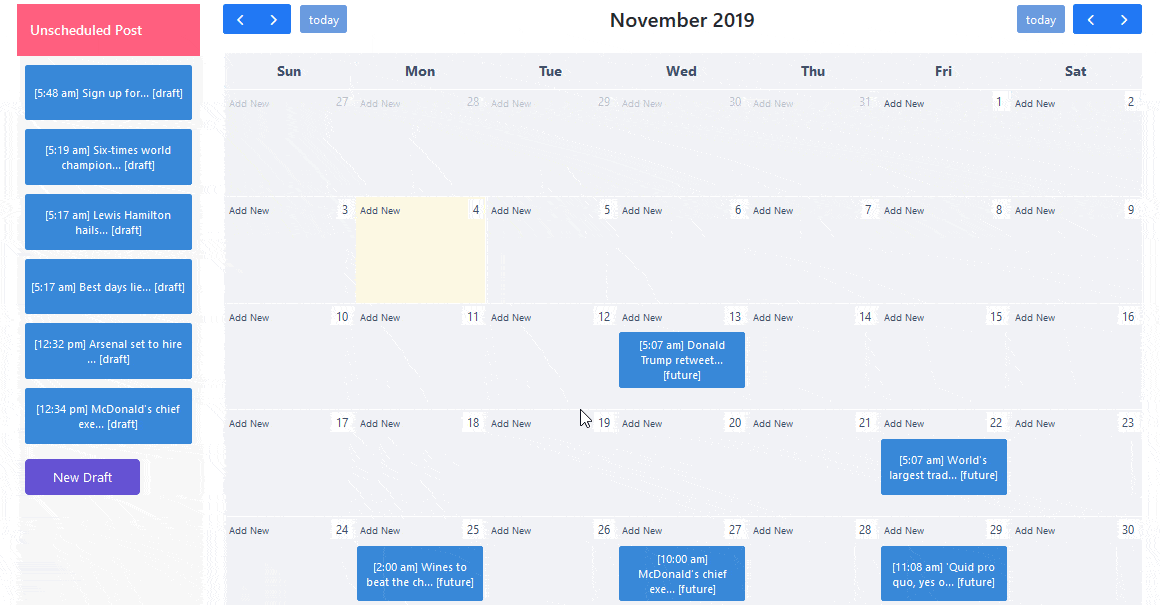 Schedule Content On WordPress With A Few Clicks
SchedulePress provides you with a much improved and user-friendly UI for managing all of your schedules in one place. Because of its simplicity, even if you are a beginner, you will not have to spend much time getting started. Simply turning on the toggle activates your preferred Scheduling option.
The fantastic new interface allows you to easily select your preferred time slots and streamlines your content planning strategy. Most impressively, by activating the Missed Schedule handler with a single click, you can prevent your contents from ever going missing.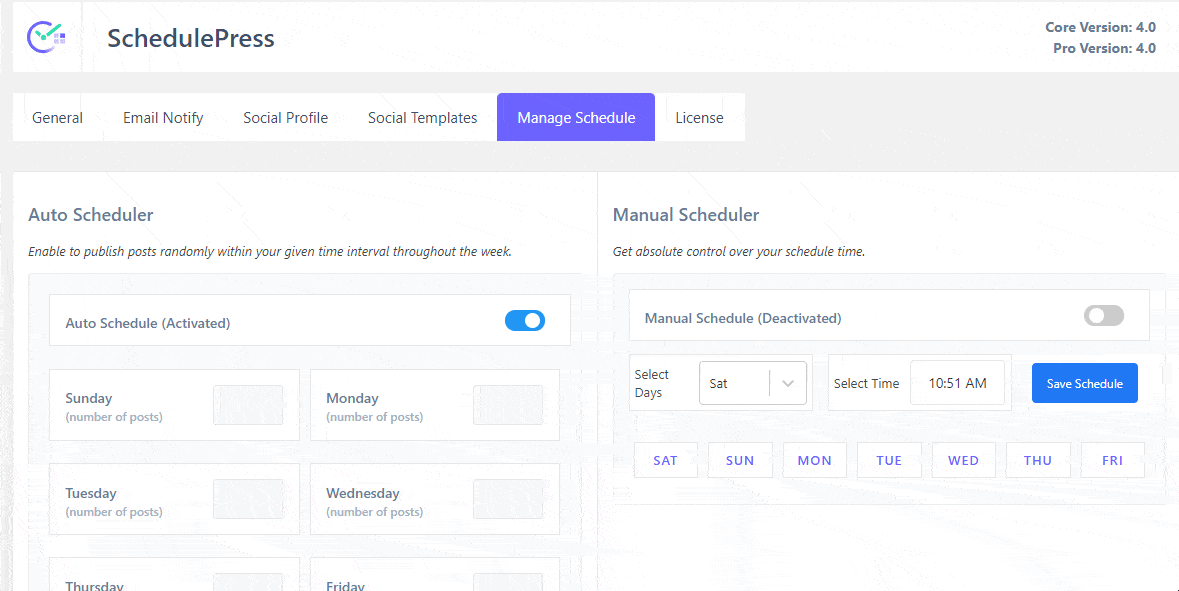 Advanced Auto Scheduler To Publish Content Automatically
SchedulePress PRO allows you to automatically schedule content based on your preferred date and time interval. Remember that this feature is only available with the Pro Package.
With Auto Scheduler, you can specify how many blogs you want to plan for each day. For example, if you schedule three posts for Sunday, you will only be able to schedule three posts for that week's Sunday. After the entire week has been filled in, the scheduled date will begin on the Sunday of the following week.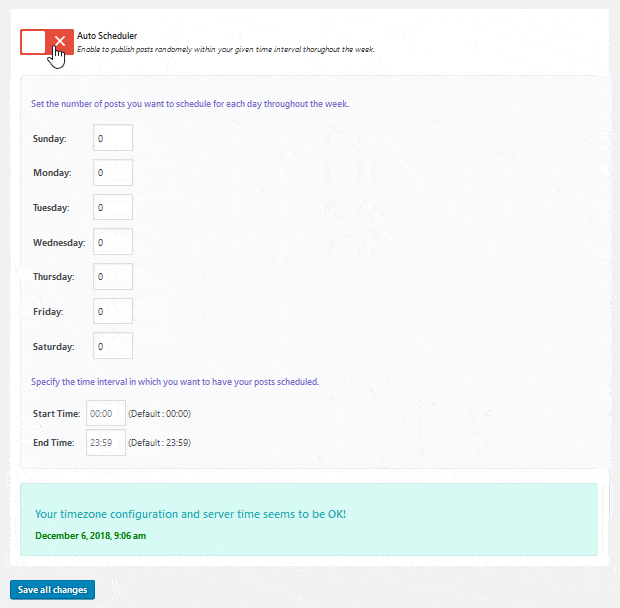 Manage Content With More Flexibility With Manual Scheduler
Another pro feature provided by the new SchedulePress is Manual Scheduler. It allows you to manually set the days and times for your posts.
As a result, when you attempt to publish a post, you will be displayed with these manually scheduled times and will be able to select them. This is essential, especially if you run a multi-author website, to ensure that posts are published on time.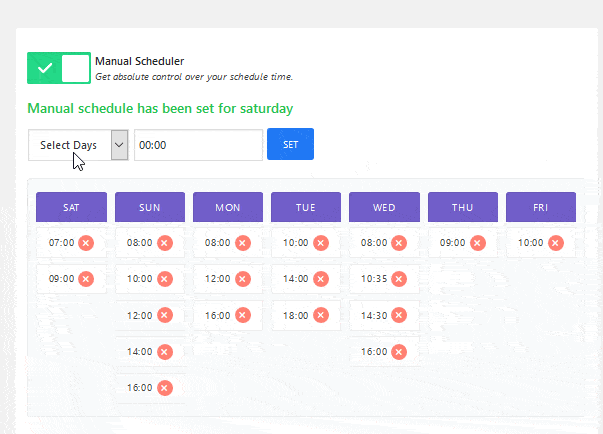 Bonus: Improved WordPress Auto Social Sharing With Pinterest And LinkedIn
Wouldn't it be great if you could directly schedule links from social accounts? This is now achievable if you manage your WordPress posts using SchedulePress. SchedulePress 4.2.0 is now available, where we have improved social sharing with LinkedIn and Pinterest social to make it easier for auto-sharing WordPress posts and pages. To effortlessly schedule content through social media you can follow this article for more.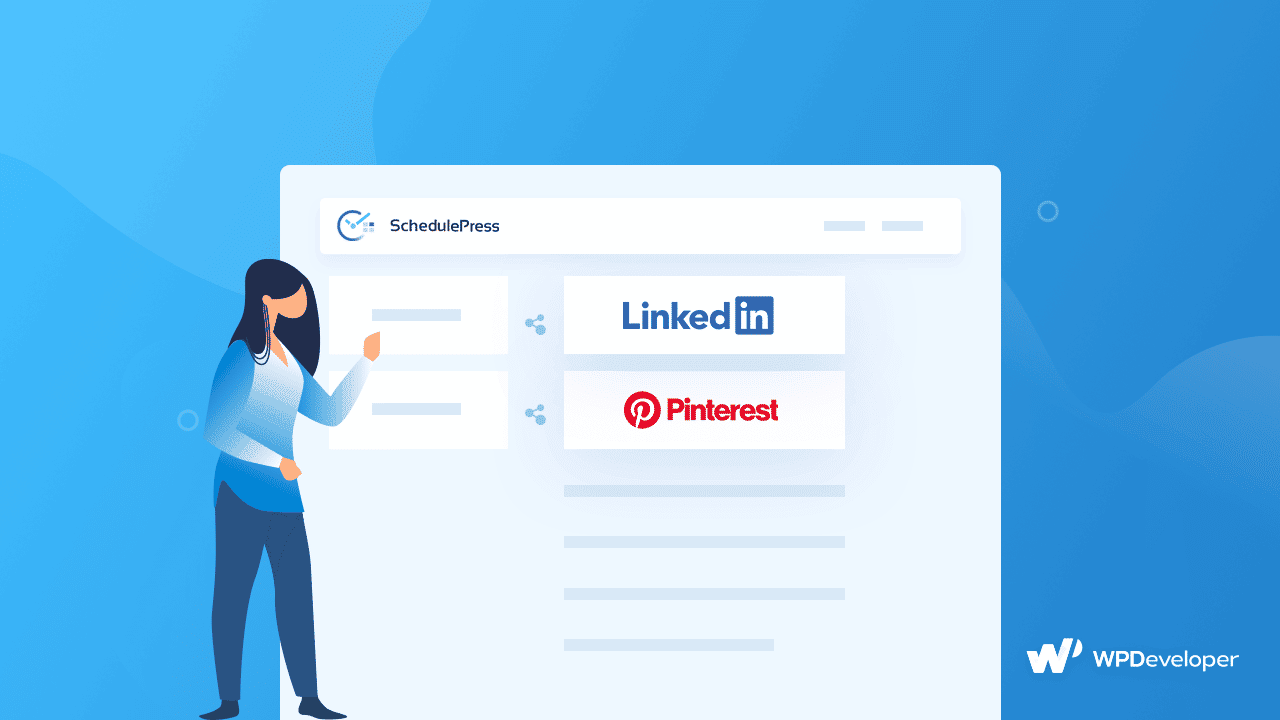 Effortlessly Manage Your Marketing Calendar With SchedulePress
Content marketing is a long-term effort. It requires a dedication to creating excellent content. A content calendar can be useful, but it is not always sufficient. If you want to increase traffic to your site by consistently publishing quality content, you must properly schedule content to make the most of any holiday season.
If you want similar articles to explore then subscribe to our blog page and join our super-friendly Facebook community for more exciting updates.