Are you struggling to get blog engagement on your WordPress blog? Then you should immediately move your focus from this traditional concept to modern marketing policy. These days, what really matters is creating engagement. Content Marketers' main concern is producing interactive content so that readers will come back to their site again and again. Because when you really be successful to gather regular readers, after some period of time, those readers will drag others to your blog site. So as a content marketer you have to learn the most constructive ways which will swell your blog engagement. Lets read out the blog and know the five most effective ways!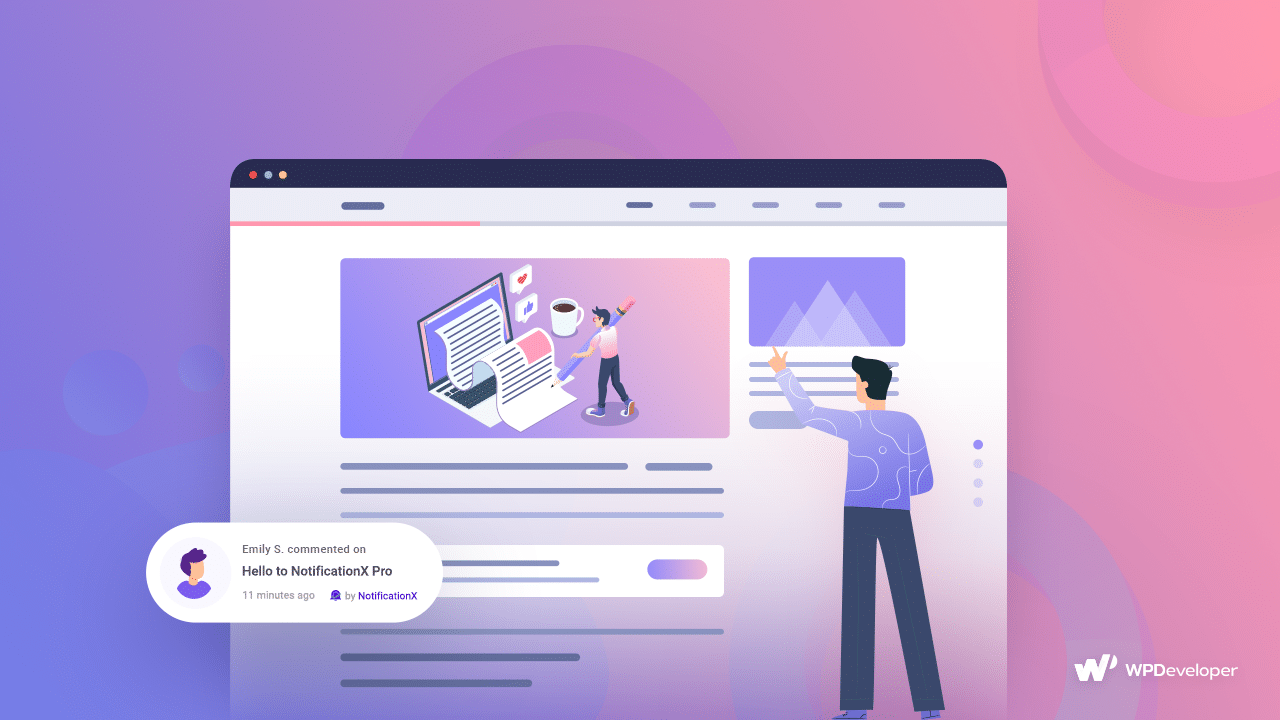 Influence Blog Readers To Get Engaged With Reading Progress Bar
Attaching your audience with a good impression is the most important part of blog engagement. As a content marketer, your real success relies on this. Concentrating to boost up blog traffic becomes harder these days. You have to try out something new and impressive. Like the blink of an eye, you would be able to drag your viewers' attention successfully. Reading Progress Bar is one of those effective approaches.
Your readers will get to know how far they have to read the content with a mouse scrolling indicator. It will encourage your visitors to stay engaged until the very last word of the post. In most cases, it appears at the top of the website so that people can be notified easily. But the main concern is how you can implement this amazing effect on your website?
You can choose Essential Addons Reading Progress Bar feature-rich element to make your blog site outstanding. You can easily hold your readers' attention on the blog with a beautiful scrolling indicator. Also, you can select the placement of the scroller.
Effective Utilization Of Call To Action & Boost Blog Engagement
Next thing you have to consider as a content marketer is to use CTA properly on your blogs. It is one of the most effective ways to boost site conversion. You can easily drag your audience's attention to your desired place using amazing content on Call to Action.
Anyone will feel attracted to your blog when they will see something engaging. Your visitors will click on the button to see the related content attached to it.
Now you can easily create an interactive CTA to influence your audience to be engaged by using Essential Addons CTA element. With the help of this element, you can quickly create and implement this on your blogs to hold your readers' attention.
Create Easy Navigation Panel To Engage More Visitors
You need to set different tactics to engage more visitors on your website. It's very crucial for content marketers who are running blog sites. Easy navigation will always be considered as an effective approach. It will help your readers to reach out to the whole site or specific blog parts without scrolling in one place. It reduces both the time and energy of your visitors and active readers.
But the main concern is the final implementation. Mostly all think about the log codes to create this type of navigation. Now without any coding, you can organize your blog site by getting help from Essential Addons One Page Navigation Element. You can easily manage your audience site search in one place. It will hold their attention because you make them realize that you value your readers' time. They will feel the convenience and get more engaged with this user-friendly tactics.
Showcase Live Blog Comments Notification On Website
Now you need to think about your content marketing tactics that will boost the site engagement on the spot. You need to apply a proper Fomo marketing strategy to cope up with the latest trend. For instance, you have to find out the best solution that will display the latest blog comments with live notification alerts. The audiences can be notified easily which blogs are recently viewed. They will get influenced and click to see whats going on.
As people feel attracted to what others are viewing. At the right time, it will hit your viewers' minds and create urgency. NotificationX the best Fomo marketing plugin can help you out to display your live blog comments with this exclusive feature to serve the purpose. You can select the premade template of the live notification alert. It will give you the opportunity to choose the conversion period of bog comments. It will then automatically showcase the latest comments with its amazing Fomo notification popup.
Notify Visitors Your New Email Subscriber For Blogs
It's obvious that to complete the content marketing, you need to do email marketing for your blogs to engage your audience more with your blogs. Instantly it will enhance your blog engagement. What if you are able to showcase your email subscriber live news on your website? It will hit visitors' minds and make them influenced to be your next blog subscriber through email.
Using NotificationX you will also get this feature that will showcase your latest email subscriber live notification popups. You can easily integrate with your email marketing platform because of its powerful integration to MailChimp, ConvertKit, and others. Like blog comments live notification popup, you will get exact advanced features for email subscription alert. It will help you to drag your visitors' attention instantly and encourage them to be your email subscribers and active blog readers.
Wrapping Up
In short, as a content marketer, you have to research new marketing strategies and apply them to get success. In this blog, you get to know five effective ways that can be beneficial to boost your blog engagement and conversion rate.
Explore your content marketing strategy with Essential Addons for Elementor exclusive elements and NotificationX. Also, share your valuable experience by commenting below and get engaged!