Today, we are incredibly delighted to announce that Essential Addons hits 300,000+ users. It is a proud moment for us to achieve this remarkable feat in such a short amount of time after hitting 200K active installations  in 3 months ago. 
'All our dreams can come true, if we have the courage to pursue them'- an inspiring quote which has encouraged us to always keep moving forward and achieve our goals. We have just made another huge step towards our ambition to get even bigger. 
To celebrate this amazing milestone, we are offering exclusive deals and exciting giveaway for the community. This is your chance to win amazing gifts & join in for an epic celebration. We would like to take this opportunity to show our appreciation towards our 300K+ users by giving away exciting presents.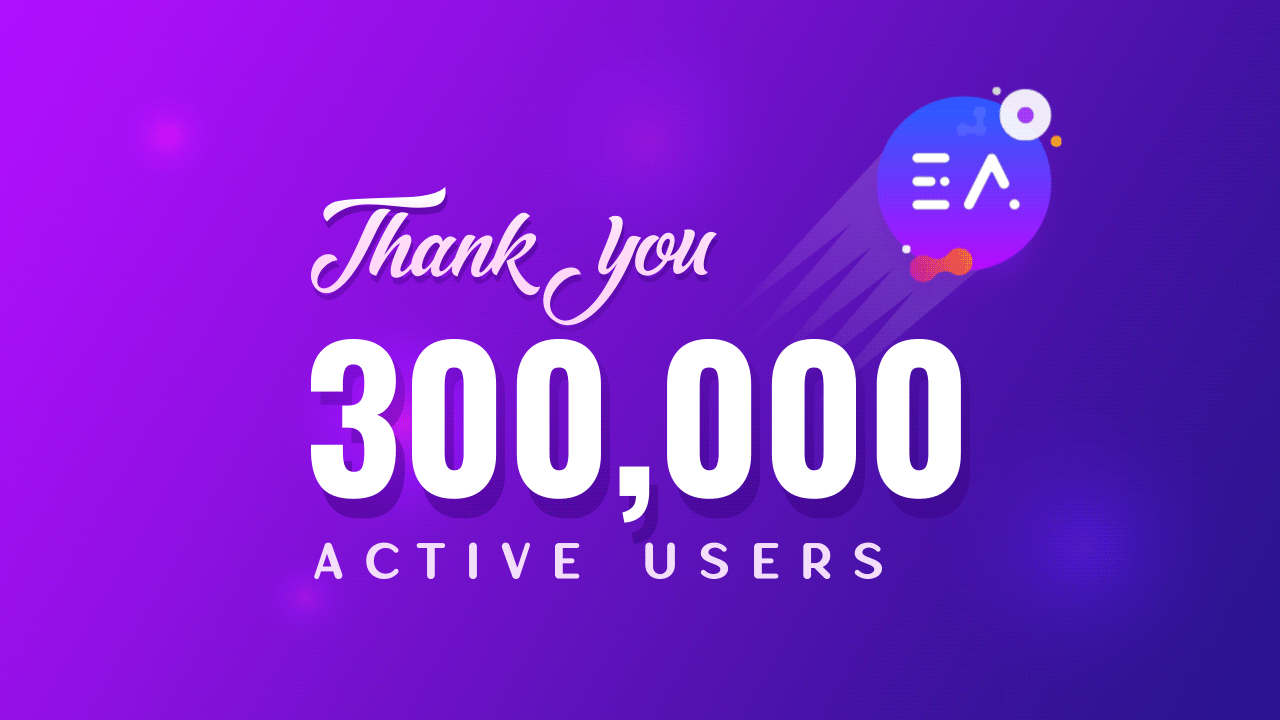 The Thrilling Ride It Has Been
It's quite astonishing that Essential Addons has just recently turned 2 years old. The most amazing thing is that, it hasn't even been 3 months since we reached 200K+ active installations yet we have already reached 300,000+ users today.
We are very proud of the fact that over 300K+ websites are now powered up by Essential Addons.  Our heartfelt gratitude goes to all of you for showering us with 650+ five star reviews to sweeten this incredible journey. With 1 Million+ Downloads, the thrilling ride to become the Best Elementor Add-on has been nothing short of sensational so far. Let's cheers to many more to come in the future.
The Most Notable Features Introduced Recently
We are constantly working on to provide the best site-building experience for everyone. With that goal in mind, we always want to bring something unique for our users. Recently, Reading Progress Bar has been introduced to offer fantastic user experience for your WordPress website. This element has already become very popular among everyone since it has removed the hassle of using another extra plugin.
Recently, we have also partnered with the ultimate WordPress Backup Solution, BlogVault. Therefore, you can get access to BlogVault 3 sites license with Essential Addons PRO Super Bundle without spending any extra penny.
LearnDash has been integrated with Essential Addons. So, you no longer have to worry about designing your LearnDash online courses with Elementor. You can now do it without any coding.
Besides, Font Awesome 5 support has been integrated with Essential Addons as well. Amazing extensions such as Content Protection, and Global Tooltip have been introduced to enhance your Elementor design even further. With the introduction of Essential Addons 3.3.0, we have totally revamped the queries of our dynamic widgets. As a result, you can now experience faster site speed even if you have lots of post elements. Most impressively, the site-wide caching tool has been added to help your regenerate your cache files & keep your site clean all the time.
What's the Future Holds for Essential Addons?
Given our track record, you can always count on us to have something in our sleeve. We already have a Public Roadmap for Essential Addons which you can check to keep track of our on-going works. You can simply go ahead and vote up for the feature which you want in the upcoming release. If you have any feature requests, feel free to add them up as well. 
Our team is constantly working to take your Elementor page building experience to the next level. We strongly believe the future updates are going to super-charge the Elementor page building experience to a level no one has ever even imagined.
Let's Celebrate with 30% Discounts on All Essential Addons Plans
To mark this special occasion, we want to show our gratitude towards you with a special offer. Use Coupon: EA300K and enjoy an exclusive 30% discount on all the packages of Essential Addons. The offer will be valid until 24th September. So, don't miss your chance to celebrate the party for 300K milestone.
Win A Giveaway Worth $3000🎁
We are organizing a exciting giveaway campaign to celebrate the Essential Addons 300K active users milestone. Winners will get our Premium Plugins' Lifetime Unlimited Plans: Essential Addons, NotificationX, WP Scheduled Posts, Twitter Cards Meta, Flexia & more. Get ready to participate in the contest and win exciting gifts worth $3000.