If you have SchedulePress activated on your WordPress dashboard, then you can use the Schedule Calendar feature to quickly view all of your posts in date-wise calendar format. 
This is a powerful editorial calendar that comes with impressive drag & drop capability to help you move your content from one date to another, make changes to your scheduled posts, and even create new draft posts all within the Schedule Calendar.
How To Schedule Posts With Schedule Calendar? #
You can schedule your content instantly with the drag-and-drop interface of the Schedule Calendar from SchedulePress. Follow these steps to learn how to do this.
Step 1: Navigate to SchedulePress → Calendar from your WordPress dashboard as shown below. You will be able to see the full calendar with all of your scheduled posts.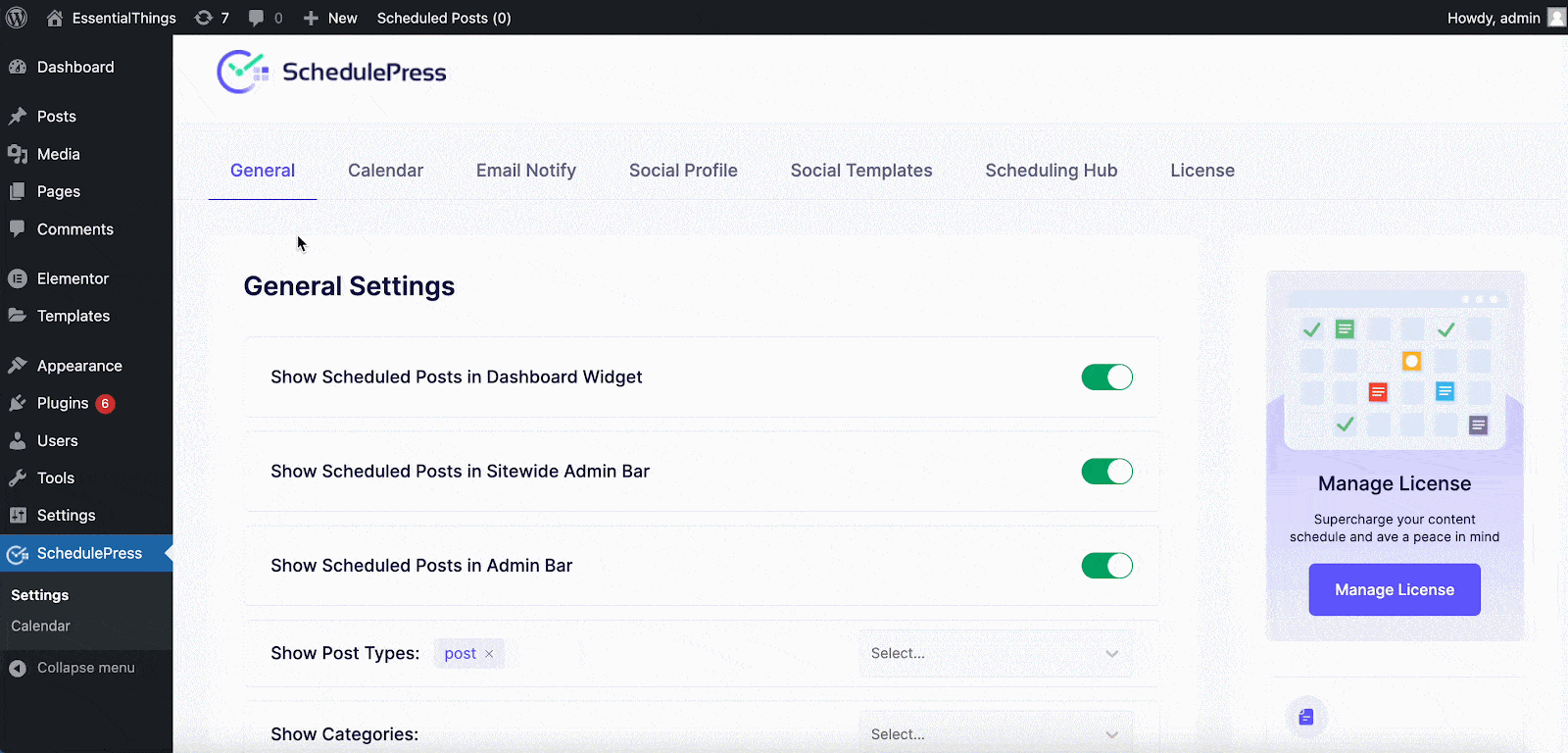 Step 2: Drag and drop any scheduled post on any date within the calendar to change its scheduled date. You can even change the timing for your scheduled posts by hovering with your mouse and then clicking on the 'Edit' option.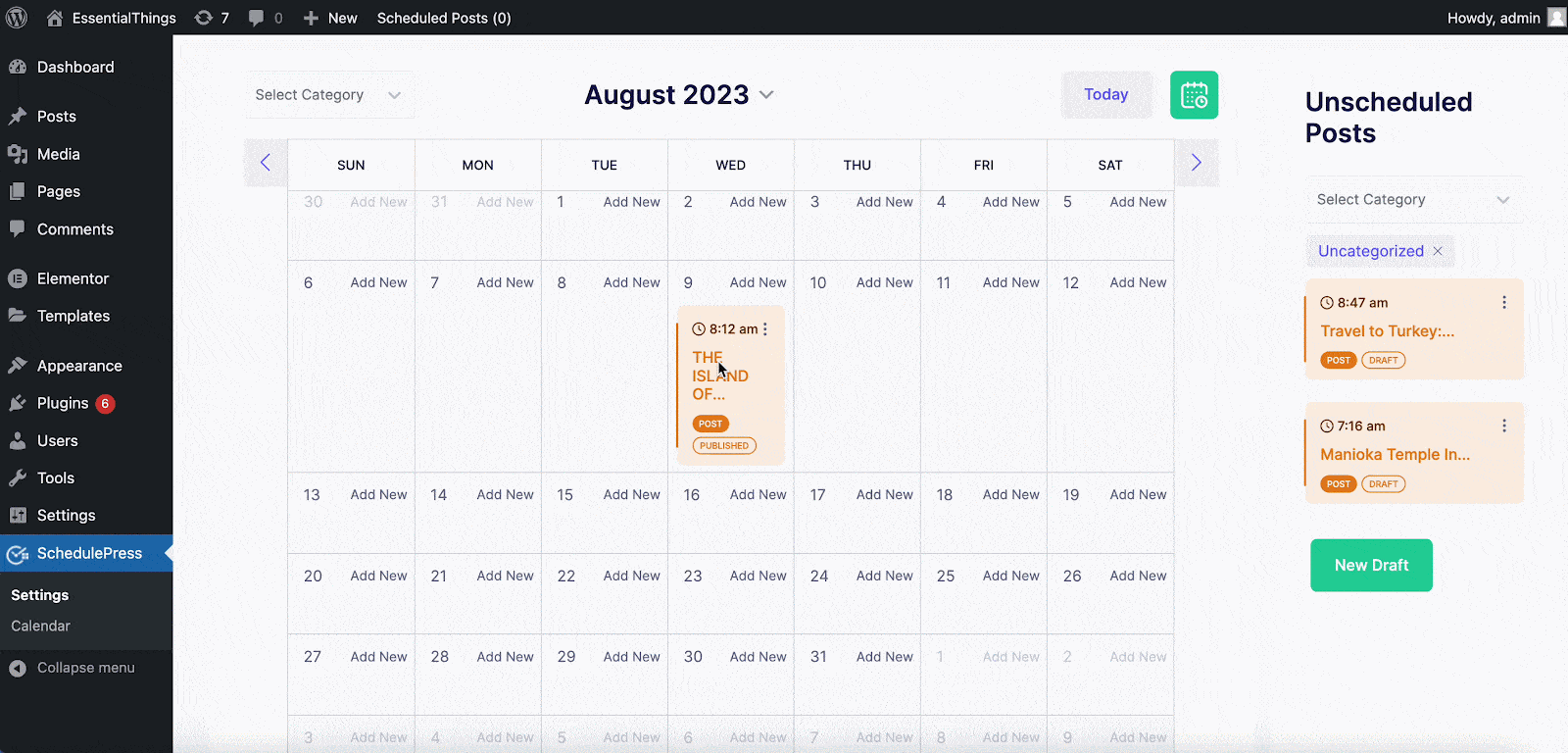 How To Edit Posts With The Schedule Calendar? #
You can hover over your posts and make small changes to your posts in the Schedule Calendar by clicking on the 'Dots' icon appearing beside the post. You have the freedom to make quick changes to your Title, Content, or even Schedule time as well. Besides, you can do the following: 'View', 'Edit', 'Quick Edit', and 'Delete'.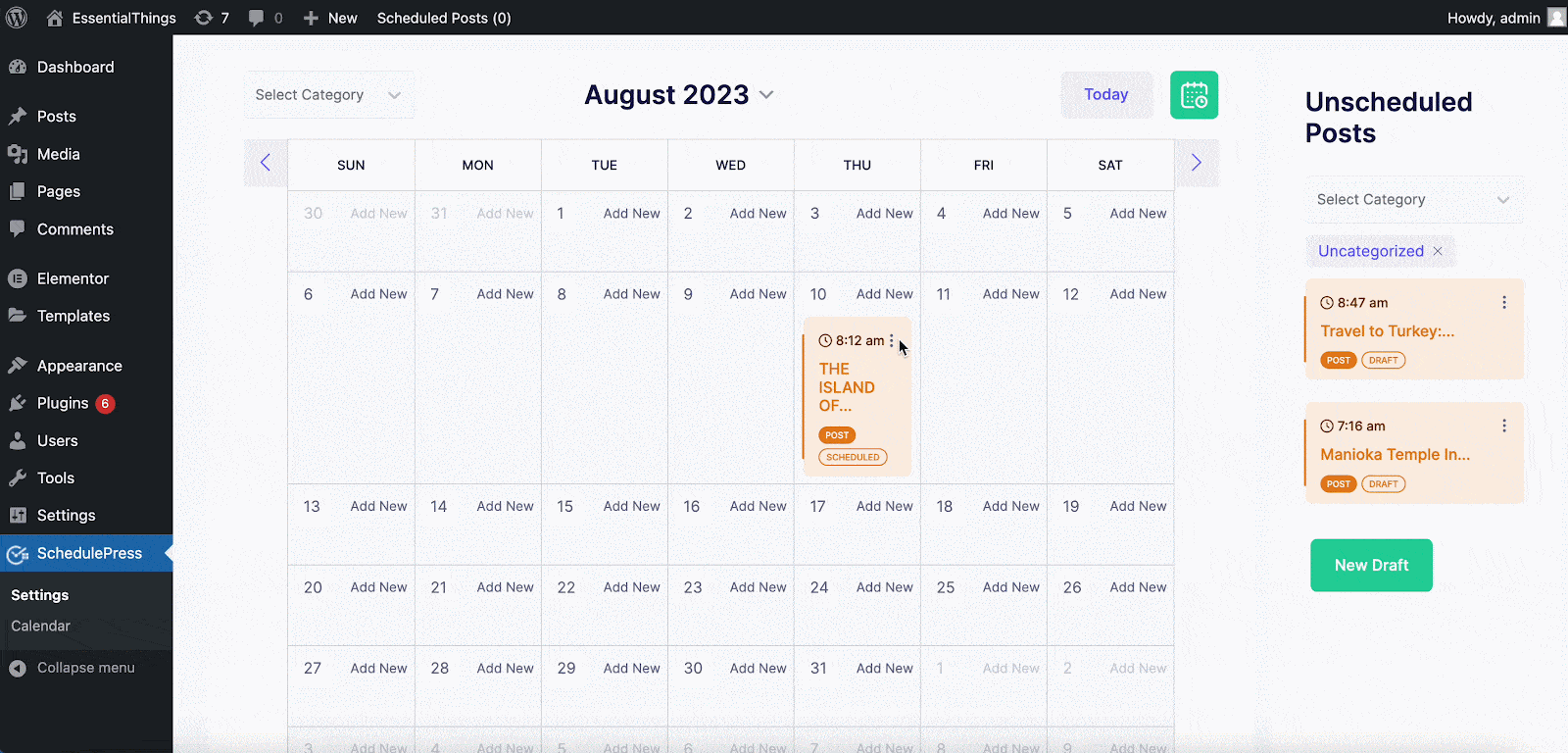 How To Create New Draft Posts In The Schedule Calendar? #
Schedule Calendar lets you easily create new draft posts within the calendar. Just click on the 'New Draft' button as shown below. You can then add a title, and content and set the scheduled time for your new post all from inside this editorial calendar.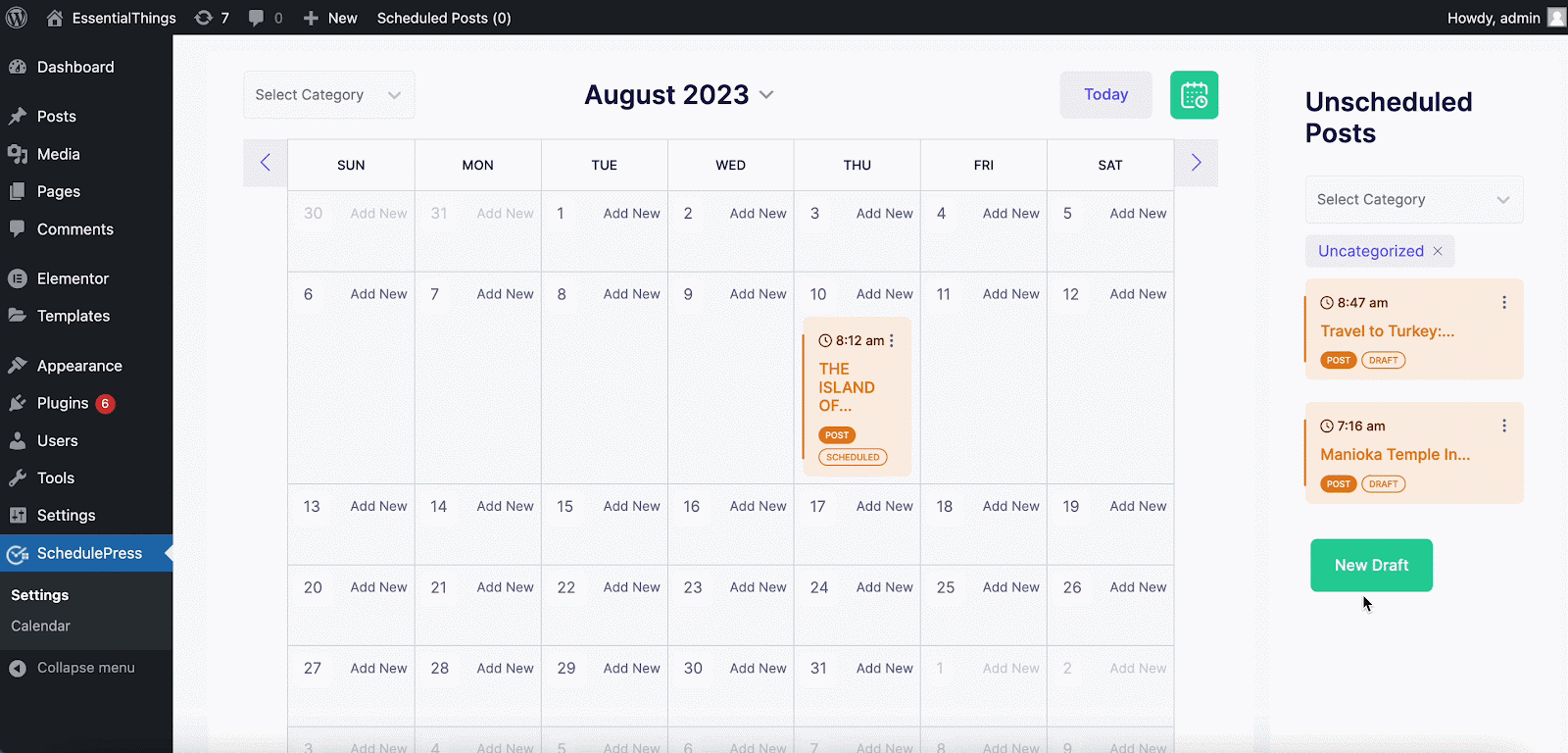 How To Remove The Schedule For A Post? #
From the "Unscheduled Posts" section, you will find the list of posts that are currently in 'Draft' status or have not been scheduled yet. If you want, you can remove the schedule of any post by simply dragging it from its date in the editorial calendar and bringing it under the 'Unscheduled Posts' section.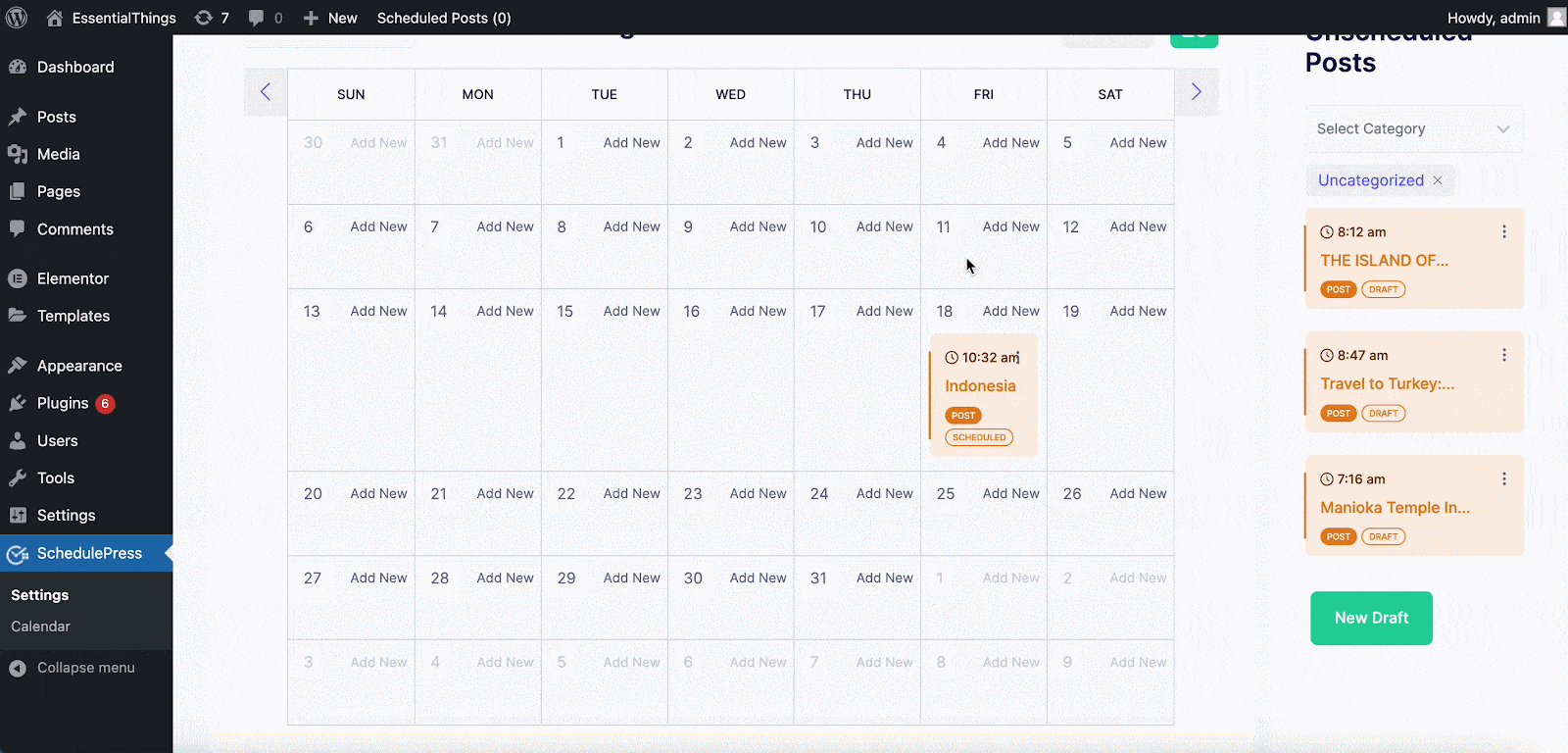 You can also schedule any unscheduled posts in the same way from within the Schedule Calendar.
This is how you can use the Schedule Calendar feature and manage all of your content easily from one place with SchedulePress.
If you face any difficulties, feel free to contact our support team or join our Facebook Community.